I am delighted to report that my 2015 Annual Report this year at my local Iloilo Immigration Office was a positive experience. My asawa and I had come in from the pump boat from Guimaras, the island province we reside on, to meet an attorney who could do the title transfer for property we have purchased in Guimaras. Since our dock, Ortiz, was fairly near the Immigration Office and it was almost 7:30 am, the time the office would open, I decided we could drop in and do my Annual Report as a foreigner living in the Philippines.
I would be gone most of the month of February visiting my Dad in Las Vegas and taking care of business, and since the AR is to be done by March 1st, thought it a good idea to pop into the Iloilo B.I. and file my report.
Now I noticed some buzz about an Annual Report Online Filing System while checking the Philippine Bureau of Immigration website the other day. when I ran across this item: Annual Report Online Filing System. Excited to think that perhaps I could avoid a trip to my local BI Office in nearby Iloilo City, I read the information on the website.
But after reading the info from the website posted below, I was slightly confused, so I decided that it would be wise to check in with the local Iloilo B.I. and take care of it early and in person.
OK, here's what wasn't clear to me. The information on the Bureau of Immigration stated the following: "ANNUAL REPORT ONLINE SYSTEM ARE FOR REPORTEES WHO FAILED TO COMPLY WITH AR 2014 FORM"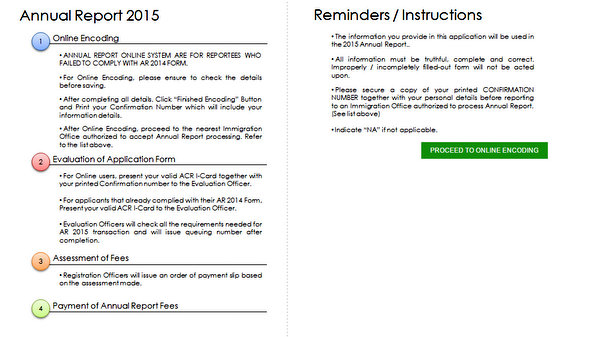 I had complied last year with AR 2014 Form to my knowledge. That was the four page form I filled out last year during my Annual Report along with new photo ID's. I was also fingerprinted at Iloilo Immigration at that time.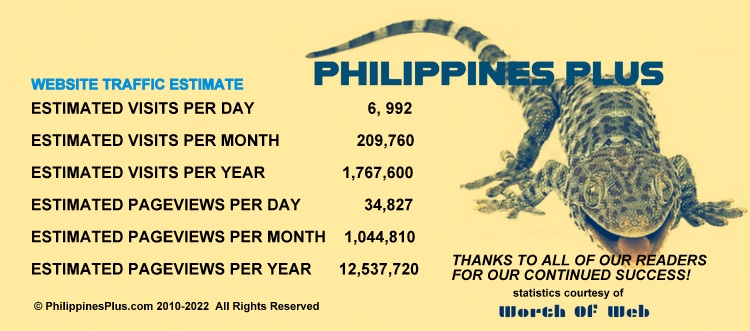 But reporting for my AR this year couldn't have been simpler. I merely filled out my name and ACR-I Card number as before, plunked down my 310 peso fee, got my receipt, and was on my merry way. I couldn't have been happier.
However, as I was chowing done on a Jalapeno Bacon Burger at American Legacy across from SM Delgado in Iloilo with my American expat friend, Rease, one of Rease's friends, Charlie, walked in. I'm not as popular as Rease, so he has tons more friends that I ever will have.
Charlie had just spent two hours at Iloilo Immigration and had to fill out the four page information form, submit new photos, get his info pages notarized and get fingerprinted. He said he had filled out the form last year. I advised him that the Immigration website now has an online filing system but don't know if that would have helped him.
But Charlie dutifully filled out the forms again as he, like Rease and I, want to fully comply with the Immigration laws of the Philippines. While BI Commissioner Mison estimates that a million foreigners are living in the Philippines illegally, you will never find Charlie, Rease or yours truly in that group. Why should we screw up living in paradise, right?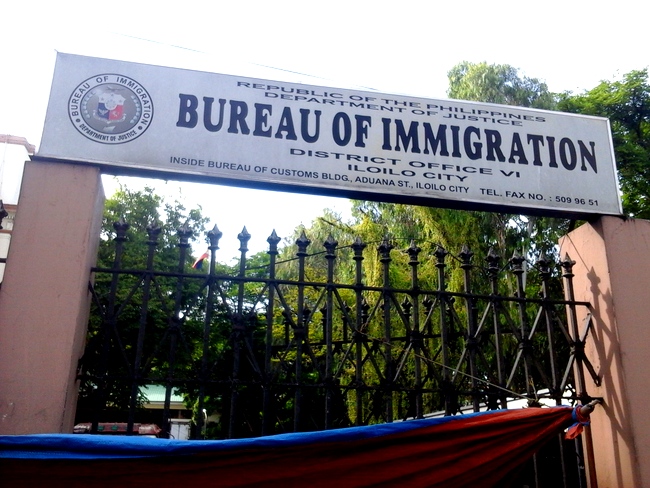 So again, a totally positive experience at the Iloilo Immigration Office this year as I filed  my 2015 Annual Report as a foreigner. Any of you guys out there filed your report yet? I'm curious if you had to fill out the four page information form. There was a gentleman from The Netherlands seated next to me who was also filing his AR and didn't have to fill out the four page form today either.
Sorry, Charlie.