"Cheapest Way,Iloilo to Boracay Pt. 2" After traveling for approximately five hours from outside of Tagbak Terminal in Jaro, Iloilo City, we had arrived at Caticlan Jetty Port, the gateway to Boracay. We were trying to make our way inside the passenger terminal and reach our guide, Sir Willy, who had reserved a family room for us at Station 2 in Boracay.
Chaos at the Baggage Check
It was a case of Boracay bedlam as my asawa, two nieces and a nephew finally made it to the security checkpoint at the terminal. People were pushing and shoving their way to get their luggage onto the conveyor belt for the x-ray screening process.
I was getting pissed. While I've been through a few security checkpoints at airports and passenger terminals throughout the world, nothing compared to the mayhem we were subjected to at Caticlan.
Free Willy
After desperately making our way to a counter where we had to register as tourists, we only had 15 minutes to reach our guide, Willy, who could only hold our room for us until 2:00 pm. My asawa began the registration process as she handed me her Samsung Galaxy J3 mobile. I tried Willy's number and was barely able to hear a faint voice on the other end. The noise in the terminal rivaled that of a Monster Truck competition.
Finally, Sir Willy freed himself from the crowd and made his way to our party! Our reserved family room had been saved!
Death Marks the Spot
As Sir Willy took our luggage he pointed out an infamous local landmark: the spot where reputed Iloilo City drug lord, Melvin Odicta Sr. ("The Dragon") and his wife Meriam had been gunned down in August 2016 at Caticlan Port Jetty as the couple got off a 2GO ferry from Batangas.
Melvin and Meriam had just appeared before Interior Sec. Mike Sueno at Camp Crame in Metro Manila to  deny allegations he was an Iloilo drug lord. Could a rival drug gang or narco-politician have rubbed out the notorious couple thinking "The Dragon" had ratted them out? Their murderers have not been apprehended.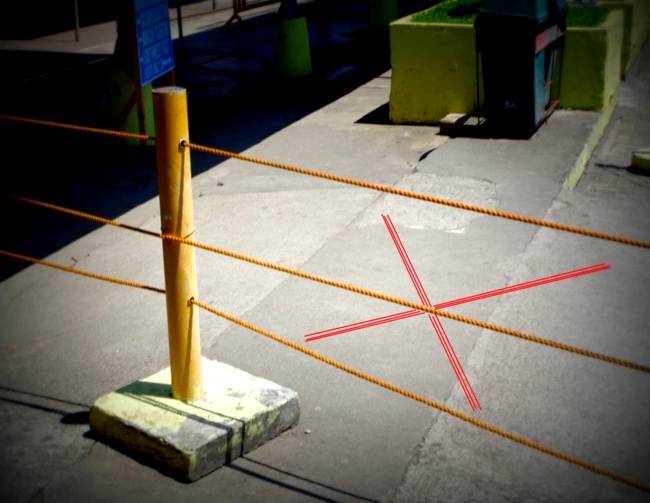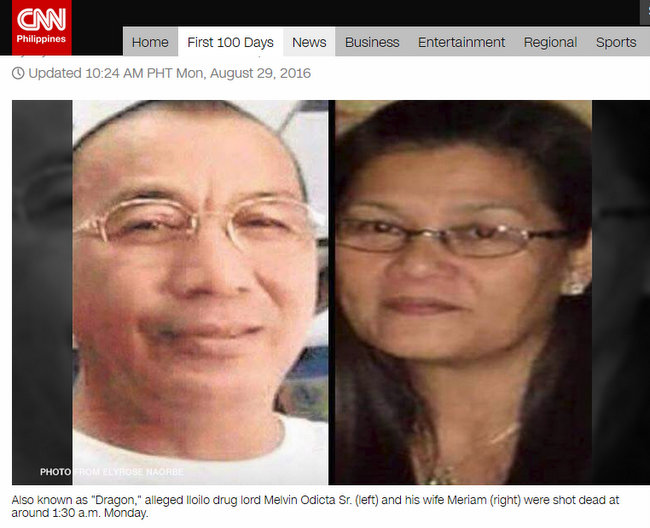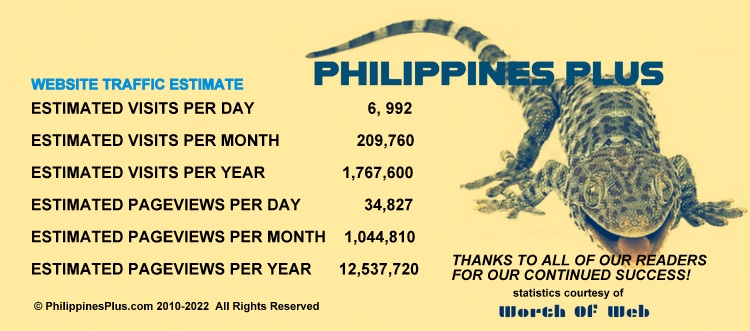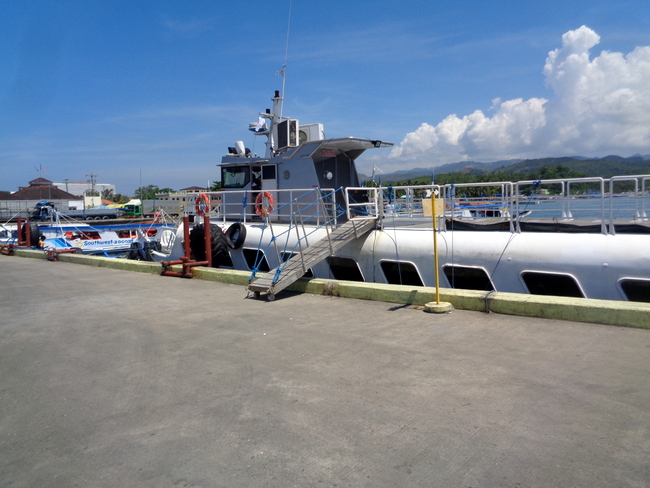 Caticlan Jetty Port, the gateway to Boracay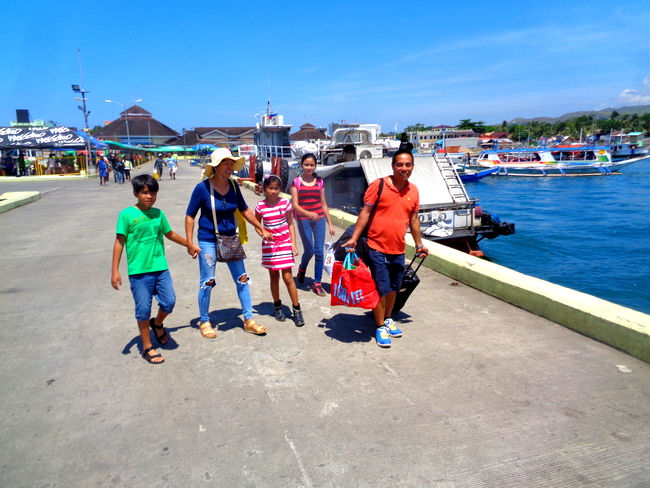 Sir Willy, helps carry our luggage to the pump boat that will take us on the ten-minute pump boat trip to Boracay.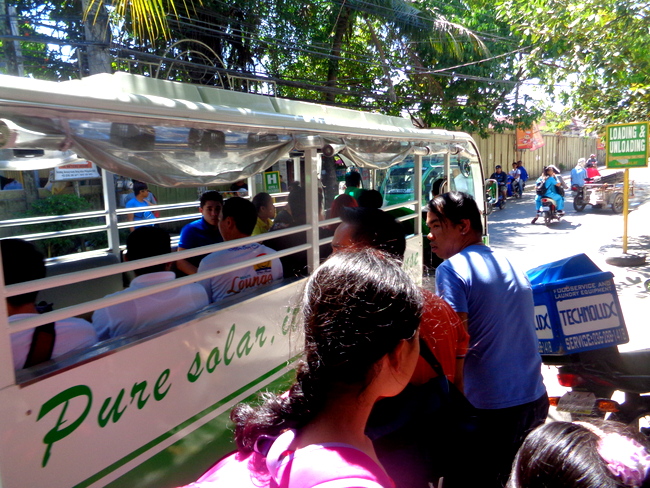 Willy guides us into a bus powered by solar energy.
Cost of Room at Boracay 35,000 Pesos!
After having secured us rooms at Boracay last year, our guide, Willy, knew I was an extremely frugal (cheap) American expat in the Philippines. So imagine my surprise when I asked our guide how much our reserved hotel rooms would cost us for three nights (we had two adults and three children in our party) and was told the cost would be "35"!
"35 thousand pesos!" I loudly exclaimed. I knew we were visiting Boracay during the peak season but 700 US Dollars was way too much for my budget.
"We can find a different room, sir, if they will not give you a discount." Willy quickly responded.
"We'll see," I replied, doubtful that the hotel would give me a deal that would satisfy my peso-pinching ways.
The Art of the Deal
After snaking our way through Boracay's narrow streets we finally reached our destination: Jerome's Resort, right off the Station 2 beach.  We had stayed at one of Jerome's other accommodations during our visit last year.
I immediately spoke to the lady at the front desk and asked how much our family room for three nights would cost us.
"Nine thousand, sir" came the response.
"Nine thousand? That's only 3,000 a night. We'll take it, thank you." I said.
Now it seems I had misunderstood our guide, Willy. When he quoted me the price of "35" I did not hear him say 3-5, which means 3,000 500, 3,500 PER night, as opposed to 35,000 for the entire stay.
Willy had sent a text message to the hotel advising them I was quite angry at their proposed rate which I had misunderstood. The hotel had given me an additional 500 peso discount per night. Since this was the peak season for Boracay, I wasn't about to complain. I had seen much higher prices quoted online.
(If you plan to visit Boracay, you'll get a much better hotel rate during the off peak season, June through October. We only paid 1,500 pesos a night, 30 USD, for four adults last June at Jerome's other outlet at Station 2.)