Rather than endure another all-day scheduled brownout in Guimaras, my asawa and I headed for the "City of Smiles," Bacolod. We didn't have any traveling partners this trip. While we had, a great time at Mambukal Falls last November with friends, this trip was an impromptu event. "24-Hour Spellbinding Spa Natura Bacolod City" was only planned a night in advance.
Burned Out on Iloilo City
While we simply could have gone to nearby Iloilo City again, we had been shopping in "The City of Love" earlier in the week. Plus, my spouse's shoulder and back had been hurting her. The Blade Spa's hot stones massage at Mambukal Falls had helped my wife tremendously back in November.
A quick search on the interweb showed that The Blade Spa had a location in downtown Bacolod City. In fact, it was only a two-minute walk from our desired hotel, The Check Inn Pension Arcade.
Spontaneous & Improvised Plans
Consequently, we traveled light. We packed a few items in one of our recycling shopping bags. No need for any luggage. Only scheduled was a Saturday night stay.
I didn't bother with checking with any of the three fast craft companies going from Iloilo City to Bacolod. We didn't know exactly when we would be leaving on Saturday morning. My asawa was going to David's Salon in Robinsons, Iloilo City first to get her hair styled.
Because the three companies offer numerous daily trips back and forth from Iloilo to Bacolod, I wasn't too concerned. The trips can take from 60-90 minutes depending on weather conditions.
My asawa's regular stylist was on duty and by 10:20 am on Saturday we were on our way to the New Iloilo Ferry Terminal.
An Ocean Jet fast craft was leaving in 30 minutes. We were able to book two seats in the air con section for 300 pesos each, six US dollars. The fast craft took off around 11:00 am and we were in Bacolod City around 12:05.
We had never used the Ocean Jet services before but the trip was pleasant enough and uneventful. A taxi took us to the Check Inn Pension Arcade, a scant five minutes from the Bacolod terminal. However, we've never been able to find a non-metered taxi and pay 150 pesos, three US dollars, to Check Inn. Our tip is included in the 150 peso fare.
The Check Inn Pension Arcade
We've "checked in" to the Check Inn several times before. Their prices are reasonable, 1000-1200 pesos a night, 20-24 bucks. We're always booked on the fourth floor which has a small garden area. The aircon is good, the staff is friendly, and we've never had any problems during previous stays.
There's a small restaurant right outside the entrance which offers a tasty American Breakfast for 120 pesos, $2.40.
Plus, the hotel is only a five-minute walk to SM City Bacolod. We normally don't make reservations but never have had any difficulties in getting a room.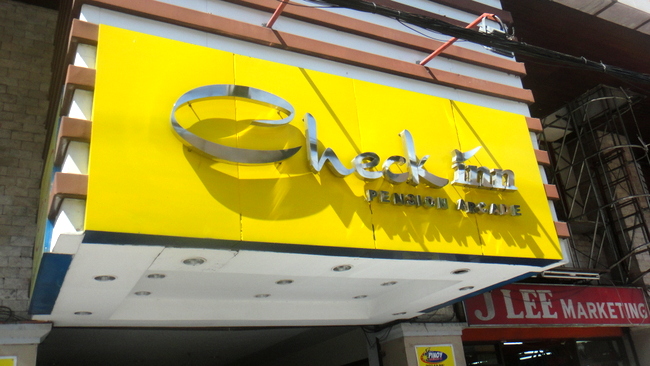 The Rowdies
However, on this Saturday afternoon we had a problem booking a room. No rooms were available on the 4th floor, where we've always stayed before. A room for 1,000 pesos, 20 US dollars, was available on the 2nd floor.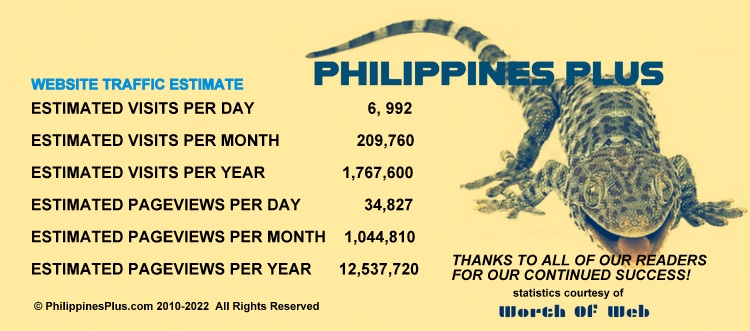 As we made our way to the 2nd floor, I knew we were going to have problems. A group of loud Filipinos, eight in total, were in the room across from us. They were extremely loud and boisterous. Mattresses were strewn all over their floor.
I noticed the group downstairs in the lobby before making a commotion. Perhaps the  guys were drunk. Consequently, I immediately went to the front desk to see if another room was available.
I explained our situation to the front desk clerk and asked if there were any other rooms available. The manager-on-duty came over as the desk clerk made a call.
The Call
"I asked the men in the room across from you to please be quiet, sir,"

she informed me.

"I'm sorry, but they're not going to be quiet. There will be trouble. I want to avoid any trouble because if they continue to be loud at night, I will say something,"

I explained.

"Look, we've stayed at your hotel four or five times before and always enjoyed our stay. Are you sure there are no rooms available on the 4th floor?''

I asked,

"We're willing to pay more for a better room."
After a brief conference with the manager, the clerk advised us that a room for 1,400 pesos, 28 USD, was available.
"It's one of our newly renovated rooms, sir," the manager informed us.

"We'll take it," I said, "Thank you."
We checked into our new room. It was a larger room with a better CR, Comfort Room, and had two beds. We only needed one but the extra eight bucks was worth the change of location.
Detour to Spa Natura
We made our way to the downtown Blade Spa, a scant two minute walk from our hotel. Unfortunately, the spa didn't offer the hot stone massage my wife received at their branch at Mambukal.
Not all was lost. The outfit did have another location only 10-15 minutes away, Spa Natura. It's a 24/7 first class operation and is located near the local Robinsons. A taxi cab ride only cost us 100 pesos, two dollars. Here's their address and contact information:
Second Level, Two San Parq, San Antonio Park Square, Lacson Street, Mandalagan, Bacolod next to the Convergys building.
Phone: (034) 441 2495.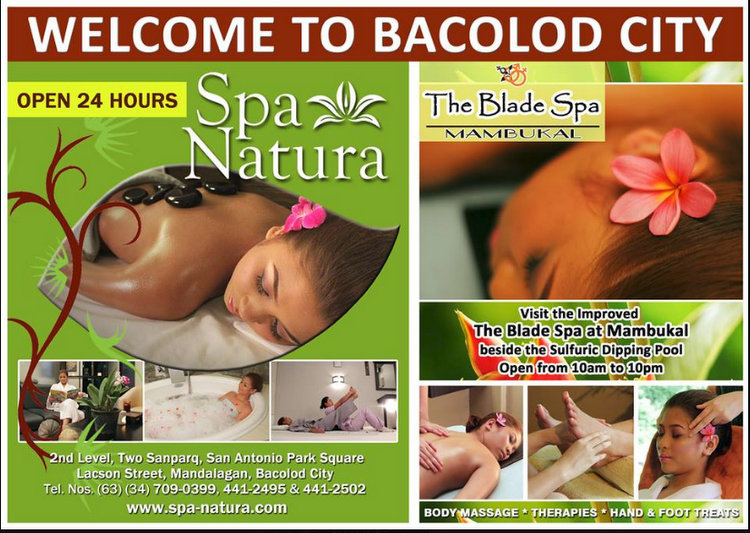 It offered a 75-minute hot stone massage therapy for 700 pesos, 14 US dollars.  I availed of a foot spa, 350 pesos, $7 and manicure/pedicure for 300 pesos, $6, while I waited for my asawa.
The staff was professional and polite. We enjoyed a positive experience at the spa. My foot spa attendant, perhaps hoping for a big tip, told me I had a "pretty face." Well, I've been called "gwapo" before, handsome, but never was told I had a "pretty face."
Only in the Philippines.