I live in a paradise called Guimaras, an island province in Western Visayas in the Philippines. As a result, I enjoy a relatively stress-free life. Moreover, my biggest "problems" are what to watch on my Cignal-powered satellite TV at night and what to have for dinner.
COVID-19, climate change, and the cancel culture don't have much impact on me. Because I live in a rural community, the "Mayberry RFD" of the Philippines, life goes on at a slow pace in the province.
Mayberry RFD of the Philippines
Andy, Opie, Aunt Bee, and Barney would feel right at home here.
The population of Guimaras in the 2020 census was 187,842 people. More than Mayberry, but the population is spread over five different municipalities.
My wife does all of the local shopping. Consequently, she does most of the driving. Frankly, I don't have much patience for the local tricycle and jeepney drivers. Many of them drive down the middle of the road and make sudden, dangerous stops to let out passengers.
The horn on our Aurora Blue Ford Ranger XLT would have worn out long ago if I was the principal driver for instance.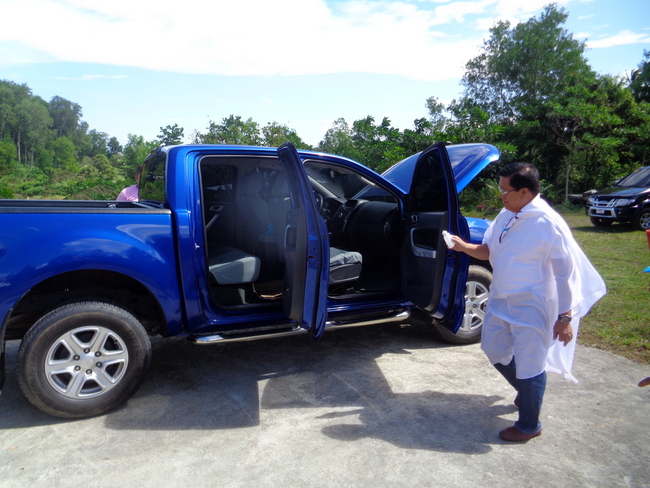 Father blesses our Ford Ranger XLT
Above all, one of the reasons I consider Guimaras a paradise is the fairly low crime rate here. In fact, Guimaras Province's total crime volume significantly dropped by 65.4 percent in 2019. That year saw 763 recorded cases as compared to 2,205 cases in 2016. That's according to a report from the Philippine Statistics Authority, PSA.
Before the pandemic and subsequent lockdowns, Guimaras had a vibrant tourist industry. Our island province is renowned for its abundance of beaches and resorts.
While it doesn't compare to the white sand beaches and awesome sunsets of Boracay, the local beaches are a welcome respite from the heat and humidity of March, April, and May.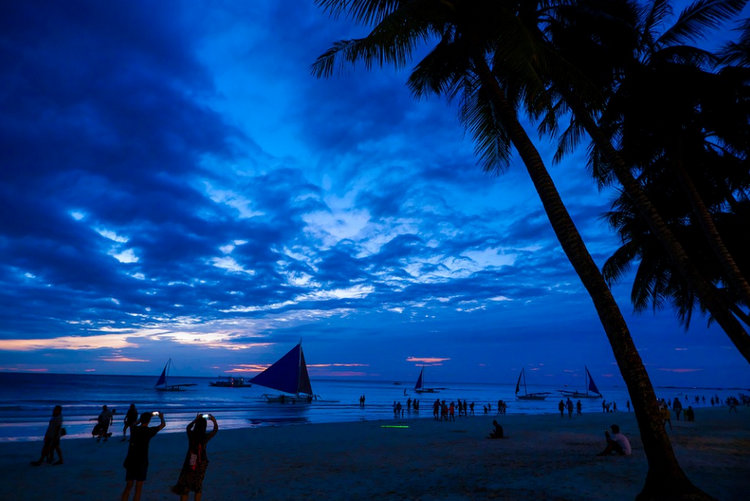 Boracay photo courtesy of 路小飞 @ pixabay
My personal favorite beach resort in Guimaras is the Raymen Beach Resort. It's located in Alubihod Beach, Nueva Valencia, Guimaras. It offers a wide range of island hopping tours.
Find Your Way Through Panay Gulf's Paradise

Here's a list of DOT (Dept. of Tourism) Accredited Resorts as of January 13, 2022 per the official Guimaras website:
Alobijod Cove Resort
Clara Beach Resort and Guest House
Guimaras Mountain Resort and Restaurant, Inc.
Jannah Glycel Beach House
Kenyama Beach Resort
Nature's Eye Beach Resort
Oppen Resorts Inc.
Raymen Beach Resort
Valle Verde Mountain Resort
Vilches Beach Resort
Villa Igang Beach Resort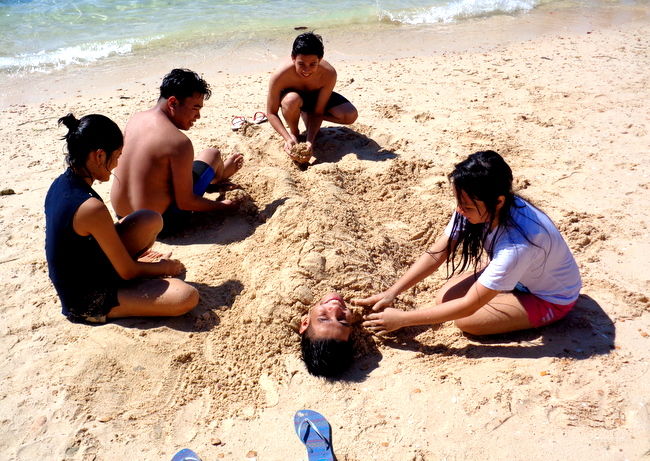 Relaxing at Raymen Beach in Guimaras
DOT Accredited Mabuhay Accommodations:
Sun Sea Resort
Magic Island Resort
California Coral Beach Resort
Caza Guest House
Guisi Clearwater Resort
JL Pension Hauz
JM Backpackers Hometel
Mamaley's Resort
Mancol Oasis Lodge
Theotokos Apartelle
Sidewalkers Pension House
Stargazer Inn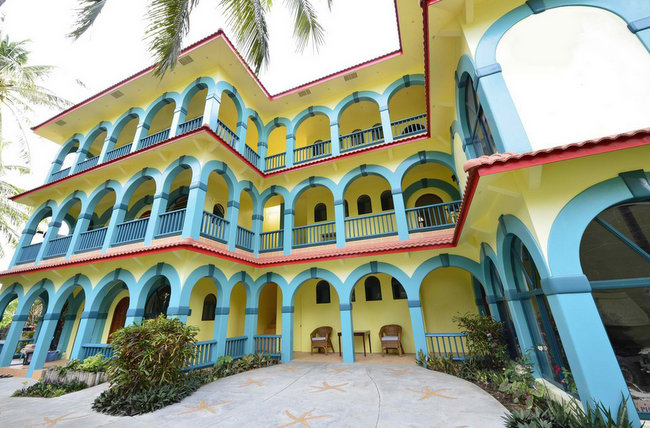 California Coral Beach Resort @ Alubihod Beach
DOT Accredited Agri-Tourism Farm/Sites:
Dom's Dragon Fruit Farm
Mae's Farm
NJST Fruit Farm
Spring Bloom Agrifarm
Villa Santarina Farm Resort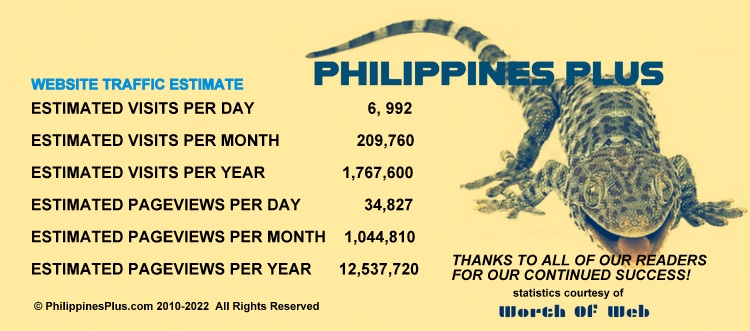 Wonder's Farm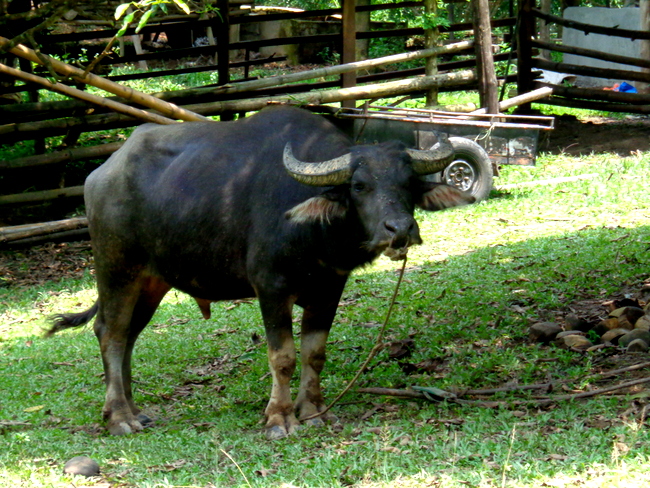 Carabao at Wonder Farms
If you want to sample some of the best food in Guimaras, I highly recommend Espasyo Pub + Café in San Miguel, Jordan. It's the best bistro in the whole province.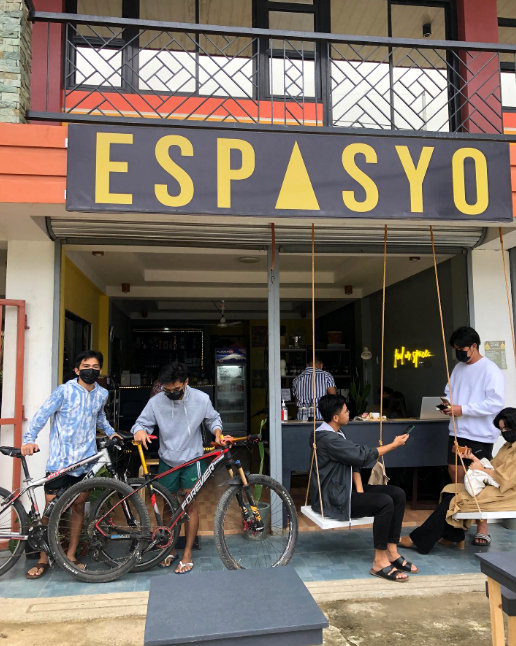 Mangoes and Crosses
There are two provincial festivals celebrated annually in Guimaras, the Manggahan Festival and "Pagtaltal sa Bala-an Bukid."
Originally, Manggahan was a week-long festival. However it morphed into a month-long event several years ago. It celebrates the mango. Guimaras is famous for having the sweetest mangoes in the world.
The Mango-All-You-Can is a fun and exciting challenge featured at the festival. Tourists pay a small entrance fee to eat as many mangoes as they can within thirty minutes.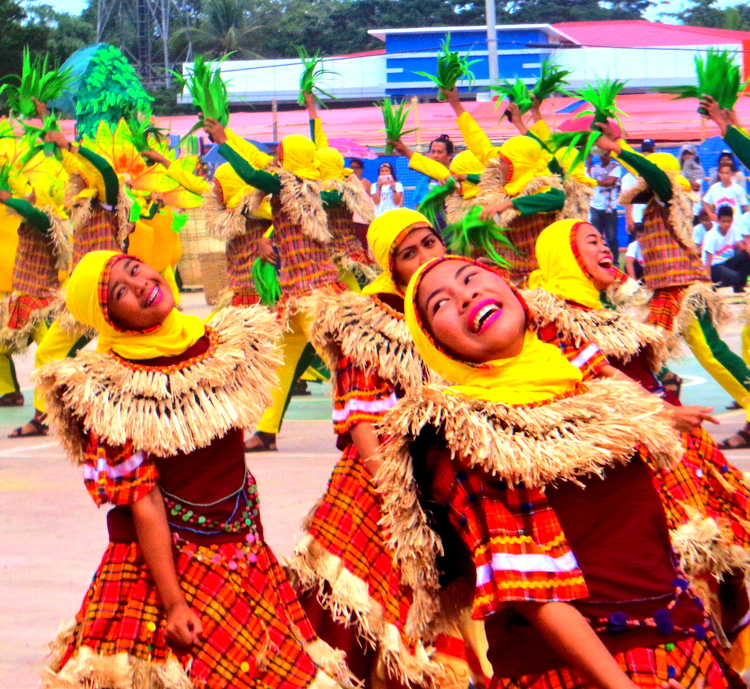 Manggahan Festival dancers
"Balaan Bukid," literally meaning "Holy Mountain," is a pilgrimage site for Catholic devotees. Along the climb is the Stations of the Cross. On its summit is the Chapel of Ave Maria Purisima and a giant, white cross.
Start the climb early if you're an old geezer like me. It takes place during the Lenten Season and the heat and humidity can drain your reserves. Make sure you stay hydrated and bring plenty of bottled water.
"Pagtaltal" is a passion play and one of the most spectacular religious festivals in the Philippines. It's a street drama which features the most important historical figure of all time–Jesus Christ.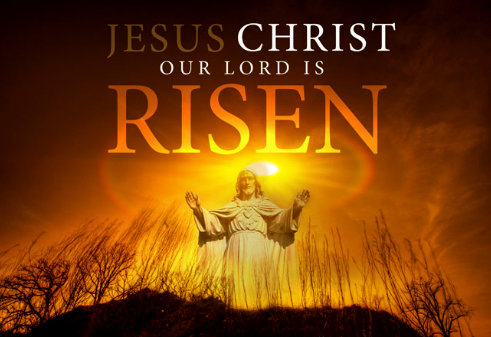 It starts at the Smallest Town Plaza and ends at the Balaan Bukid for the crucifixion and pieta scene of the Lenten play. This festival draws a ton of tourists to the island. It's one of the most awaited festivals in the island.

Festivals Curtailed Due to Pandemic
While the ongoing pandemic has severely curtailed activities at both festivals the past two years, hope remains that the ongoing Omicron variant will have dissipated by April and May 2022.
In addition, effective January 10, 2022, individuals who are not fully vaccinated are not allowed to enter the Province of Guimaras except in cases of medical emergencies or referrals. That's according to Executive Order No. 3, Series 2022.
Leisure travels may be allowed only for those who had prior or existing bookings with the hospitality establishments in the province.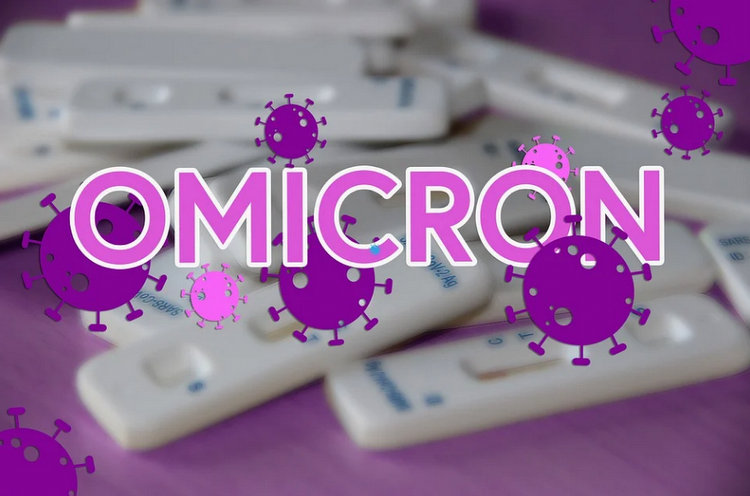 Previously, Guimaras was welcoming tourists who were fully vaccinated against COVID-19. The province was allowing tourism related travel and activities for both residents and non-residents effective November 16, 2021.
That policy was changed after the recent Omicron surge. The province has gone from zero COVID-19 case to over 90 in just a matter of a few weeks.
"PHILIPPINES' PARADISE PROVINCE GUIMARAS"
Above, Guimaras is a special haven for future retirees to the Philippines. While some foreigners seek the big city life of Metro Manila, I'm just a simple man living a simple life. I have a lovely Filipina wife of over 22 years.
In addition, our eight canines, led by our Belgian Malinois, "Killer," are the only "children" we have. My better half is happy tending to the "puppies," her chickens, and most of all, her beloved plants, trees, and flowers.
Happy Spouse. Happy House.
Moreover, while Guimaras is not a slice of heaven on earth, it will do till I get there. It's about as close to paradise as I can get to for now. And that my friends, is better than a poke in the eye with a sharp stick any day.
Lead photo courtesy of Province of Guimaras
Copyright © 2018. Provincial Government of Guimaras. All Rights Reserved.