I'm a Midwest boy that loves his burgers and fries. As an American expat living in the Philippines for almost five years now, I've had my share of burgers. Crave Burgers and grilled hamburgers from the Mesquite Grill in Iloilo are some of the best burgers I've ever tasted. Now I add Flame It! Burger in Cebu City to that best burger list.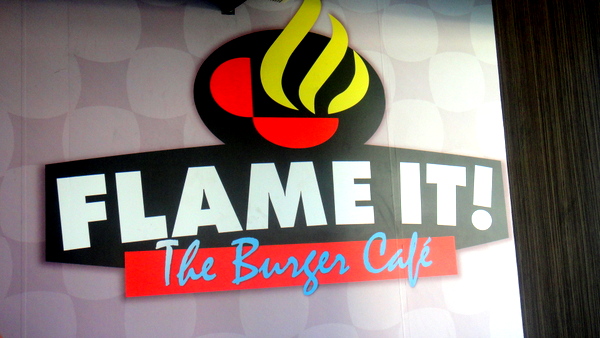 Sure, I've eaten at my fair share of McDonald joints while living in "paradise," and even downed a few burgers at Wendy's and Burger King in Manila.
Jollibee's Champ Burger? Forget it. Doesn't taste like real meat to me and the mayo they add to it is way too sweet for this American expat's taste buds.
So when my asawa and I made a recent visit to Cebu City, the Queen City of the South, imagine my delight when I spied the slogan posted on the following picture: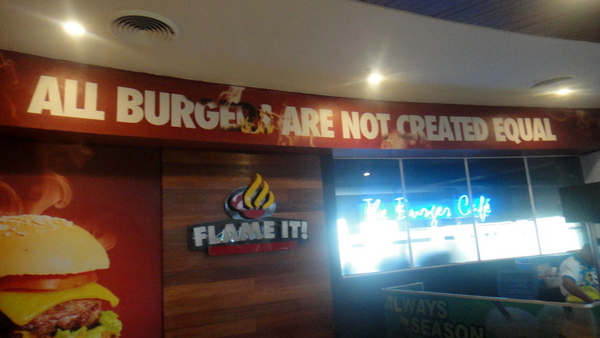 While shopping at the gargantuan Ayala Mall in Cebu City, I definitely had to check this burger joint out. It was lunch time, and the usual suspects, McDonalds, KFC and Jollibee were packed out. I was amazed to see only one other table occupied at Flame It!, an eatery not available in Iloilo City where we do our monthly shopping.
I ordered a Classic Burger from the menu. A half pound of meat with cheese for only 133 pesos. A large order of fries for 58 pesos and a huge Big Shot drink for P40. My wife ordered a regular size bacon mushroom flame burger with cheese and our bill only totaled P403, about 9 US Dollars.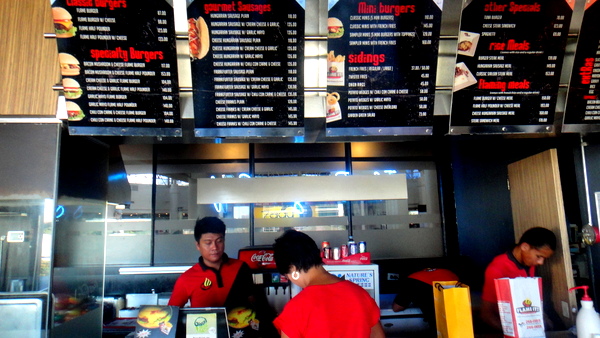 We both ordered our burgers well done. It wasn't long before our platters of meat and fries were sitting in front of us. I devoured mine in a matter of minutes. It was absolutely delicious and one of the best burgers I've ever tasted in my life.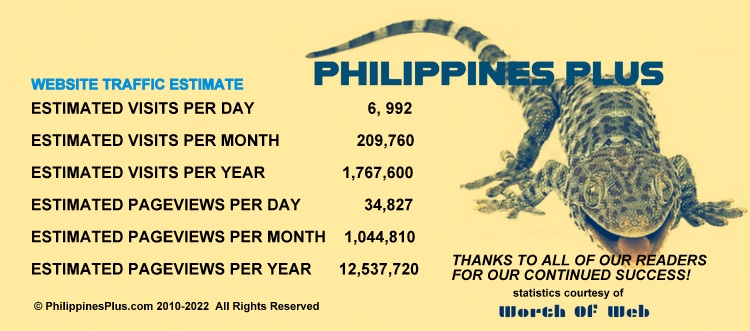 My wife, is by no means a burger aficionado, actually liked her burger, also. The French fries were perfect. The Big Shot soft drink rivaled The Big Gulp which former mayor of New York City, Michael Bloomberg, tried to get ban, and I was in burger heaven.
My asawa thoroughly enjoyed her burger and posed for this picture: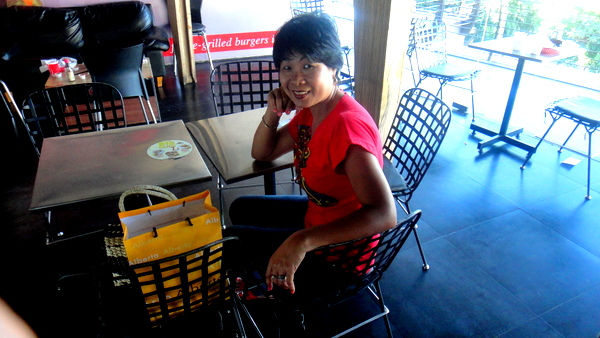 My belly full, I waddled over to the front counter and complimented the store manager and the line cook on the burger and fries. "One of the best burgers I ever tasted," I informed the crew. Both men smiled broadly.
And then I pointed to the Garden Green Salad posted on the menu under "sidings."

"You really shouldn't have this on the menu," I joked, "I bet you don't sell many of these."
"No, sir, we don't," the cook replied smiling.
It was a thoroughly enjoyable dining experience in Cebu City. I later discovered a Flame It! Burger joint when my wife and I shopped at SM Cebu the next day, but since we had a Blue Cheese Burger at the French Bakery (average) upon our first day of shopping and then the Flame It! Burger at Ayala Mall, I decided to give my wife a break.
We ended up eating at a Tokyo Joe's at SM Cebu. Do yourself a favor. Don't stop at Tokyo Joe's. The food was tasteless. Make a beeline to Flame It! Burger which I give a lizard ranking of 4 out of 4.

(About our rankings. 1 lizard=Poor, 2 lizards=Fair, 3 lizards=Good, 4 lizards=Great!)
My only slightest grumble at Flame It's is the colored buns that the burgers came on. Mine was yellow on the top and red on the bottom. I would have preferred a plain toasted Sesame seed bun, but I'm only nitpicking. Flame It! Burger richly deserves the 4-lizard ranking and was one of my personal highlights on our trip to Cebu City.