I hereby officially declare, Papa Duck, the new "King of Karaoke" onGuimaras Island. PD and Asawa Anne visited my spouse and I at "The Farm," and we had the pleasure of the couple accompanying us to the recent Manggahan Festival. That's Papa Duck in the lead photo belting out "Hotel California" by The Eagles over at theKookoonips outlet at the mango fiesta. 

Astute readers of Philippines Plus might recall that The Tom Cat, my American expat friend who has since returned to the States, and I visited Kookoonips during our "Babes and Beer Tour" held last year. Though there were no babes present at Kookoonips the day Tom and I visited, there was a drum set that Tom took full advantage of. I had way too many bottles of San Miguel Pale Pilsen that day to recall what, if any, particular tune Tom played.
Papa Duck, after only a beer or two, was game to try out the karaoke machine, seen below. There wasn't that big of a crowd at the annual mango mash that evening, which had been extended to almost two months by the new governor. In years past, Manggahan was only held for one week, after Holy Week, and was centered in San Miguel, Jordan, the capital.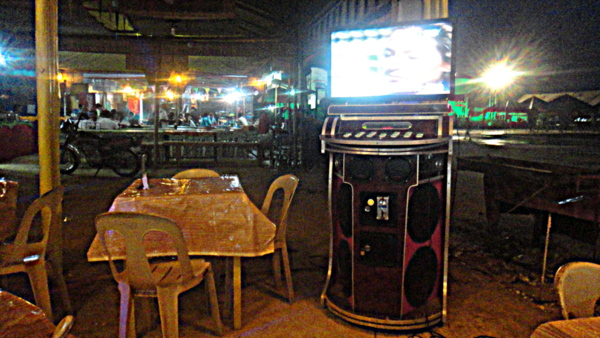 But the new guv, Samuel T. Gumarin, seen in the gargantuan poster below, former mayor of Buena Vista, wanted to extend the festivities throughout all the municipalities of Guimaras this year so Papa Duck and Anne were able to sample a couple of days of Manggahan during their visit. Too bad that many people weren't on hand to listen to Papa Duck's courageous crooning.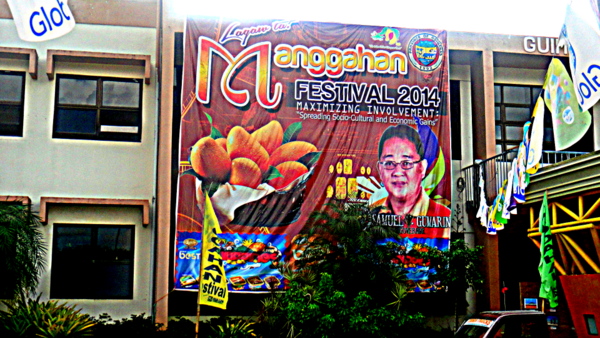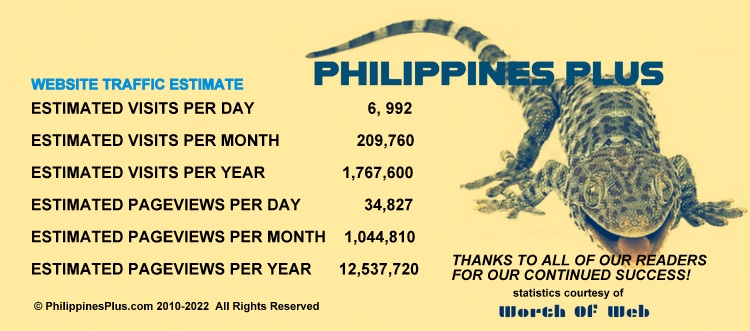 Our nephew Sharwin, and new domestic helper,Mera, eventually joined us. Mera, a recent graduate of Santa Teresa High School inGuimaras,  came aboard the first of April. She's a hard worker and has been a big help to my wife and the whole family. I'm pleased as can be, since I have even less work to do than before, and that wasn't much. That's her in the foreground sitting next toSharwin.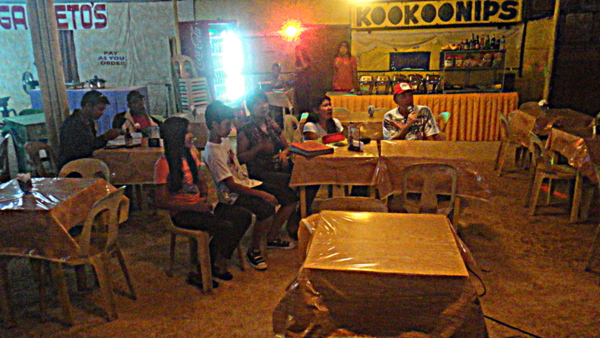 I sang my usual "Paint It Black" by the Stones while my wife belted out her favorite,  the classic Joplin tune written by Kris Kristofferson​,  "Me and Bobby McGee." Thanks to Papa Duck and Anne for picking up the five peso a song tab and beer tab. We were killing time (and San Miguels) while waiting for the talent contest portion of the island's beauty contest when we caught wind that the competition was going to be held nearby in the gymnasium instead of the stage, which we were perched near. 
The talent contest was to begin at 7:00 pm but I knew that there was no way the event would begin on time. "Filipino Time" is so interwoven into the culture of the Philippines despite the efforts of the government to institute some ridiculous policy a few years back called "Juan Time." "Juan Time" was a misguided effort by the government, when it was not too busy handing out huge amounts of pork to its elected officials, to try and get  Filipinos to arrive at work and different functions on time. 
I can personally attest to the fact that "Filipino Time" is alive and well in the Philippines and that "Juan Time" was a huge flop. 
We had plenty of time to walk over to the gym and get a seat in the bleachers. Amazingly, the talent contest only started 30 minutes late, and our group settled in for a night's worth of entertainment. But more on that later. However, none of the contestants could even begin to match the "King of Karaoke's" talent level. But then again, I doubt that any of them had quaffed a bottle (or two) of Pilsen before the event.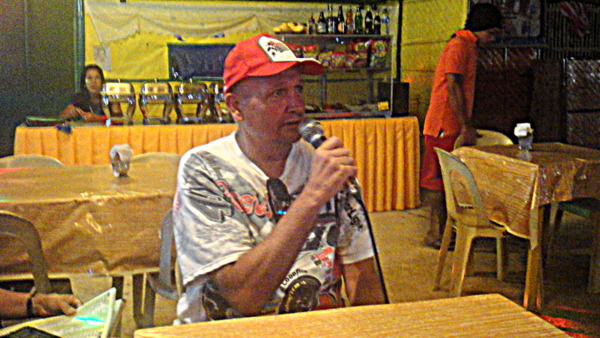 Papa Duck,  "The King of Karaoke"