Beauties & the Beasts: The Kano and Papa Duck Hit Manggahan. OK, maybe that title post isn't fair to my American expat friend. I hope PD, who along with Asawa Anne, recently paid a visit to "The Farm" in Guimaras, doesn't mind. To be honest, I drank a LOT more bottles of San Miguel Pale Pilsen when The Tom Cat and I used to hang out at the annual mango mash and I would become even more obnoxious than usual. I doubt that Papa Duck and I ever drank more than two bottles of beer any night we attended the festival.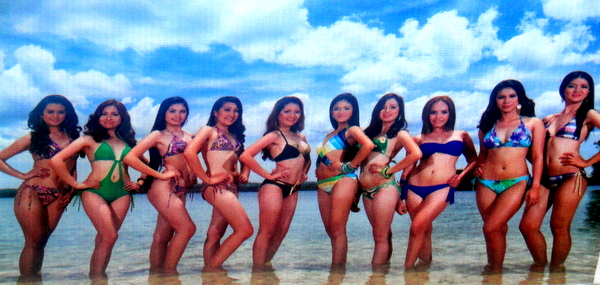 From the swimsuit competition for Mutya ng Guimaras, Pearl of Guimaras, beauty pageant
Here's a look at our visitors. See? Papa Duck's no beast. Always laid back. He's a cool looking dude especially when he's wearing those stylish shades. In fact, my American expat friend had a couple of Filipino ladies ask if it was OK for them to take his picture while we at the Manggahan Festival. We both got the celebrity treatment, but I'm sure that PD was the main attraction.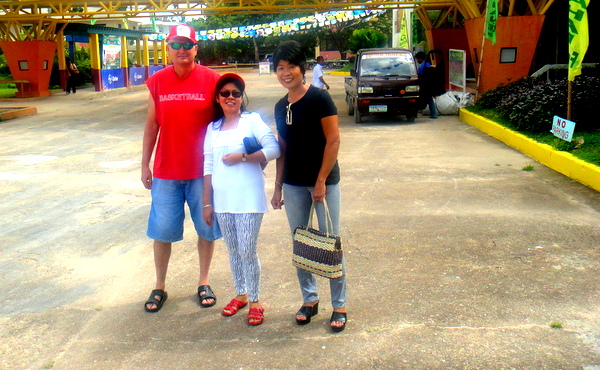 Our crew arrived in the afternoon just in time to watch an aerobic class that was exercising in the heat and humidity. None of us were tempted to join in and after watching for a few minutes decided to check out Lisa's Talabahan, my favorite eatery on the island. Lisa's always has a restaurant outlet at the Manggahan Festival and this year was no exception.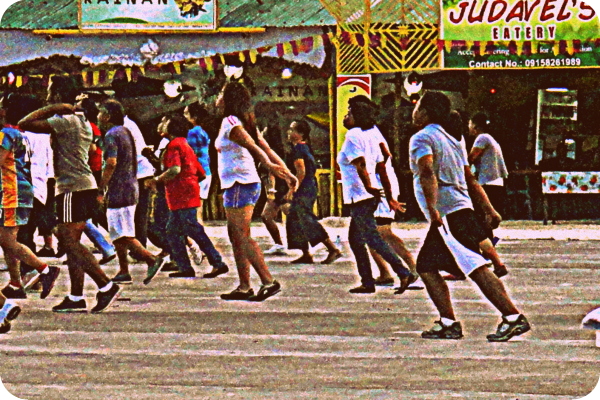 The crew at Lisa's was preparing the classic Filipino dessert dish, halo halo, seen below. I'm not keen on all the textures but my wife is a huge halo halo fan. Did I mention that my Filipino asawa also eats fish head's soup and pops the fish eyeballs into her mouth like popcorn? I don't even like to look at a fish's head staring at me on the plate.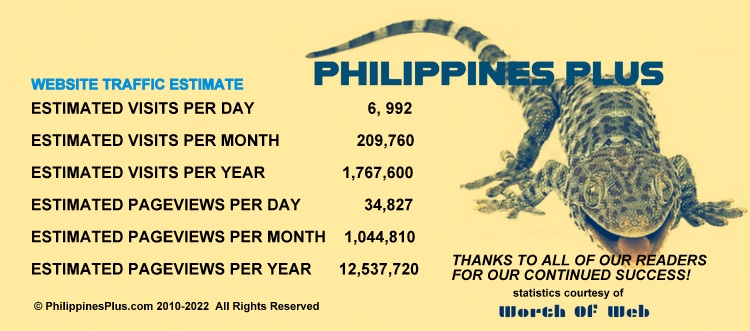 But to satisfy my sweet tooth, Il would much rather have a chocolate cake from Red Ribbon with a few scoops of Selecta or Magnolia Rocky Road ice cream or a dish of fresh Guimaras mangoes or pineapples from our farm.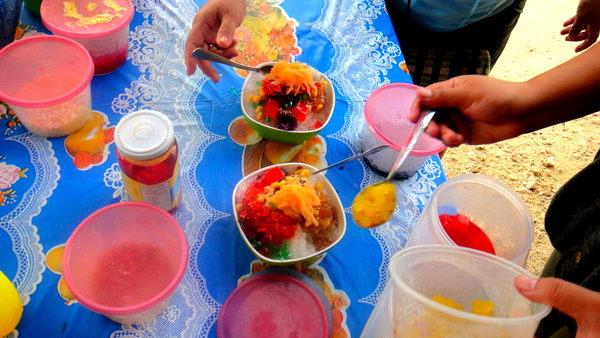 That's one of Lisa's many daughters preparing the halo halo in the next photo. And there's Papa Duck in the background, with those cool looking shades again. Man, when the guy turns on the charm, he's a veritable chick magnet!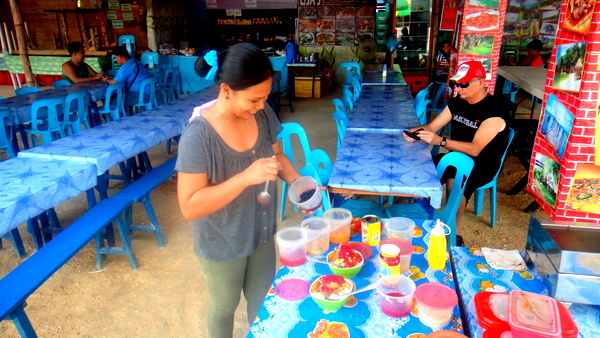 It seems there's always a new baby present whenever we visit our favorite talabahan (oyster bar) and this year was no exception. The young child shown below belongs to one of Lisa's daughters and no doubt will work in the restaurant serving food and cold bottles of San Miguel Pale Pilsen once she gets a little older. The little tot was putting on quite a show for everyone, dancing around and having fun.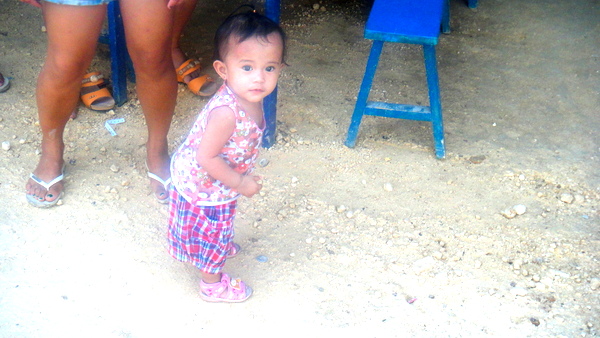 Beauties & beasts? What about those swimsuit beauties from Mutya ng Guimaras? This year I missed the competition which was held on the beach at Nueva Valencia in Guimaras. Though the actual queen of the beauty pageant had not been named yet, I was bitterly disappointed that I was not able to attend the swimsuit portion of the contest.
My asawa and I were in Cebu City at the time the pretty pinays were prancing around in their swimsuits, and though the talent contest portion of the competition was coming up, I knew there would not be any bikini-clad babes in attendance.
But, the talent competition fortunately did have it's highlights which I will feature in an upcoming post.