The Ferry boat to Cebu: the expat adventure continues. My wife and I were on a well-deserved vacation (well, for her anyway) to the Queen City of the South, Cebu. We had started this expat adventure in Iloilo where we had taken the SuperCat Fast Ferry to Bacolod. In Bacolod we boarded a bus at the Ceres Bus Terminal and after an almost three hour ride, were approaching the port at San Carlos City where we would board the ferry which would take us to Cebu.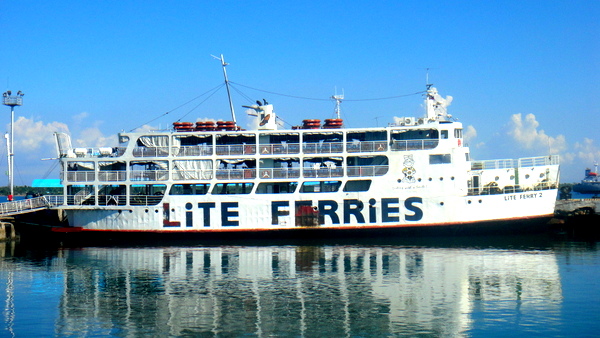 After reaching the port, our driver instructed us to leave the vehicle and obtain our terminal fee, 10 pesos, before boarding the Lite Ferry, shown above.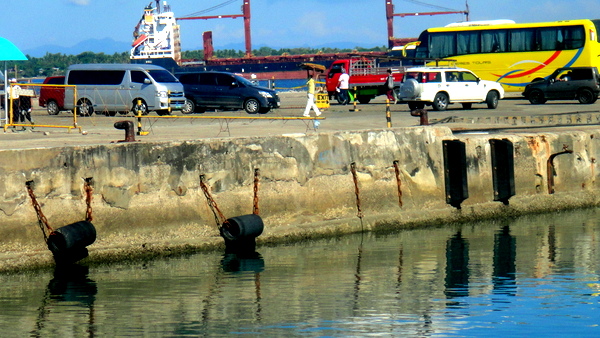 Before boarding and preparing for the 90 minute journey to Cebu, I took a couple of photos. I needed to stand up and walk around for awhile before the trip began anew.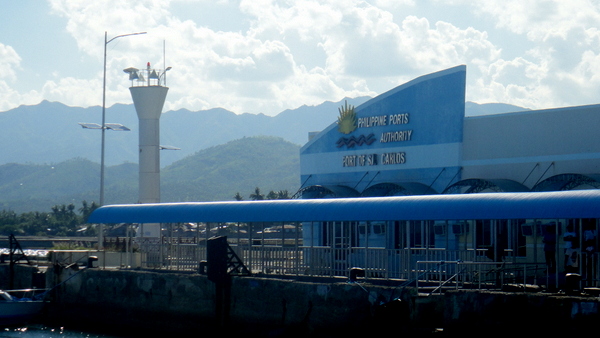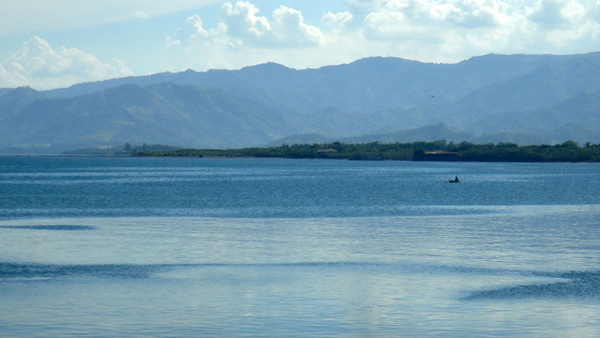 It wasn't long before our ferry left. My asawa and I settled into one of the seating areas shown below before we headed to the air con lounge. I wanted to take a few more photos first.
Soon after leaving the dock at San Carlos City, we were all startled by a loud crashing noise. We rushed to the see what the source of the commotion was.
Seems a small fishing boat had collided with the ferry! Thankfully, the fishing boat did not capsize and no one appeared injured. The ferry kept moving on, not missing a beat.
I remarked to my spouse and other passengers around that I don't know how in the world the fishing boat could miss such a large ferry. Maybe they were drinking too much Red Horse Beer, I offered, and that drew a few laughs from the passengers gathered around.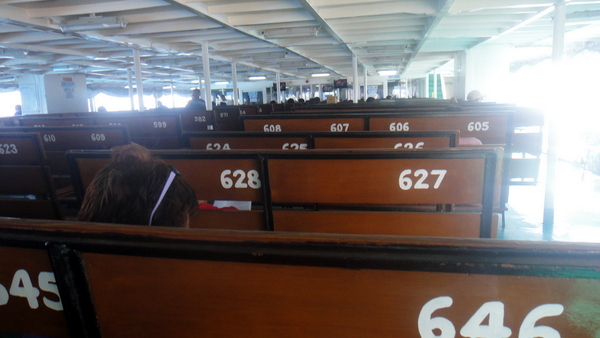 One of the passenger seating areas on the ferry
With the excitement over, we headed over to the air con lounge area. I took out my Samsung Galaxy Tablet and started playing my Jewels Saga video game to pass the time.
After about 90 minutes we approached Cebu where I took the following pictures: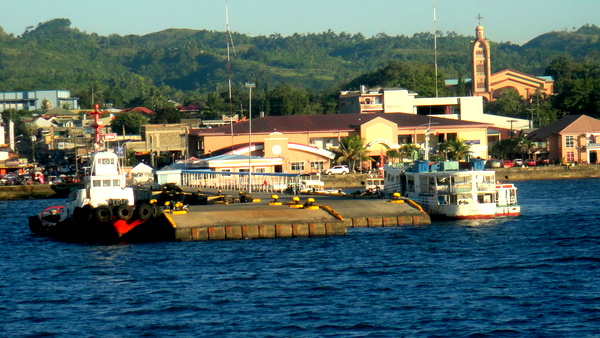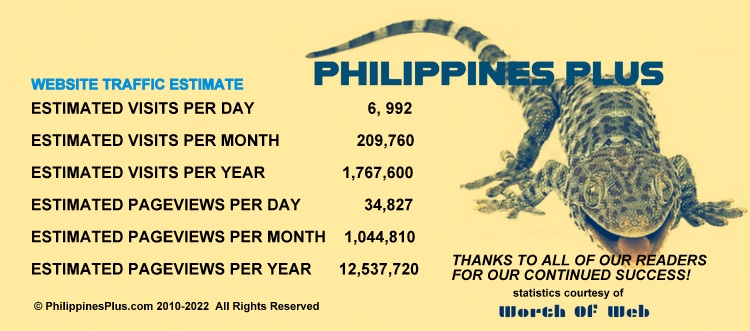 The big building you see in the background in the following photo is a gargantuan Days Inn. We didn't have any hotels or rooms booked in Cebu City, which was still two hours away. We were playing this trip strictly "by ear." Though it was approaching Friday evening by the time we got to Cebu City, I had no doubt we would still be able to find a room even without reservations.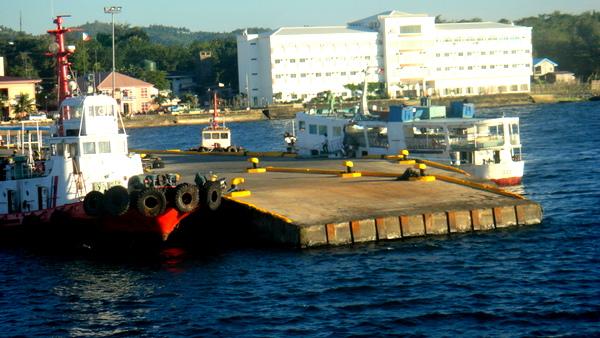 We soon exited the ferry and got back onto our waiting bus. The driver had instructed all passengers to leave their luggage inside the vehicle while it was on the ferry, as the bus would be locked.
We took our front row seats and found our luggage, one bag, intact. Now began the final phase of our trip to Cebu, the two hour ride to Cebu City. It had already been a long day and my asawa and I both were anxious to get a meal and find a place to rest for the evening.
We arrived in Cebu City at the North Bus Terminal about 8:30 pm that Friday evening. I had been searching my map app on my tablet to try and find a hotel that we could stay in. I picked the Summit Circle Hotel.
We quickly hailed a taxi driver at the bus terminal to take us to the hotel but he claimed he did not know its location. I showed him the map on my tablet. That didn't help him. "Wait, sir, I will call my friend Bert. He will know how to get there," the driver informed me.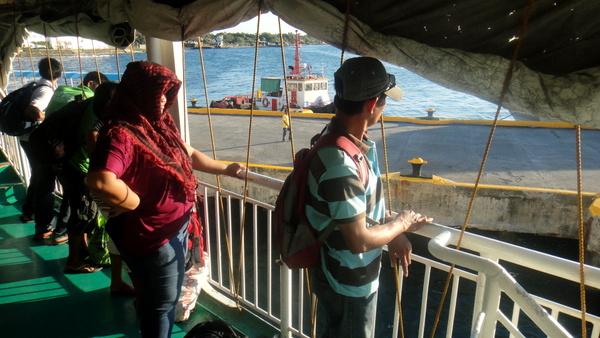 Some of the passengers are seen waiting for the Lite Ferry to dock in Cebu.
Bert answered his phone. After a quick conversation and the word "Robinsons" tossed about, the light bulb above our driver's head switched on. He was on his way.
We arrived at the Summit Circle and my wife paid the 67 peso taxi fare. As soon as we walked in, I realized this was going to be a very expensive place to stay. We took the elevator to the lobby where I saw a promo that listed rooms for around P1,700, 37 US Dollars. I could manage that for the evening but when we went to reserve a room, the front desk clerk quoted a price of P3,400, 75 US Dollars!
"That's too much," I said, "what about that promo price I saw in the elevator?
"Oh, sir, that's only if you reserve your room ahead of time and came to Cebu on Cebu Pacific," he replied.
"Well, we're both tired but that's too expensive for me, "I said, walking away.
"Wait, sir," the clerk called out, "I can give you a discount."
"How much?" I asked.
"I can give you the room for P2,700 pesos," he said. That was a savings of 700 pesos but still amounted to 60 USD.
We took it. My poor asawa already had a headache and we both were extremely fatigued. We could stay the night and look for a cheaper location tomorrow.
We picked up some fast food at the Robinsons located next door, took a quick shower, revved up the air con, and went to sleep. It had been a long day but we were finally in Cebu, the Queen City of the South.
I give the Ceres Bus experience from Bacolod to Cebu 3.5 out of 4 LIZARDS. It was a great travel experience in the Philippines and a super value and I highly recommend using this service.  My only negative feedback would be the Ceres Bus Terminal in Bacolod. A better waiting facility for passengers would be helpful.