Our tour guide, led by Dennis and accompanied by "The Captain", our driver, picked us up promptly at 7:00 am. "American Expat Adventures: Underground River Puerto Princesa, Palawan" was about to begin. We left the Islands Stay Hotel in Puerto Princesa and prepared to pick up the remainder of our entourage.
FILIPINO TIME I
Dennis, our affable guide to the Underground River, informed us that it would take about two hours to reach our destination. However, we had two more stops to make.
At the first stop, a subdivision nearby operated by a German, Dennis went in to retrieve two more members of our group for that day.
Five minutes passed.
Ten minutes elapsed.
After 15 minutes I asked our driver, "The Captain", what the delay was. The couple we were waiting for, evidently on "Filipino Time," were not ready yet.
Finally the male Filipino in the group came to our van. We still were waiting for his Filipina partner. 20 minutes later she arrived. It was the same couple that had ridden the van we had taken the previous day from El Nido to Puerto Princesa.
FILIPINO TIME II
The Captain then quickly navigated his way to our next stop, a pension house. There we waited 10 for another Filipino group, a family of six. Like us, ALL of the tour group were advised the night before as to what time the van would arrive for pick-up.
Thankfully, our group was now complete and we headed off to our Underground River Adventure in Palawan.
As we approached the site, we stopped for a quick snack and a CR, Comfort Room, break.
Our driver quickly ate his breakfast. It's been our experience during our travels this year that whenever our driver makes a scheduled stop, the eatery probably provides him with a free meal for bringing along some extra customers. I'd do the same thing if I was in their shoes.
My lovely asawa, seen below, made her way to a vantage point for a photo op.
As we made our way down, we were asked to make a "donation" for using the vantage point by a young Filipino boy. My asawa handed him 20 pesos, 41¢.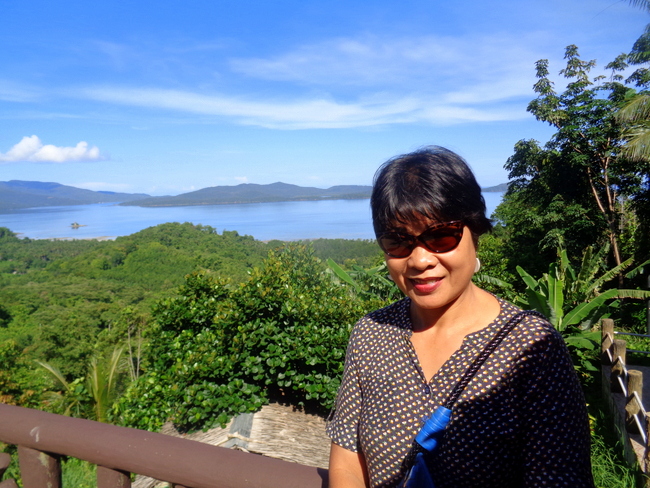 PESTERED BY VENDORS
After our break, it wasn't along before we arrived at our destination. As we waited our turn for a banca boat, seen below, we were assaulted by a horde of vendors trying to sell us hats and jewelry. It reminded me of the vendors at Boracay who continually pestered us.
Yes, I'm well aware of the fact that these salespeople are only trying to make a living. However, I'm hopeful that a proposed bill by Senator "Bam" Aquino to address this issue will see fruition.
Sen. Benigno "Bam" Aquino IV wants to prohibit excessive solicitation from tourists and punish those who commit it.
He filed Senate Bill No. 667, which discourages aggressive solicitation and imposes fines for repeat offenders.
First-time offenders will be issued a warning, while a P500 fine for each incursion will be imposed for subsequent violations, the bill stated. (Source: Panay News)
This was the only time during our visit to Palawan where we experienced a mass of salespeople descending on us.
One vendor asked me "what I wanted." "To be left alone," was my terse reply. No one approached us after that.
While we waited for a boat which would take us to the staging area for the Underground River Tour, my spouse, decided to pass the time by climbing a tree. She has considerable more energy than her crusty old expat husband.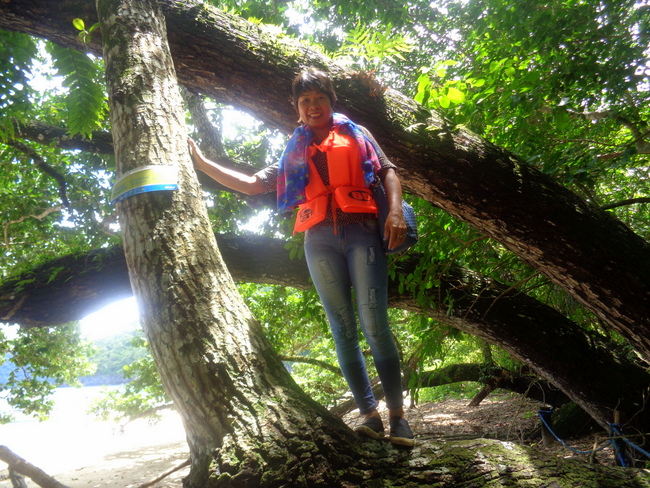 We only had to wait about 15 minutes before we took of for the next phase of our adventure. My asawa, wearing a mandatory life vest, gives me the "thumbs up." That's better than the middle finger extended any day.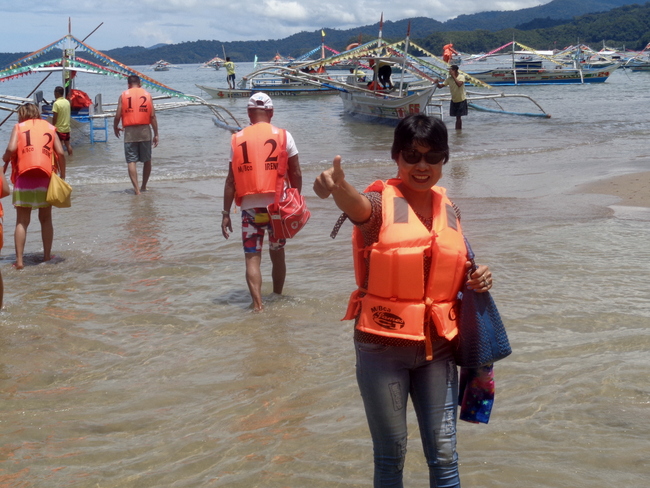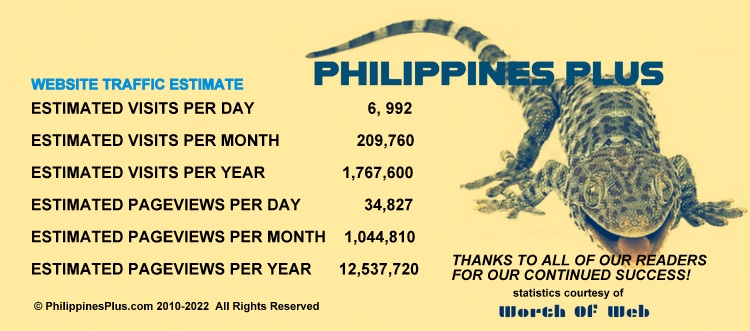 Here's a few shots of the awesome scenery we saw along the way on our brief 10-minute excursion.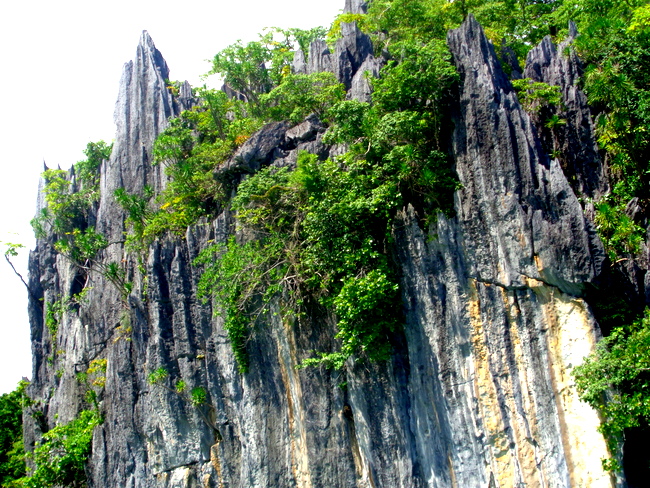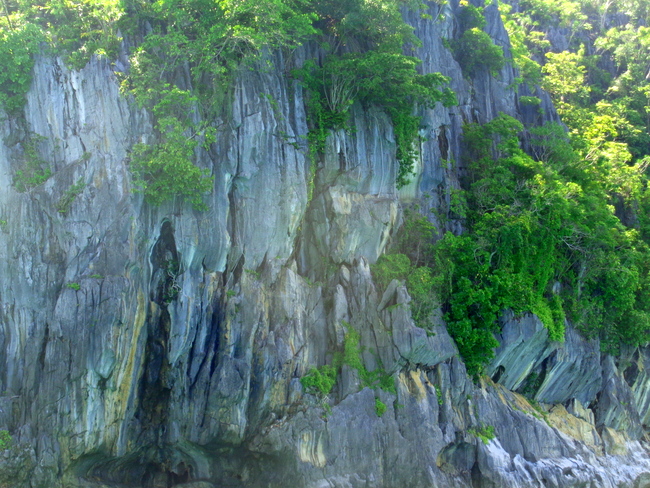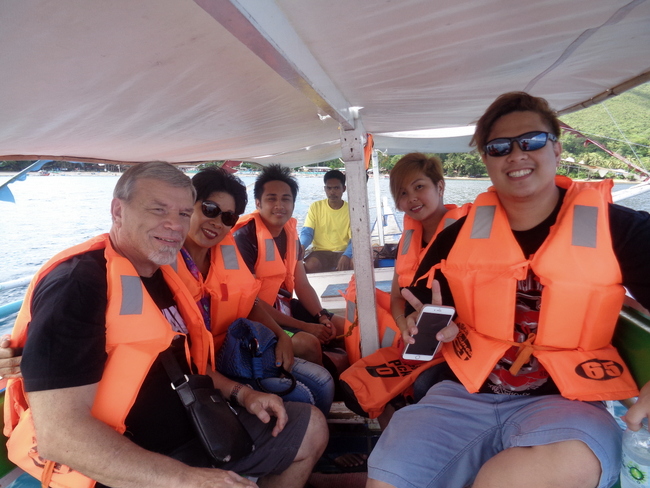 We're on our way!
We made it to shore and donned a hard hat such as the one worn by lovely wife below. We needed protection from the bat poop that might drop on our heads. Our guide Dennis also advised us to keep our mouths shut during the door as to keep any potential poop out of our mouths.
For once, I kept my mouth shut for an extended period of time. I'm sure my spouse enjoyed the break.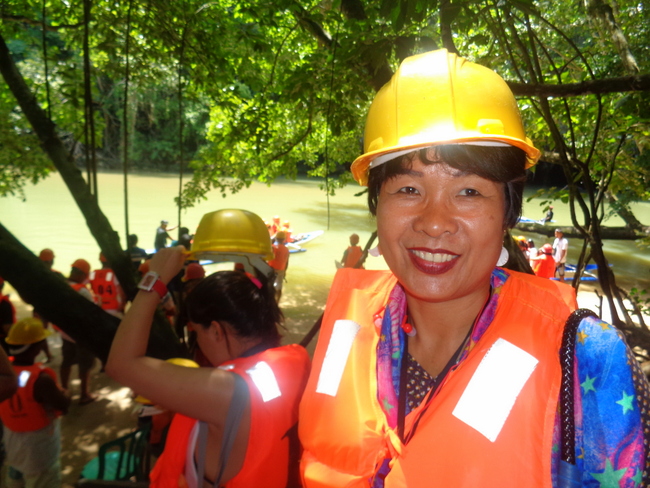 We're off on our adventure to the Underground River in Palawan in the next shot.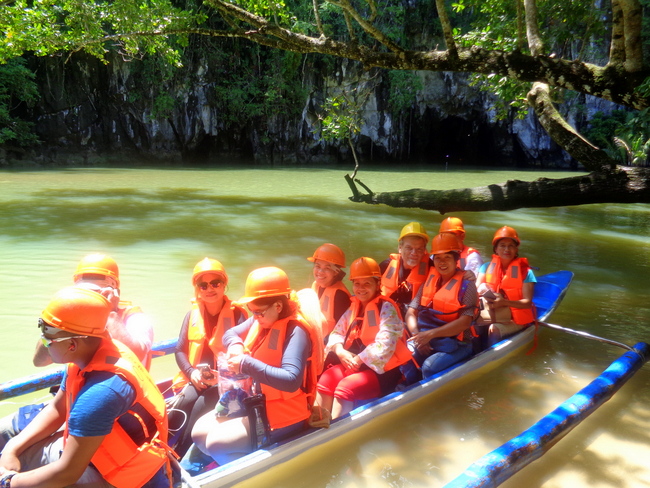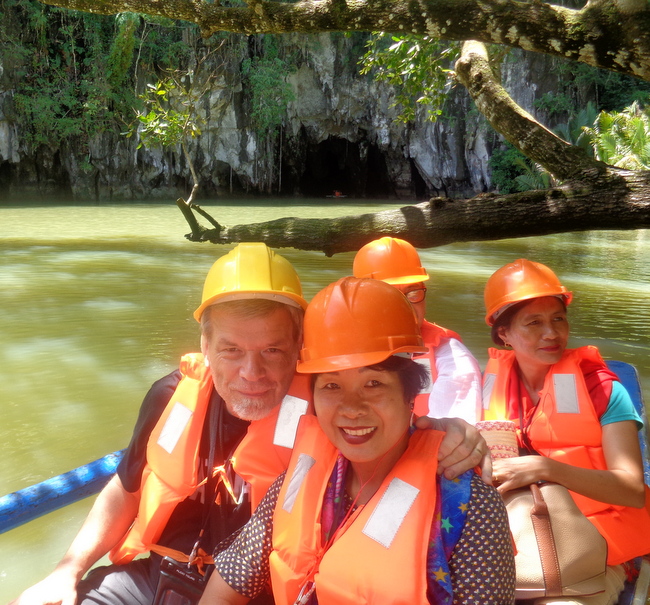 Our friendly guide Dennis took this photo for us. It was a bright, sunny day with no rain in sight. During our previous three days in Palawan we had intermittent torrential rains every day. It wasn't long before we reached the entrance to the Underground River in Puerto Princesa, Palawan. The adventure was just beginning.