My asawa and I toured beautiful, bewitching Bohol the other week visiting the famous Chocolate Hills and other local tourist sites such as the Loboc River. It was a whirlwind one day tour that originated from the SuperCat Ferry Terminal in Cebu City which took us to the port of Tagbilaran in Bohol.
We took a tour recommended on the SuperCat website for a cost of Php 2,980.00 each, 63 US Dollars, which included the cost of SuperCat round trip tickets and lunch on the Loboc River Cruise. All terminal and entrance fees were also included in the tour package.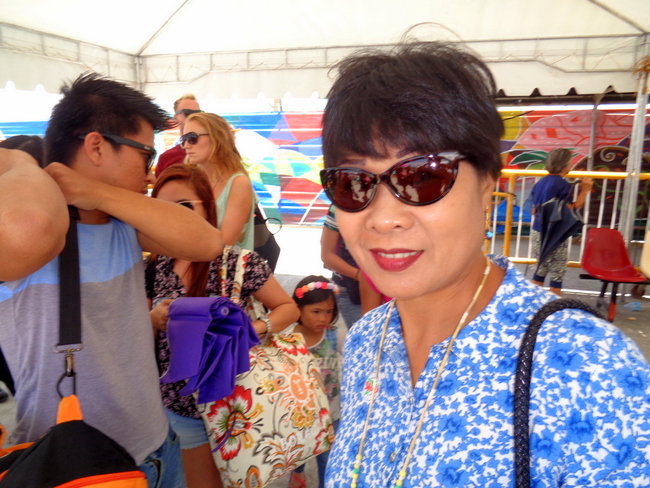 My lovely asawa at the SuperCat terminal in Cebu City
The tour was advertised as starting at 10:45 am. We didn't arrive in Tagbilaran Wharf 11:30, 90 minutes later. It takes two hours to reach the Tagbilaran Wharf. We had to be back at the SuperCat terminal by 5:30 pm that same day to make it back to Cebu City at around 7:30 pm. According to the SuperCat website, our Bohol Day Tour Package was to include the following:
Lei Reception by Travel Village
Baclayon Church & Museum
Loboc River Cruise w/ lunch on board
Tarsier Sanctuary
Bilar Mahogany Man Made Forest
Chocolate Hills
Butterfly Farm
Blood Compact Monument
Souvenir Shopping
Back to Tagbilaran Wharf for Check-in
However, due to our late starting time the items crossed off in the above list were stops that we did not make on the advertised tour. Though our tour guide did inform us of the historical significance of the places we did not make it to, it still would have been nice to have stopped at those locations.
Aside from the Loboc River Cruise we were rushed for time at the places we did stop at, limited to 15-20 minutes per spot. In retrospect, we would have been better off catching a much earlier ferry and contracting one of the dozen of tour groups that greeted our party at the Tagbilaran Wharf.
We did travel in air-conditioned comfort as advertised, however, and the Loboc River Cruise, along with the Chocolate Hills, were definitely the highlight of our one day tour.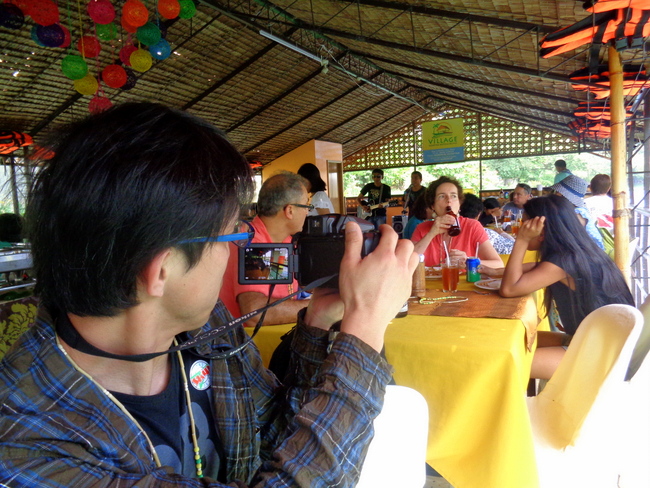 One Japanese man in our tour group was always the last one to arrive back on the tour bus. Our tour guide was always out looking for the man as everyone waiting in our air-conditioned bus knew the Japanese tourist was the one missing. Here's he's taking a picture of other tourists on the Loboc River cruise who were enjoying their all-you-can-eat buffet lunch. Drinks, other than iced tea, were not included in the lunch package. The cost of the cruise and lunch would set you back 450 pesos each if you had not purchased a day tour package.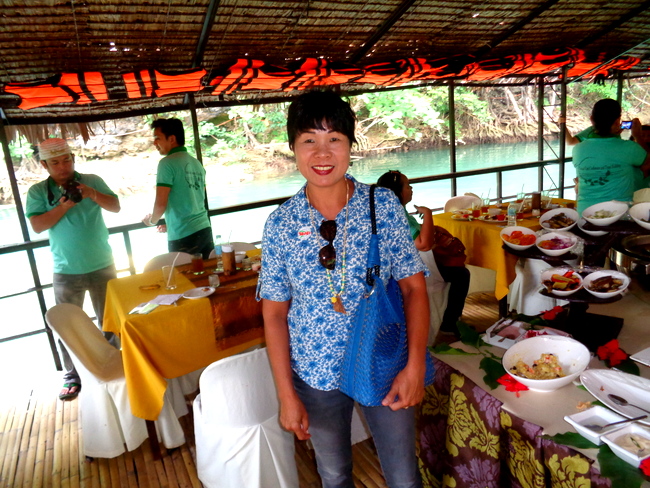 There's my lovely asawa posing for a picture on the floating restaurant. The lunch featured standard Filipino fare, such as pancit and bihon, and was adequate. They did have plenty of food on hand and no one went hungry. The staff was helpful and there was a trio of musicians who entertained us throughout the trip.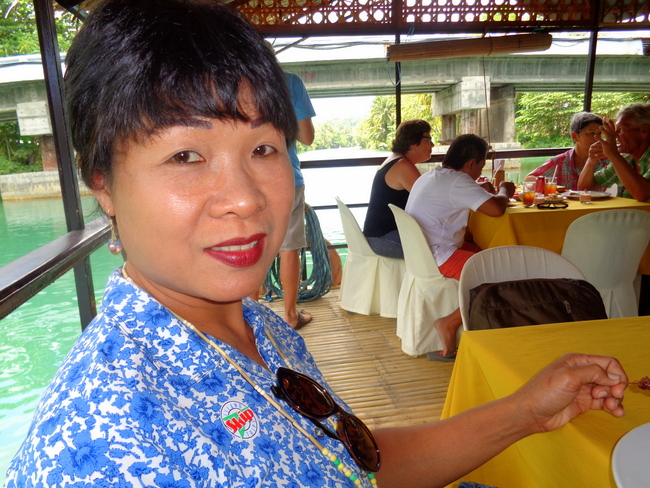 My spouse is sporting her Island Skip Tour button which we both wore throughout the trip. Most of the patrons on our particular barge were foreigners, we had three Americans in our group, all accompanied by Filipinas at least 30-40 years their junior.
Our floating resto did have a group of Filipinos all working for the same outfit, as they all wore the similar uniforms. They were quite a boisterous group and seemed to be thoroughly enjoying the Loboc River Cruise in Bohol.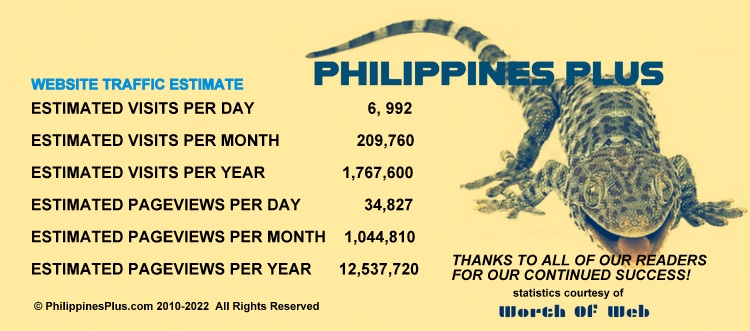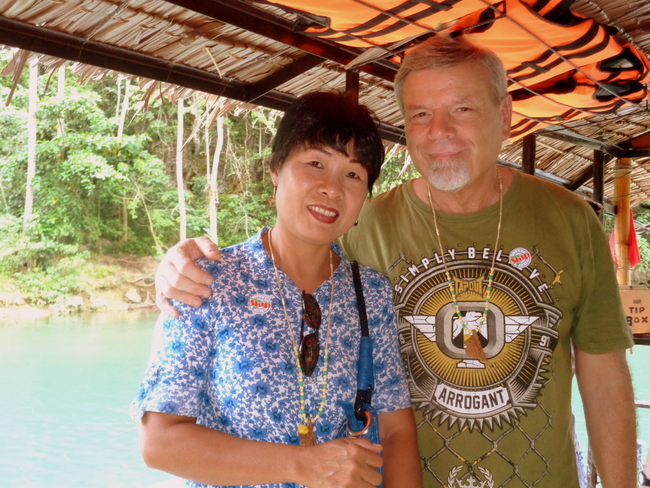 One of the foreigners on the trip took our picture for us. A friendly man who I believed was from Austria. We're both sporting our Tarsier necklaces which we were given to us upon our arrival to Bohol.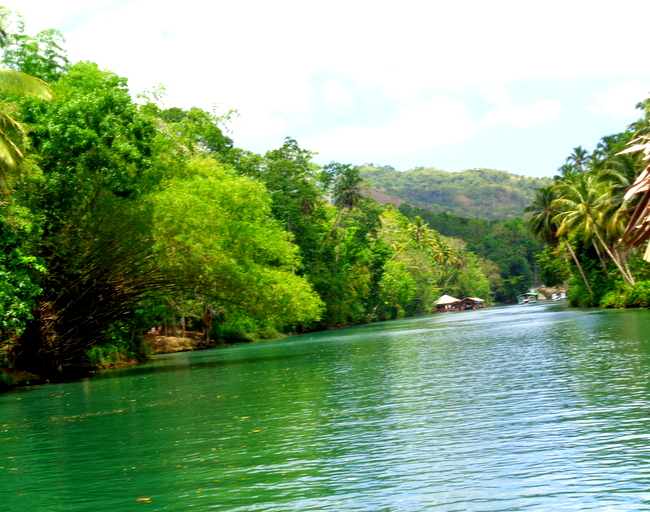 It was a peaceful scenic cruise that lasted close to 45 minutes. We saw dozens of others floating restaurants on the Loboc River but it seemed to me that everything was commercialized a bit too much. Here's a look at just three of the many water craft that we encountered.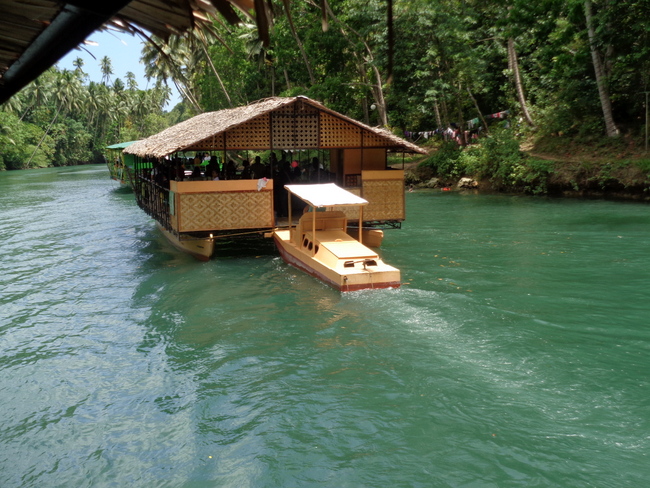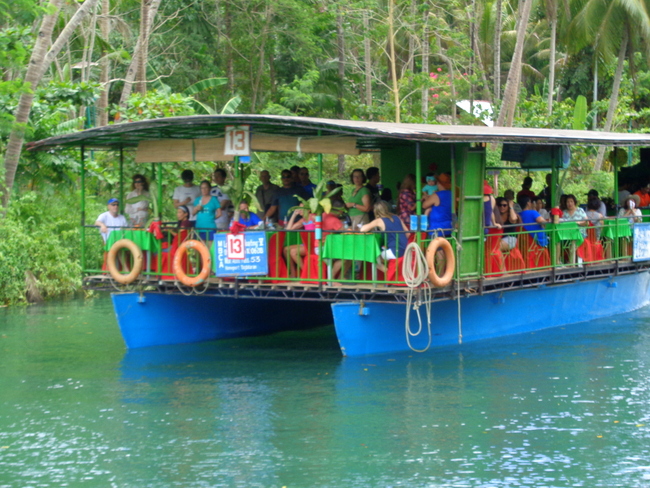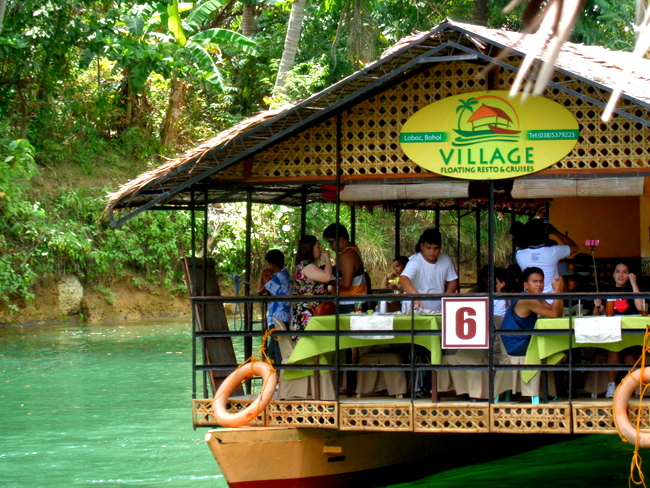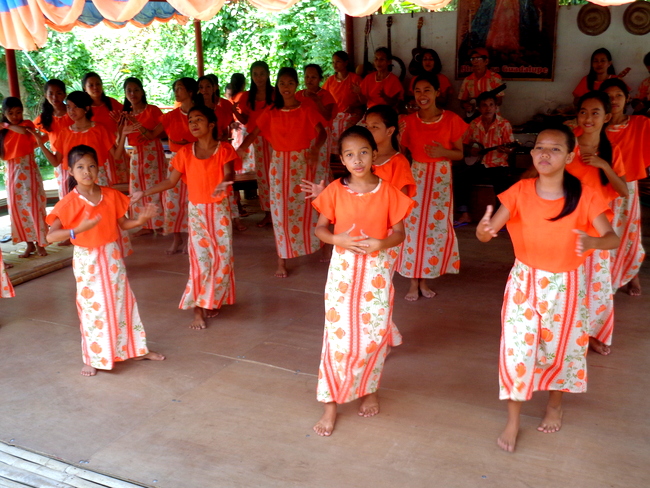 Near the end of the Loboc River Cruise we docked at a local village where a group of young ladies presented traditional Filipino dances such as the Tinikling. We dropped a 100 peso note in the donation box below.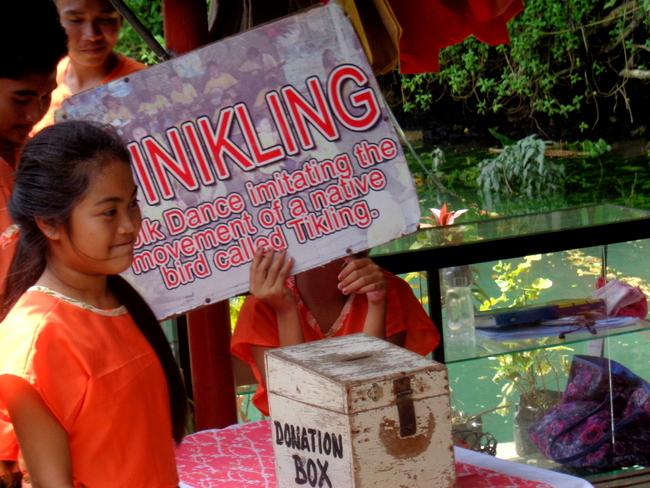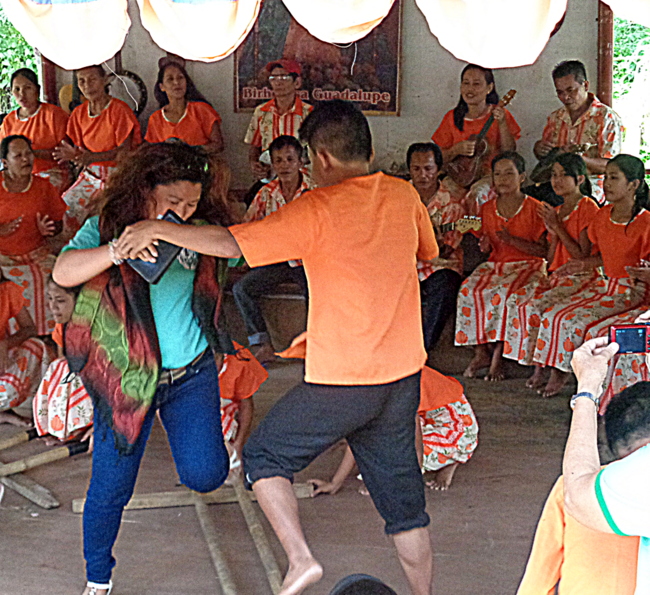 One of the Filipinas from our floating restaurant joined in the dance as did one of the Americans from our tour group. I wisely stayed on the boat. If you've ever seen me dance, you'll understand why.
There was no way I was going to embarrass myself (or my wife) by attempting the Tinikling. The Tinikling involves two people hitting bamboo poles on the ground and against each other in coordination with one or more dancers who step over and in between the poles. I'm lucky to be even able to walk without stumbling at my advanced age, let alone attempting some complicated dance maneuvers.
The Loboc River Cruise is something I would recommend taking if you travel to Bohol. It's entirely possible to visit Bohol and see the sights without the help of a tour group. However, though we were rushed and didn't get to make every stop advertised on the SuperCat website, I would still recommend going with an organized tour service as it does make traveling around beautiful Bohol much easier. But, as mentioned earlier, take a much earlier ferry to the Bohol port and negotiate with the many tour groups that will meet you at the Tagbilaran Wharf.