My asawa and I were back in Bacolod, the "City of Smiles,"on a mini-vacation in the Philippines. Regular readers of Philippines Plus know that I excel in doing nothing but my spouse works from sunrise and sunset and deserved a break. I'm always on a perpetual one of course.
After dropping off our Ford Ranger XLT at our usual parking lot near Jordan Wharf in Guimaras, we boarded a banca boat to nearby Iloilo City. We hoped to catch the 10:30am Super Cat Ferry but when we arrived at the Iloilo Port Authority around 9:30, we spied a Weesam Express vessel that was leaving in 20 minutes.
It only costs us 35 pesos a day, 74¢, to rent the lot space and 50 pesos, about a buck, if we park it overnight. We always take our key with us and trust the lot owners to always take care of us.
We quickly purchased two round trip tickets and soon boarded the Weesam Express. The waters were rough that day. In the first time in over six years of living in the Philippines and riding banca boats and ferries, I felt my myself becoming seasick about 45 minutes into the 90-minute trip.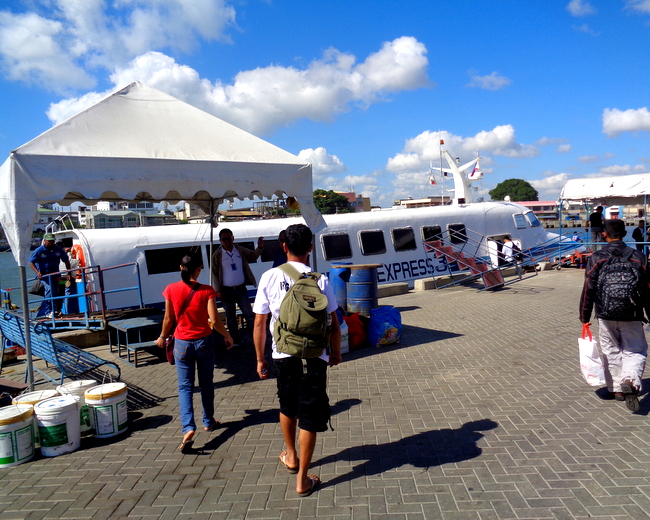 I had a small container of Tiger Balm in my man purse. My wife rubbed the temples of my fat head with the smelly stuff and I closed my eyes per her instructions. I managed not to spew vomit projectiles all over the ferry but felt extremely nauseous until we reached Bacolod.
A taxi driver at the port took us to our destination, The Check Inn Pension Arcade. We knew we were getting scammed at 150 pesos, three bucks, off meter, for the short trip and my asawa questioned the driver in the native Ilonggo language.
We had used a taxi service before on our first trip to the City of Smiles and knew the rate should only be about 50 pesos, one dollar.
The driver gave my wife some excuse about people complaining about not having enough taxis at the port so since the drivers had to wait for fares, they gouged any passengers they could. Regular readers of Philippines Plus and those that have met me in person, know this ripping off of the foreigner, the "skin tax," is one of my pet peeves.
While some foreigners might write about expats like me that complain about being ripped off and wonder why we are even complaining, I personally do not let to be stolen from wherever I live.
The driver got no tip from my wife and we checked in to the Check Inn.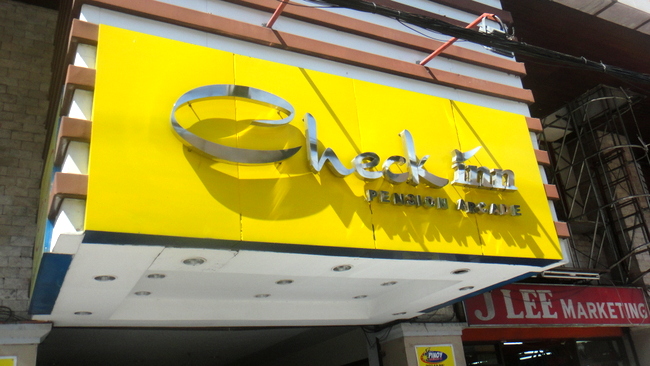 Now the Check Inn Pension Arcade in the heart of downtown is no five-star hotel. It only costs 1,000 pesos, about 21 U.S. Dollars,  for a standard business room for two people.
But the place is clean, the staff personable, and the air con is good. Plus, the fact that it is only a five minute walk from SM City is another selling point. I saw one TripAdvisor review that complained that the establishment didn't have a flat screen TV. Do you really check into a hotel to watch a flat screen TV?
We arrived at noon, two hours before the 2 pm check-in time, but the front desk clerk didn't charge us any extra. I took a quick pee and we headed over to SM City for some lunch.
We stopped outside the Vikings Buffet first. There was a huge crowd dining inside but after learning the cost per person for the all-you-can-eat buffet was 633 pesos, I walked away, embarrassing my wife.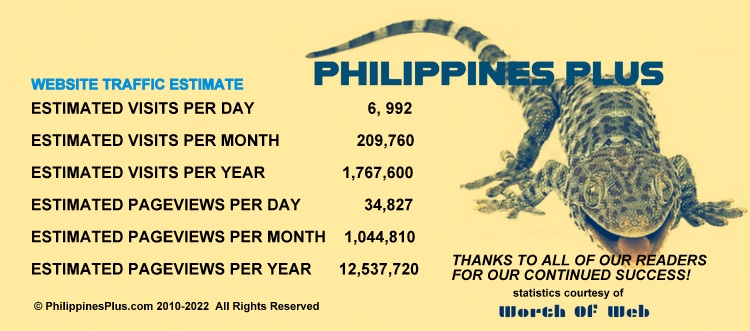 But it's not the first time I've embarrassed my wife in public and it certainly will not be the last.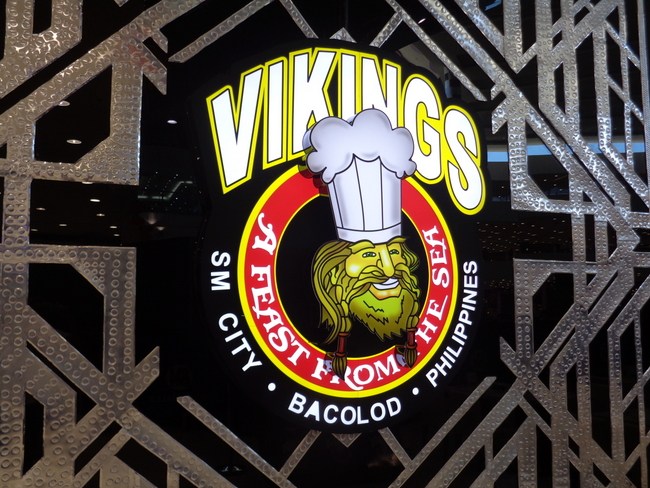 (I later learned that during your birthday month you can eat for free as long as an adult paying the full price accompanies you. We'll be heading over to the new Viking Buffet at SM City in Iloilo during my birthday month.)
Instead, we stepped into a joint called Hukad which featured Filipino cuisine. I usually don't patronize that many eateries at the SM Malls that carry the traditional menu and opt for a more Western-style fast food joint like KFC's or McDonald's but I opted to break with tradition that day.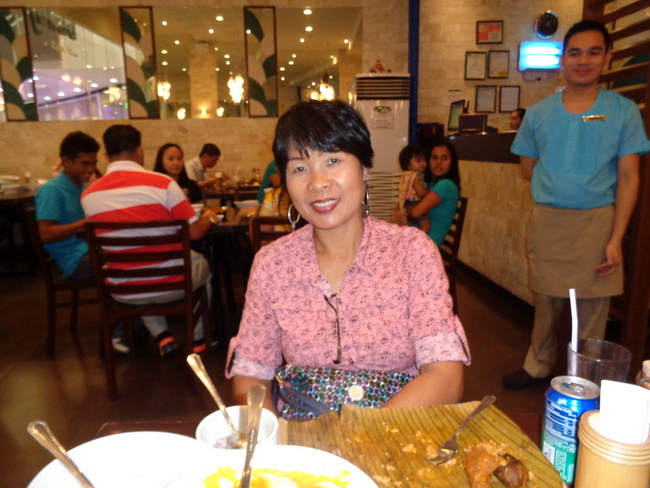 There's my lovely asawa getting ready to dive into her curry dish. I ordered an appetizer, lumpia, which was absolutely delicious. The pork rolls were enormous. I also tried a Chicken Pandan dish which was another home run. The only foul ball was my wife's curry dish which had some chewy mystery meat. But SM City in Iloilo also has a Hukad's and we definitely will be checking that one out.
The staff at the Bacolod outlet was extremely helpful and friendly, making our overall dining experience there a positive one. Prices were moderate. Aside from the dishes mentioned, we had a Sprite and a Pineapple fruit shake along with a tapioca dessert and our bill came to 720 pesos, 15 dollars.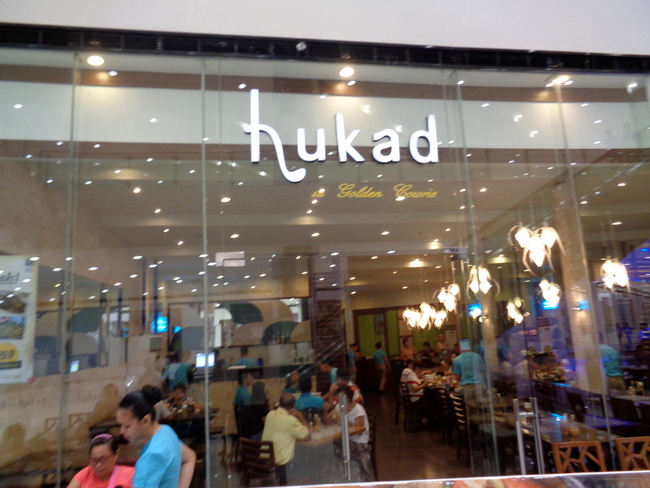 We didn't leave the Bacolod SM City until 8:30 pm, 30 minutes before closing, as we made a stop at Diva's Beauty Lounge and Day Spa where my wife, featured in the next photo,  was pampered with a manicure, pedicure and foot spa. I sat in the lobby reading the news via SM City's free wi-fi on my Samsung Tablet.
We didn't take a cab. Like I mentioned earlier, it was only a five minute walk back to our hotel. I noticed that someone on TripAdvisor who had also stayed at The Check Inn had taken a cab at night, for 65 pesos, but we didn't feel the need to do so. It was safe walking back to the hotel. You can call me "cheap." I like to think of myself as "frugal."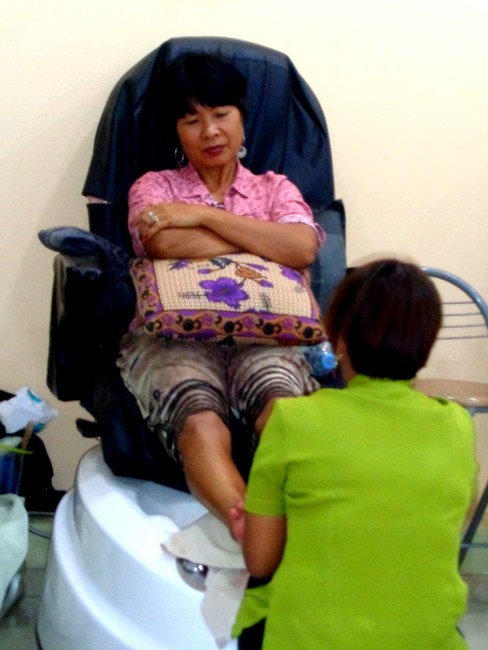 I flipped the air con back on, tuned to the History Channel on the ancient television set, and settled in for the night. It was a good start to our return trip to Bacolod, "The City of Smiles."