I was quite surprised to see such a large presence for RC, Royal Crown Cola, when we were visiting U.S. friends in Cebu recently. Coke products and Coke-sponsored signs for local businesses is the norm in nearby Iloilo and Guimaras, the island province we call home. When I saw so many local sari sari stores advertising the popular soft drinks that I used to consume back in Central Illinois, a wave of nostalgia passed over me.
During our 2 hour and 45-minute trip on an air-conditioned Ceres bus, which only cost 120 pesos one way, 2.50 US Dollars, I spied a ton of RC Cola billboards and signage along the way. I did some research online and discovered that Asiawide Refreshments Corporation (ARC), the licensed Philippine bottler of RC Cola, has expanded its operations in Cebu.
The move is expected to better serve RC Cola's growing consumer base in the province: "The company's engagement in the province will enable us to align the Visayas market with the growth of Asiawide and RC Cola in other areas," says Gerry T. Garcia, executive vice president and chief operating officer of ARC. [Editor's note: Guimaras, our home province and nearby Iloilo, along with Cebu, are considered a part of the Visayas region.]
As one of the key cities in the Philippines, Cebu is a major cola market in itself and a gateway market to the Visayas region. "It is an independent market from Manila but it has always mirrored Manila in terms of being urbanized and having a developed consumer market," he says. (Source: philstar.com)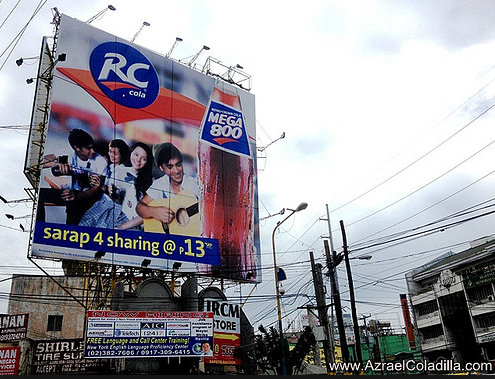 I had to do something to amuse myself on the bus trip to visit our American friends from Illinois, so noting all the RC advertisements along the way kept me occupied.
That's Don, in the following photo, with my attractive asawa seated next to him, and Don's lovely wife, Arlene, one of my wife's best friends from the States. The couple were on a three week visit to the Philippines as Arlene was paying a visit to her Mother.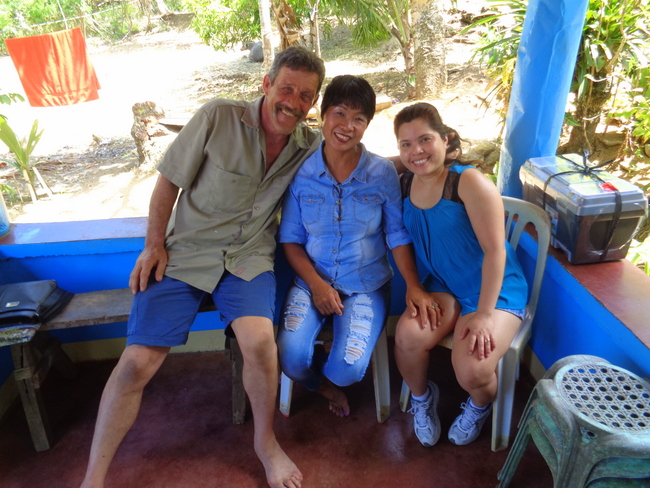 Don and Arlene's niece had graciously accompanied us from Cebu City on the bus trip. Good thing. Arlene's Mother lives in a remote location out in "the sticks."We would have been hard-pressed to find the place on our own.
We thought the trip was only going to take two hours. It took almost three. As we wandered past sugar canes fields and more RC Cola signs, we finally stopped alongside the road in what seemed the middle of absolutely nowhere. Don and Arlene had made the long steep climb from her Mother's house and were standing by the road waiting for us.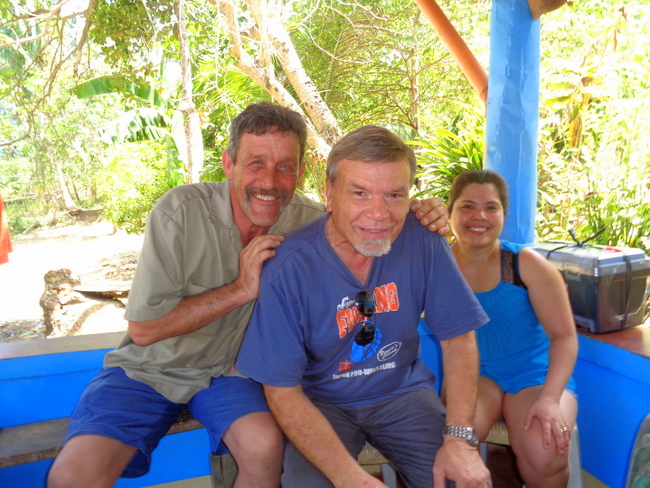 We made the long trek to the home place where a contingent of Arlene's relatives greeted us. We were introduced to Nanay, Arlene's mother, who invited us to a table full of traditional Filipino favorites. I must have eaten more than my fair share because suddenly the plastic chair underneath gave way and I tumbled to the floor.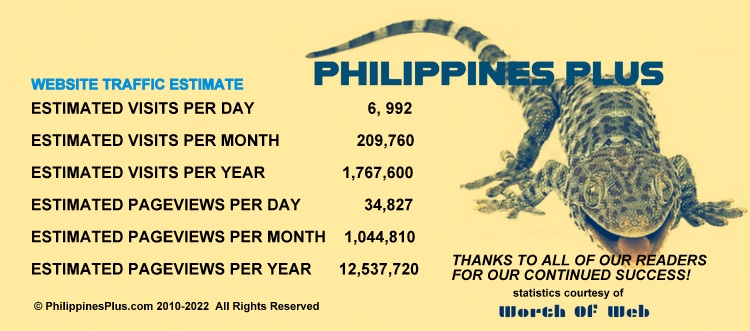 It was the third plastic chair I've broken since moving to the Philippines almost seven years ago. You would think I would go on a diet, and truth be told, I only have had three bottles of San Miguel Pilsen in about a month. My gut can be seen stretching my 2X size Max Wear t-shirt from SM. Looks like it's time to drop a few pounds or go back to my 3X size apparel.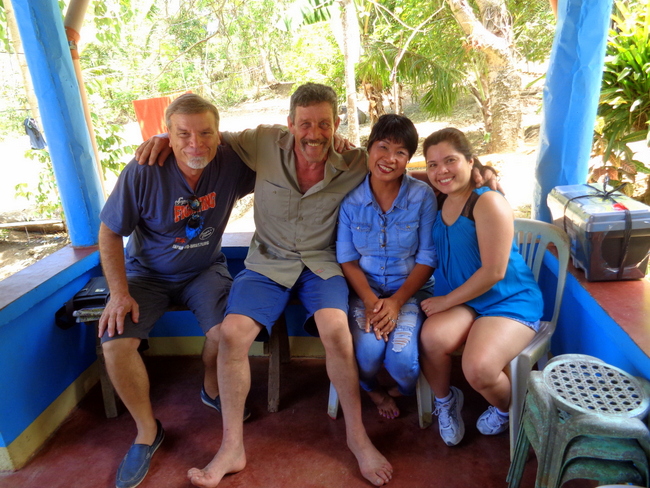 We had a fantastic time visiting our US friends from Central Illinois. Though we only stayed for about five hours my asawa, who had been suffering from severe shoulder and back pain, did manage to obtain some relief from her discomfort.
Don had enlisted the services of a healer, a neighbor who lived next door, to take care of some back problems he had. Our American friend reported that the man had relieved him of a lot of his pain. The healer was going to return in a few days for a follow-up visit.
I asked if there was any possible way we could get his neighbor to stop by and help my spouse with her back condition. Within minutes, the healer, a young Filipino, smoking a cigarette, appeared.
Though our local "witch doctor" in Guimaras was unable to cure my father-in-law's dementia, I still kept an open mind. I was mildly surprised, however, to see such a young man stop by, expecting a much older Filipino.
On the front porch of Nanay's house, the healer did his magic. He advised us that my asawa's pain was "not deep" and after a few minutes of rubbing an ointment on my wife's lower back, pronounced he was done.
My wife was quite pleased as a major portion of her pain had disappeared.
Don had already advised us that the young man would not take any cash payment for his services. Cebu "medicine men" in Cebu provinces are quite different than our local healers in Guimaras who readily accept cash.
Our American amigo advised us that he would buy the young man some rice and when we offered to help out with the rice purchase, Don refused to take our money.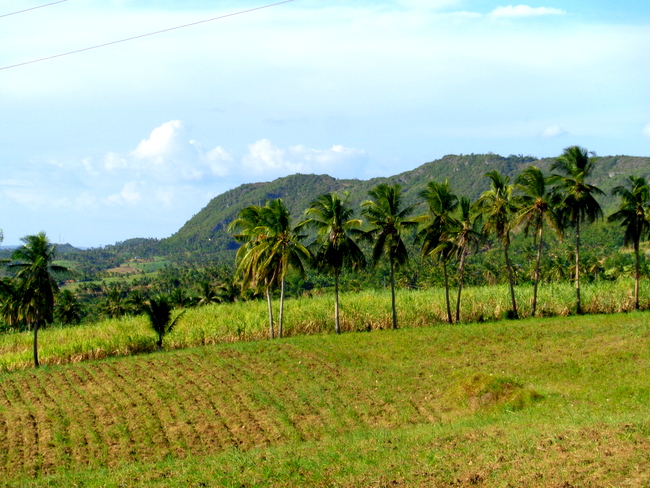 A look at the Cebu province our American friends were visiting
Don and Arlene accompanied us to the main road as we made our way through the afternoon heat up a large hill. I thought for a minute I was back at the Chocolate Hills climbing the 244 stairs.
Ceres buses regularly plied the route back and forth to Cebu City as we stood in the shade of a wait station alongside the highway. One bus approached but Arlene advised it that it did not have air con. After about 15 minutes, an air-conditioned Ceres bus going to Cebu City stopped for us as I stood by the road waving both arms. A couple of kano's in the middle of a provincial road do attract attention.
We made it back to Cebu City later that evening around 8 pm and had a late dinner at a fast food joint in SM City Cebu. We returned to the Travel Bee Business Inn (the former Alto Pension House) and reflected on the day's events, happy to meet old friends from the States and grateful for a healer who actually did heal. All in all, a good day in Cebu.