While we were in Puerto Princesa Palawan, my asawa and I decided to visit the Underground River. Puerto Princesa's pride is easily the Puerto Princesa Subterranean River (or Underground River), a UNESCO World Heritage Site and one of the New 7 Wonders of Nature.

My lovely asawa at the entrance of the Underground River, Palawan
UNDERGROUND RIVER TOUR SCHEDULED
The 8.2-kilometer river, said to be the longest navigable underground river in the world, winds its way underneath a mountain range, through the St. Paul Underground River Cave, and then goes out into the South China Sea. The journey through the cave system alone is 24 kilometers long.
The entire area where the Underground River is located is actually a national park and a model of biodiversity. (Source: It's More Fun in the Philippines)
I had scheduled a tour with a company I contacted through OLX.ph on Al Gore's World Wide Web. We arrived in Palawan on a Monday morning. The tour company was supposed to pick us up the next day, Tuesday, at 7:00 am.
TOUR GROUP A NO-SHOW
Monday evening passed by with no word from the tour group. While I usually have printed detailed information with me before we leave for any vacation, I dropped the ball on this one.
I had failed to even bring the tour company's phone number with me.
Fortunately, we had not paid a deposit ahead of time as none was requested.
My wife and I waited for an hour at the lobby of the Islands Stay Hotel where we had booked a room for four nights.
Fortunately the young lady from the hotel staff, seen below on the right, booked us an Underground River Tour for Thursday morning at P1800 each, 37 US Dollars.
This was the same price I had seen online from the company that didn't pick us up and one of the cheapest prices I could find online before.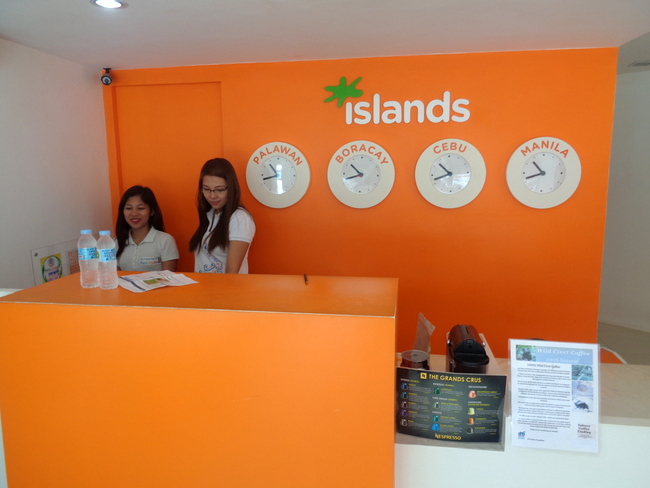 TANTALIZING TAYTAY TALES
Since we had previously planned to visit my spouse's brother in Taytay on Wednesday, we decided to head out now on Tuesday. Because it was a 4-5 hour trip one-way, we advised the Island Stay staff that we might be staying overnight in Taytay.
I felt secure in leaving our belongings behind. My wife thought I wanted to stop at McDonald's first for breakfast. We then would stop by the hotel to pack in case we stayed in Taytay.
My original intent was to stop at McDonald's. The Islands Stay Hotel does not serve breakfast or food of any kind. They do, however, place an order for you at a nearby Jollibee's which delivers.
Since it was already 9:00 am, I felt we should go straight to the bus terminal which was past Robinsons Place and over 30 minutes away. Of course, I didn't make my spouse aware of my plan until we were on the tricycle headed to the terminal.
My poor asawa wasn't too keen on having to possibly wearing the same outfit two days in a row. I'm a man. It makes no difference to me.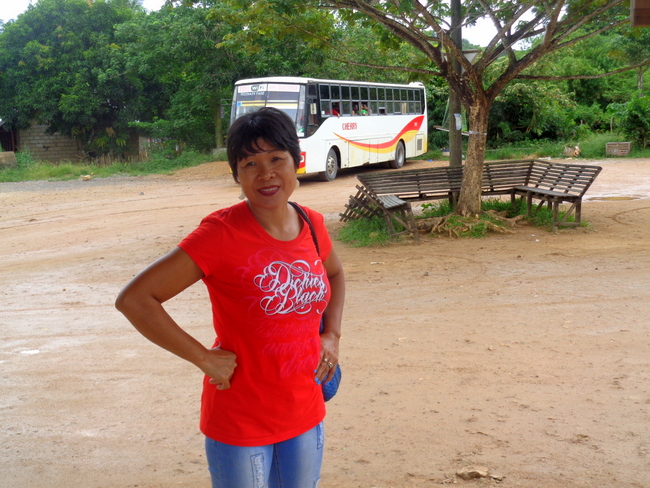 WILD RIDE TO TAYTAY
We waited about 15 minutes for an aircon van at the bus terminal which would transport us to Taytay. There were plenty of vans available and we didn't have to wait long for a ride.
At 320 pesos each, 6.66 US Dollars, the fare was reasonable. Our van driver was motivated. He passed up anything in site: tricycles, buses, private vehicles, jeepneys, cows and goats.
But the driver did stop for lunch since I'm sure all the drivers get a free lunch (who said there's no such thing as a "'free lunch" anymore?) The eatery was packed with vans and buses. Consequently, giving the drivers a freebie makes sense since they're bringing in a lot of extra potential customers.
My wife purchased a can of Coke and a bag of Nova chips for me as I stayed in the van. While that stop took 20 minutes, it only took about 3.5 hours for us to reach Taytay, about 30 minutes ahead of schedule.
I asked our chauffeur if he was paid by the trip.
He was. Of course, the more trips you make the more money you get.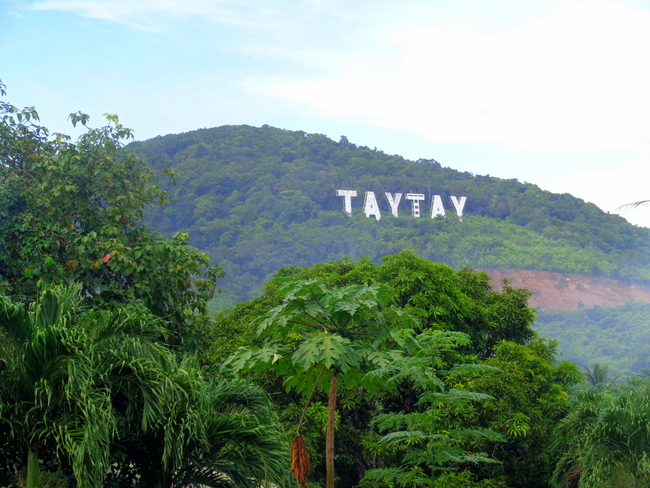 TAYTAY'S TRAFFIC ENFORCERS
When we arrived at the bus terminal in Taytay, we had to wait for my wife's brother, Amando, to meet us. He's employed as a traffic enforcer in the city. That's him, standing next to my lovely asawa, in the next photo.
Amando had taken off the afternoon to greet us. His job isn't without it's hazards. The first day on the job he was shot at by an angry motorist. Thankfully, the hot-headed motorist missed.
My brother-in-law makes all of 220 pesos a day, around 4.50 US Dollars. Not much compensation considering he's been shot at and screamed at by abusive drunks.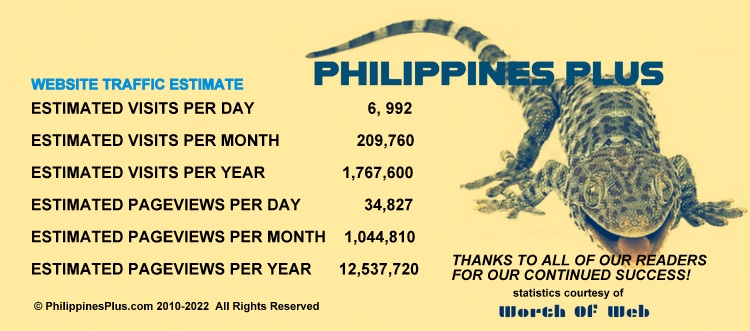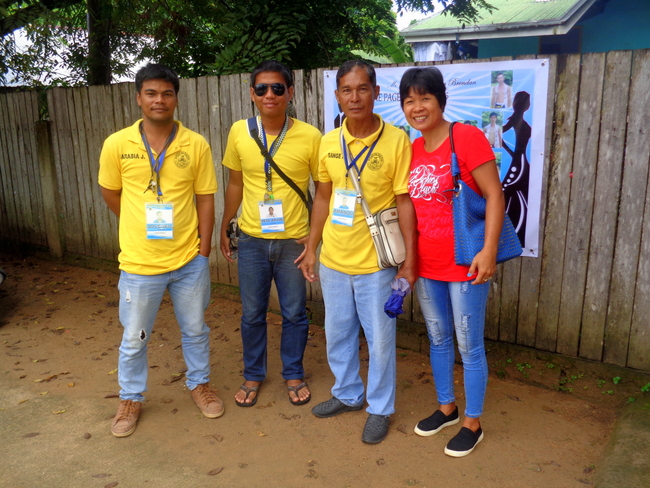 My asawa hasn't seen her brother in over four years. Before that, it had been 25 years before they had gotten together during a short visit her brother had made to Iloilo.
We ate at a local eatery in Taytay that my brother-in-law frequented which served local Filipino fare, of course. I chowed down on rice (what else?) and a chicken dish washed down with a bottle of San Miguel Pale Pilsen.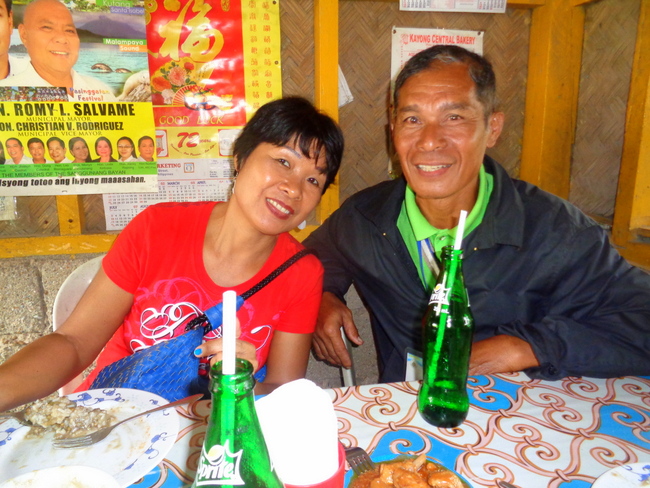 OFF TO AMANDO'S
After a quick stop at a drug store to buy some toothbrushes and toothpaste (remember, we took nothing with us to Taytay), we grabbed a tricycle to Amando's home. We had been riding on the back of my brother-in-law's motorcycle, but I felt much safer on a trike.
While virtually every motorcyclist on Palawan wore helmets, unlike the locals back in Guimaras, our home province, my wife and I did not have one. It was about a 20-minute ride to Amando's plus it was raining. It made more sense to make the trip in a tricycle.
I felt I was going to fall of the bike at any second. I didn't want my obituary to read "American killed in a motorcycle accident in the Philippines."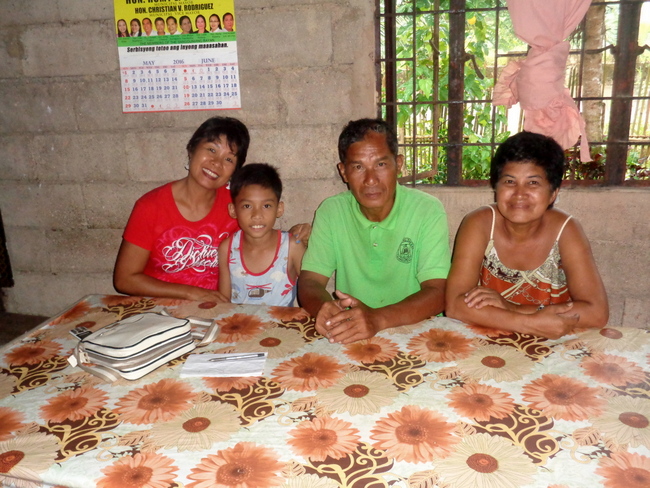 That's my lovely asawa on the left next to Amando and his wife's grandson, and Amando's wife, Marisa, in the photo above. We stayed for a couple of hours and headed out in a downpour to a resort one of our nieces was formerly employed at.
Our niece was now in Puerto Princesa where she was waiting for Belgium Immigration to admit her. An earlier interview at the Belgium Embassy in Manila for our niece was not successful. Immigration officials questioned the age difference of the couple. Her Belgium husband is 40 years older than our niece.
Proof that our niece's husband owns a home is one of the requirements she has to fulfill before being allowed to be with her husband.
CASA ROSA RESORT IN TAYTAY
The rain had slowed down by the time we reached the entrance of the Casa Rosa Resort.
The resort is operated by an American who was not present at the time. We booked a Fan Room for 700 pesos, less than 15 bucks. It was a native style room but the Comfort Room toilet and shower worked as did the fan. There was no television but the free WI-fi worked fine. That's my lovely asawa again posing by the resort's entrance.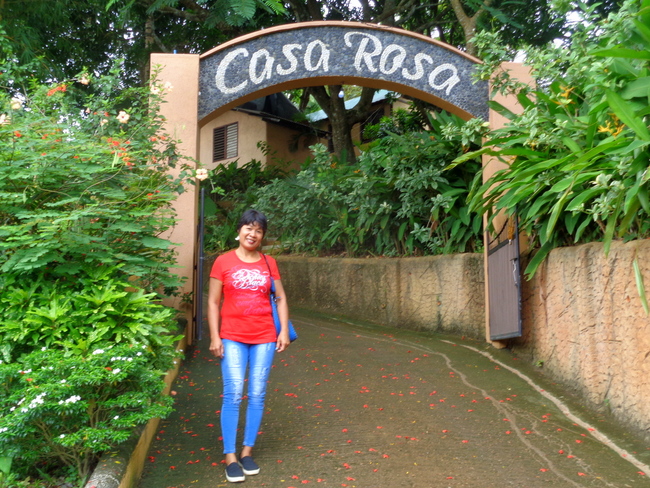 Many tourists, we were told, frequented the resort. El Nido is only a one-hour bus ride from Taytay. Because El Nido is a haven for pricier 5-star island resorts, staying at Casa Rosa can save you some bucks.
More expensive cottages can be rented at the Casa Rosa Resort for 1,100 and 1,400 pesos a night, 23-29 US Dollars. We were only staying one night and heading out for El Nido in the morning.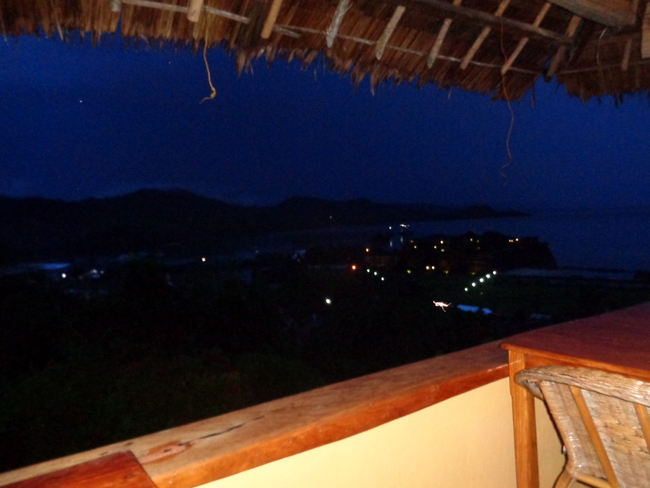 EXPAT DINNER DELIGHT
Our room was only a few meters from the restaurant. The torrential rains had started up again but we still enjoyed the view from our table. I ordered a pork schnitzel, something I hadn't eaten in years, and my spouse tried a fish and rice dish. Both meals were very tasty.
Breakfast, however, didn't start until 7:30 am. The resort has a great American breakfast for 180 pesos, 3.75 US Dollars, and comes with the crispiest bacon we've ever eaten in the Philippines.
I complimented the cook, one of my wife's relatives on Palawan. The young chef remarked that his American boss had instructed him that Americans like their bacon crispy. Indeed I do.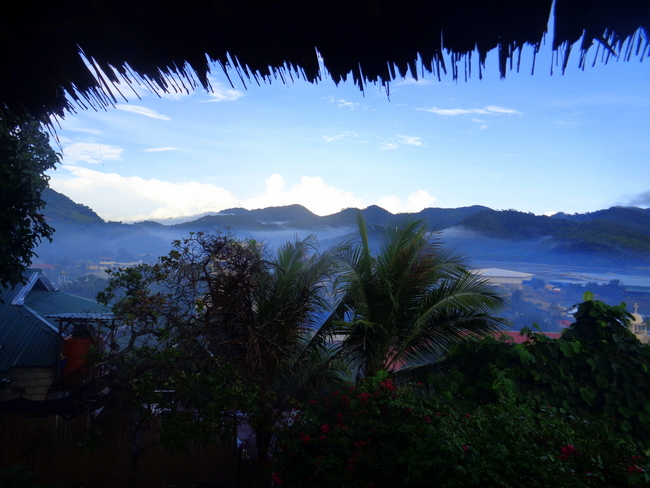 We quickly polished off our meal while we enjoyed the beautiful view from our table. Checking out of the resort we quickly hailed a tricycle to take us back to the bus terminal. In addition, we hoped that we would not have to wait long for a bus ride to El Nido.
NEXT UP: ELECTRIFYING EL NIDO