Our workers recently completed a new terrace project at our home in the Philippines. My asawa had wanted the terrace, nearest the nipa hut my father-in-law lives in, to have a roof. She plans to have an array of plants and flowers underneath the new polycarbonate sheet roof we had delivered a few weeks ago.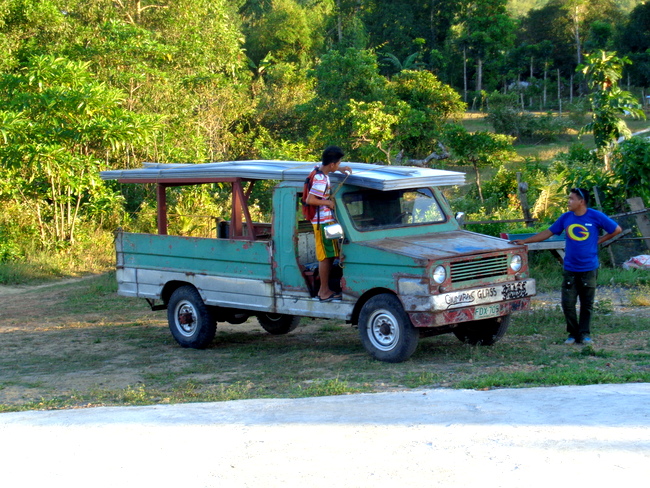 Now you might be wondering why you would want a roof over an area where you're going to be placing plants and flowers? My spouse needs the roof to help keep her plants from getting drowned when the rainy season hits again in May or June. Too much water for certain plant life is not good. Too much beer for certain life forms is also not good.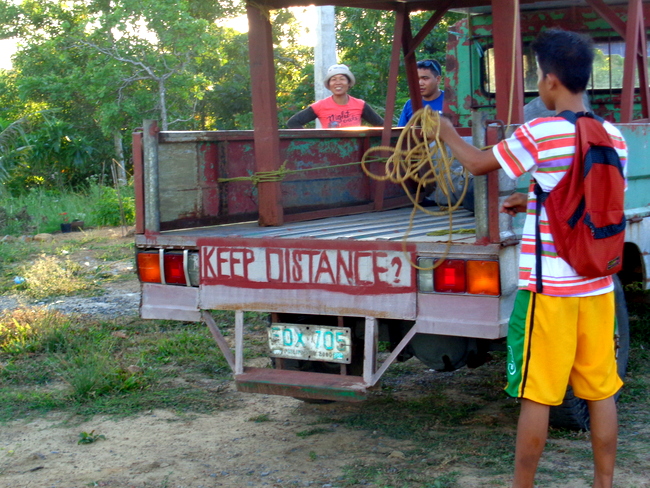 That's my asawa beaming in the photo above. She was happy to get delivery of the new roofing material. I was scratching my fat kano head wondering why there was a question mark after "Keep Distance?" Did the vehicle's driver want you to keep your distance or not? I was tempted to follow the vehicle as it drove out with our Ford Ranger to see how close I could approach the delivery truck without pissing the driver off but decided against it.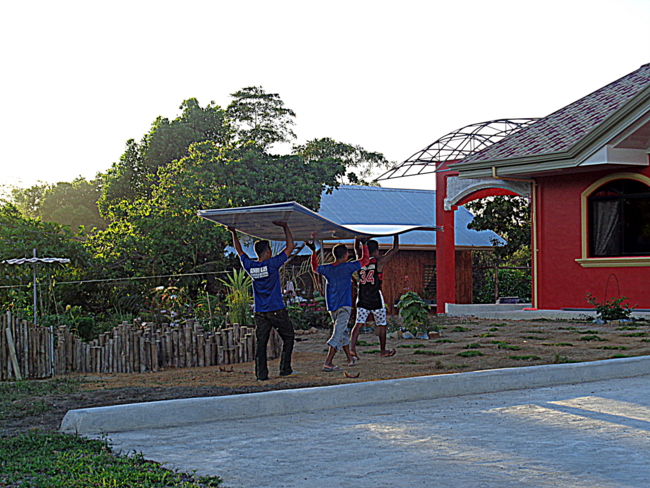 The crew from Guimaras Glass, the outfit that manufactured all of our windows and screens, carried the plastic sheeting over with help from my brother-in-law Joery seen in the middle. Joery's a hard worker. He makes me tired just watching him.
We first were told that the polycarbonate sheets were available in three colors: brown, green or white. We went with brown as we felt it would go with our trim color, "decaf," and with our multi-colored roof (the main color is "red balm," incidentally.)
When Guimaras Glass's owner arrived in Iloilo City to pick up the sheeting he sent a text message to my wife informing her that the brown color was not available, white was now our only choice.
We went with"white" which in reality turned out to be "clear." Fine with me. I really wanted a clear color in the first place. I asked my wife why we were told that the color was white when in reality it was clear. She informed me that "white" means "clear" here. I wisely did not pursue the matter any further. After being married over 16 years to a Filipina, I know when to pick my battles. This was not one of them.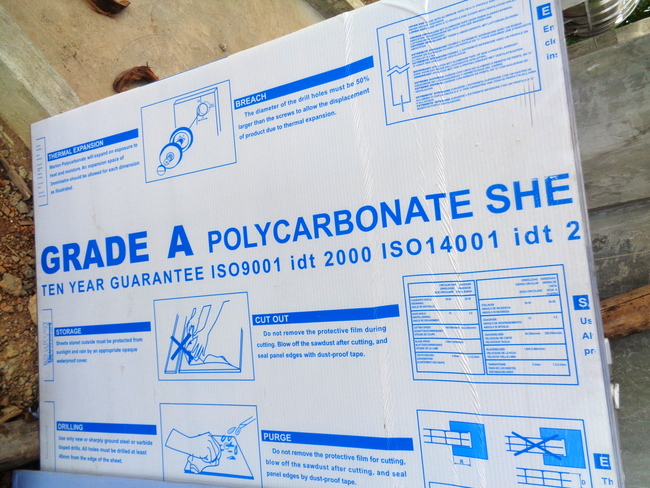 The Grade A Polycarbonate Sheet with a Ten Year Guarantee and ISO-Certified wasn't cheap. We ordered 16 sheets at around 3,8000 pesos a sheet, for a total of $1,300 U.S. Dollars.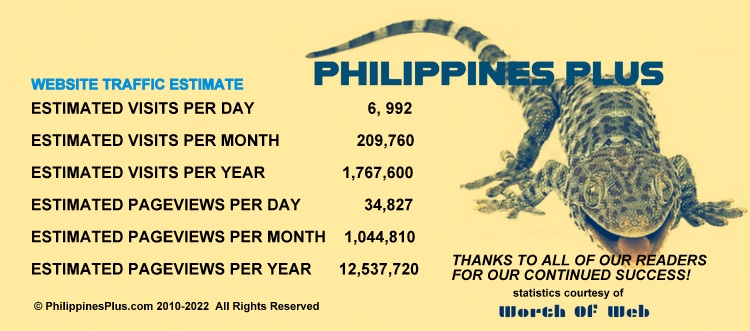 We could have purchased a cheaper material but my brother-in-law Joery, who has considerably more construction experience than I, recommended a better quality product which would last much longer.
I hope so. Not only is the new roof going to protect my spouse's precious plants from drowning during the monsoon season, it will also serve as an area to hang the laundry on rainy days.
Now it might appear to the normal observer that $1,300 is a lot of money for a place to dry your clothes. Wouldn't a dryer have been a cheaper option?
Perhaps not. The Philippines has the highest cost of electricity in all of Southeast Asia. Our island province, Guimaras, has the highest cost per kilowatt hour of any province in the Philippines, with rates averaging around 14 pesos per kilowatt hour. So drying the laundry outside might be cheaper in the long run.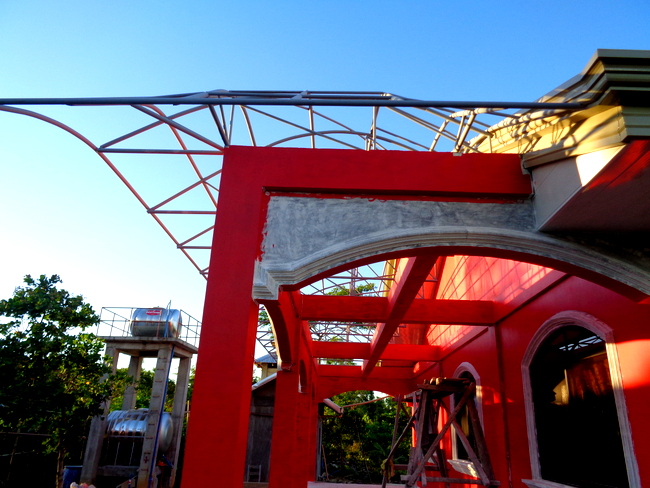 JoJo, our carpenter and welder, constructed the frame for the new terrace roof out of GI pipe. The pipe is then painted with a special epoxy paint to prevent rusting.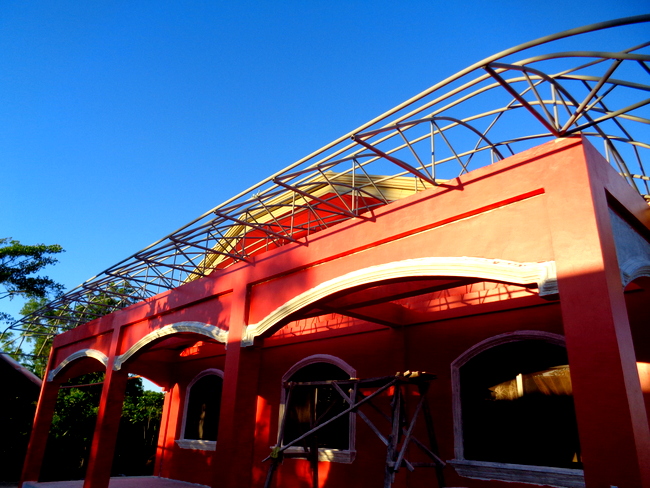 Here's a look at what the roof looked like with only the frame. The next picture shows the roof in it's completed stage.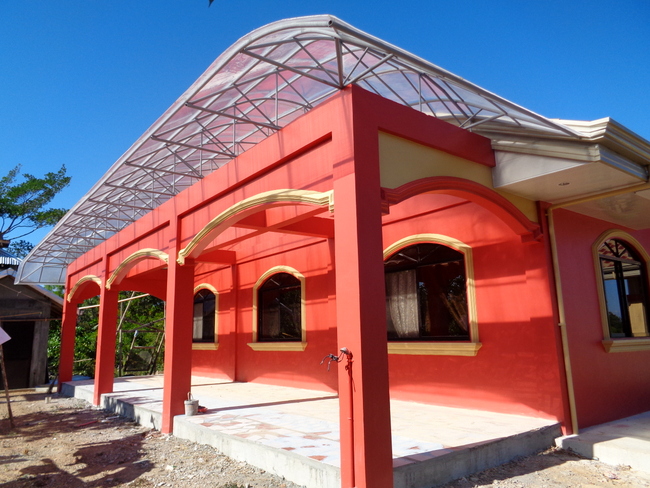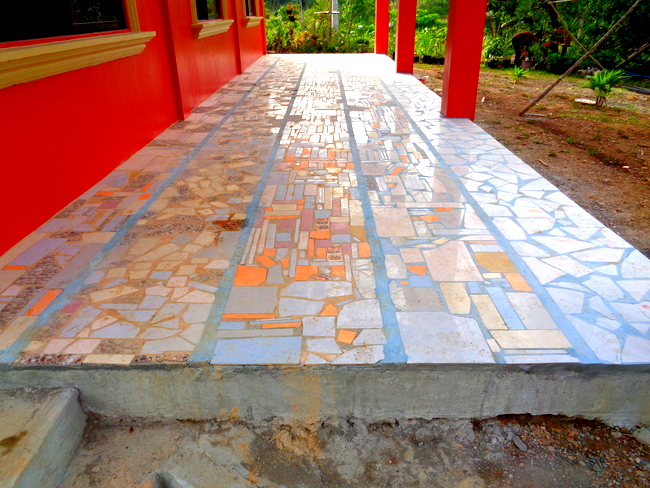 We had quite a few left over tiles from our floor project along with odds and ends of trim pieces. Jojo designed quite a beautiful mosaic pattern using these tiles. My wife and I thought it was a great way to recycle the tiles and we're both very pleased with the results.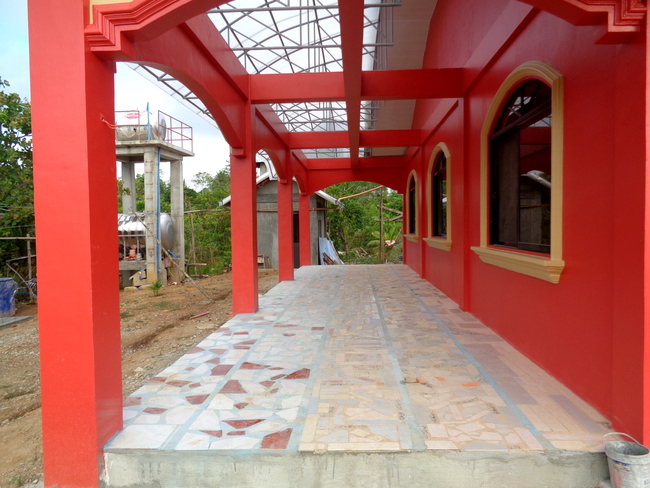 Here's a look at the new roof and mosaic floor tile. I have no doubt that my wife will be transferring some new plants and flowers over to the new area any time soon. New clothes lines should also soon be making an appearance.
Though our new terrace project at our home in the Philippines is completed, work on the new swimming pool is still ongoing despite the loss of one of our workers, Melchor. I'll have updates on that project in the future.
WHY FILIPINAS SHOULD MARRY THE OLD FART! NEW STUFF FROM MY SISTER SITE, "LIVE PHILIPPINES"