I confess. I did have one bottle of San Miguel Pale Pilsen before I took the following picture. It was so hot that the roosters were using oven mitts to pick up worms from the ground. I was hot and sweaty and sweltering in the mid-morning sun. Yes, dear reader, I quaffed another early beer but please note that this is a rare exception for me and one usually only practiced when our mango festival in Guimaras makes it's annual appearance. Of course, if certain Floridians are in town, I have been known to quench my thirst with an adult beverage at an earlier hour also.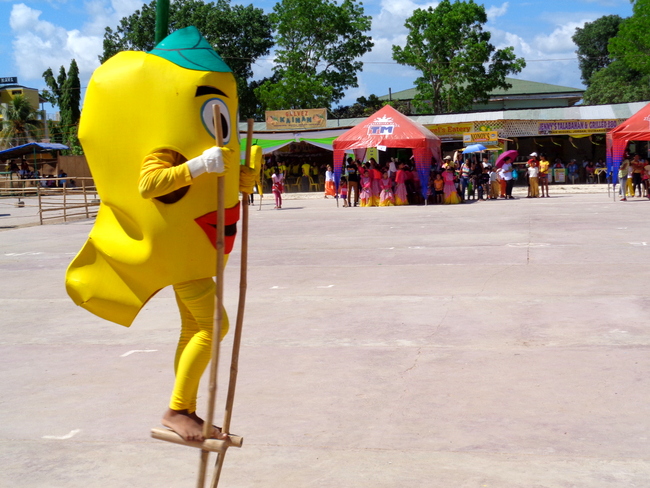 By the way, if anyone would care to share, what time do you personally think is a reasonable time to have your first beer? There's no right or wrong answer in my books, but I'm curious as to what time your "happy hour" might begin.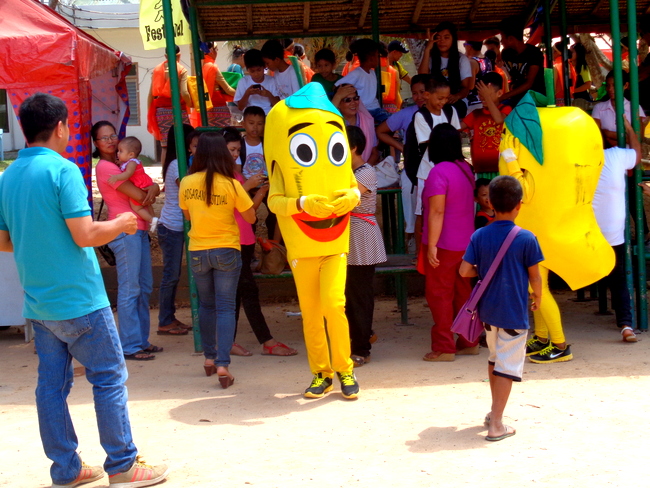 The Official Mango Mascots of Manggahan 2015 were introduced during a morning of traditional Filipino folk dances performed by various elementary and high schools on our island province of Guimaras.
I shook hands with one of the mangoes and asked the group if I could take their picture. They readily agreed.
"Smile!" I exhorted them, "But wait. You can't smile, your faces are hidden by your costume."
One mischievous mango pointed to the large painted-on red lips of their costumes.
"Oh, OK, you are smiling," I remarked as I took their photograph.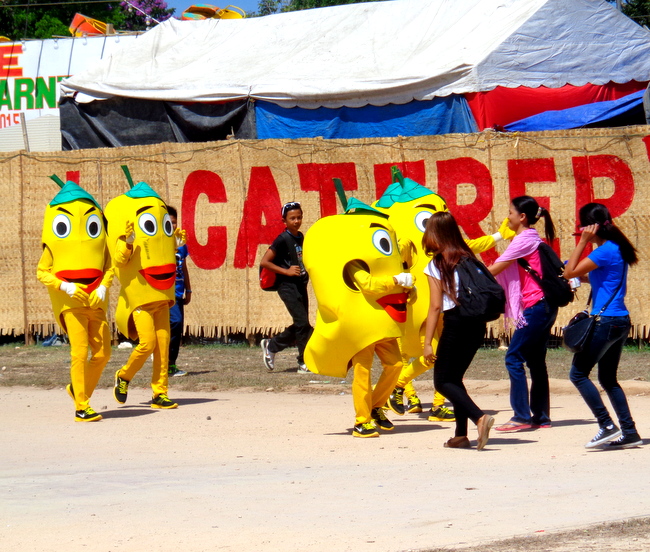 But witnessing the arrival of the Manggahan Mascots was not the reason for my visit to the festival that morning. That was an added bonus. I was there to take a few photos of our niece DenDen's dance group from Santa Teresa High School.
But first, I had to find our 14-year-old niece. My asawa was at home preparing a meal and taking care of other necessary chores so I had no help in trying to locate DenDen. My sister-in-law Alida, DenDen's mother, had sent a text message to my spouse informing her that the folk dancers would begin at 9 am.
I knew there is no way that the event would start at 9 so I arrived at the scene around 9:20 and walked around the various tents set up on the capital grounds and asked if anyone knew my niece. No one did. One group of seniors inside one tent advised me to look for the tent that had her school's name on it.
Well, if I had only looked up I would have seen that each school did have it's name on it. So I sauntered over to the tent with the "Santa Teresa High School" signage. Not one student was there.
I retreated back to Lisa's Talabahan and parked my butt. Soon I spot Alida, who was also looking for DenDen and had even sent her a text message, which had not been answered. So we sat and waited.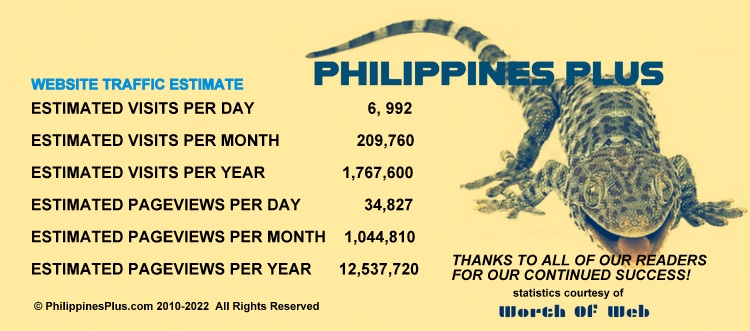 About 15 minutes later my sister-in-law received a text message from her daughter advising her mother that her group was on the way. That's them in the next shot.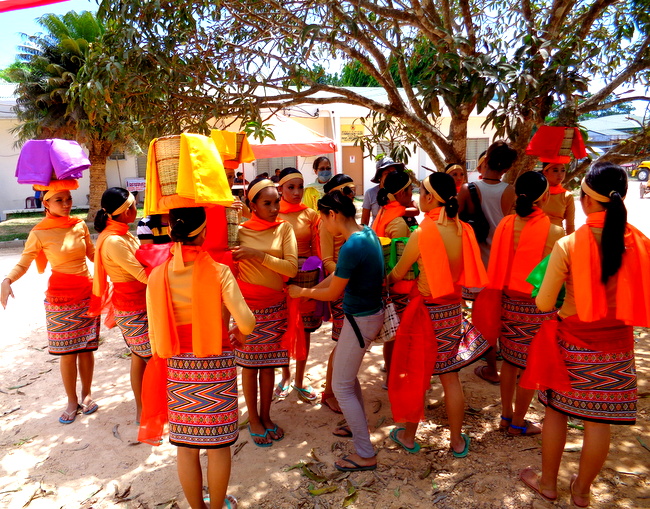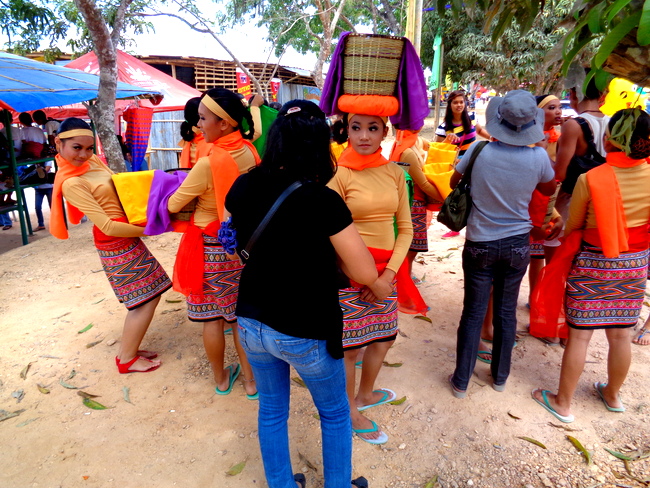 Alida is speaking to DenDen in the photo above. I didn't realize that one of my niece's classmates, on the left, was mugging for the camera until I downloaded the pictures.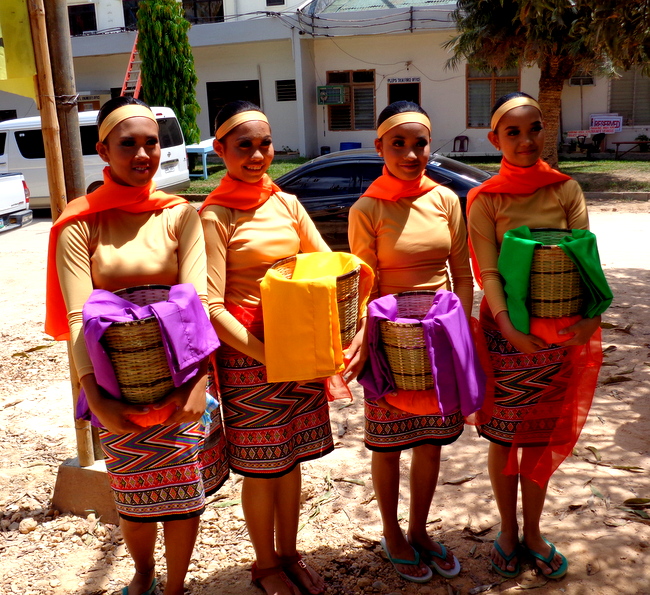 Here's DenDen, second from the right, with a group of her best friends.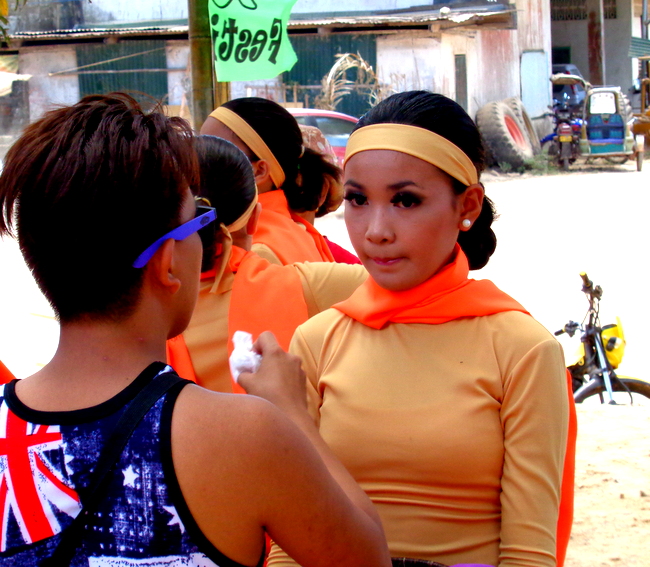 Two make-up artists traveled with the group and were busy touching up make-up for the dancers. That's DenDen getting ready for some more "war paint."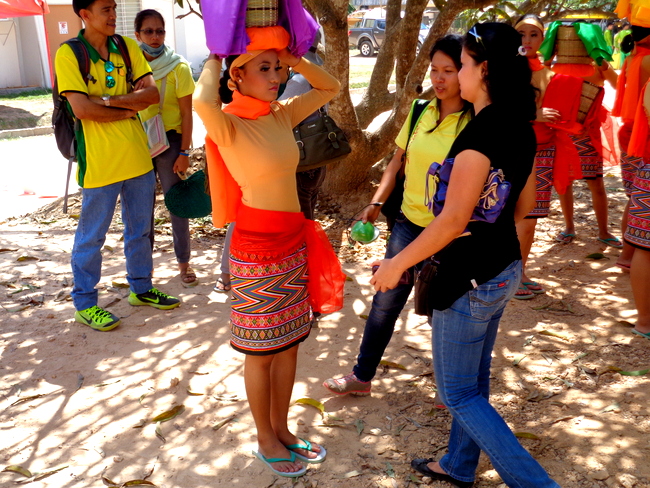 And here's Alida again, along with a teacher from the high school, making sure DenDen is standing up straight and is ready for the dance. How many 14-year-old girls in America would appreciate their own mothers hovering over them in public like this? Not a whole lot, I suspect.
After DenDen's dance was over (video to follow at a later date), I went back to Lisa's for a lunch of grilled pork and San Miguel Pale Pilsen. I grabbed some french fries after my lunch, a great dessert for me, and hopped on a tricycle for my ride back home. Just another day in paradise.