"SM City North EDSA Expat Experience" relates our latest shopping adventure in the Philippines. It was a chaotic shopping trip. I was almost convinced Filipinos in Manila had started their Christmas shopping early. After all, the Philippines has the longest Christmas season in the world and begins September 1st.
WHIZZIN' ALONG ON THE MRT
We visited the largest mall in the Philippines on a Saturday. In retrospect, not the smartest thing I've ever done. My asawa and I decided to save on cab fare and take the nearby MRT.
The MRT, Manila Metro Rail Transit System, line was only a ten minute walk from our crib in Manila, the Stone House Hotel Pasay.
Now I've never used the term "crib" before on this website. I just wanted to let younger readers out there, like Papa Duck, know a crusty old expat can still be hip.
We hadn't been on the MRT for years. My sister-in-law, who lives in Manila, had accompanied us the last time we were in Manila. We weaved our way through the narrow, crowded sidewalks. Only one lola, grandma, extended her hand out for money. I kept a close eye on my money pouch anyway. Lolo looked pretty tough.
We reached the bottom of the stairs to the ticket office and began our ascent.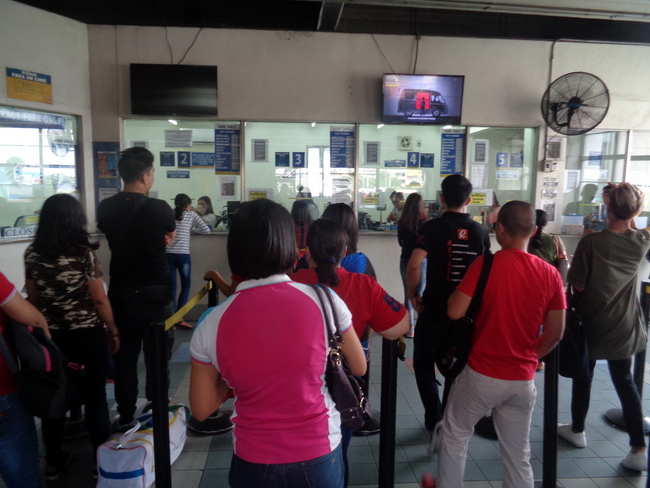 My asawa asked a nearby security guard which window we should approach. The helpful sentry pointed out the correct line. It only took a minute or two for my wife to purchase our tickets, which cost 28 pesos apiece, 60¢. Much cheaper than a taxi.
It wasn't long until we boarded and had a seat at the Taft Ave. exit. But there were a plethora of seats available since this was the starting point for our route. We took off, not knowing what station we should depart from.
LOLA HELPS US OUT
I urged my wife to ask a lola sitting across from us with her teen-aged granddaughter for help. My spouse first asked the granddaughter who deferred to her grandma. The helpful senior informed my asawa that, they, too, were going to SM City North EDSA and told us to follow her.
After several stops and 35 minutes later, we reached the North Avenue terminal, the end of our ride. Grandma and granddaughter rose from their seats. We obediently followed them, like sheep to the slaughter.
We first had to pass through the Landmark Mall before entering the EDSA North facility.
After we reached SM City North EDSA, my wife caught up with the lola and thanked her for the assistance.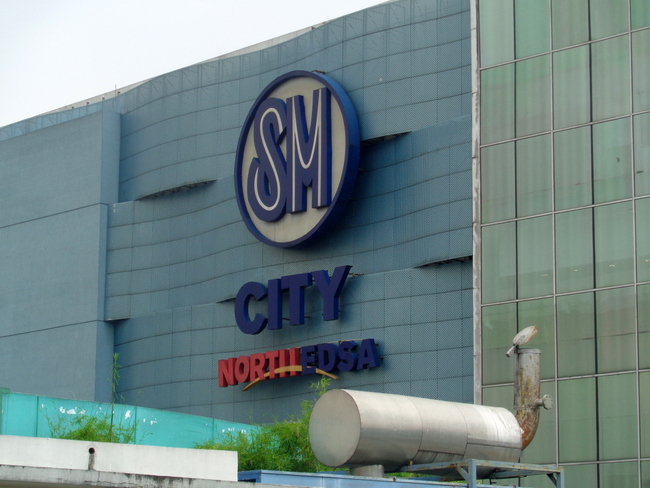 VIKING BUFFET OR BUST?
We had eaten an early American Breakfast at Stone House, and were hungry. Our first stop would be a place to eat. We navigated our way to the Viking Buffet.
Now faithful readers like Scott H and Papa Duck have already offered their opinion regarding this fancy all-you-can-eat buffet. We haven't been to a buffet in years.
The last one we had, courtesy of Webmaster Rich Pawly, was a freebie at Day's Inn in Iloilo.
My asawa was complaining of hunger. A crowd had already gathered around the restaurant's entrance and the staff were seating reservations first. We had signed in as "Walk-In's" and were 24th on the list.
We took our buzzer which would alert us to when we could be seated. Hadn't seen one of those gizmo's in years, not since we went to a Red Lobster back in Illinois.
Those with reservations were seated in around 15 minutes. The "Walk-In"' march began. The first seven names were called off and people were seated without a hitch.
NUMBER EIGHT A NO-SHOW
When "Number Eight"was announced, no one came forward. For some unfathomable reason, the Viking Buffet staff did nothing. I can only assume they were waiting for the Number Eight party to come forward.
15 minutes later we were still stalled at Number Eight. I reached the end of my limited patience.
I took our "buzzer" and returned it to the staff assigning seats, saying nothing.
We walked off looking for a place that would actually seat their customers in a reasonable amount of time. I felt a 45-minute wait was long enough.
KICKIN' IT AT KIMONO KEN'S
We were starving and desperate to find a place to chow down. My wife, though hungry, didn't want anymore "American food" so we dropped into a Japanese-themed restaurant, "Kimono Ken's".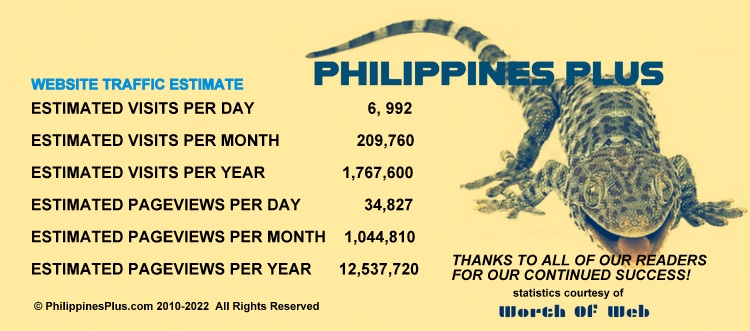 I knew I wouldn't find a cheeseburger and fries at this joint. Not when the staff are all dressed in a kimono and greet customers entering the establishment in Japanese. But my spouse was hungry and I was sure they served rice, so how could I go wrong?
We ordered. I tried a strawberry juice drink and a hamburger "steak" which came with enough fries to feed a very small duwende. Don't let my half-smile in the next photo fool you. While the strawberry drink was delicious, the hamburger "steak" wasn't going to win any Michelin stars.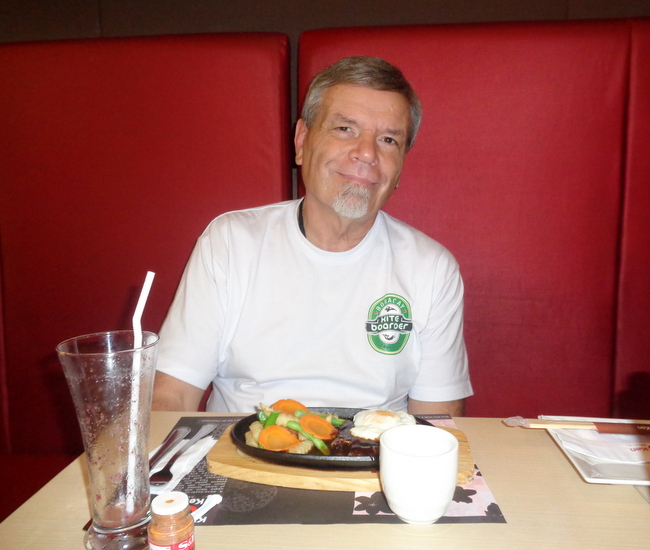 Here's a look at my wife's dish which included a bunch of veggies and noodles. I consider "french fries" to be vegetables. My spouse would disagree.
Also, she used chopsticks. I didn't. But the service was good and the empty tables seen in the background quickly filled up. Bellies somewhat full, we set off to explore more of the mall.
FRENZIED SHOPPERS & THE SM CITY NORTH EDSA EXPAT EXPERIENCE
I swear, it did seem like early Christmas shoppers had run amuck at SM City North EDSA. The scene brought back memories of Walmart shoppers being trampled to death for a deal on cheap flat screen tv's on "'Black Friday." My asawa put life and limb at risk and hurled herself into the shopping fray. I held back, fearing for my life.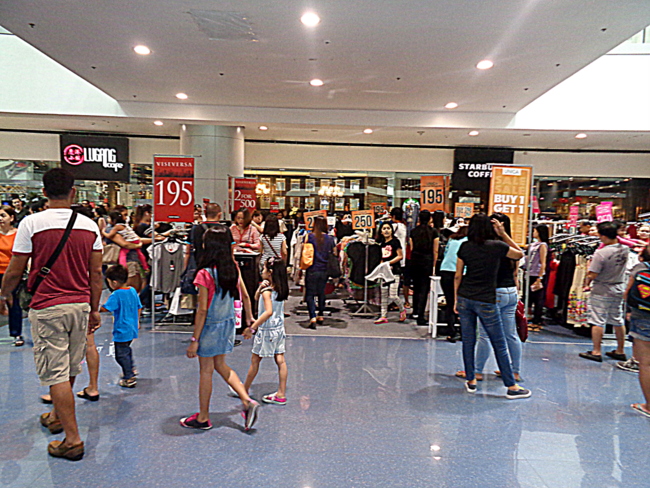 After about 30 minutes my spouse, beaten down by the crowds, exited the shopping frenzy. "I feel like we're just ants! she exclaimed. We needed a break.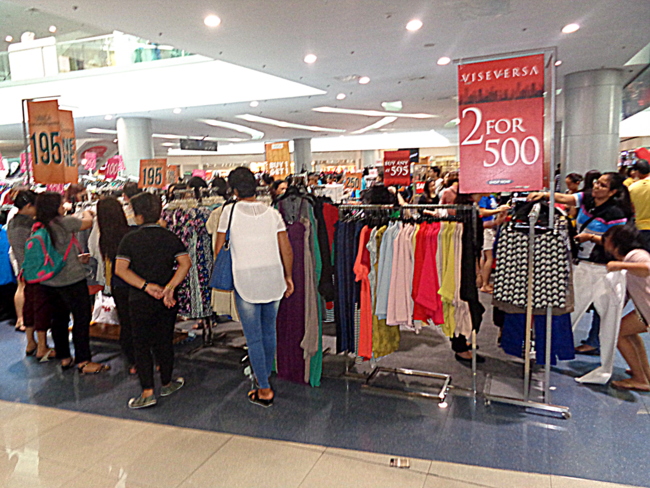 It was around 2:30 pm and we both were ready to throw in the shopping bag and head back to our hotel.
Before we left, we decided to stop for a quick merienda. We could have gone to the second floor and checked out the Dairy Queen at EDSA, but went for the closest place to sit down, Cold Stone Creamery. I sat my fat kano butt down and my wife checked out the menu. I went with a milkshake and my better half consumed a coffee-flavored concoction.
The shake was good, but I would rather have had a SoftServe treat from Dairy Queen any day.
RIDIN' THE MRT BACK
We valiantly fought our way through the crowds at SM City North EDSA and walked back to the MRT station. It was 3:30 pm and we had no problem again finding a seat. My lovely asawa, seen in the next photo, was happy to head back to our hotel. So was I.
The trip back was uneventful.
OK, a perky lady boy did end up sitting next to me at one stop, but I ignored him/her. We made our way through the crowded streets of Pasay City and reached our destination, The Stone House Hotel.
Thankfully, we had survived our SM City North EDSA Expat Experience.