Crusty Old Expat's Iloilo Festive Walk Mall Review
Megaworld launched their 1st "lifestyle mall" in Western Visayas, the Festive Walk Mall, in Iloilo on Saturday, June 30th, 2018. This is the Crusty Old Expat's Iloilo Festive Walk Mall Review. My asawa and I took a 150 peso ($3) taxi ride across Iloilo City Proper to check out this latest shopping mecca. That's my lovely spouse in the lead photo. She's not pissed at me (this time.) The sun was making her squint. Really! We had an enjoyable time roaming this 90,000 square meter shopping, dining, and entertainment mega-complex.
Denny's is coming to Iloilo City's Festive Walk Mall!
Before we even entered this massive shopping sanctuary, I noticed a billboard announcing that "Denny's" would be coming to Iloilo City's Festive Walk Mall. I was happy as a tick on a fat dog when I spied this signage.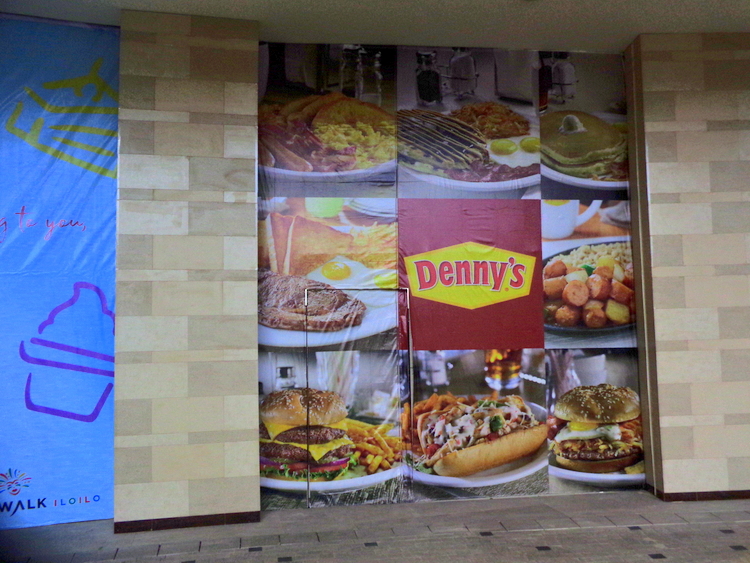 Started in 1953 in Lakewood, California, Denny's has grown to become one of the largest franchises worldwide with 1,700 locations and counting, including restaurants in Canada, Mexico, Japan, New Zealand and Qatar. The American diner partnered with the Bistro Group of Restaurants to bring Denny's to the Philippines in 2016.
"America's 24/7 Diner" currently has six other locations in the Philippines. I've sent a message to Denny's corporate headquarters in the Philippines asking when the Iloilo Denny's will open.
I've spent quite a few early mornings at a Denny's in Springfield, Illinois. The majority of them were with friends from the Lighter Side of Darkness Christian Coffeehouse back in the Seventies.
TGIFridays coming to Iloilo City's Festive Walk Mall
Along with Denny's, TGIFridays will also be opening an outlet at Iloilo City's Festive Walk Mall. TGI Fridays was one of the favorite places my wife and I dined at when she lived in the States with me.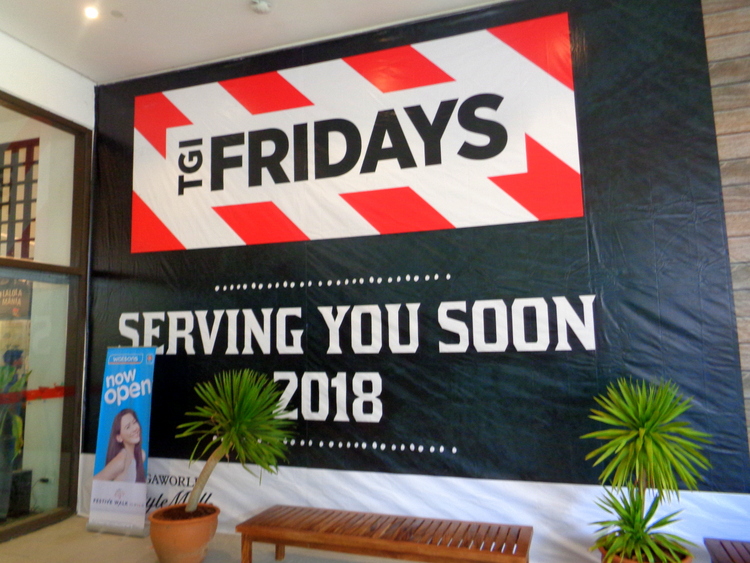 We visited a TGIFridays in Boracay a couple of years ago and one in Cebu City, but it will be more convenient to have one of their restaurants much closer to us. The Bistro Group of Restaurants has also partnered with TGIFridays to bring this American eatery icon to the Philippines.
Though much pricier than our usual hangouts in the Philippines, with TGIF burger plates running almost 600 pesos ($12), we'll still check out the new outlet once it opens. A burger plate at Denny's PH runs about 100 pesos cheaper with the classic Grand Slam Breakfast going for 395 pesos, $8.
Festive Walk Mall Iloilo's Two Anchor Supermarkets
This will also be Iloilo's first mall with two anchor supermarkets: Festive Market by Savemore, and Marketplace by Rustan's, which marks its first entry in Western Visayas.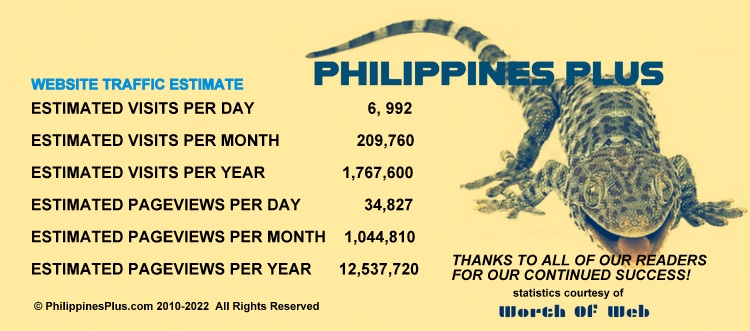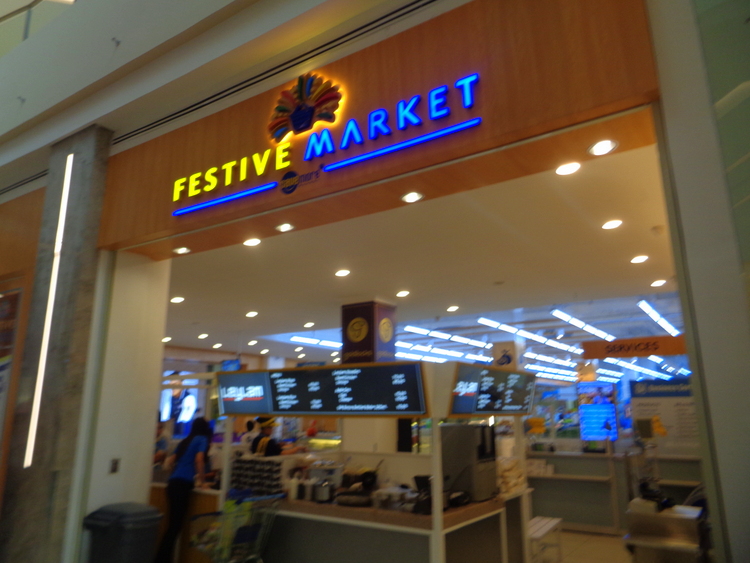 Savemore's Festive Market is the first-of-its-kind supermarket brand exclusively created by SM for Festive Walk Mall.
Nevertheless, to be honest, the Savemore Festive Market is no different than any other Savemore we've visited in Iloilo City. That said, there was an extremely helpful female security guard who spent at least 15-20 minutes finding me a price on a Milk-O and Spaghetti Value Package.
However, I'm really looking forward to the Marketplace by Rustan's which hasn't opened yet. We've previously shopped at a Rustan's in Cebu City and it's a much more upscale supermarket than any SM Supermarkets we've been to in Iloilo City, Metro Manila, or Cebu.
Iloilo City's Virgin Outlets
According to the Panay News the-three-level mall will also be home to several "first-in-Iloilo" brands. These include the city's first Coffee Bean & Tea Leaf, the afore-mentioned, TGIFriday's, Korean stores Mumuso and Nature Republic, La Lola Churreria, Furniture Republic, Metro Dental, Binondo's renowned Henry's Camera store, DIY Hardware and Japan Home Center.
The Festive Walk Mall in Iloilo will be home to the first Ice Skating Rink in Iloilo. However, the Crusty Old Expat will not be lacing up any ice skates in the future. While I did manage to keep my balance on a pair of roller skates at the age of seven or eight, that was many, many decades ago.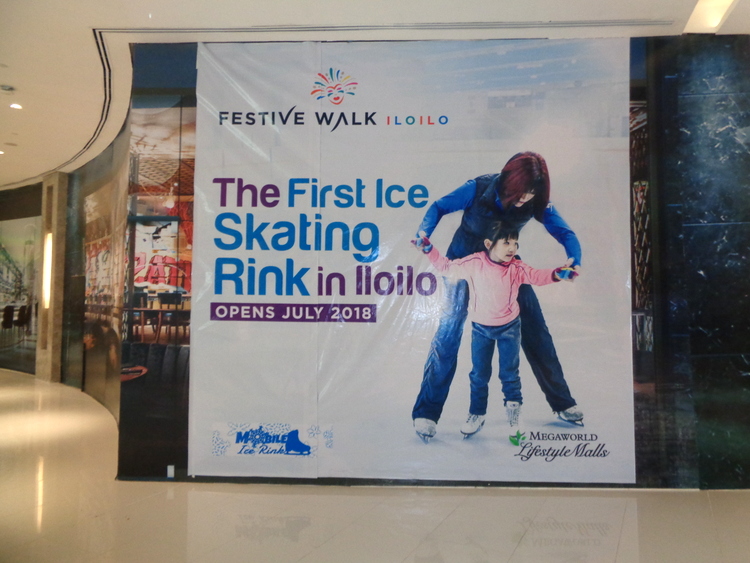 I'm happy to maintain my balance now when I maneuver my way to a pump boat seat at the Jordan or Ortiz Wharves.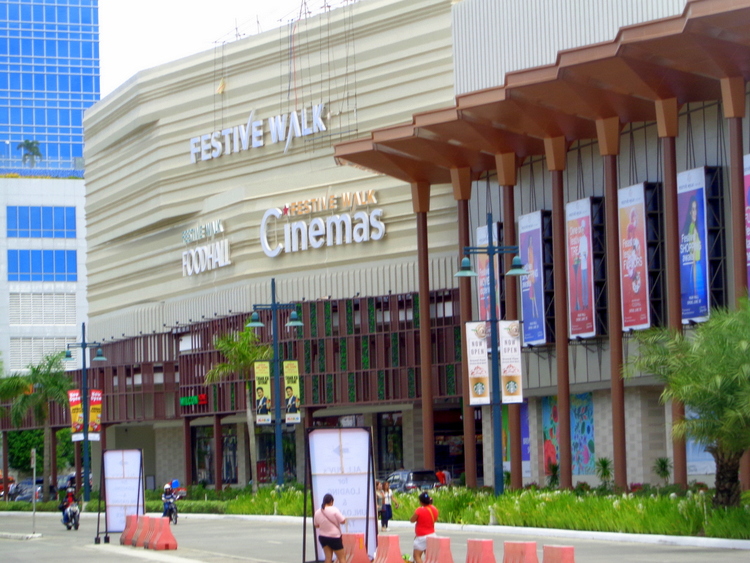 Iloilo Festive Walk Mall will also be home to Wilcon Home Essentials, Wilcon's first mall-based store in the whole of Visayas. However, while the mall claims to have a 70% occupancy rate, only a handful of stores were opened when we visited.
Crusty Old Expat's Iloilo Festive Walk Mall Review
All in all, we enjoyed our visit to the Iloilo Festive Walk Mall. We've barely explored but a fraction of this enormous shopping complex.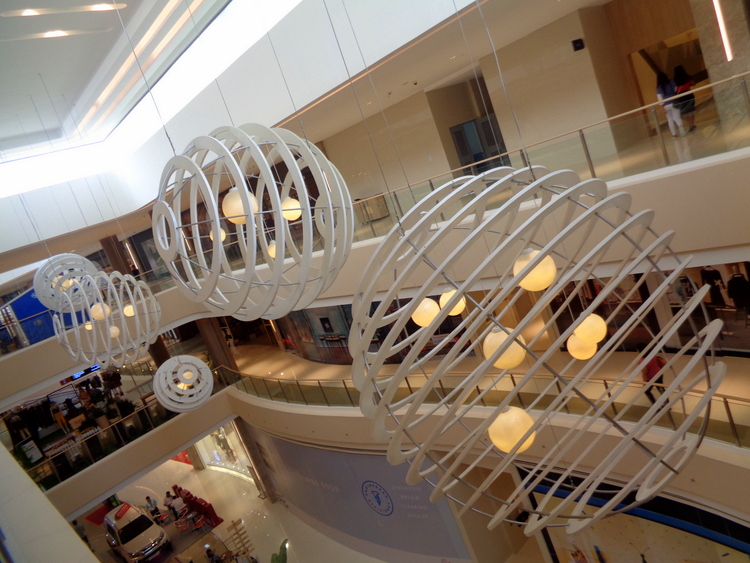 Directly connected to Festive Walk Mall via an air-conditioned sky bridge is the Festive Mall Annex, which will house some government agencies like PhilHealth, Bureau of Immigration and the Land Transportation Office, as well as medical and wellness clinics.
We plan to revisit the mall when Denny's and Rustan's open. Hopefully by that time more of the major retail shops will also be open for business.