"Our Island Hopping Disappointment in Boracay." I must have been asked over a thousand times if I wanted to go island hopping by various salesmen during our four day stay in Boracay. I was getting pissed with all the perpetual pestering.
If you factor in all the traveling vendors trying to sell you selfie sticks and cheap sunglasses, along with the tour salesmen, it was nearly impossible to walk these white sand beaches without being disturbed.
Regular readers of Philippines Plus know that the crusty old expat doesn't like to be bothered at times. Most of the time I just ignored everyone trying to sell me something.
However, I did tell one old geezer trying to sell me pirated DVD's that I didn't speak English. Since I told this to him in English, I don't think he believed me and hung around for a few minutes. He finally wised up and left after I ignored him and gave him the silent treatment. You married guys know all about the silent treatment.
My asawa, sister Marjorie and her daughter Shaina, were swimming on the beach our second day in Boracay (see following photo.) It was around 7 am. I stood guard over the purses. I had informed my spouse that if she wanted to go island hopping, she should see what kind of a deal she could get. Advertisements on the white sandy beaches were listing prices of 800 pesos per person.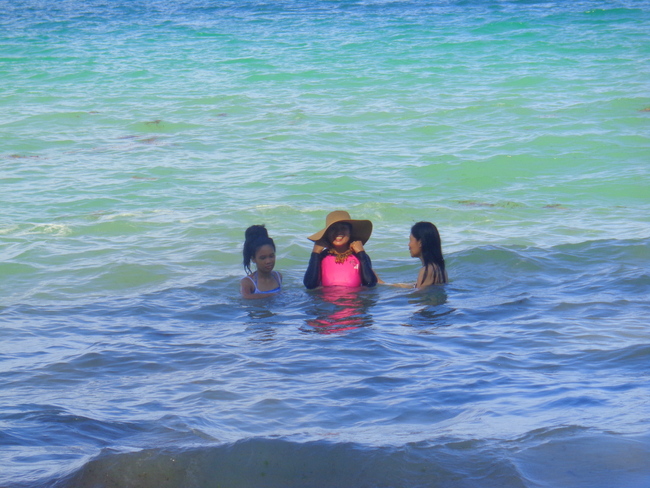 It wasn't long before I spied someone approaching my wife attempting to entice her to take one of the island hopping tours. These salesmen are always easy to spot, they're usually carrying a laminated copy of the tour and their destinations.
"Paul," the island hopping guru, was offering a six hour tour complete with a free buffet lunch for 700 pesos per person. It seemed like a good deal but I did have concerns when Paul informed us that he wasn't authorized to be at Station 2. But we took a 15-minute walk in the early morning heat the beach where the tour vessel was located.
Everything seemed to check out. We signed a passenger manifest and I made sure Paul escorted us to the tour boat until we paid any money. We soon took off along with around 40 other passengers.
After about 10 minutes we made our first stop about 500 meters from a nearby beach. And that was it. The boat stopped and people who wanted to swim were encouraged to do so. A buko, coconut juice salesman approached, and for 25 pesos each, we drank buko juice.
Now buko juice is supposedly quite healthy for you. I don't like the taste of it but since I can't swim and was thirsty, figured I could drink one.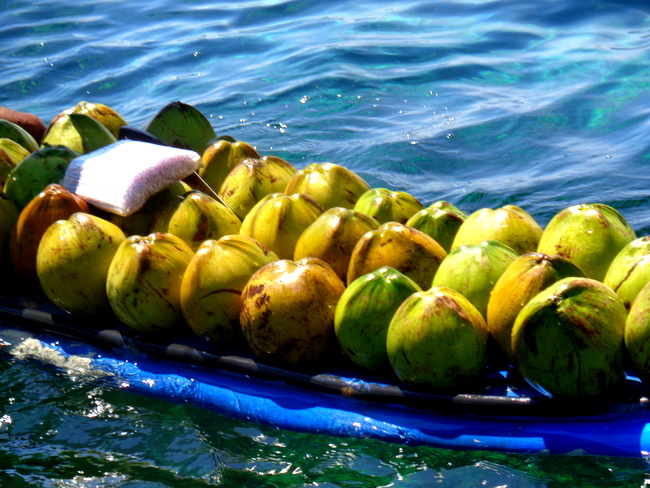 Not to be outdone, a Magnolia ice cream salesman, seen in the following photo, came by. We paid 50 pesos each for a cold ice cream treat, not an unreasonable price. We must have stayed at the swimming hole for around 45 minutes. We were never told how long we would be at each stop and were not kept very well-informed regarding the tour's itinerary.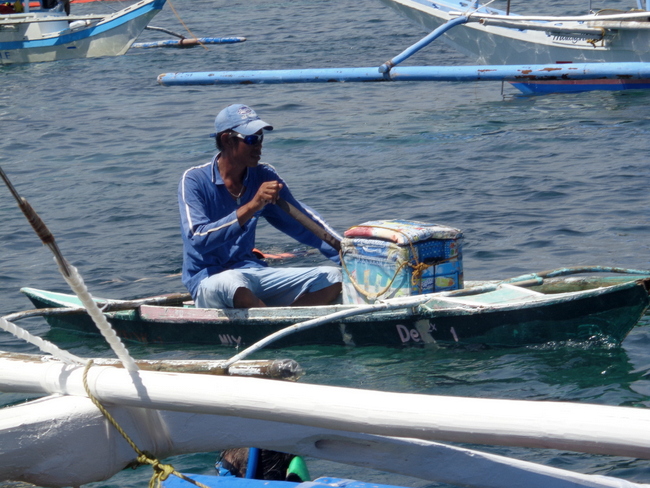 Most of our tour group could swim and they seemed to be having a good time frolicking in the water. It took some persuasion to get my sister-in-law Marjorie into the water but my asawa finally convinced her to jump in. Me? I slurped down my ice cream.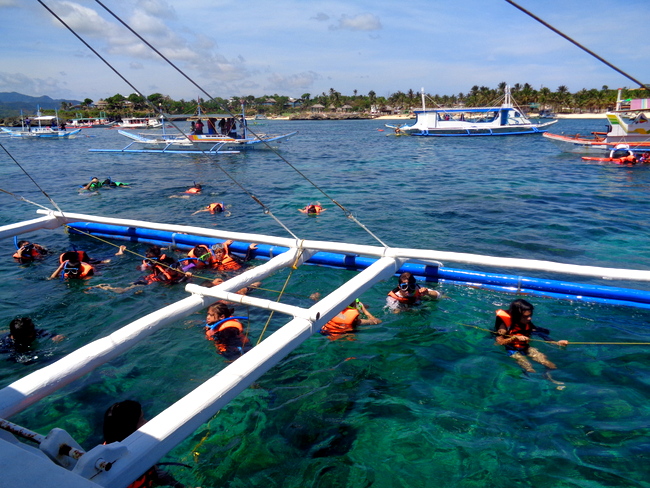 My spouse wisely purchased a new straw hat when we arrived in Boracay. We got a deal on the hat as the vendor knocked 50 pesos off the original purchase price of 250 pesos.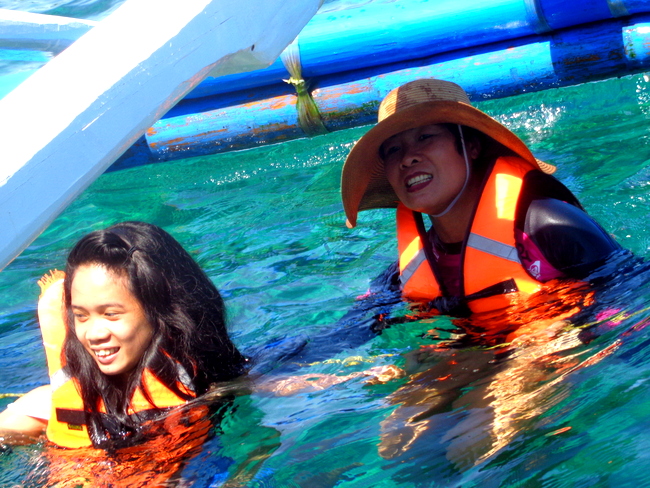 This next stop at Crystal Cove, where we spent almost two hours, was a waste of time. It cost 200 pesos to enter the cave. We declined. My wife, sister-in-law and niece went swimming as we waited for our group to finish touring the cave.
That's our tour vessel from Shingley Tours. We saw a huge amount of watercraft with the Shingley Tour logo on them. No doubt the operators of this tour received a cut from the owners of the Crystal Cove for stopping.
My wife spoke to one lady that had just completed the tour and pronounced the cave as "disappointing." We're glad we didn't shell out an additional 800 pesos to walk through it.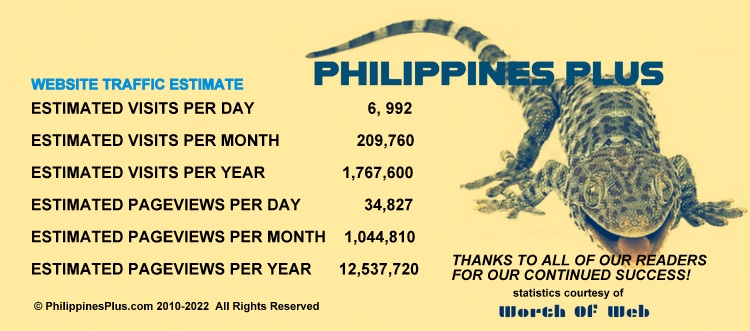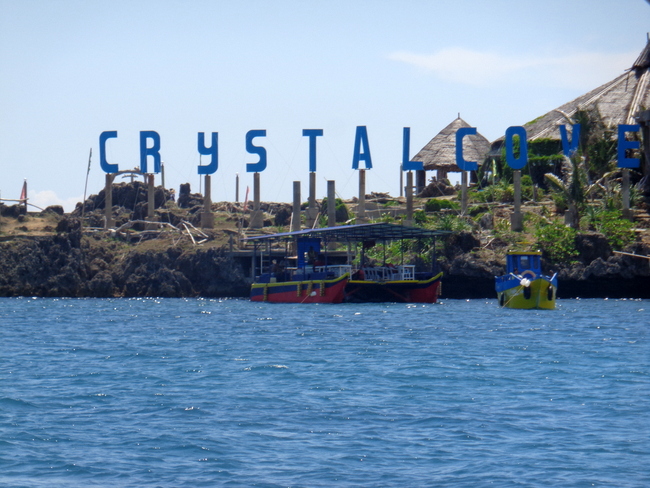 One of the many boats from Shingley Tours that landed on the Crystal Cove beach.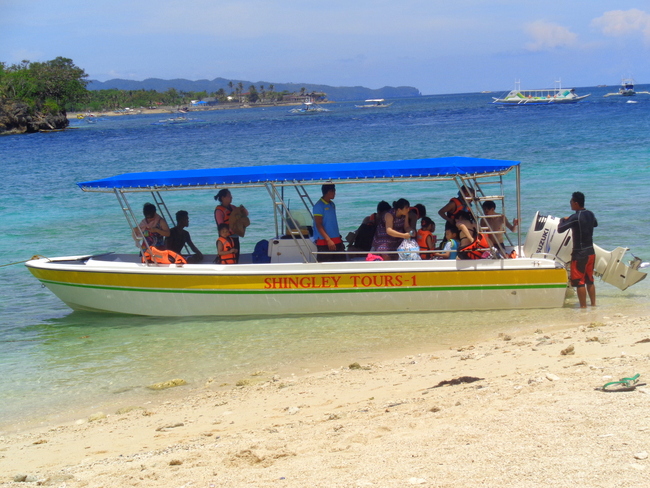 Had plenty of time to take photographs, however. After about 30 minutes of swimming my asawa joined me on the beach. We were all getting hungry and had no idea how long we would be at this stop.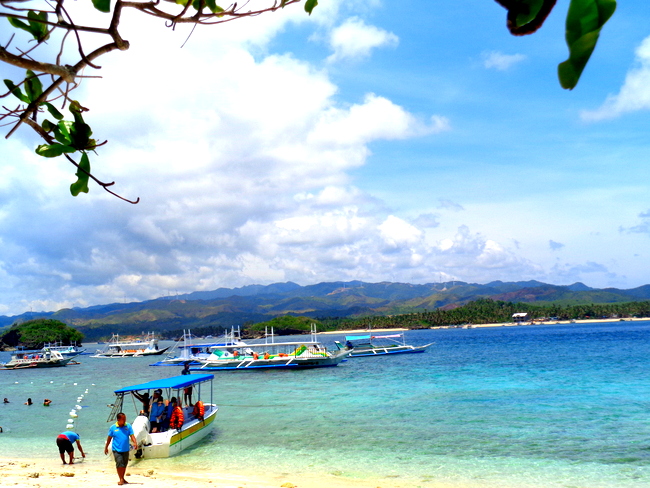 Now don't get me wrong, while we weren't pleased with this our island hopping disappointment in Boracay, we did manage to make the best of it. My lovely spouse put on a wry smile in the next photograph, and niece Shaina, was busy checking her text messages of course.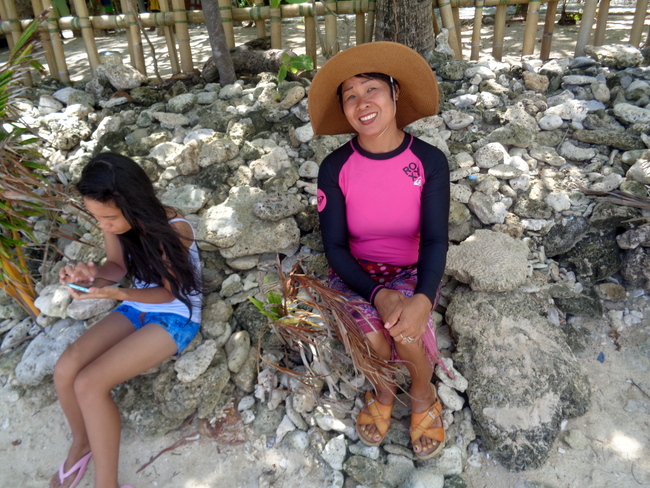 We finally took off for our lunch buffet destination. I took the next picture as we headed out. We were extremely hungry and were looking forward to our meal.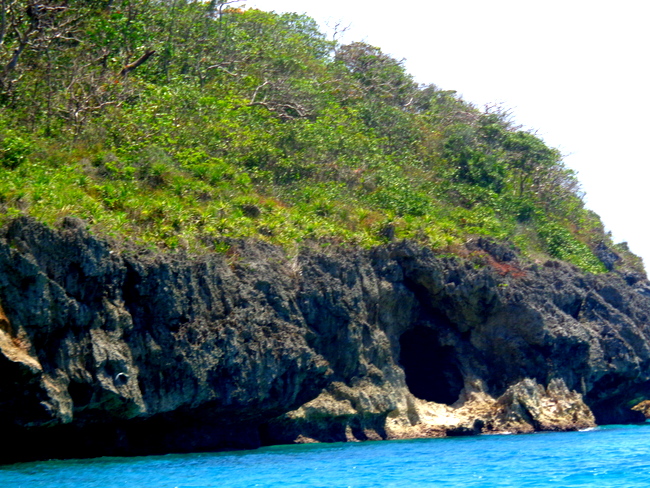 But lunch, however, was another disappointment. Hundreds of people with dozens of boats docked at the beach crowded the strictly native style structure which housed our eatery.
The food was traditional Filipino fare of average quality. Pancit, rice, BBQ pork on a stick. We did, however, get to have one drink as part of our lunch package and I opted for a cold bottle of San Miguel Pale Pilsen. It was the only beer I had consumed in weeks.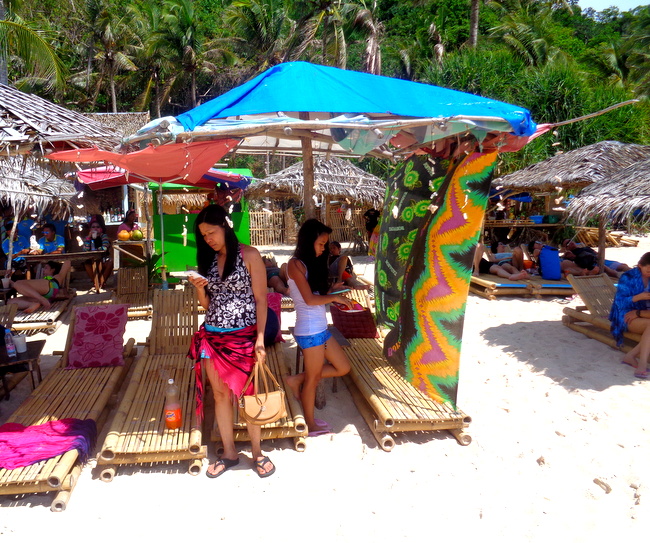 After a quick lunch we headed out to our final stop, an island which featured "free cots" to take a nap on. But our guide to the "free cots" quickly handed us menus to all the native style nipa huts housing sari sari stores. Marjorie and Shaina took time to check their text messages of course.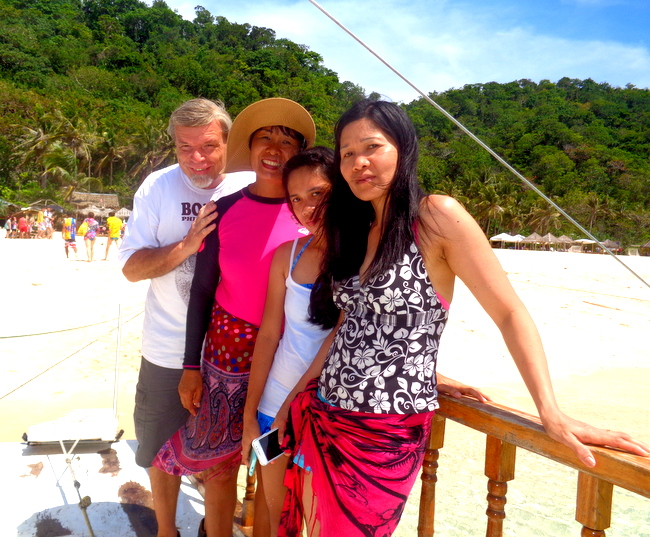 I don't remember who took the above picture for us. Boracay was the kind of place where people are more than eager to take your photograph, for a price of course. But I mugged for the camera and relaxed on the "free cot" which only cost me one lemon-flavored San Miguel for 100 pesos.
My wife purchased a small bag of Nova chips for 60 pesos, about three times the normal price. But though my wallet was considerably lighter, I still relaxed and enjoyed these few moment of paradise in the Philippines.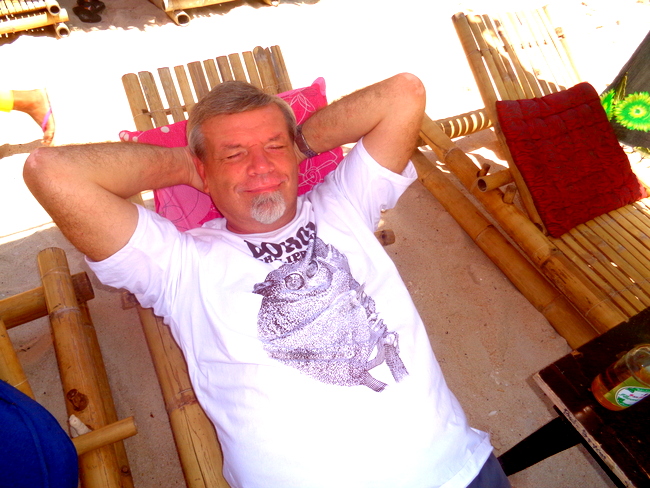 The tour wasn't a complete waste of time. It had its moments but I wished we would have been kept better informed of how long each stop was going to be. Our boat always docked off the beach and it would have difficult to swim out to ask them.
I would recommend taking an island hopping tour of Boracay but would have to advise my readers to avoid Shingley Tours.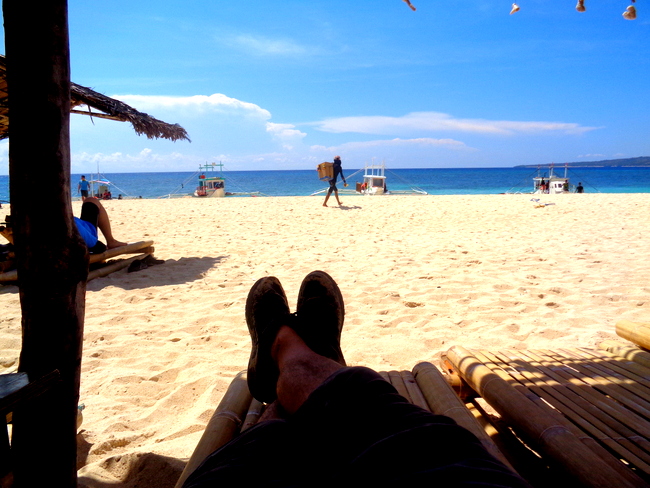 I finally got my butt off the cot and we headed back to Station 2 in Boracay. I took the following shot on the way back. And yes, anyone who has ever visited the Philippines knows that the Superman logo can be seen just about anywhere. Wonder what island hopping tour the Man of Steel would take?