I haven't done much of anything since retiring to the Philippines over six years ago with my lovely asawa, The Sainted Patient Wife. I've been on a perpetual vacation for years but my hardworking spouse never takes a break. That's why I decided she deserved some adventures in Cebu City, like shopping at the new SM Seaside Mall, the fourth largest SM in the Philippines. My wife also expressed a desire to visit the Chocolate Hills in Bohol, someplace neither one of us has been.
Bohol's famous tourist attraction is a geological formation with at least 1,260 hills that are covered in green grass that turns brown (like chocolate) during the dry season. And with the current El Niño smacking the Philippines, I have no doubt the hills will be brown. We had some thunder and lightning the other evening but not even rain to wet a hummingbird's beak.
While in Cebu, we are going to see some good friends from Illinois visiting relatives in the Philippines. My wife used to go shopping back in the Land of Lincoln with her Filipina friend, married to an American. We haven't seen the couple in over six years and it will be a two-hour bus ride to reach the province our friends will be staying at. Hopefully, we can catch a bus with air-con.
While in Cebu City, The Queen City of the South, aside from shopping, we will take a Supercat Tour from Cebu to Tagbilaran Wharf in Bohol. The trip takes two hours and has such highlights as the Loboc River Cruise with lunch on board and a visit to the Tarsier Sanctuary along with a stop at the famous Chocolate Hills, of course.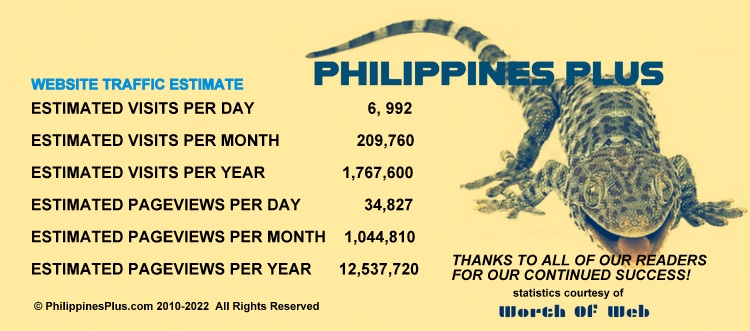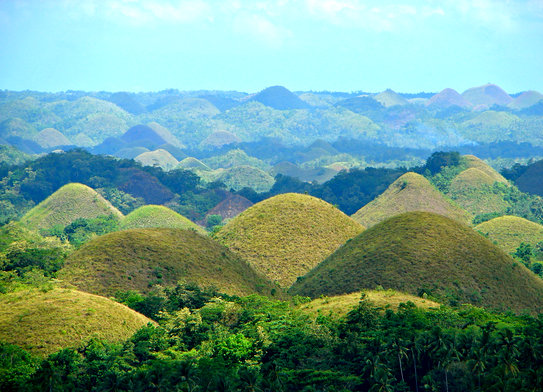 Chocolate Hills of Bohol (Photo Source: Wikipedia)
The cost of the Bohol tour is 2,980 pesos per person, 65 dollars, and includes round trip SuperCat tickets to and from Bohol, which run 1,000 pesos per person, if purchased separately.
We will have air-conditioned transportation in Bohol and all applicable Entrance Fees and Terminal Fees are included in the package. We will be back in Cebu at 7:30 pm that same day.
Regular readers of Philippines Plus know I like to go on the cheap. Sure, we could just hop on a bus in Bohol and make all the tourist stops ourselves, but I decided to fork out a few more pesos and make the trip easier on us and pay for the tour. After all, it is a vacation.
(This post is scheduled to be released on Saturday, April 16th. We should be in Cebu by then and I will not be able to respond to any comments until we return.)