I'm cognizant of the fact that I'm negative at times. I'm not the official cheerleader for the Philippines Tourism Department. It's my goal to present my personal perspective as an American expat living in the Philippines in an objective manner. I'll give credit where credit is due. When something stinks, like the wastewater pipelines buried in Boracay beaches, I'll address those issues, also. Therefore, I present the following post: "New Gaisano Mall Iloilo City's Ho-Hum Experience."
The trip to Iloilo City from Jordan Wharf in Guimaras, our island province, wasn't a necessity. In a previous post, I noted that we've cut back on our visits to "The City of Love."
More Guimelco Guimaras Brownouts
Nevertheless, another brownout was scheduled for our island province of Guimaras this past Saturday from 6 am until 2 pm.
We've experienced 16 power outages the month of May courtesy of Guimelco, our local provider. That doesn't include the countless number of "patay sindy" brown outs which last for only a few seconds.
These "on-and-off" outages have destroyed inverter air con systems of a few expats on Guimaras and continue on a daily basis.
This despite the promise of a complete refurbishing of all power lines and facilities by Guimelco by the start of the Manggahan Festival. Manggahan ended on May 22nd.
I didn't want to stay at home without power and decided to visit Iloilo City and the new Gaisano Capital Mall located in Iloilo City Center, Diversion Rd. in Manduarriao. The new Gaisano Mall is located near the existing SM City complex.
Traversing the Iloilo Strait
We parked our Ford Ranger at a parking lot near Jordan Wharf. All-day parking only costs 35 pesos, 70¢. Our parking lot attendant is recovering from a stroke, so I always give him a hefty 50 peso tip when he parks our vehicle.
After boarding The Great Leader pump boat, I managed to catch a glimpse of a passing ship, Epic Gas, seen below. I've had "epic gas" myself after eating a bowl or two of chili. Just ask my asawa.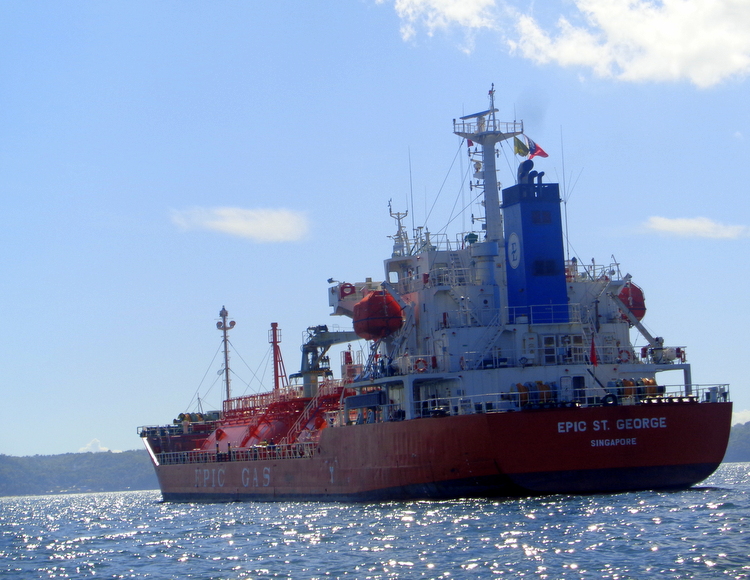 The Great Leader was equipped with life jackets. The wearing of life jackets hasn't been mandatory for years even though a local pump boat sank back in October 2015. My good friend, Larry Abilla, was a crew member of the Tawash that tragic day. Larry, along with eight other people, lost his life that fateful afternoon.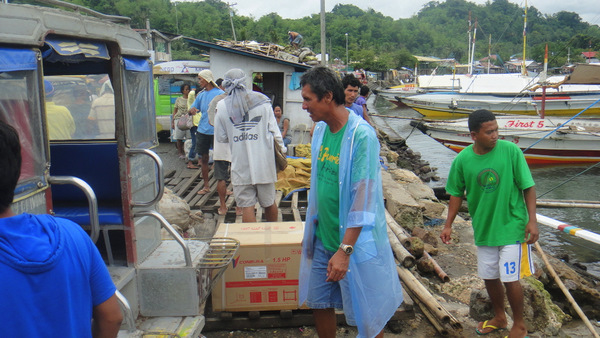 My good friend Larry from the Tawash
The wearing of life jackets was made mandatory for a couple of weeks. However, no pump boat crew enforces the wearing of life jackets even though MARINA (Maritime Industry Authority)'s Memorandum Circular No. 08 Series of 2008 requires it.
The MARINA memorandum states that "ALL passengers shall be required to wear life jackets from the time of departure and during the entire voyage…"
However, like many rules and regulations of the Philippines, they are ignored and not enforced.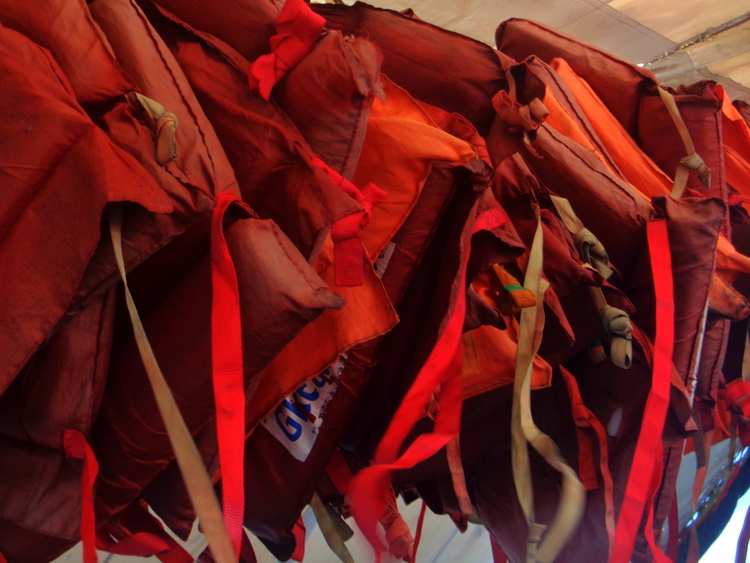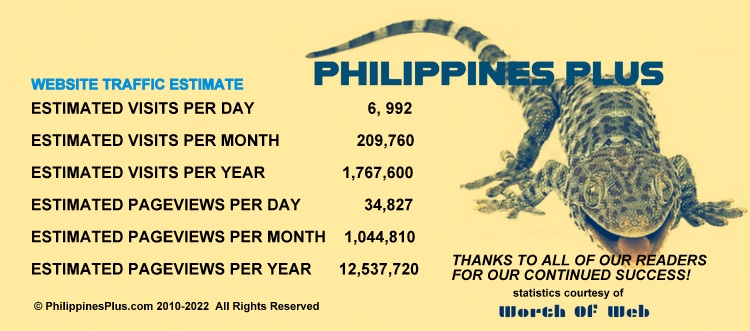 After a quick breakfast at Jollibee's at SM Delgado, we headed over to the nearby Merry Mart complex where I stopped by to pick up a couple of white 3X t-shirts at Country Casual.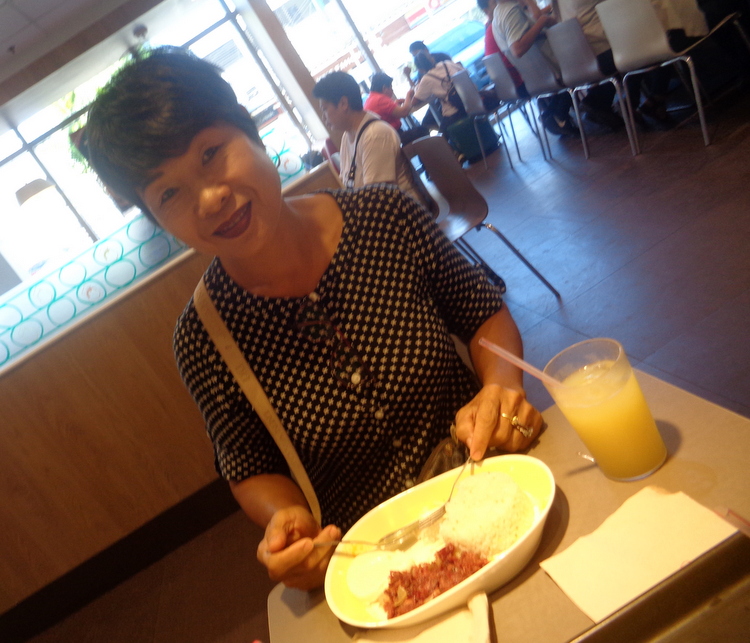 My lovely asawa's Jollibee breakfast
If you're looking for quality t-shirts in bigger, "expat" sizes I highly recommend dropping by Country Casual. The sales lady quickly handed me a selection of white 3x t-shirts to choose from and I picked up a couple at 249 pesos each, five US Dollars.
While waiting to go to the new Gaisano Mall which opened at 10:00 am, my wife stopped by a couple of shops to purchase a new dress. Standing outside of the establishment, I noticed this toy which was evidently a "My Little Pony" rip-off.
However, it might be wise for the manufacturer to invest in a Spell Checker. Underneath the red arrow I've placed on the photo, you can see a phrase which might not be appropriate for young children.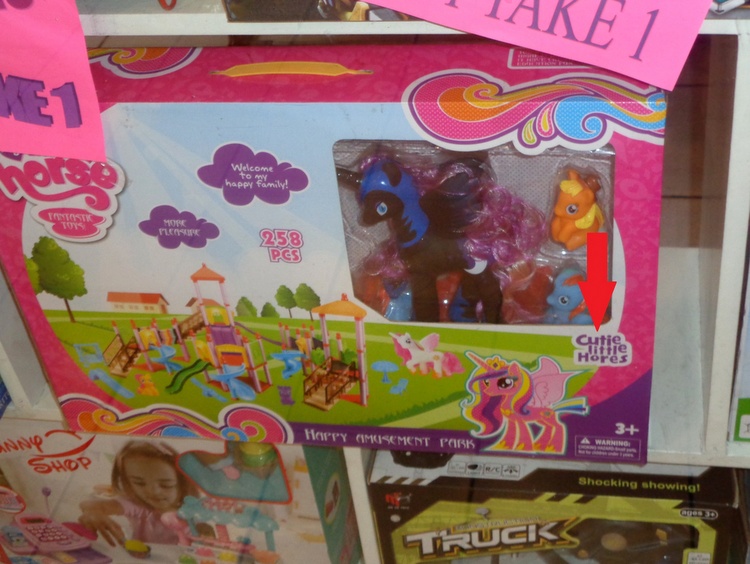 After my bargain-conscious spouse picked out a new dress for under 13 bucks, we hopped on a jeepney to SM City Proper which would pass by Gaisano. The new mall is only a short walk from the main road. Though the Gaisano shopping complex is modern and new, the dilapidated structures we encountered before reaching the mall's entrance were in sharp contrast to the new center.
The Gaisano Supermarket Visit
We mainly wanted to check out the new supermarket at the Gaisano Mall. We're always on the lookout for new products that we can't find locally in Guimaras.
The supermarket featured a lot of Susan Baker foodstuffs but didn't offer anything we couldn't find at the SM City Supermarket. The grocery was also much smaller than the SM outlet we frequent.
Prices seemed on a par with SM. However, unlike the SM City Department Store staff, no one at the market greeted us. There were a lot of cashiers standing around since there were not many customers in the new establishment.
We check out the Gaisano Department Store
After picking up a few items at the grocery we headed over to the Gaisano Department Store. My wife visited the Ladies Wear Department but didn't find anything she liked. Again, the store was clean and modern but lacked any sort of ambiance or energy.
While the security guards at the package counter were friendly enough, again, we weren't made to feel welcome by any of the staff in the supermarket or the department store. We might as well been back in Guimaras, where in the past nine years of living there, we're rarely greeted by anyone at the establishments there, save a few eateries like Oliva's Kitchen or the old Shirven.
New Gaisano Mall Iloilo City's Ho-Hum Experience
Well, at least we were able to spend the day in air conditioned comfort. The Gaisano Mall did have exceptional air con throughout the whole building. When we returned to Guimaras, our power was restored.
Visiting the new Gaisano Mall in Iloilo City for a return visit probably won't occur. However, if you're looking to spend some time shopping without any huge crowds (at the moment) in air-conditioned surroundings, Gaisano's might just be the place for you.