Raymen Beach Resort in beautiful Guimaras province, home of the sweetest mangoes in the Philippines, and Cupid's arrows were strewn throughout the white sands of Raymen, and had obviously missed their intended targets, my wife's attractive relative, Lyn Lyn, and my new American Expat friend, Brother Tom. After a brief scare where it was doubtful that either one was even going to make it to this Philippines resort, my plan of introducing the couple and perhaps igniting a romance at Raymen was falling apart.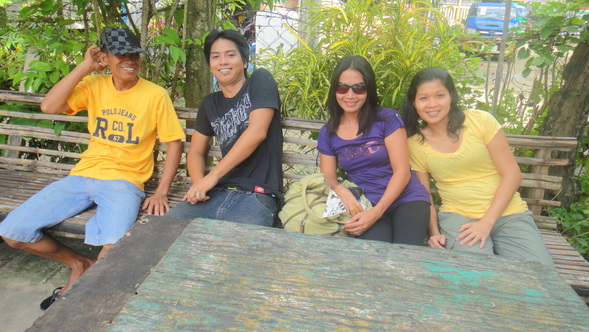 Tom had just asked Lyn Lyn to go for a walk on the beach, however, much to my dismay, the stroll only lasted five minutes. As I dug another bottle of Gold Eagle Beer from the bottom of our Styrofoam cooler, held together by a roll of packing tape, Brother Tom announced he was going to do some snorkeling and pulled out a pair of large fins from his backpack. It was obvious that Lyn Lyn was not going with him, she advised me she couldn't even swim (neither can I), but it gave me the opportunity to chat with Lyn Lyn and assess the situation.
Believe me, I'm not comfortable with this Cupid role (I don't look good in those diapers he wears), but as I mentioned in my last post, I really liked Tom and Lyn Lyn, and since they were both separated, I thought I would meddle and introduce them to each other and see what would happen. Not much evidently. I asked my quiet Filipina relative if she could understand Brother Tom's English, since Tom and I, both American expats, spoke rather fast. She replied she could understand him most of the time, but could not think of the words in English fast enough to reply to him quickly. Ahhh, so what we might have here is a "failure to communicate" (if I might borrow a line from the 1967 film classic Cool Hand Luke with Paul Newman; thanks to johnfromflorida, I tried to give GNR credit for that in their song "Civil War.")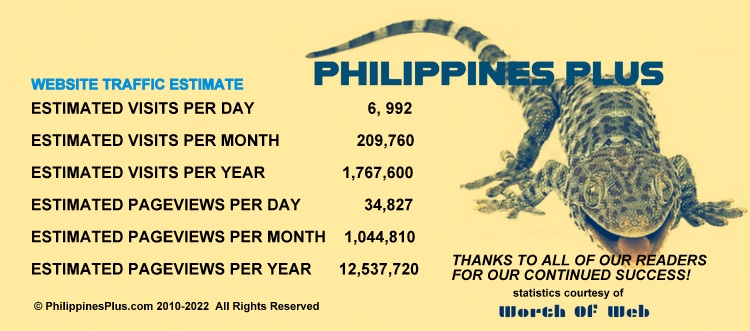 I advised Lyn Lyn to ask Brother Tom to repeat anything if she did not understand him. "Don't be afraid to ask him. Don't be shy. He won't be upset if you ask him to repeat anything." I could tell that my American expat friend liked my attractive relative, but she was quite shy and unsure of her English skills.
I went out to the beach to take some more photos and saw Brother Tom way out in the distance far from the swimmers near the beach. Took a photo of my asawa and our three-year-old niece, JalAmiel, and soaked in some rays as I waited to give Cupid a chance to reload.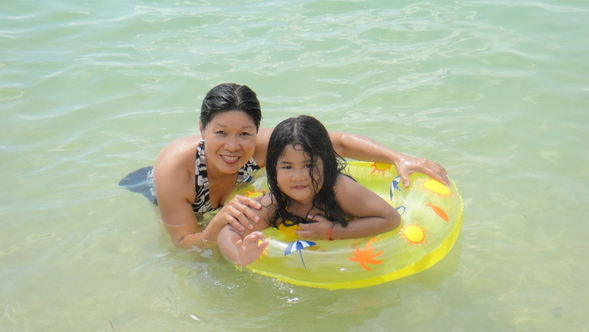 Tom soon swam to shore, and as we made our way back to the nipa hut, I advised him that Lyn Lyn was having some difficulty in understanding and responding to his English. He immediately comprehended, and told him he would make an attempt to speak slower. We arrived at the beach hut, and Brother Tom immediately struck up another conversation with Lyn Lyn and showed her some shells he had found while snorkeling.
Without skipping a beat he then asked her if she would like to go with him to a movie at the cinema at SM City in Iloilo whenever she had a day off from her caretaker's job in Iloilo. She told Tom that she could meet him the following Sunday (the 19th) and would go to the movies with him, she had not been to one since moving to Iloilo two years ago. Cupid's arrows had finally hit their targets! I scrounged for a few more bottles of Gold Eagle, handed one to my asawa, Lyn Lyn and Brother Tom. Looks like my attempts at playing Cupid had been successful. Time for a little celebration. Romance at Raymen? Well, looks like it's getting off to a good start.