RACKS' (Real American Country Kitchen Style) slogan is that they're the Best Ribs in Town. I'm here to tell you that I believe RACKS has the best ribs in the Philippines and some of the best ribs I have ever tasted. My asawa and I had one of the gastronomic highlights of our lives when we visited the newly-opened rib joint at
High praise, indeed, from an American Expat in the Philippines who spent 57 years in the States, 56 of those in the Midwest, who many times feasted at the premier BBQ pit in Springfield, Illinois, the epic Clay's Popeye's BBQ.
Jeff and Mary Clay purchased Popeyes' Bar-Be-Que from Juanita Jones in 1994 following the death of Benson "Popeye" Jones. The sauce recipe is more than 100 years old. Locals still call it the best. The Clay's have continued to work hard and maintain the reputation in receiving community and civic awards, as did the Jones' restaurateurs.
Popeye's BBQ was legendary for the smoked ribs they served and it all started with an African American, "Popeye" Jones, a true character who I was privileged to meet before his death. People from the entire region travel to Popeye's joint to get the best ribs in town.
Brothers and Sisters, I'm here to tell you that RACKS in the Philippines, some 7,000 miles from Popeye's BBQ in Springfield, Illinois, also has some of the best ribs I have ever tasted my entire adult life.
Since opening their doors in Makati's Central Business District in 1992, RACKS has become a household name for famous flame-grilled, falls-off-the-bone ribs. Over two decades later, RACKS continues to deliver the same quality of homey, mouthwatering, all-American dishes that customers just keep coming back for. They serve over 14 outlets in key locations in the Philippines but unfortunately have not landed in Iloilo City, near our home base of Guimaras.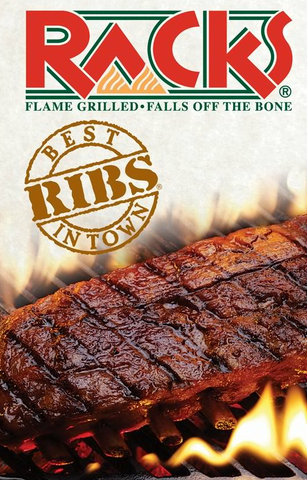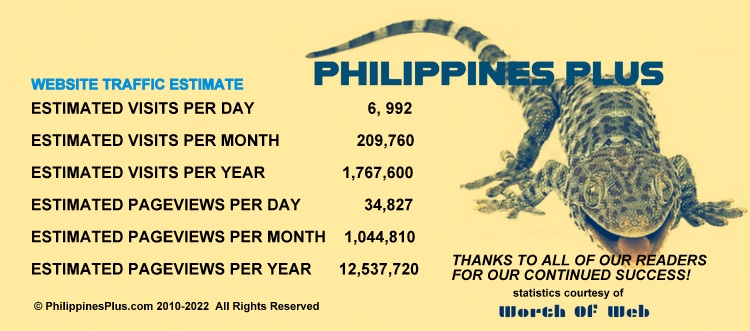 It was Saturday night. My wife had finished a 90-minute tattoo session for some new eyebrows. My asawa has been talking about getting tattooed eyebrows for years. When I spied the tattoo sign outside of an outlet at SM Seaside, it didn't take much convincing to have my wife undergo the process especially since they were having an "eyebrow sale" for 1400 pesos, about 30 US Dollars.
The eyebrows turned out great but we were hungry and ready for dinner. I had seen the signage for a new ribs restaurant, RACKS, and we decided to check the place out.
The rib joint was packed but we were able to secure a table in about 15 minutes. My wife and I both ordered a half slab of RACKS baby ribs for 480 pesos each and the meal came with two sides. I ordered cole slaw and mashed potatoes. My spouse ordered potato salad and a veggie dish, carrots and corn.
A waitress came and took our order. Within a span of five minutes another waitress and a waiter came over to make sure our order had been taken. Talk about service. As a crusty old expat at the age of 64, I've never had two food servers approach me to ask if my order had been taken.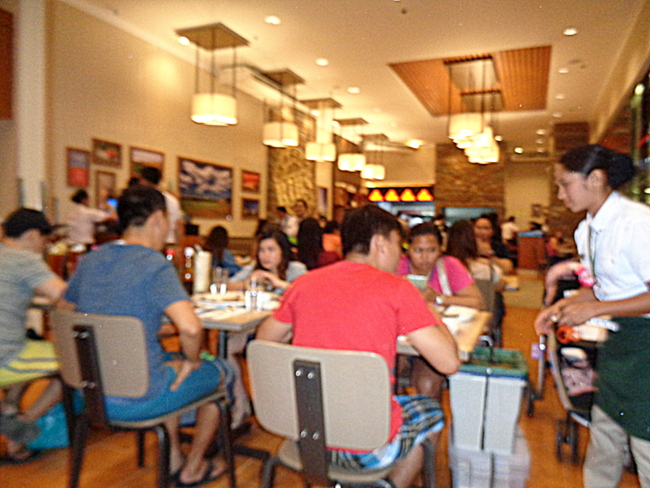 The Saturday night crowd at RACKS ribs in Cebu's SM Seaside
It didn't take long for our ribs to arrive. They were falling-off-the bone delicious but we hadn't been served any of the house BBQ sauce to go with the ribs yet. We were quickly given a bottle of the tasty stuff when I requested it and I slathered it over my half slab of ribs. The sauce was absolutely delicious and simply added to the already heavenly rib dish.
I also had to ask for my mashed potatoes and the only negative aspect of our dinner was the fact that my mashed potatoes were cold and my asawa's potatoes were under-cooked.
But the extremely delicious ribs and helpful staff more than made up for our side dishes (my cole slaw was good, but I'm a fan of KFC's coleslaw.)
I advised the manager-on-duty that not only were there ribs the best ribs in town, they were the best ribs in the Philippines and some of the best ribs I ever tasted. I also complimented him on his wait staff which were certainly trained to serve their patrons excellent customer service.
I give the outfit 4.5 out of 5 stars. If you're ever near a RACKS rib joint, I highly recommend a visit. I don't think you'll be disappointed.