Return to White Beaches of Boracay Already Booked
This grizzled, old crusty, grumpy American expat in the Philippines has been "busy" meeting other grizzled, old crusty American expats. I've also been dining at an exciting new café in San Miguel, Jordan, Guimaras. However, I'll have details on the new grizzled American that I met plus information on the new bistro in town in a future post. However, the focus of today's post will be "BORACAY BECKONS AMERICAN EXPAT AGAIN."
Leaving all the Omicron Nonsense Behind
Let's blow this pop stand. Frankly, I wanted to get out of the province and return to the beautiful, stunning sunsets that Boracay offers. Consequently, I booked a trip to Boracay in June with my lovely asawa and two nieces.
Everyone in the family is fully vaccinated now. While the World Health Organization, WHO, continues to cry about the "dangerous" Omicron variant, I refuse to live in fear.
While said to be more transmissible than the Delta variant, initial studies show the new WHO bogeyman is much milder than Delta. Some scientists even report that it is similar to a mild flu or common cold.
Frankly, in an effort to stay relevant and in news headlines, WHO will find some other "deadly" variant after the current Omicron scare fades away.
Return to White Beaches of Boracay Already Booked
Therefore, we'll be traveling to Boracay, turning off all news programs, not listening to any more doom and gloom prophecies and literally burying our "heads in the sand" in the magnificent white sandy beaches of Boracay.
I initially tried to book a room to Boracay on Booking.com. However, we don't have any credit cards. I got rid of all them before we moved to the Philippines. The vast majority of places wanted a pre-payment via credit card.
As a result of my failed search, I revived some aging brain cells and came up with a solution. Contact the hotel that we had stayed at during our three previous visits. The hotel is only about a two minute walk to the Station 2 beach. It's a comfortable place with good air con and a clean room. It comes with a CR, Comfort Room, en suite.
In addition, it is budget friendly, only costing 2,000 pesos a night, 40 US dollars, for four adults. I booked the place for three nights in June 2022 arranging everything over my wife's Facebook Messenger. The staff at Jejsellends Garden Cottages was extremely helpful and it was a painless and quick transaction.
I was able to pay a 1,000 peso deposit which I did without using a credit card. Our reservations were sent via email. I've printed out two copies of the reservation. We'll be taking a Ceres 6-hour bus ride to Caticlan, the gateway to Boracay.
When my spouse and I went by ourselves in February 2020 to celebrate our 20th Wedding Anniversary, I believe we only paid 350 pesos each for our bus tickets, seven US dollars. I've tried to call the Ceres Bus Line in Iloilo City but no one answers the phone at their number listed on Facebook.
In addition, I tried an online search on the interweb but only found one website that was charging over 130 dollars for a private van to Caticlan.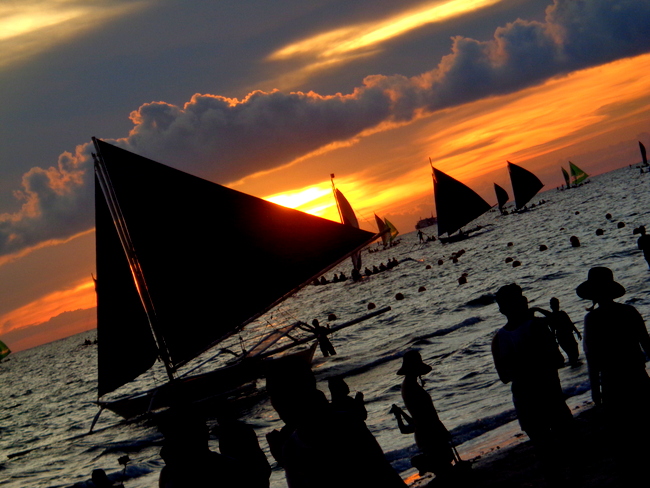 Plenty of Water Activities for the Adventurer
There's a boatload of water activities in picturesque Boracay. Here's some of the adventures available:
Banana Boat Rides starting at 400 pesos
Helmet Diving starting at 800 pesos
Island Hopping Tours starting at 1,200 pesos
Jet Skiing starting at 1,500 pesos
Kite Surfing starting at 2,000 pesos
Parasailing starting at 1,500 pesos
Paddle Boarding starting at 300 pesos
(I got the above information and rates from goaroundphilippines.com. If you want to book a tour in advance, check them out.)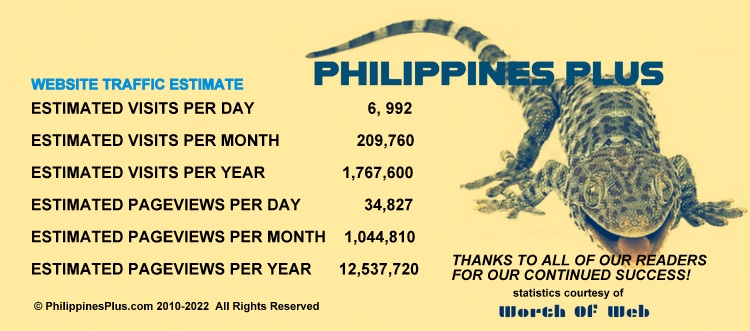 My wife and two nieces and a nephew have gone parasailing in previous trips. It's an adventure that this old geezer, who can't even swim, won't try. I know my limitations. We're going to book the two nieces traveling with us for this venture. It's not for the faint of heart (or old geezers.)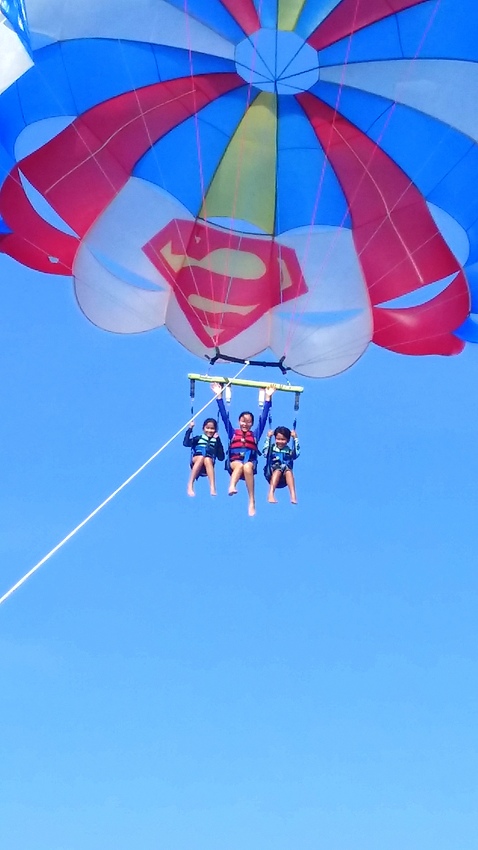 Skipping the Island Hopping Tours
While I would recommend an island hopping tour for first-timers, the tours we have taken in previous visits to Boracay have been underwhelming. The food available on these tours is average Filipino fare at best. There is not one stop on our previous island hopping tours that offered any decent food.
Frankly, the only highlight of the island hopping tours is a stop at Puka Shell Beach. While the food and drink available on the island are quite expensive, the 800-meter stretch of beach is quite impressive.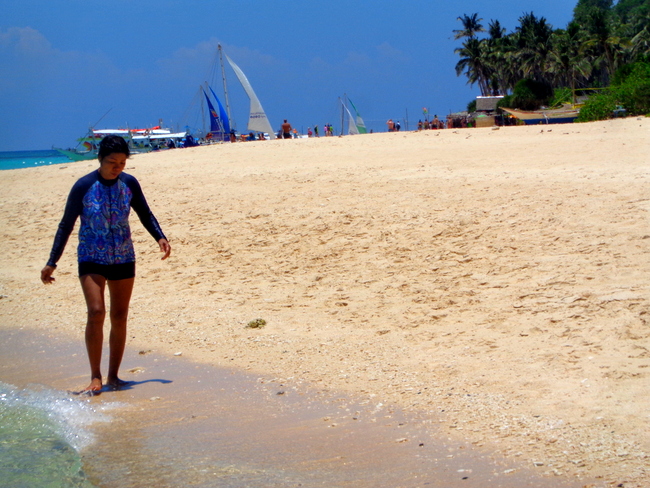 That's my lovely asawa checking out the Puka Shell Beach a few years ago
We're not planning any island hopping tours, however, this visit and will spend our money on other water activities. While we won't do any island hopping, sales agents will be roaming the beach trying to sell us tours nonetheless.
Disco Party at the Epic
I'm married to a Filipina. Two Filipina nieces are accompanying us to Boracay. There is no way this trio is going to miss dancing and partying at Epic Boracay located at D'Mall, Station 2. It's only a few minutes from our hotel. Epic Boracay is now open daily from 9AM to 12MN.
I met a few of the security staff outside Epic during our 20th Anniversary trip in February 2020. The security team was composed of big, muscular guys that you did not want to mess with. However, they were an extremely friendly group.
They invited us inside, but we were too tired at the time and didn't have an opportunity to return because we were leaving Boracay the next morning.
The grizzled old crusty expat will be joining the party, however, this time, with my wife and nieces. I'll be staying up past my normal bedtime of 9:30 pm but look forward to visiting this vibrant nightclub on the beach.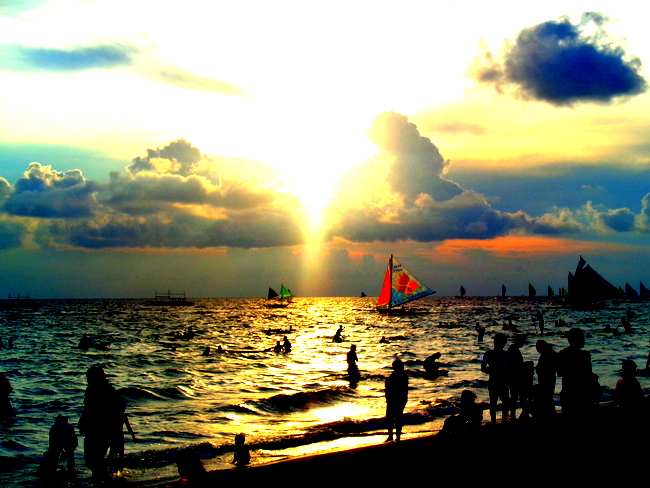 "BORACAY BECKONS AMERICAN EXPAT AGAIN"
I'll be celebrating a milestone birthday at Boracay. While my birthday is not in May, I'm not planning anything at all on my actual birthday. Celebrating at Boracay with my loving wife and two nieces will be celebration enough.
I'm looking forward to the trip and an end to all of these pandemic lockdowns. Omicron, you can kiss my butt!