After visiting SM City Bacolod, my wife and I headed out via jeepney to the North Terminal in our quest to find the best shopping malls in Bacolod City. After making inquiries at the local McDonald's, we decided a visit to the Ayala Mall was in order. Once at the North Terminal we would be able to catch a ride to "The District" where the new Ayala Mall was located. My wife and I had been using the cheaper jeepney services available in the "City of Smiles" rather than taking a taxi. We did use a cab upon our arrival in Bacolod and our driver informed us that most taxis were charging 300 pesos, almost seven US Dollars,  to the Ayala Mall located outside of the city. And that's for a one way trip.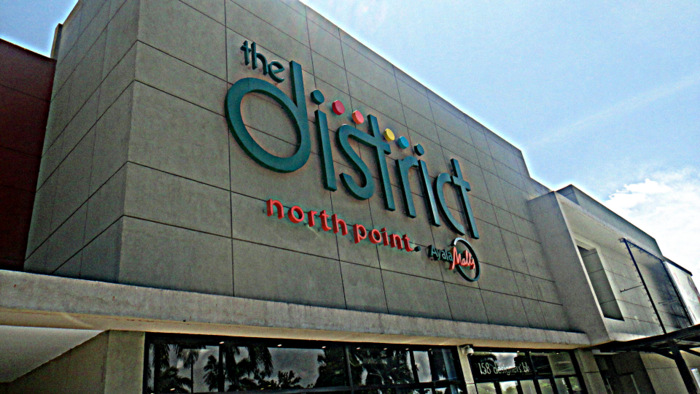 Neither one of us wanted to pay that much, it only cost us 280 pesos to ride the cheap seats for the hour long Super Cat Ferry from Iloilo to Bacolod,  and since we were able to get information from the locals on what jeepneys to use, why not save money on our transportation costs? This would be more money my asawa could spend at the malls.
It only cost us eight pesos each, 18¢, for the ride to the North Terminal where we discovered a flock of Ceres buses waiting. We had used a Ceres bus on our trip to Cebu and were floored when the cost of a ride to North Point, Ayala Mall, would only cost us five pesos apiece, 11¢.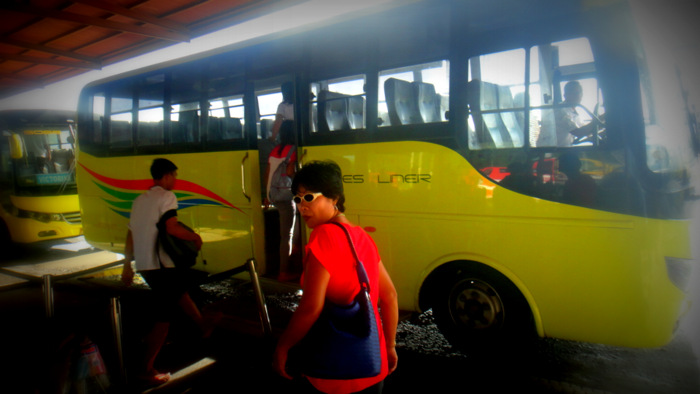 My wife, seen in the photo above,  and I were seated in front of the bus where I leaned my fat head out of the window and asked the terminal crew if I could take their picture. As you can see from the following photo, the guys gladly obliged. You have to love the Philippines. You can find really friendly people that are more than willing to help you.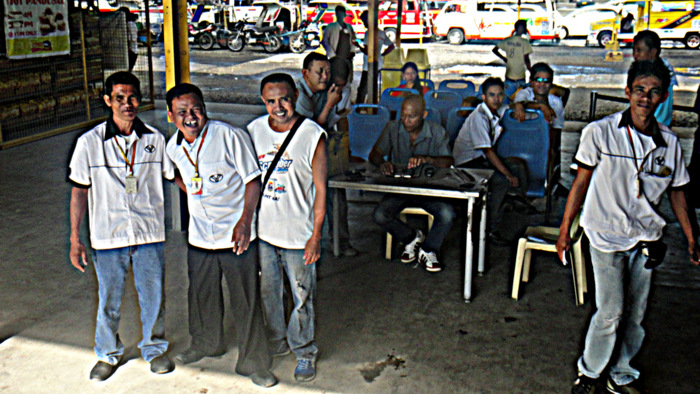 It probably was less than a five minute drive to the mall, but too hot and too far to walk, and for five pesos, well, why not splurge a little, I thought. And talk about splurging, we plunked down 300 pesos, the money we saved by not taking a taxi, at the Starbucks located at the Ayala Mall. That's my lovely asawa posing inside the coffee shop.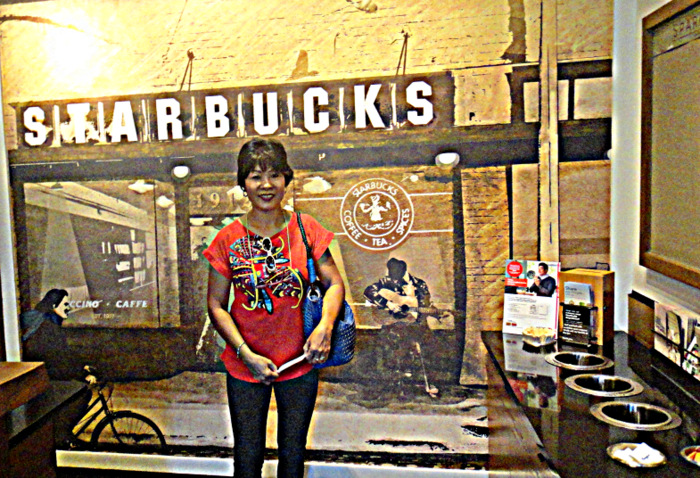 We arrived 90 minutes before the 10:00 am opening of the mall, but we had time to spare plus a free Wi-Fi location and some great coffees to relax with.  I ordered an absolutely delicious cafe mocha and complimented the mature barista and advised him that the coffee he prepared was absolutely perfect.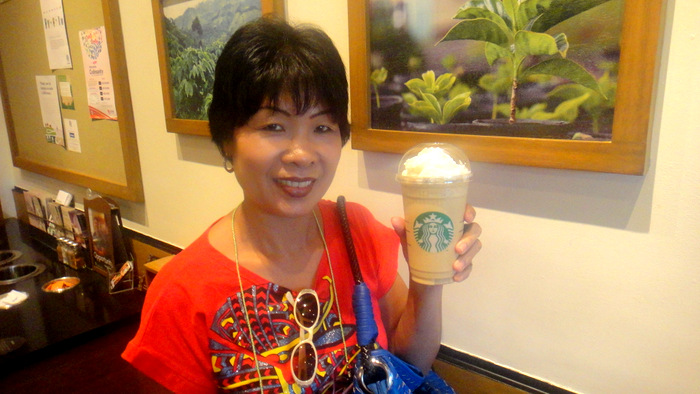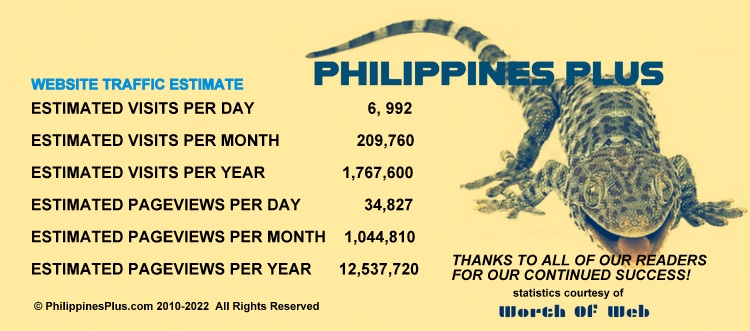 The heat had gotten to my spouse so she ordered an icy cappuccino. We hadn't indulged in a coffee from Starbucks for years but plan to visit another one soon.  There's nothing much better than a quality cup of java to start the morning with.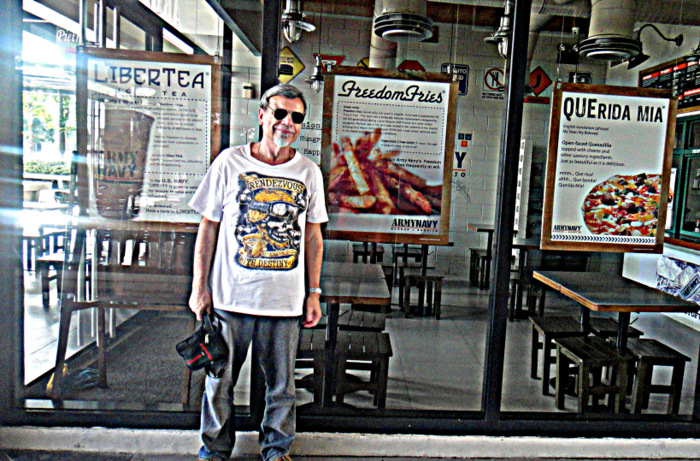 I would have loved to have tried some of the "freedom fries"at this food outlet located at "The District"but I've been keeping away from fried foods ever since I was diagnosed with a fatty liver. I've gotten down to 183 pounds and have managed to lose over 20 pounds since I've adopted my healthier diet.  But I have to tell you, a huge platter of fries with a juicy cheese burger would have tasted pretty good.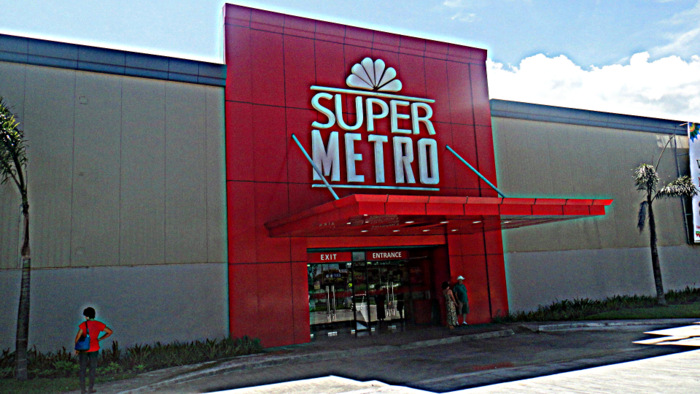 After the mall opened, we entered through the supermarket, Super Metro, and were floored by the wide open spaces and the selection of food available. We saw large boxes of Cheerios, a cereal we cannot find in Iloilo, and my wife was checking out the large selection of durian.
Without a doubt, outside of Metro Manila, the Super Metro was hands down the best supermarket we have seen after five years of living in the Philippines. We both were very impressed by this Bacolod City area grocery store which rivaled anything I've seen in the States.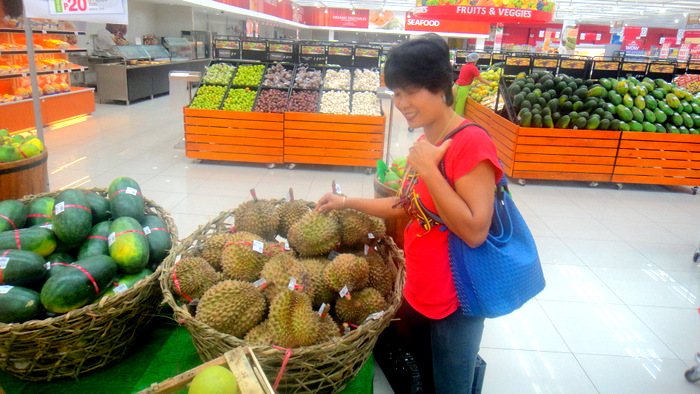 But I'm afraid our visit to the rest of the Ayala Mall was a disappoint. Their are still more retail outlets to be added to the mall and the shops available were too pricey, even for a couple of "big spenders"who had paid 300 pesos for a couple of cups of "Joe"at the Starbucks. We didn't check out the many restaurants located inside the shopping complex, and in fairness, have to reserve judgment on the mall, which has generated some criticism online from locals, until we have a chance to see what the complex looks like once all the outlets are opened up.
We found the Ayala Mall in Cebu City had much more to offer, but again, were both impressed by the Super Metro grocery at "The District," aka North Point.
We only stayed at Ayala for about an hour and went across the street to catch another Ceres bus which would take us back to the North Terminal where we could board a jeepney to take us to Robinsons Place in Bacolod City.  My romp with the Jollibee mascot and a visit to an Asian restaurant which has now become one of my favorite eateries, will be featured in the next post.