Joery's electrician contact was on site. My asawa and I were at our new property site in Guimara, Western Visayas, the Philippines, when my asawa and I walked up to the new nipa being built for my father-in-law who will live on the premises. I absolutely  did not want to be seen by the electrician as I feared the price he was charging to sign off on my brother-in-law's electrical work, 350 pesos, would substantially increase once he saw a "rich" foreigner. But it was shocking news as the electrical work done at the nipa hut was approved without any additional charges. The dreaded kano "skin tax" was not implemented. My brother-in-law had contracted the services of an ethical man. Unlike Diogenes I did not need to carry a lantern in the middle of the day to find an honest man. 
Our caretaker Gerry is seen in the doorway of the nipa hut in the next shot. Gerry, who also stays overnight at the site as our security, keeps busy. He is at our location every day of the week in addition to working on the construction crew for Lolo's new digs. Once my father-in-law's new cubbyhole is completed, our custodian will return to "The Farm" and resume his maintenance duties there.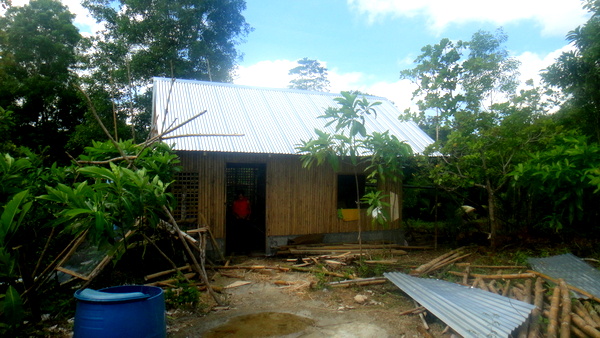 Next up is a view of the bamboo scaffolding the workers use. Bamboo grows quite easily in the Philippines and can be found in a plentiful supply throughout the archipelago. It's a multipurpose wood and fairly inexpensive. Bamboo was used quite extensively throughout the construction of this nipa hut.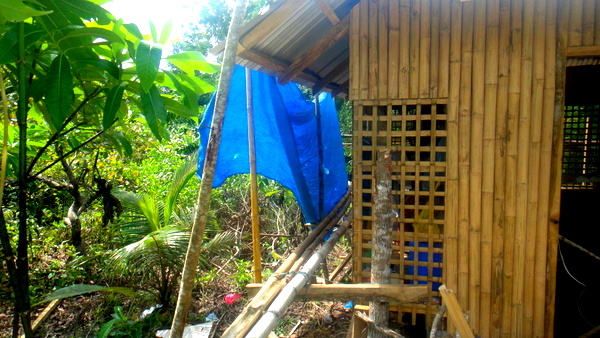 My asawa and Gerry are moving an inside scaffold for Joery. Again, note that bamboo is used in the fabrication of the scaffold.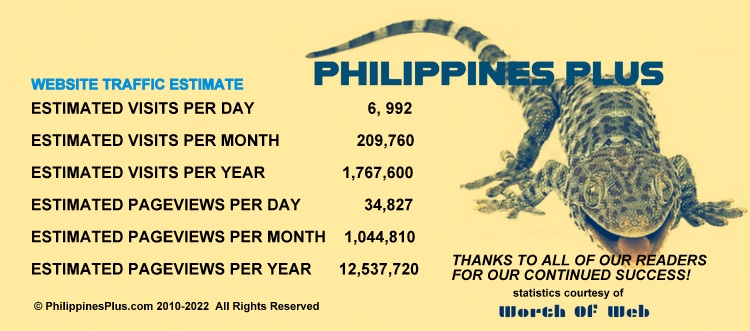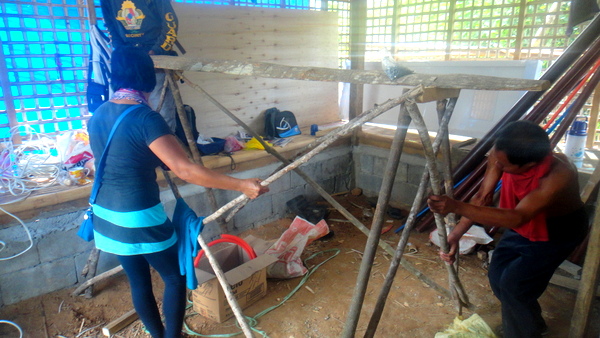 Joery balances one foot on the scaffold and another one on the bamboo lattice work. He should complete the wiring project today and will go to our local municipality to hand over the paperwork and plans that the visiting electrician completed. Hopefully, electrical service will soon be established at our new location. For under eight bucks, the electrician's fee was extremely reasonable. Can you imagine finding an electrician in the States that would work so reasonably?
Joery, wearing one of his security guard shirts from his days as a bank guard in Iloilo City, along with his electrician skills, is also a able plumber, and proficient carpenter. In a previous post regarding the independent contractor we have hired to build our new home, we had thought my brother-in-law would be part of the contractor's crew.
However, my spouse informs me that Joery, who is busy with his salted egg business and sari sari store, needs a more flexible schedule. We've decided to hire Joery and Jon, both currently working on the nipa hut project, as a separate crew from the contractor and work on putting up a barbed wire fence around our 7,000 plus square meter lot. Once the fence is completed, we will have them build the walled fence around our new home and Lolo's nipa hut. After that, they can start work on the dirty kitchen that will be adjacent to our new home. There will be plenty of work to keep the men busy.