Construction costs for our new home in the Philippines is the topic for today's post. I took new pictures of our job site a few days ago and a recent comment from Kevin prompted me to confer with my asawa, who is in charge of buying materials for our house and handling our construction crew's salaries, to check on our ongoing construction costs. My wife handles these chores in addition to taking care of her father, afflicted with dementia, and running a household of six people. Me? I stay out of the way and do as little as possible, something I'm exceptionally good at.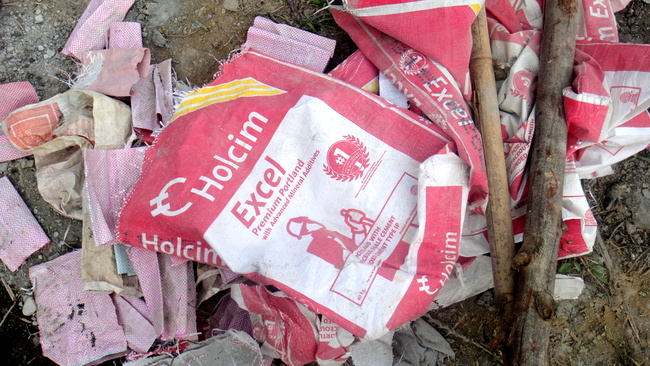 My first photo is a close-up of the concrete that our construction crew uses. I thought one of my contractor experts, Bill S., could glean some information from this because it doesn't mean much to me. I have heard, however, of "portland" cement, which is manufactured from limestone and clay that hardens under water and is the most common type in general use around the world. Hey, as long as it holds Cousin Emma's hollow blocks together, that works for me.
As regular readers of Philippines Plus know, I have very little knowledge of building and limited carpentry skills. I rely on the expertise of those who really do know what they're doing. Our foreman, Boy, is considered by many foreigners on our island of Guimaras to be the best builder on the island.
My brother-in-law Joery is in charge of a side crew that that built the nipa hut on our property where my father-in-law will reside. Joery, Jon and Gerry have constructed the tower for our new water tank (work on a well for our property will begin next month), and are now building a barbed wire fence that will surround our 1.25 hectares, approximately three acres.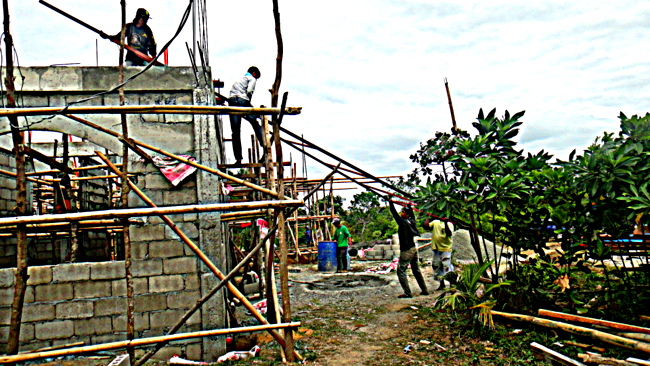 The crew starting bringing up the steel trusses they had welded. I stayed out of the way. I marveled at the way these workers wrangled with these heavy pieces and managed to haul them up without dropping them. Can you imagine what OSHA, the Occupational Safety and Health Administration back in the States, would have had to say about this?
Thankfully no one on our 20-man crew has been hurt thus far and we hope this trend continues. The guys are working under the summer sun with high temperatures in the upper 80's and humidity around 71%. We haven't even hit March, April and May, where high temperatures will easily push into the upper 90's by May.
The trusses cost 306,000 pesos, almost 7,000 US Dollars. We will use 7,000 hollow blocks and they are being delivered in lots of 500 to 1,000 as fast as Cousin Emma's Hollow Block Factory can manufacture them at a cost of 14 pesos each, approximately 98,000 pesos, 2, 225 USD.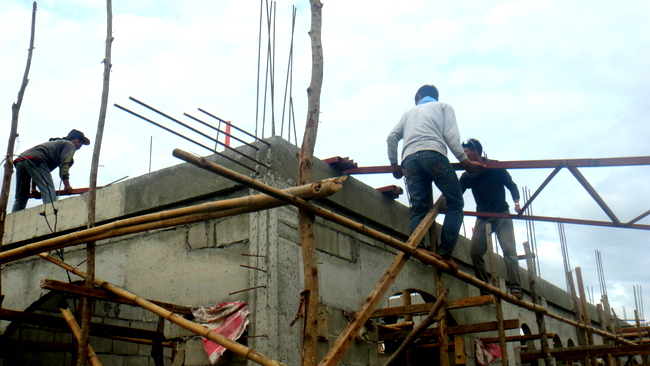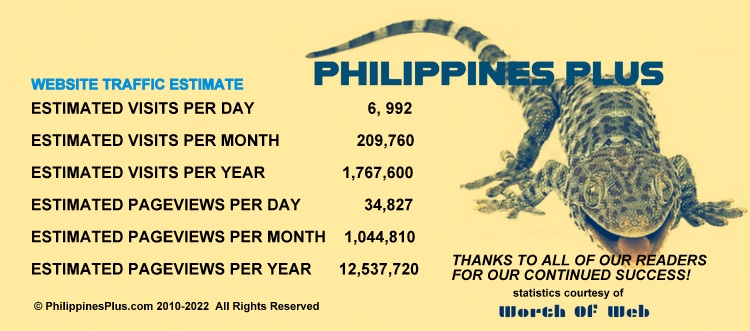 Most of the trusses are up now. The next major expense for our new house in the Philippines will be our metal roof. It won't be long until my wife and our foreman will be canvassing our region to get the best prices for a new metal roof. We will opt for a metal roof and not a tile roof. Though I know a light-colored roof will reflect back more heat and help cool our new home, I know my asawa is keen on having a darker-colored roof in a red shade though we will be insulating the roof, no matter what color it is.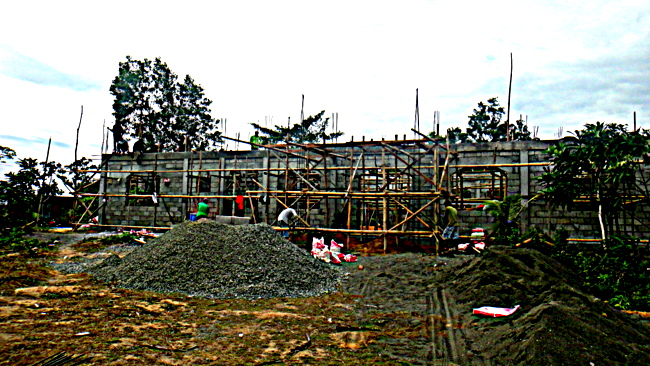 Here's a look at the front of our new abode. The total square footage will be over 3,000 square feet. The structure will only have one story and will also have a covered garage area to park our Ford Ranger.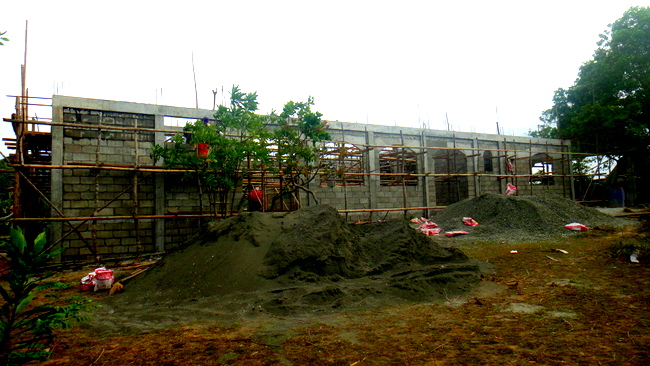 This is a back view of our new home. Construction began on January 20th of this year. Thus far, our total expenses, including all materials and salaries for our workers, is approaching 29,000 US Dollars, 1.275 million pesos. Our foreman originally told us that the house would be built in five or six months. To my untrained eye, it looks like our construction crew is making good progress.
As mentioned earlier, the next major expense for our new house, aside from the weekly salaries which run around 35,000 pesos a week, 800 US Dollars, will be the roof.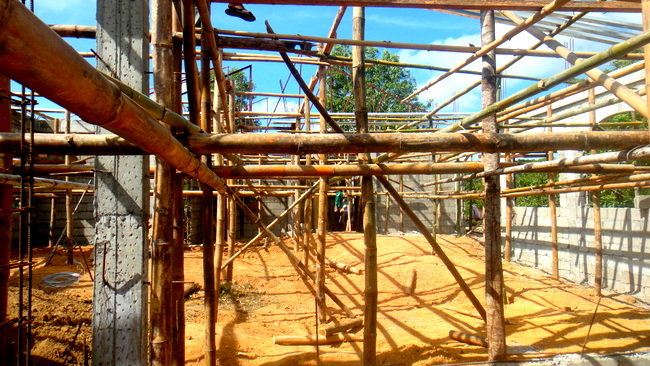 Here's an interior view of our new living room/dining area. It will be the largest area in our new digs as my wife, seen below, protecting herself from the blazing sun, wanted a huge area where the family could gather to eat and to watch television and sing karaoke, of course.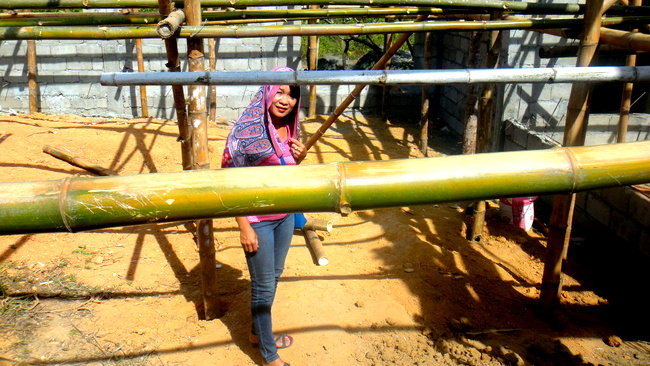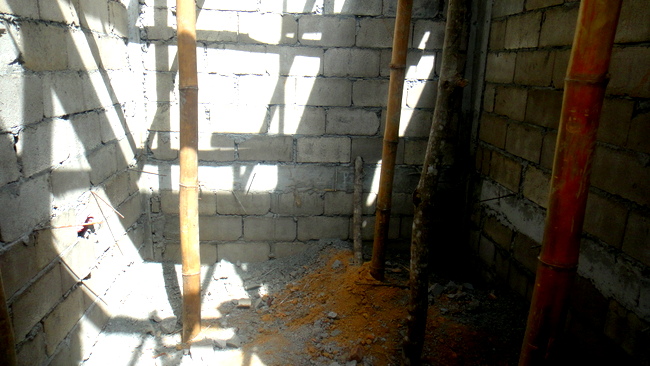 I'll close with a look at my future office which is adjacent to our master bedroom. Not a large space but tucked away in the back of the house far from my father-in-law's nipa hut. The new space will have enough room for my computer and I'll have a television on the wall with a new Sony PlayStation hooked up to it. With the PlayStation's volume cranked up and my distance from my father-in-law's digs, I'll hopefully have a sanctuary where I won't have to listen to Lolo's never-ending loud conversations with his dead relatives. Let's hope our crew keeps on schedule.