Construction has begun on our new house in the Philippines. Our crew, led by Foreman Boy, started worked on our new abode almost two weeks ago. We have a 13-man crew on site that works six days a week that is solely dedicated to building our new home. We have a separate three-man crew, led by my brother-in-law Joery, that is currently erecting a tower for our new water tank. Later on Joery's crew will be constructing a "dirty kitchen."
This is one of the holes dug by the workers, 1 meter by 1 meter. These hold the concrete support columns, such as the one depicted below.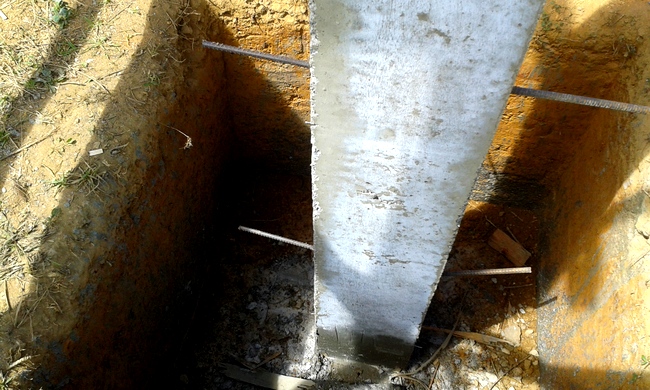 Here's a look at the beginning stages. Note the digging tool the man in the purple trunks is using, a standard issue digging tool for the Philippines. While a few of the workers have shovels, the majority of them use the hand tool shown below. My wife calls it a "tagad," in her local Ilonggo language. I call it hard work.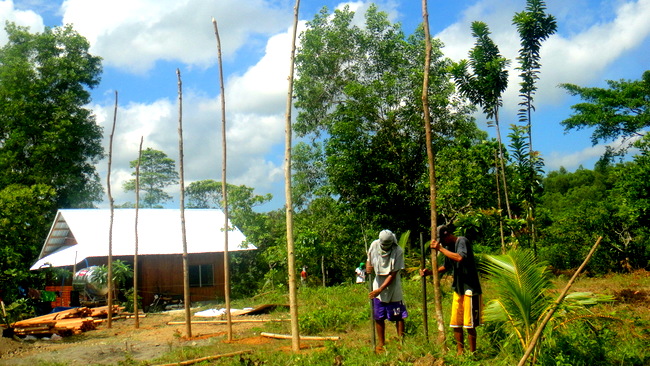 During the first days these trees were set up all along the perimeter of the foundation and will serve as part of the scaffolding seen in the lead photo. Scaffolding is needed all around the house so hollow blocks can be set in place to build the walls.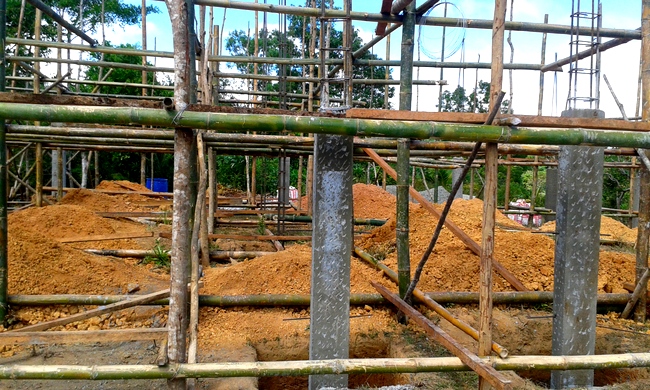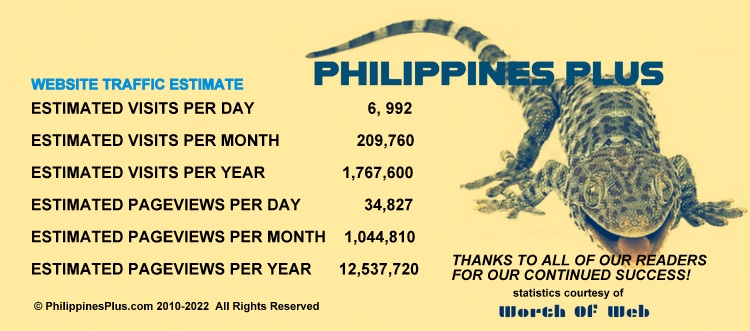 Some of the columns have already been placed. I only visit the job site about once a week. My asawa goes almost every day to make sure the crew members have plenty of snacks for their meriendas and to do some planting of new trees. My wife also is in charge of the payroll for both crews. Along with Joery, my wife also orders all the materials that are needed as dictated by the foreman. The weekly salary for the main crew runs around 500 US Dollars. The salary for Joery's crew is approximately 80 US Dollars.
The salary for Boy's crew, set by our foreman, is 250 pesos, 5.60 USD, a day for laborers and 350 pesos, 8 USD, a day for carpenters. They provide their own lunch. Foreman Boy makes 600 pesos a day, a whopping 13.60 USD, good wages for workers in the Western Visayas region of Guimaras where we reside.
My asawa and Joery also have a visit planned with some engineers next week at the local barangay for our new location to secure building permits for our new home in the Philippines. While you might wonder why construction has begun without any permits yet, keep in mind that things operate quite differently in the archipelago. While we were told by one foreigner we do not need permits since our property is on a private road, we are taking no chances and are going by the book.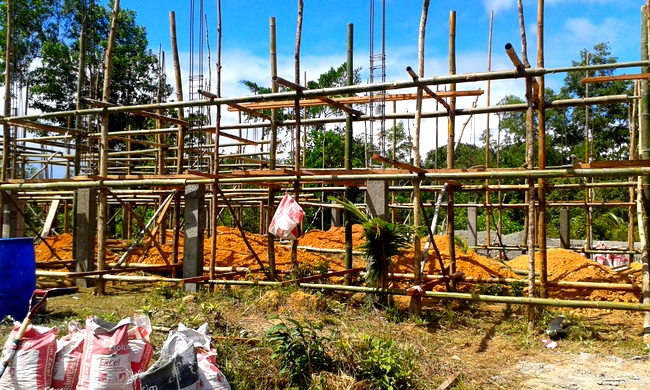 Another view of the scaffolding and a few columns. The project is going to take 5-6 months. Am I concerned about not being on the site each day like some expats might recommend? Absolutely not. We have good crews and Joery, my brother-in-law, has extensive construction knowledge and knows how much progress should be made on the new site as the work continues. He always gives my spouse a daily report.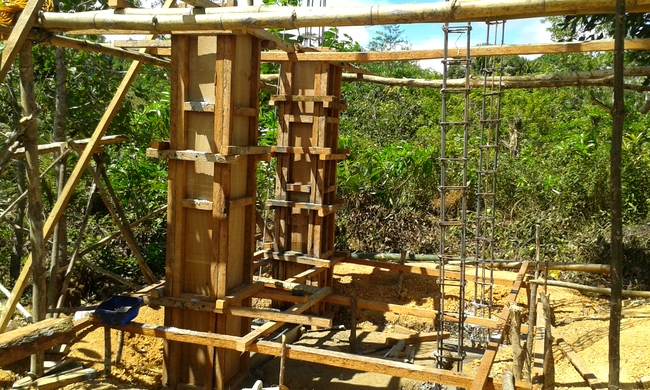 Joery and his crew are building the forms for the new concrete columns that will hold our new water tank. It's best to have the water tank elevated in order to produce better water pressure.
Cousin Emma has hauled over about 2,000 of our initial 7,000 hollow block order from her Jade Market and Hollow Block Factory. The bulk of the blocks are costing us 13 pesos each. 400 hollow blocks at 22 pesos each will have a stronger concrete mixture and will also be used. I'll get excited when I see those concrete blocks being used for building the walls.
It's not been that stressful of an event for me thus far. I have absolutely no construction knowledge and see no need to get worked up about anything. I'll be gone for most of the month of February while I go to the States and will keep updated with my asawa via Facebook. I have complete confidence that my wife can handle any problems that might occur.
In the meantime, I'll keep "working" on this website, biding my time, and making the occasional visit to the new job site upon my return. And, I'll keep enjoying my retirement in the Philippines.