I've been living in the Philippines since 2009. Married to a loving, loyal, patient Filipina for over 22 years. As a result, I've been privy to an amazing amount of aswang adventures. Today's tale, for instance, is another illustration of a bizarre aswang account. Hence, I present to you today's post, "GRANDMA BEATEN AFTER BEING CONFUSED FOR ASWANG."
Aswangs Feared in the Philippines
First, for you Filipino folklore novices out there, an aswang is an umbrella term for various shape-shifting evil creatures in Filipino folklore. For instance, vampires, ghouls, witches, and werebeasts (usually dogs, cats, pigs.) Shape-shifting creatures are popular in other cultures such as the North American Native American's "skinwalkers."
(There are no wolves in the Philippines; therefore, no werewolves. "Werebeasts" is the term used in the PH. Werewolf is a combination of two Old English words "wer", meaning "man" and "wulf" which means "wolf.")
The aswang is the subject of a wide variety of myths, stories, arts, and films. They're infamous throughout the Philippines. According to Wikipedia, Spanish colonists noted that the aswang was the most feared among the mythical creatures of the Philippines, even in the 16th century.
The aswang is especially popular in southern parts of Luzon, and some parts of Mindanao and Visayas. Witches in the Philippines are feared, avoided and hated. Witches can become aswang, only if they have certain qualities that follow an aswang already. Then they can become an aswang, and by doing so their powers become stronger, stronger than the other witches as well.
Consequently, since the aswang is so feared in the Philippines, a poor 58-year-old woman was beaten after she was mistaken for an "aswang." This incident took place in Hinigaran, Negros Occidental, Philippines. Hinigaran, according to the 2020 census, has a population of 88,909 people. It is about 54 kilometers (34 mi) south from Bacolod.
"GRANDMA BEATEN AFTER BEING CONFUSED FOR ASWANG"
The alleged "aswang" was seen by some residents on the roof of one of the houses at Barangay Gargato last Thursday, February 3, 2022. It was around 1:00 am.
The home owner heard a snapping sound on the roof.  Upon investigation, the house's occupants saw a woman.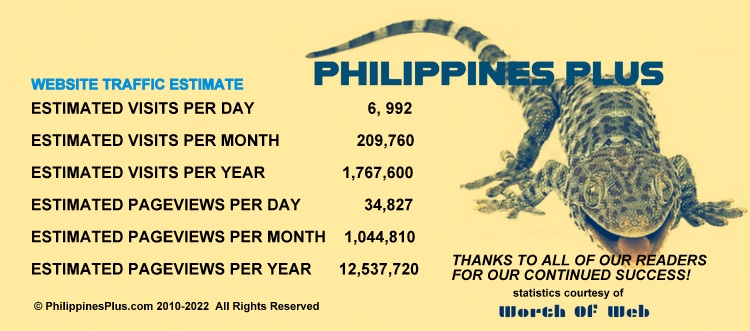 They took the victim down from the roof. Furthermore, they allegedly tied her with a rope and allegedly hacked and hit her with an arrow. (However, any aswang hunter worth their salt knows that a stingray tail is used to subdue aswangs. We had one posted outside the door of our dirty kitchen for years.)
Fortunately, the woman had no serious injuries from the hacking.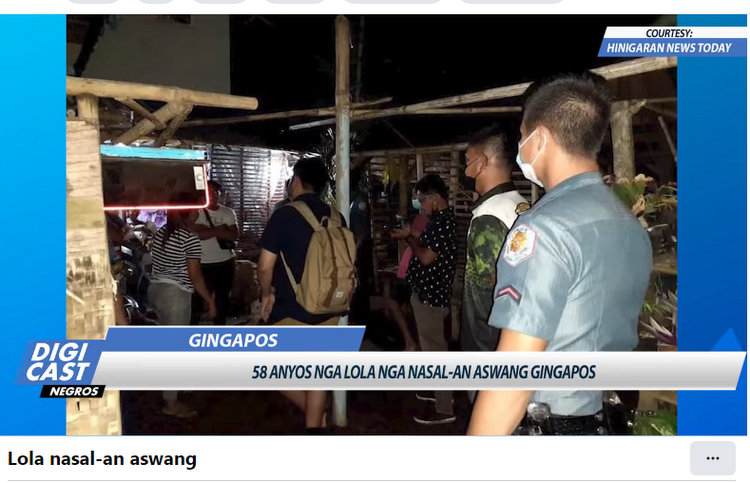 The poor woman was allegedly suffering from depression after the death of her husband. She may have had a nervous breakdown according to the woman's family.
Barangay Gargato is 10 kilometers away from Barangay Aranda, where she is residing. Police believe she just walked down the highway to the barangay.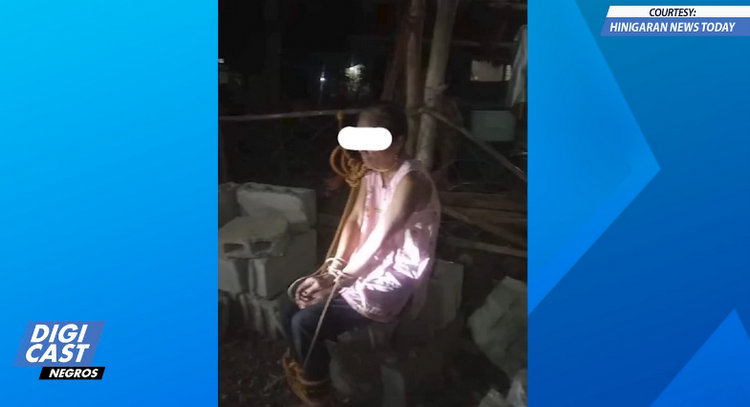 The victim's family is still undecided whether to pursue charges against her attackers.
Police said they even did not know how the victim was able to climb the roof at 1 a.m. that morning.
With reporting from the Daily Guardian
Photos courtesy of Digicast Negros Facebook and Hinigaran News Today