After living as an American ex-pat in the Philippines for nearly three years, I've had several close encounters with balut,  a fertilized duck embryo that's boiled alive and eaten in the shell.  I've seen Andrew Zimmern from Bizzare Foods on TLC chow down on this favorite street vendor food of the Philippines, but there was absolutely NO WAY I was ever going to digest the thing. It looks absolutely disgusting (see photo after next from Wikipedia for a close-up.)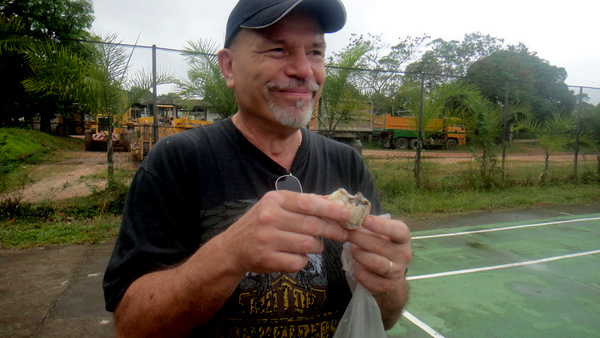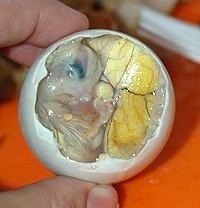 But you never know what you're capable of when you're under the influence of a combination of San Miguel Pilsen and Jim Beam. And I can blame my American expat friend in the Philippines, Brother Tom, for this gastric experience since he suggested that we visit The Shirven Hotel in Guimaras for frosty mugs of San Miguel Pale Pilsen.

We already consumed a few bottles of warm Pale Pilsen at Lisa's Talabahan Etc. in San Miguel, just a few blocks from "The Crossing." I guess he didn't force "Florida Frank," his visiting amigo from the States, and myself to make the short walk to the best hotel in Guimaras, but I didn't want to be rude and turn down his offer.

After all, my asawa and her relative, LenLen, Tom's GF, would be accompanying us and keeping a watchful eye on our consumption. And of course, there was Frank. It would probably take an army to keep tabs on my new American friend, but since there was none available,  I was fairly certain the two ladies in our group could probably handle keeping one more guy in line.
Our favorite staff people at The Shirven, Maricel, and Mae, who had recently recovered from a bout of chickenpox, were on hand to greet us. That's Maricel standing next to me in the following photo. Alright, alright, I admit the next picture is even better. It features Maricel, my own beautiful asawa, and the lovely LenLen.
Tom negotiated the remainder of a bottle of Jim Beam with Maricel, our server,  to accompany our frosted mugs of San Miguel Pale Pilsen. He also broke out a huge cigar. My official staff photographer, my spouse, took the following photo. Brother Tom, who only smokes one cigar a month, offered me one, but I passed. I've never even smoked a cigarette in my life, but I didn't refuse his offer of Jimmy Beam.
After several bottles of my favorite San Mig product and whiskey,  Brother Tom thought a walk around town would do us all some good. Being a group of three kanos accompanied by some pretty Pinays, we attracted some attention.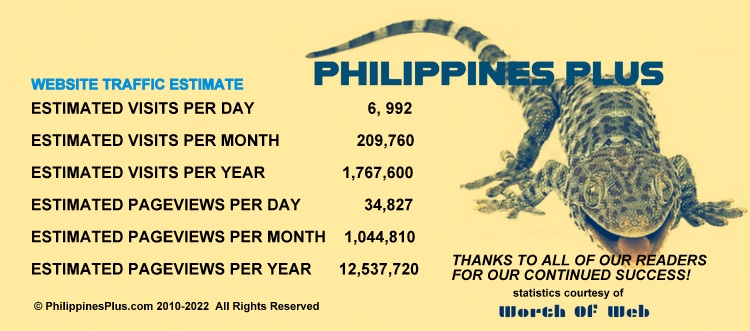 We walked along the grounds near the provincial capital and checked out the progress of the upcoming Manggahan Festival 2012 in Guimaras which would begin on April 15th. Looks like a lot more work had to be done. In past years more headway appeared to have been completed at this point.
However,  I'm sure that by the opening, everything will be in order. I'll be reporting on that super event that celebrates the sweet mangoes of Guimaras. My asawa and I will definitely be in attendance.

I spied a balut vendor as we were meandering around. Copious amounts of San Miguel Pale Pilsen were still in my system, so I stopped the fertilized duck salesman and asked if he had any balut. Sometimes only penoy is available.  Penoy, penoy na may sabaw, does not have the visible duck embryo, and the center has the consistency of the yolk of a hard-boiled egg and is surrounded by a custard-like part. My Filipina asawa only eats the penoy and never indulges in balut.

"Do you have penoy?" my spouse asked the vendor.

"Yes, " was the reply.

"Do you have balut?" I inquired.

"No balut, just penoy." he answered.

"So no balut?" I said, with feigned disappoint in my voice.

"

We have balut, sir." he advised me.
I thought "What we've got here is a failure to communicate" as the movie Cool Hand Luke so aptly put it. But I handed over 23 pesos (53¢), 13 for my balut and 10 for my asawa's penoy and proceeded to peel the shell.
I looked at that little duck embryo staring at me, but it didn't faze me one bit. An older Filipino man walked by and I announced to him that this was "my first balut." He stopped and smiled broadly, obviously amused.  With my spouse, Brother Tom, LenLen and "Florida Frank," looking on, I took my first bite. The next three photos taken by my official staff photographer tells the story: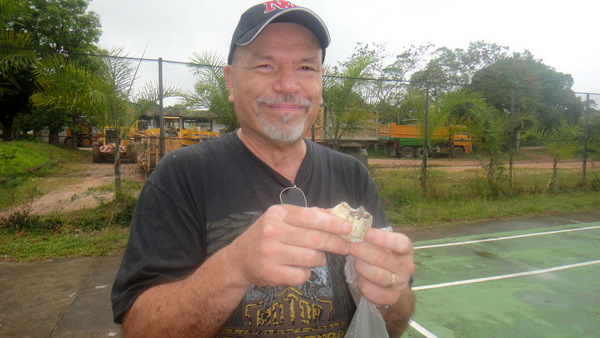 I'm looking very cheerful. It's the beer talking.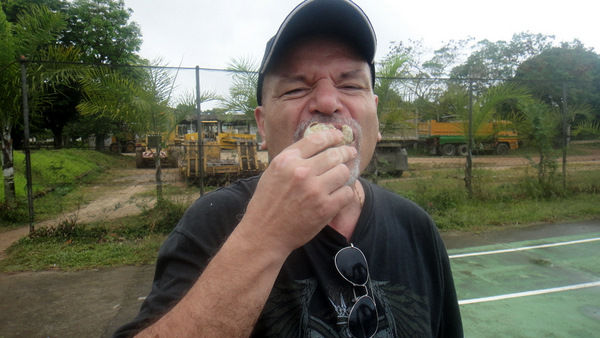 I take my first bite of balut.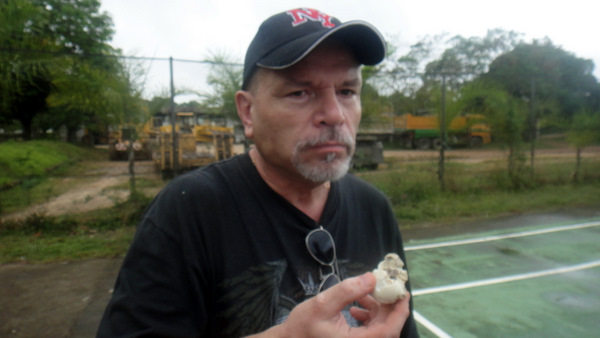 My face says it all! Actually, it tasted just like a hard boiled egg, and I didn't notice the embryo one bit. I devoured it all. And yes, I would do it again. But not after I had a "few" bottles of Pale Pilsen beforehand again. It was a culinary adventure I will not soon forget.