I was quite amazed during a recent sojourn to our new property site on the mango island province of Guimaras. My brother-in-law Joery, chief foreman for our new home construction, had built a Native American tipi in the Philippines. If Joery ever pisses off his asawa, Alida, something all of married men are prone to do occasionally, he now has some new digs he can hide out in.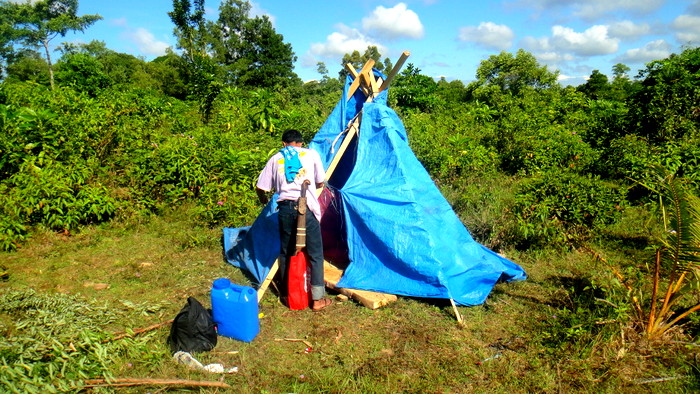 Caretaker Gerry is our security at the new job site
Actually our caretaker at "The Farm," Gerry is in charge of security at the construction site and Joery built the Native American tipi for Gerry as a temporary shelter. Several tree branches serve as the tipi cover where our caretaker sleeps at night, along with his oldest son.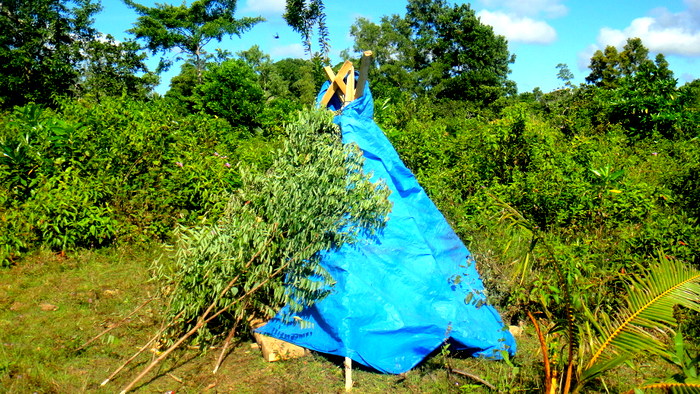 Cousin Emma's Jade Market and Hollow Block Factory delivered 500 hollow blocks to be used in the building of Lolo's nipa hut along with sand and ready mix concrete. Two cubic feet of sand costs P1,800, 40 US Dollars, as does two cubic feet of ready mix concrete. The 500 hollow blocks cost a total of P7,000, 14 pesos per block, a total of 155 US Dollars. The gravel, needed for mixing the concrete, will be dumped off tomorrow. Cousin Emma's receipts are written on pieces of cardboard cut from a carton of Lucky Strike cigarettes. My wife's cousin believes in recycling.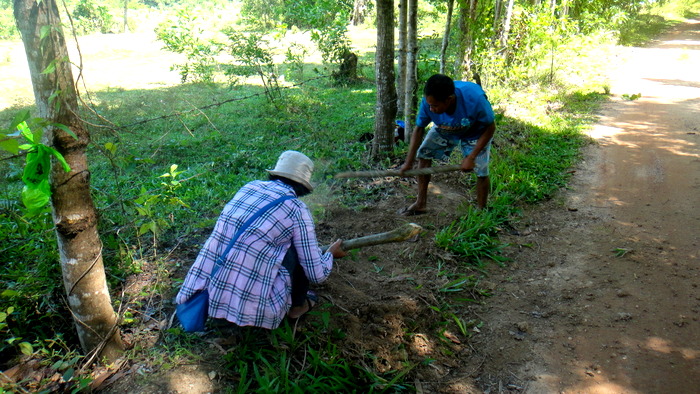 My asawa and Gerry are shown above clearing out a path for the delivery truck to pass. Yes, they're using sticks instead of shovels. This photo was taken before the nipa hut crew arrived with more efficient digging tools. That's our caretaker in the next picture shown clearing out some more brush during a visit to our new location a couple of days later. Gerry is a hard worker. He cares for two young sons by himself as his spouse died several years ago after succumbing to cancer. He doesn't understand much of my English but he's always dependable and quick to finish a task.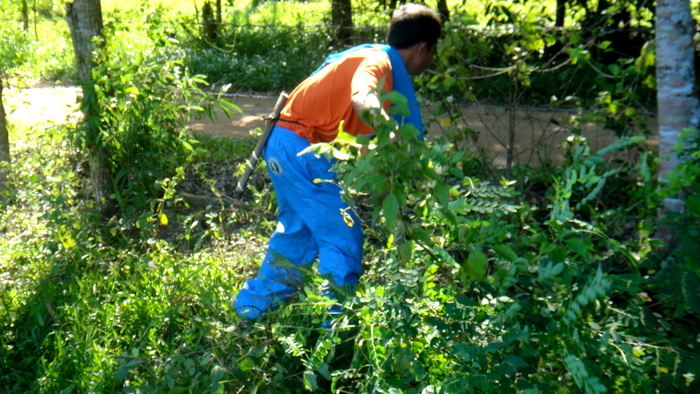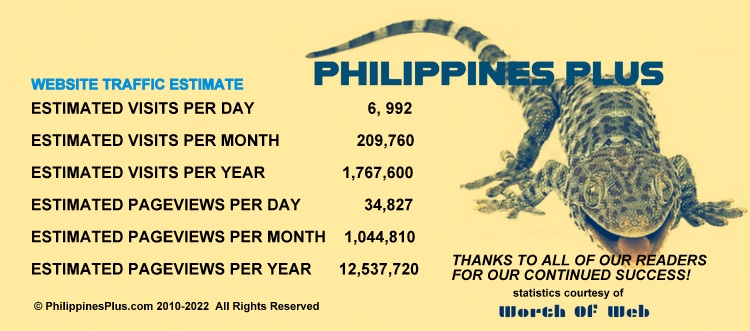 That's my amazing asawa chopping away with her bolo. I can assure you that you never want to make her angry when she is swinging that thing! She might be 50 years old now but she hasn't slowed down much in the almost 15 years we've been married. Though we have hired a crew to clear away brush on the the site where our new home in the Philippines will be built, she still insists on helping out.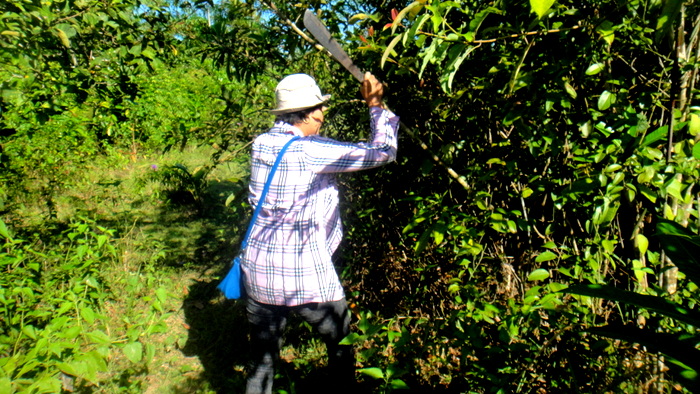 The smoke from turogturugon berries, according to my wife's mother, a folk healer, can help a baby in the Philippines sleep at night. There are many of these bushes on our new property. Maybe I'll have to try this natural remedy sometime when I have difficulty falling asleep. I tried eating a couple of these berries but they have no discernible taste and very little juice.
A neighbor's carabao, the "John Deere" of the Philippines, was munching on some brush and grass nearby. The animal was smart and was grazing in the shade as the temperatures approached 30 degrees Celsius. Rainy season seems to be over and we've had several dry, hot days strung together recently. The lack of rain will help our crew in the construction of the nipa hut but I doubt that the new Native American tipi will be able to keep anyone inside dry if it does rain again.
Once the nipa hut is built, Joery's crew will begin working on digging the foundation for our new house. As time goes by I'll be posting new stories and pictures showing the progress our workers are making. It's not easy working in the hot sun but it doesn't slow these guys down. They're used to it and and make sure their arms, legs and heads are covered from the blistering heat. We have plenty of water on hand for them, along with pan de sal and coffee for merienda time, because breaks are absolutely necessary under these conditions.