Haven't been to Return to Guimaras in a couple of months. My asawa still has her home there, but since our move to Iloilo last October I haven't been back. But with the passing of my spouse's 94-year-old aunt, Tiyay Seriang, the grandmother of LenLen (seen on the left speaking to my asawa), one of her countless relatives in Guimaras, we decided a visit to the family should be made to pay our respects.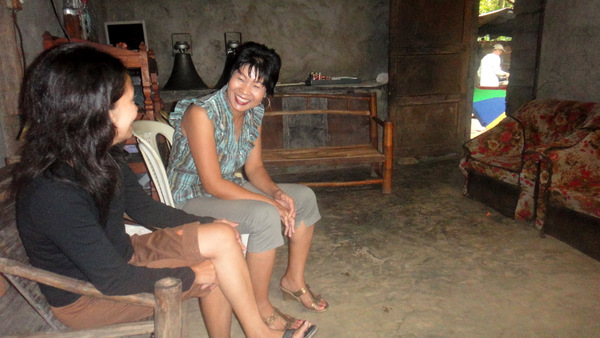 We picked one of the worst days to travel as high winds were stirring up menacing waves that buffeted our pump boat, but we made it to the Jordan Wharf without drowning. I'm almost 60 years old and have never learned to swim. I don't wear a life jacket on the boat but make sure my asawa sits next to me. I can climb on her back if we go overboard. She's an excellent swimmer. Of course, I weigh about eighty pounds more than her, but that's beside the point.
Since it was only a few days after Christmas, I was warmly welcomed by the local jeepney dispatchers at the Jordan Wharf with countless greetings of "Merry Christmas." One of our regular porters, Joseph, met us as we left the pump boat, and our other faithful helper, Neil, came over and spoke to me as we waited for our jeepney to leave. Neil is still sporting his mullet hairstyle which seems to be a very fashionable look in the Western Visayas where we live.
Our jeepney left us off in front of the Sari-Sari Breadsore at "The Crossing" as I wanted to purchase some pan de sal to take with us to LenLen's place, about 35 minutes away. My asawa decided on another small bread that sold for the same price as the pan de sal, two pesos each, so I ordered P100 (2.28 US Dollars) worth of the stuff she wanted.
Asked one of the nearby trike drivers how much it would cost to go to our relative's home. He quoted us a very reasonable price of P150 (3.41 US Dollars), and my spouse instructed me to sit in the front. She would get on the motorcycle behind the driver. I believe she thinks I would be too much a strain on the bike if I rode in the back which is my usual custom.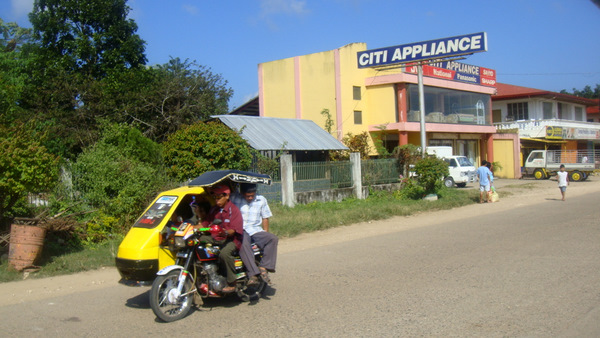 The road to LenLen's was not much more than a narrow muddy path with deep ruts. My asawa had not been to my relative's house for some time and had to ask various people alongside the road for directions. I just sat in the front knowing that after the visit I would be stopping by Cousin Emma's Jade Market for some liquid refreshment. My wife had to go to our former residence to pick up a few items, and we both thought it best that I just spend the time at Emma's and not go to the premises.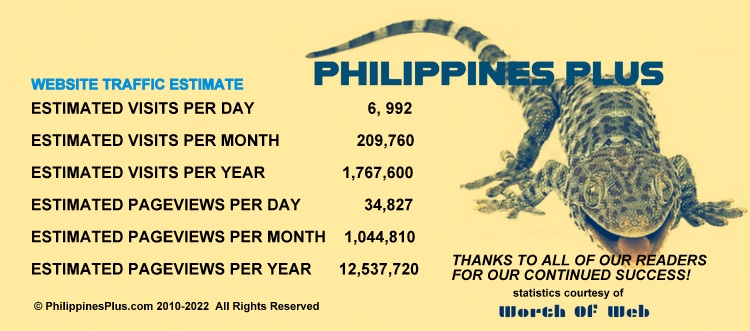 We arrived at LenLen's parents' home and made our way through an extremely narrow muddy path. After navagitating past different residences with my wife still asking for directions, we arrived after about a 10-minute walk.
LenLen, who had just woken up, and her younger sister greeted us. Glasses of Coke were soon brought to us as we viewed Tiyay Seriang's body lying in the coffin in the sala (living room.) LenLen's nanay was gone making final preparations for her mother's funeral and her tatay was outside working. I sat nursing my Coke as I asked LenLen what her lola had died of.
"Old age," was the answer. Never sick a day in her life. Never had seen a doctor. Never complained. My asawa and her relative shared some stories and some laughs (see lead photo), and we said our "good-byes" after just a half hour. Our tricycle driver had stayed behind at our request to take us back to "The Crossing."
My spouse spotted a friend on the way home, the wife of a former elementary school classmate, and she got into the back of the trike per my asawa's request. The amiga was also heading to our destination. After we arrived at "The Crossing," I paid our driver and gave him a P100 tip for waiting for us. Plus, he quoted us a fair price and did charge the "foreigner tax."
We headed over to The Shirven Hotel for lunch before my wife went to her house to pick up the items she needed. A neighbor also had some homemade jams and jellies that my asawa's best friend that now lives in the States had sent over to her parent's house in Guimaras for us that she needed to get.
Mae was on duty at The Shirven (that's her in the middle next to your author on the left and Brother Tom on the right), and I ordered fish and chips with a Coke, and my asawa ordered a fried squid dish and shrimp sinigang.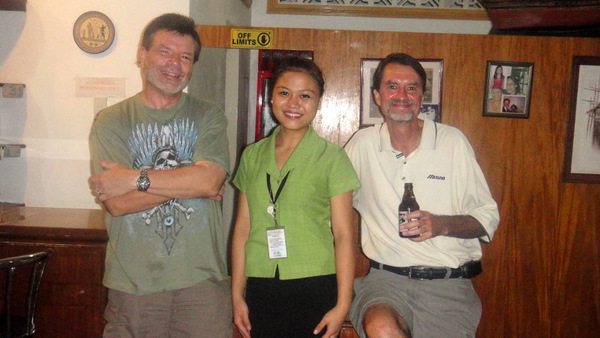 Mae graciously allowed The Sainted Patient Wife to take some cuttings from the numerous plants and flowers from outside the hotel. SPW flagged down a tricycle to go to her Guimaras home as I walked over to Cousin Emma's. After a big bottle of Red Horse and a 500 ml bottle of Gold Eagle (there was no cold Red Horse left in the refrigerator, remember this was a couple days after Christmas), my asawa returned.
We made the return trip home to Iloilo loaded down with plants, flowers, jams and jellies. It was nightfall before we arrived home. Our return to Guimaras was uneventful, but I had a bellyfull of beer and fish and chips. I was content. And Tiyay Seriang looked peaceful as she awaited her burial. I'm sure she had had already gone to a much more beautiful place and reunited with friends and relatives that had already left this mortal earth. But I suspect that Red Horse might not be served there.