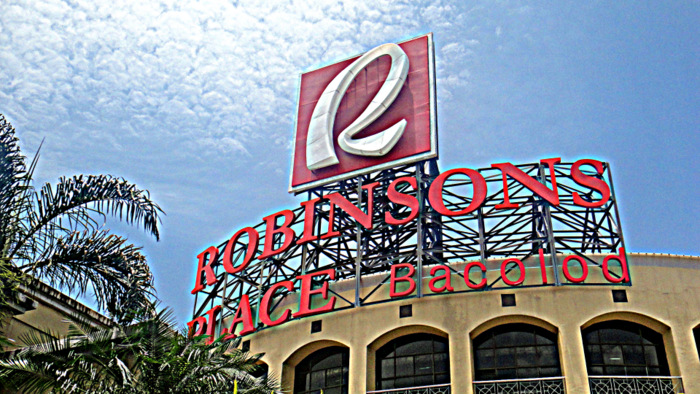 My asawa and I had visited Bacolod City as I treated my wife to a shopping trip in the "City of Smiles." We had already visited SM City, and the new Ayala Mall and were headed on a jeepney to Robinsons Place. That's my sparkling spouse posing in front of the shopping mall before we entered to hunt for more bargains. I was ready to find some lunch but the mall was crowded that Sunday afternoon. It seems that people on Bacolod like to shop just like the residents of Iloilo City, whose major shopping venues are also jam-packed on the weekends.
I'm posing with the fat red bee mascot from Jollibee's but their popular eatery was way too crowded so we searched the mall looking for a place where we could at least find a few seats empty so we could have our lunch.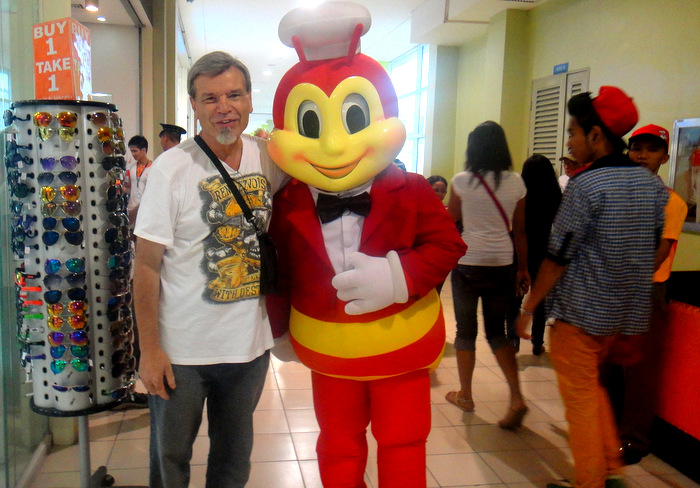 We were getting desperate. Finally we spied a Hongkong Kitchen. I wasn't in the mood to have any Asian food at the time but there was an empty table available so we walked in, my expectations low. We had seen a Hongkong Kitchen near Robinsons Place in Iloilo but had never eaten there.
The place was full. The ambiance zero. But when I got my bowl of sweet and sour pork fried rice dish, I was impressed. It was very tasty. My wife, who had worked both in Singapore and Taiwan was impressed by the authentic flavors. But the chain, which prides itself on authentic Chinese cuisine and no MSG in its dishes, really hit the mark with me. So much, in fact, that during our next visit to Iloilo City we planned to visit the outlet near Robinsons Place.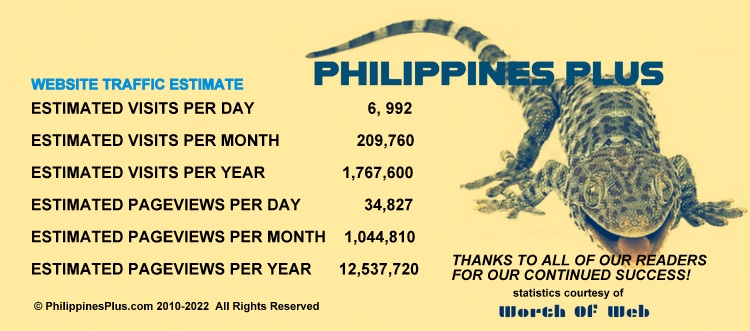 The dish only cost 170 pesos, 3.80 US Dollars and well worth it. Pricier than a Big Mac, drink and fries which goes for P130, but a lot healthier for me.
Robinsons Place, Bacolod, was alright, not but favorite shopping mall in Iloilo City either, but we spent part of the afternoon there, after lunch. While my wife was checking out some new outfits, I was taking pictures like the one above. I've never seen a shop named "Fetish"before, so it caught my attention.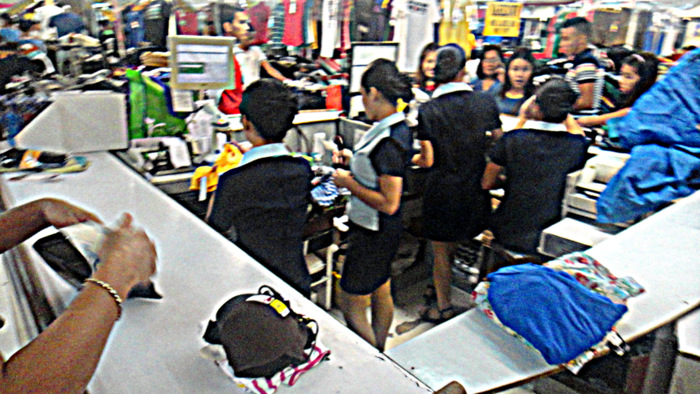 We headed back to our hotel, the Check Inn Pension House, and decided to make a stop at a Gaisano mall, a poor man's version of SM City. Like the Gaisano in Iloilo, the air con is virtually non-existent but bargains can be found. My wife found a lot of very reasonably priced t-shirts to take back home to Guimaras and purchased two dresses for herself at a cost of P310 each, about seven US Dollars each. Pictured above is the crowded cashier checkouts. The place was crowded that Sunday afternoon, but the sales associates friendly and helpful.
So what are the best shopping malls in Bacolod City. In my personal experience, SM City ranks #1, Robinsons Place, #2, Ayala Mall, #3 and Gaisano, #4.
I found SM City to have the best selection of retail outlets though Ayala Mall offered a variety of restaurants not available at SM. Gaisano had the best bargains but the place needs a major renovation and decent air con. Next up, scammers and would-be thieves in Bacolod City.