Shopping in Iloilo City. Whenever the word "shopping" is mentioned, my spouse's eyes light up like a Christmas tree on shabu. And incidentally, since this is September, one of the "Ber" months, Christmas season has officially started in the Philippines, which has the longest Christmas season in the world. Be prepared to hear "Jingle Bell Rock" 24/7 in all the big malls now until early January.
We finally purchased three big ticket items that we have been wanting ever since our move to the Philippines over five years ago. OK, one of the items, a super deluxe Magic Sing Karaoke system, is something my asawa has been wanting since our retirement in the archipelago but it's good to have our own karaoke at home now. You don't have to worry about some drunk spilling a glass of Red Horse on you or a KTV bar girl with big hands and a scarf over "her" Adams Apple hitting on you.
The ET23KH Magic Sing model has a High Definition (HD) picture and video background with HD movie and music playback, two digital wireless microphones and over 4,000 songs, in English and Tagalog.
The karaoke was selling for about 21,000 pesos, 480 US Dollars, at SM Appliances at Delgado so we walked across the street to Vic's Imperial where the same system was selling for the same price. I asked our salesgirl, Ruby, why they had the same price as SM. She said if we were paying in cash, which we always do, she might be able to get us a discount. After a few minutes Ruby returned and advised us we could buy the unit for P19,000 cash, 435 USD. Sounded good to us.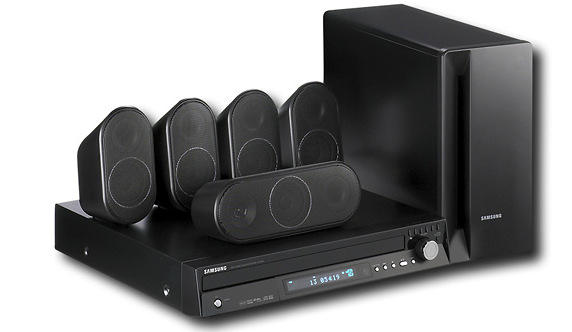 If you have a Magic Sing Extreme then you need a good sound system to go with it. Back in the States we had some killer Bose speakers but opted for a Samsung Home Theater Surround Sound outfit which puts out a great sound. After Ruby at Vic Imperial's demonstrated it for us, I was sold. There is a shop that sells Bose equipment in Iloilo City and I plan to check it out once my "Man Cave"' at our new home is built. But for it's size and price, 10,000 pesos, 230 US Dollars, after a 1,500 peso discount, the Samsung is working out fine.
The last big ticket item we purchased on our shopping trip to Iloilo City was a new washer. Again, we went with a Samsung model which listed for P19,000, but again, we received a 2,000 peso cash discount from Vic's Imperial. This baby is all electronic and has something called "Wobble Free" technology which doesn't cause the clothes to get as tangled up after a load of laundry is done as was the case of a Whirlpool model we had back in the States.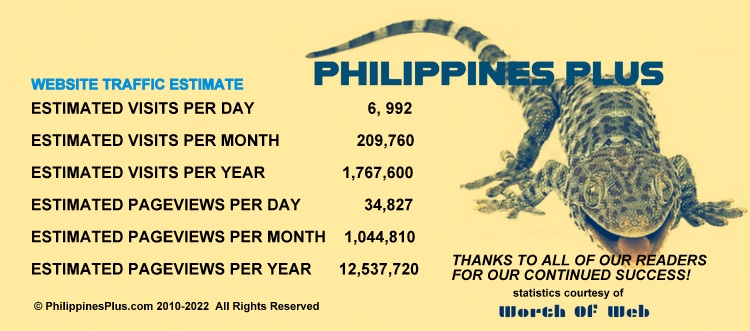 We donated our old machine, a Sanyo model, to our sister-in-law Alida, and after I made a few trial runs to figure out how to operate the new Samsung washer, I was finally able to get the contraption to go through the wash, rinse and spin cycle automatically. That rinse and spin cycle saves our helper Mera a ton of work as now she does not have to rinse the clothes in fabric softener and wring out each piece of clothing by hand.
Take the clothes out of the laundry and hang them out to dry. We didn't opt for a dryer as we felt there was really no need for it, even in the rainy season. We have plenty of room on our covered veranda to hang clothes and see no need to jack up our electric bill with our local provider, Guimelco, which two weeks after the fact, finally put on their website the fact that the undersea cable that was cut and caused us 11-13 hours brownouts every other day, had been repaired.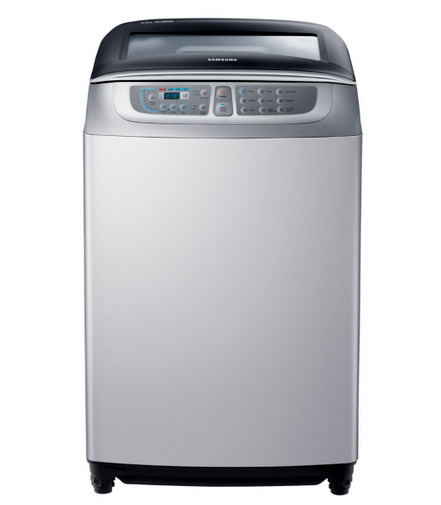 The Samsung Washer has a "diamond drum" which creates a high water pressure which helps remove dirt effectively. It also has a Power Wash and Magic Wash feature along with a "Fuzzy Control," which senses the wash load like artificial intelligence and picks the best washing program.
The machine also has a function called "Smart Check" which enables you to check the status of the wash machine using a Samsung Smart Washer app on my wife's Samsung Galaxy Phone.
So why go to Vic's Imperial Appliances in Iloilo City and not check out the local outlets in our home province of Guimaras? Selection and price. Guimaras has a limited selection of appliance stores. The big city of Iloilo on nearby Panay Island naturally gives us more shopping options.
Plus, a tip from an American expat in the Philippines, who unfortunately died a few years ago, had informed me that Vic's Imperial always honored the warranties on their products and that they had the best prices in Iloilo City.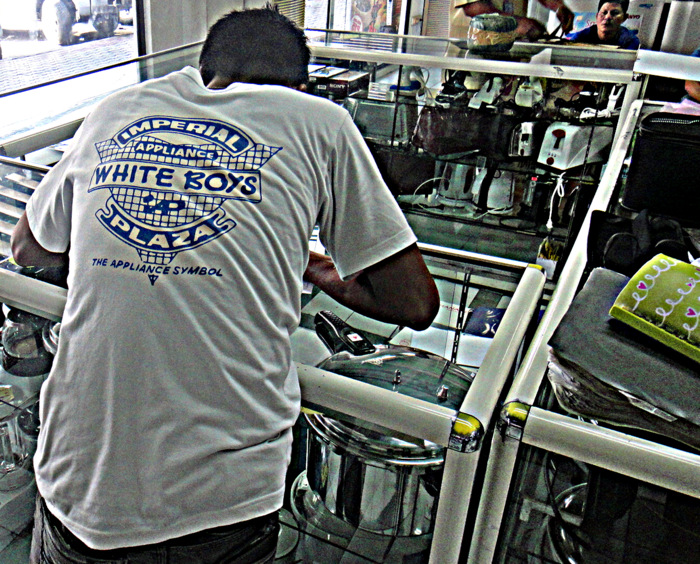 I had to take the photo above as I was intrigued by the "white boys"emblazoned on the back of the employee's shirt. I didn't ask him about it but did notice another employee that had a shirt that read "blue boys." It's my guess that the guys are responsible for different sections in the store and don't believe there is any "skinhead" connection involved.
My asawa and I were extremely pleased with the prices and the service we received at Vic's Imperial Appliance. The items we purchased were going to bought in November after we accessed my retirement funds that we will use to build our new house, but since we had the money available, we decided to buy these big ticket items in advance.
Now we only had to get our merchandise shipped over to Ortiz Dock so we could get it loaded on a pump boat back to Guimaras, but that adventure is coming up soon.