Celebrating the Silver Glory of the Manggahan Festival in Guimaras were "The Kano" and "The Sainted Patient Wife." "Manggahan Festival 2018 Street Dancers Sizzle" was a delightful treasure to behold. While my wife is the resident disco dancer in our family, I do not have any rhythm whatsoever. I'm a white guy. White guys can't jump and white guys can't dance.
Dazzling Dancers of Manggahan
While my lovely asawa was going for her bi-weekly manicure/pedicure, I was busy taking pictures of the Street Dance Competition held last Friday, May 11th. My camera of choice? Nothing fancy. A Sony Cybershot  with 20.1 megapixels and 8x zoom. It's compact, easy to stash in my cargo short's pockets.
The high-energy dancers were represented from various municipalities in the island province of Guimaras, our home. Hubon Balsahanon, Hubon Bulantihan, Hubon San Lorenzohanon and Hubon Binagtong were among the delegates that participated.
This is the eighth Manggahan Festival I've celebrated in Guimaras since moving to the Philippines almost nine years ago. This year's 25th anniversary celebration may be one of the best ever commemorations of Guimaras mangoes, the sweetest in the world.
Huge Stars Coming to Manggahan Festival
Filipino superstars "Arci" Muñoz and Piolo Pascual will be at the ABS CBN Kapamilya Karavan at the Manggahan Festival this coming Tuesday, May 15, 2018, 5:00 pm.
I can guarantee there will thousands of Filipino fans gathering at the Guimaras Provincial Capital Open Grounds to catch a glimpse of these movie and television superstars. They'll be at Manggahan to promote their new prime-time series, "Since I Found You."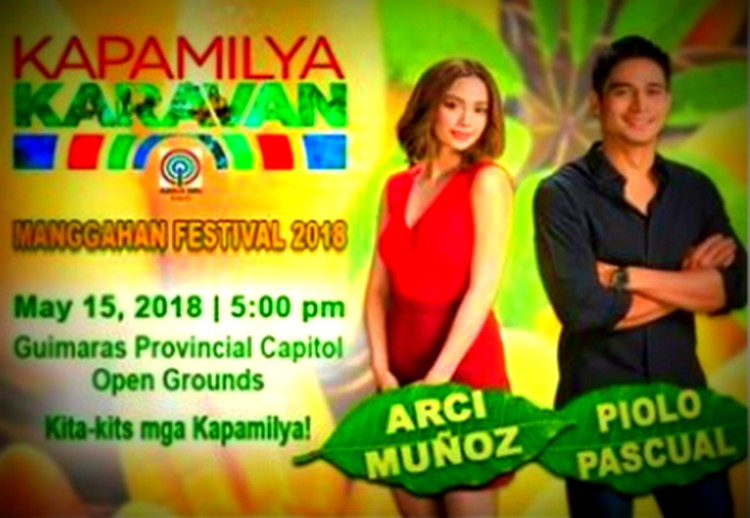 Graphic source: Soclmage.net
Manggahan Festival 2018 Street Dancers Sizzle
Here's another look at some of the dynamic street dancers at this year's mango celebration: