While waiting for my wife to get ready for a trip to her manicurist, I decided I wanted to accompany her to town. Because I had already woken up from a long nap, I was well rested. She was headed to downtown San Miguel, Jordan in Guimaras. Since I wanted to visit my new friend Allen at GuimXP Tours, I hitched a ride.
Threw my cheap sunglasses on my fat head and hopped into our Ford Ranger, riding shotgun. The A/C was cranked up and my extremely patient wife was driving.
I had met Allen at a pool party we held at our home recently. He's good friends with Jaypee, our province's extremely capable Public Information Officer, who also attended the party.
All I knew about Allen's tour business was that it's located next to the LBC outlet in San Miguel, Jordan, Guimaras. It's only about a 12-minute ride from our home. That's if there's no carabao's blocking the road.
My wife dropped me off and took off for the manicurist. I strolled over to the LBC, located across from the Provincial capital. Nevertheless, I couldn't find Allen's tour agency.
So I do what I always do.
I ask a local.
"Over There"
Thankfully, I didn't get the usual pointing with the finger (or lips) and the customary "over there."
First of all, when I ask my wife where something is located inside our home, I receive the standard "over there" reply.
Therefore I invariably ask, "exactly where is 'over there'?"
Nevertheless, I was able to find the GuimXP tour agency in an upper floor building next to a group of building located near LBC. It's located above an eatery. I didn't take note of the eatery's name. Remember, I'm a Crusty Old Expat.
The Visit
Allen greeted with me a big smile and led me upstairs to his tour office.
Allen had a special visitor that Friday afternoon, a lovely super model named Marie from nearby Iloilo City. A fan was turned on for the old geezer.
Allen and Marie
I had quite a pleasant chat with Allen that Friday afternoon. He had already booked five tours in Guimaras that day. I was quite impressed. Most of his business is generated from his online website.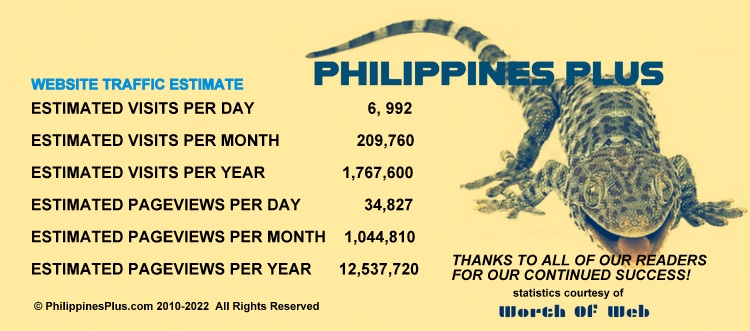 Allen's agency also has a Facebook page. Here's that LINK.
In addition to running the most successful tour agency in Guimaras, Allen is also a committed environmental activist and film producer, director and actor.
In fact, Allen was the director/organizer of a local film fest held at the annual Manggahan Festival this past May.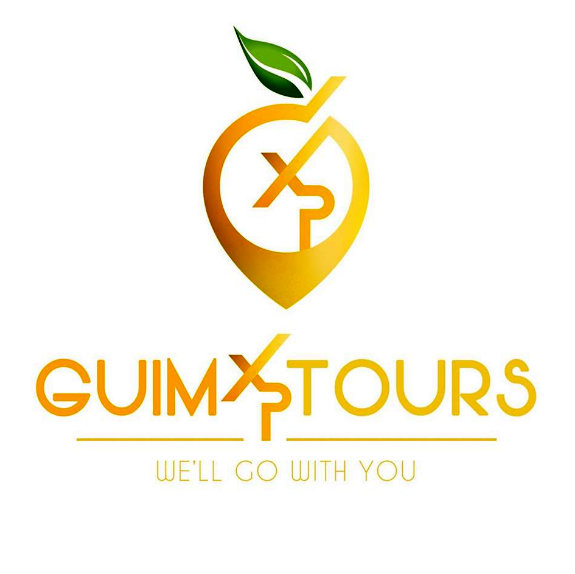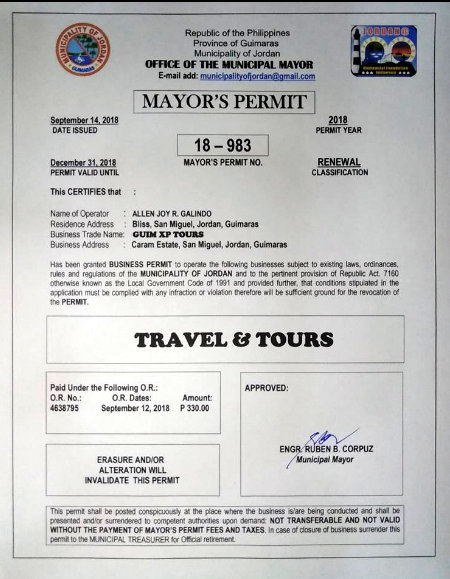 Most noteworthy is the fact that GuimXP Tours has all the necessary permits to operate in Guimaras such as the Mayor's Permit, required of all business establishments operating on the island province.
GuimXP Tours Best Tour Provider in Guimaras
Here's a look at some of the amazing tour sites on Guimaras that GuimXP offers: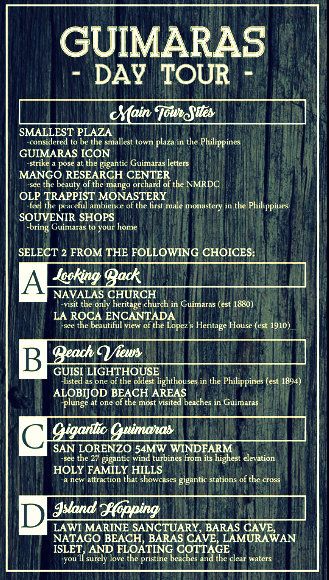 Here's a peek at one of GuimXP recent tour promo packages that recently ended. For the latest tour promos available contact Allen at the numbers listed below. I had a fantastic time chatting with Allen. Above all, if you're planning a visit to Guimaras (or already live here) contact Allen at GuimXP tours today!