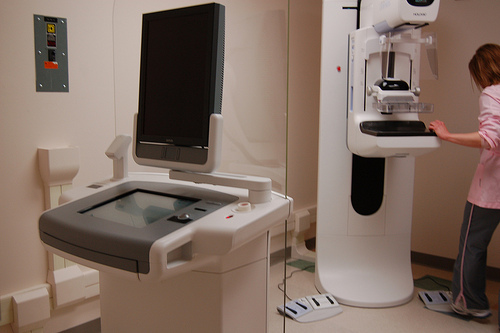 Left off yesterday relating a visit to my wife's new gynecologist, Dr. Ma. Sisa B. Fernandez, an extremely pleasant and competent doctor that my wife and I both liked. Dr. Fernandez had given my asawa a referral for a mammogram so off we went to find the Mammogram Department in the hospital.
After some wandering around we finally located the Mammogram Department which was tucked away in a section of the hospital where even radiation fallout from the Fukushima nuclear power plant could not reach. However, no one is at the reception desk. We knock on the door where the mammograms are done, but no one responds.
I, the ever impatient one, open the door to a nearby unit for MRI scans, and a polite doctor tells me that he will call someone over to help us. I think the staff was quite startled to see such a handsome foreigner. I thank him and two minutes later a gentleman arrives who takes my wife's contact information. We go to the cashier section, past the shotgun-armed-guard posted inside, to pay the mammogram fee which is P2,177.95 ($50.00.) The full cost was P 2,562.30, but we are given a P384.35 ($8.83) discount.
Take the receipt back to the Mammogram Department, and the attractive technician ( the wife of the man who took my wife's contact information) brings my asawa into the examination room. I wait outside. About 20 minutes later and watching that x-ray light on the door blink on and off several times and wondering how much radiation my poor asawa was being exposed to, the tech leaves. Ten minutes pass by as I'm wondering why my spouse is not getting dressed and exiting the room.
I don't want to enter the examination room though I am reasonably sure my wife is the only person there. I don't want to startle my asawa or walk-in on some other naked women (well, ok, to be perfectly honest, I wouldn't mind walking in on some naked women, but my wife probably would beat the living crap out of me when we got home to "The Compound".)
The attendant returns and tells us that she has checked with the X-Ray Department, and the results will be back tomorrow, Friday, at 3:30 pm. It means another trip back to Iloilo, but I propose to my wife that we bring our four-year-old niece with us and hang out at SM City and then go back to Doctor's Hospital to get the mammogram results. My wife thinks that's a good idea (it's not often I hear that I have a good idea. I pause to bask with pride in that moment.)
So the next day, Friday arrives, and its our third day in a row going to Iloilo. We're both getting burned out on making the daily jeepney and pump boat journey, but at least we can spend some time bumming around SM City and relaxing. After we grab a meal at McDonald's and wander around the mall we head out to Doctor's Hospital at 3:00 pm.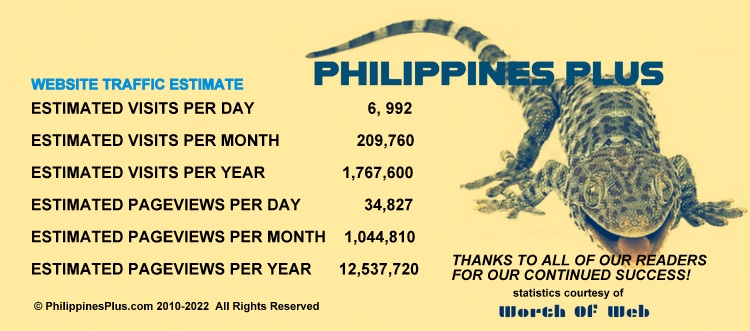 We arrive at the entrance as my wife's purse is searched by armed security guards, but a young Filipina guard that was wide enough to be an offensive lineman for the Green Pay Packers calls us back after we have already passed through. Seems our four-year-old niece is not allowed inside. Children under seven cannot go past the checkpoint. I'm not happy about this but go to the waiting area where a young woman sits by her small child. I sit and fume.
Soon I notice a man with a very young boy coming down the corridors so I say to my niece, JalAmiel: "Grab my hand. Let's go see Tita!" The little one quickly takes my paw and we scoot. The female guard's back is turned to check the contents of someone's purse. But we don't get very far before the Filipina sentry spots us and follows us to the Mammogram Department. She doesn't say anything. I mutter something under my breath which cannot be repeated here. JalAmiel and I reach the department's reception area but no one is there except our escort.
Can't locate my wife, but she soon comes down the hallway as she has spied on us. Told her that someone else had brought their child in so I was going to bring our niece with us. If they want to enforce the rules, enforce them equally for everyone. Of course, I direct that remark to the security guard still following us who remains silent.
Female security personnel in the Philippines that I have seen, aside from the Philippine Army, do not carry weapons, only male security does. So I knew she couldn't shoot me. I was also confident that even at my advanced age I could outrun the much younger guard if necessary because I believe she had been making some extra Dunkin' Donut runs.
We go into the examination room where the technician has already given the results to my wife, but she has not read them. My asawa hands the envelope with the mammogram information over to me, and I am extremely agitated by what I see: "SUSPICIOUS BILATERAL BREAST NODULES. ULTRASOUND SUGGESTED FOR FURTHER EVALUATION."
I politely ask the technician what this means, but she says she is sorry, but she cannot interpret the results for me. She advises an ultrasound is strongly recommended. I tell her that I absolutely want my wife to have an ultrasound done, but isn't there anyone that can tell me what the mammogram results mean? What are "suspicious bilateral breast nodules?" I don't want to wait until tomorrow, Saturday when her gynecologist might not be available.
She takes me into the MRI screening room I had been in yesterday while searching for a mammogram technician, and my wife and I are escorted to the polite doctor that dispatched the tech for us yesterday. I ask him if he could explain to me what the results mean. He said that as a woman ages such nodules are common and that they usually are benign. A follow-up ultrasound is urged, so I thanked him as we headed for the ultrasound department to schedule the examination, for tomorrow, Saturday, at 1 pm. I'm sure we would have a sleepless night in front us. Tomorrow's post: The Ultrasound Results.