The Ford Ranger XLT 4×2 Automatic is our new truck in the Philippines. After not owning, or driving, our own vehicle since moving to the Philippines over five years ago we have finally purchased our own personal transportation. WHAT??? But wait a minute. Regular readers of Philippines Plus must be scratching their heads (or their butts, if you prefer), wondering why in the world we bought the Ford. Didn't I publish a post a few weeks ago regarding an initial unpleasant visit to the local dealership in Iloilo?
But after the Isuzu fiasco, in which we were told by our salesman that the Isuzu D-Max 4×2 Automatic we wanted was "available", but hadn't been shipped when we visited the dealer, I contemplated a return visit to Ford Iloilo to see if they still had their Ford Ranger Wildcat available in an automatic transmission.
My asawa learned to drive in the States at the age of 40 but only learned to drive an automatic. She had no desire to learn how to drive a manual transmission so it was necessary to purchase an automatic model. Smart guys listen to their wives (occasionally) and live by the maxim: "Happy Wife. Happy Life."
Isuzu could not give us a firm date on a delivery. A new truck would come in handy since we were building our new home in Guimaras and could use the vehicle to help make deliveries of material to our construction site. Five years of squeezing into tricycles and jeepneys was wearing us down.
We were in Iloilo anyway to purchase my ticket to visit my Dad in the States. So I swallowed my pride and we took a taxi to the Ford dealer.
The salesman that had waited on us recognized me immediately. A kano stands out in Iloilo and our home province of Guimaras. I can never pass myself us as a Filipino. I asked the gentlemen if the Wildcat was still available. It wasn't. Were there any Ford Ranger automatics in stock? There weren't.
BUT, we could order a new truck in the color we wanted and it would arrive in two weeks. At 24,000 US Dollars the truck was 4,000 dollars cheaper than the Isuzu D-Max. While I still could not negotiate a lower price than what the salesman was asking, he did throw in some perks for us.
The freebies he gave us, along with a $4,000 savings over the D-Max, and a firm delivery date, sealed the deal.
Have you ever met someone initially and get off on the wrong foot? Most of us have, I suspect. But I found our sales rep to be very helpful now and friendly and willing to help us out on the deal. We worked out our previous differences.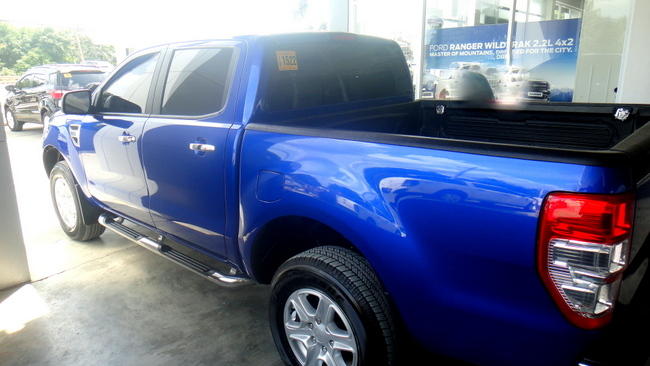 When we went to Iloilo yesterday to pick up the truck, after securing a Manager's Check from our local BDO branch, we discovered our regular salesman was off that day; his daughter was getting married the next day. Mr. Freddie, seen in the first two photos, handed the truck over to us and explained all of the features to us in detail. We now have voice-activated features that I will have to learn how to work.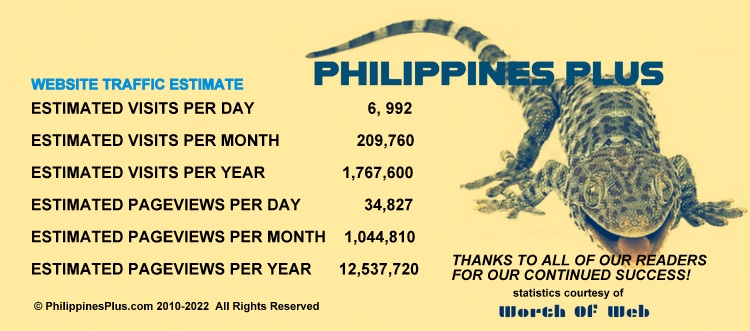 We took the RORO, Roll On Roll Off, Ferry from Iloilo to Guimaras but had one of the guys at the dealership drive to the RORO for us. I did not want any part of the Iloilo City traffic and since I don't have my Philippine license yet, didn't want to make the drive myself.
My asawa does have a Philippine license, but since neither one of us had driven for over five years, again felt it more prudent for someone else drive to the ferry for us Only costs 435 pesos, 10 bucks, to haul it over and the trip to Guimaras took about 30 minutes.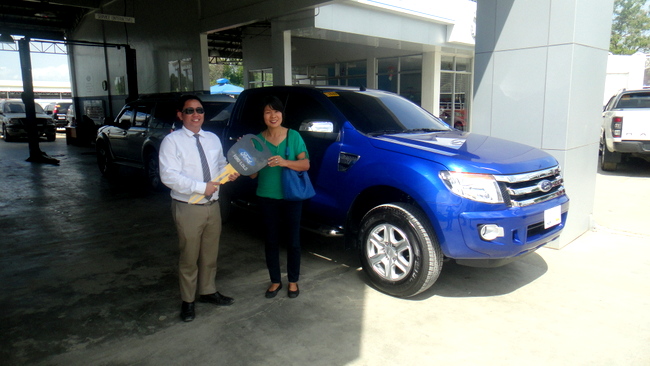 Freddie filled in for our regular salesman
I did drive the truck off the ferry, per my asawa's request, though in adjusting the seat and steering wheel, I accidentally flipped on the windshield wipers and couldn't get the damned things turned off. So I drove off the ramp like a moron, wipers on, and pulled off in the ferry lot and actually looked at the owner's manual to figure out how to turn the wipers off. I'm used to looking like a moron.
I drove a short distance and pulled into a local Petron station and handed the driving chores over to my wife. She did fine and we arrived home safely. We had my father-in-law, Lolo come outside. When he saw the truck he exclaimed "Gwapo!," "handsome." We will use the truck to check out one of our relative's fiestas this coming Saturday. Beats having to hop on a jeepney or tricycle all the time and we're taking Lolo along.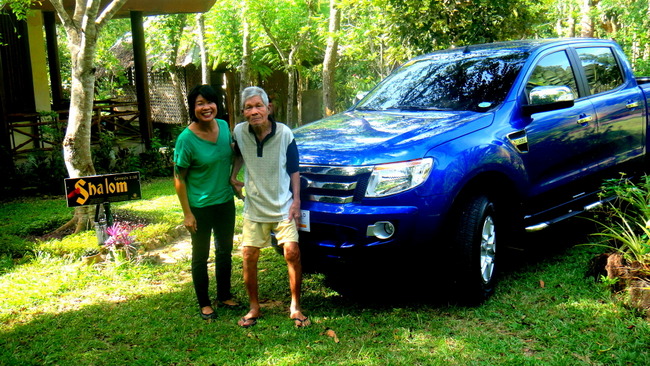 My wife will do all the driving. That way I can consume a few adult beverages and won't do anything stupid like drinking and driving and driving without a license. Plus, my asawa is a good driver and can negotiate our provincial roads without any problem.
While I've stated for years that owning a vehicle in the Philippines is not a necessity, it's great to have the freedom to travel where and when we want in air-conditioned comfort. We do not plan to take the Ford Ranger to Iloilo City. We will drive the truck to a parking area near the Jordan Wharf where we catch our pump boat to Panay Island. Only costs 20 pesos a day to park. I have no problem using the jeepneys and taxi cabs in Iloilo to get around.
It makes no sense to spend 860 pesos on a round trip on the RORO and face the hassle of driving in big city traffic. This crusty old expat doesn't need the stress. But we won't have to hire a multi-cab now in Guimaras when we do our monthly shopping trip to Iloilo and that's just fine with me.