The ECC, Emigration Exit Clearance, will soon be processed at the Iloilo Immigration Office. Since I will be returning to the United States in late September for a two week visit to see my Dad in Las Vegas, I need to secure my ECC because I haven't been out of the Philippines for almost five years now.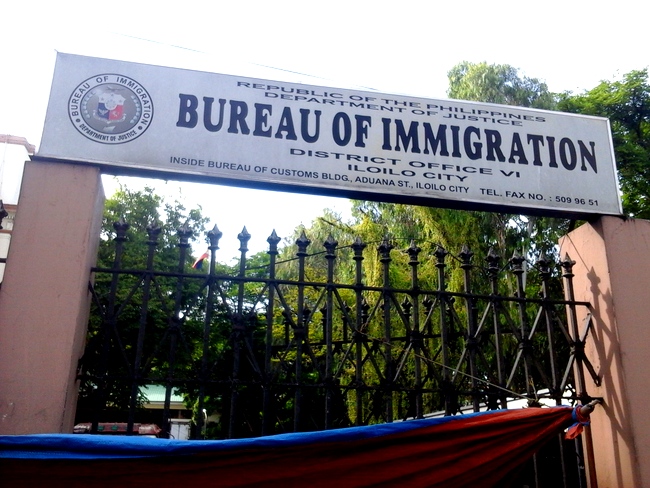 The ECC-A is issued to foreigners who have tourist visas extending for more than six months.
The ECC-B, on the other hand, is given to holders of immigrant and non-immigrant visas with valid alien certificate registration I-Cards.
I have a 13a Permanent Visa and have been informed by an American expat friend, who also holds a 13a, that holders of the Permanent Visa can obtain their exit clearance at NAIA, Ninoy Aquino International Airport. That information was relayed to my friend from an Immigration official at the Iloilo facility.
But me? I'm the classic "worry wart." Though I don't doubt my friend's information, I don't want to take any chances and have to pay big bucks to have my flight changed if I'm denied from leaving the country. By the way, is there any other nation in the world that prevents an individual from leaving a country, as long as they have no criminal record? (Though in the Philippines even accused murderers are allowed to "slip" through Immigration and leave the country.)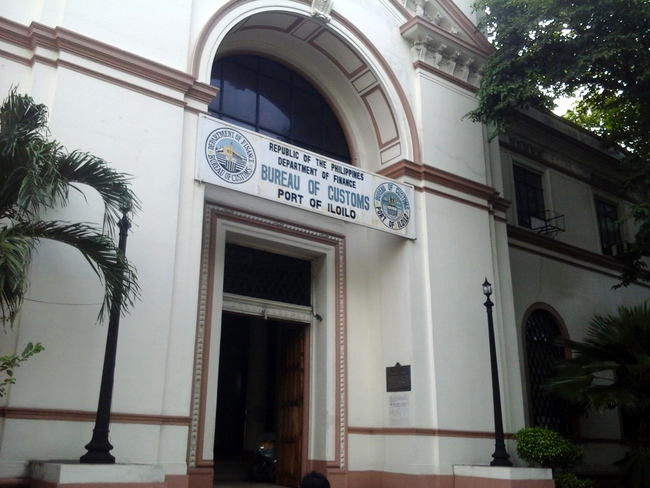 Go through the Bureau of Customs entrance to reach the Iloilo BI office located on the second floor
I was overjoyed the other day when another American expat in the Philippines, Alan S, informed me of a visit he made to the Bureau of Immigration Office in Iloilo. Alan was told by officials at the time that the ECC could be secured at Cebu and other Immigration offices in the Philippines, such as Boracay and Kalibo, among other stations, which are far better options than going to the BI Office in Manila, Intramuros.
It was my understanding, as relayed by other expats, that Manila was now the only place that the exit clearance could be processed. I was thrilled to learn that I wouldn't have to go to the main office in Manila, which I consider the portal to hell (and I'm being extremely kind.)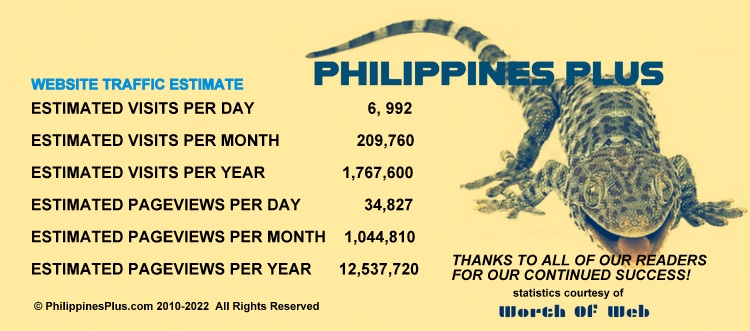 At the time Alan visited Iloilo, he was told that the necessary Emigration Exit Clearance forms could be obtained at the office, and the information about the other outlets where the ECC could be secured was given to him (see copy of the document which was posted on the bulletin board at our BI office.)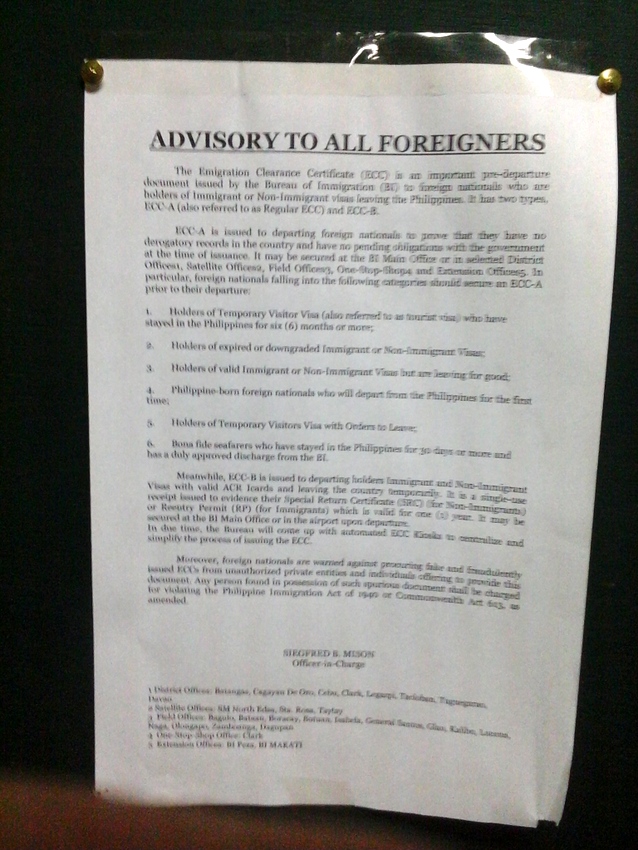 I was going to Iloilo to quaff a few beers with another expat friend, Rease W, and thought I would drop into the Iloilo office, about a ten minute walk from the Ortiz Wharf, where our pump boat from Guimaras would dock, and at least pick up my ECC forms.
There were only a couple of other foreigners in the office, when my wife, who couldn't pass up a shopping trip in the big city, and I walked in. No employee was in sight, so we took our seats and waited. A few minutes later, a female clerk walked in and asked what I needed. I informed her that I would like to pick up the Emigrant Exit Clearance forms although I knew their office could not process my ECC.
"Please wait a minute, sir, " as the lady attended to the other foreigners already seated.
A couple of minutes later, a male employee came up and sat down and asked how he could help. I advised him that I wanted to pick up my ECC forms and understood that I could now go to Cebu to have my exit clearance processed.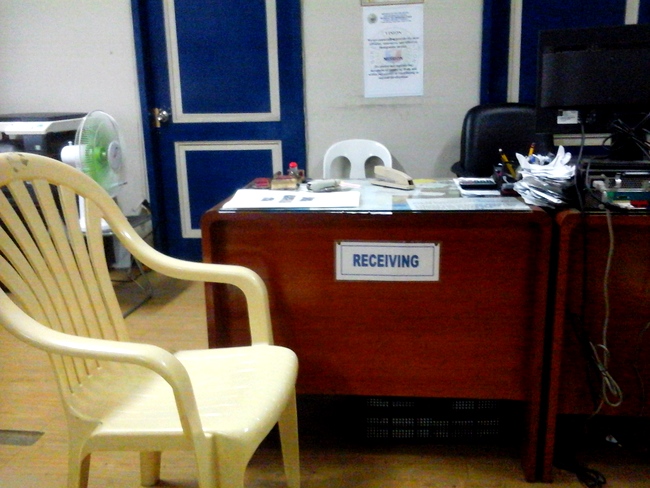 "No need to do that, sir, we will begin processing the exit clearances here in one to two weeks," he told me.
It seems the OIC, Officer-in-Charge, of the Iloilo Immigration Office, had requested from Manila the authority to begin processing the ECC's in the Iloilo office and the necessary computer files were being transferred from the main office.
I was shocked and extremely happy! I shot up, shook the man's hand, and thanked him profusely. My asawa and I took off to do some shopping before my appointed time to meet Rease, and I was thrilled beyond measure (Rease, by the way, had recently contacted the mayor and a local daily newspaper in regards to the ECC issue and the negative impact it was having on tourism and expats in the area.)
Despite past issues with the Immigration Office in Iloilo, this new direction they seem to be headed in is extremely positive. And to add to my new positive attitude about the office, an employee that I had dealt with in the past, who was not the most helpful or friendliest person I ever encountered, had been dismissed since my last visit. ECC, life in "paradise" was beginning to look even better.