"February," was the security guard's response to my query. That is when the Iloilo Immigration Bureau Megaworld move would occur. My asawa and I were in the Iloilo Bureau of Immigration, BI, so I could make my Annual Report (AR) as a foreigner.
Iloilo Immigration Bureau Megaworld Move
I had heard from another expat in Guimaras, our island province, that the Iloilo Bureau of Immigration was moving to the Megaworld complex, Iloilo Business Park. The move date was unknown to my friend at the time.
Iloilo Business Park is a 72-hectare (180-acre) multi-use community development in Mandurriao, Iloilo City, by Megaworld Corporation. It is located on the site of Iloilo's former airport, Mandurriao Airport.
So I decided to ask the security guard the date of the move. The crusty old expat is seldom shy.
First Trip to Iloilo in Months
I had not been to Iloilo in a couple of months. Personally, the grumpy old expat would rather stay in Guimaras rather than trek to the big city.
Moreover, since we now do the bulk of our grocery shopping in Guimaras, we are supporting our local economy and saving me the stress of getting around a noisy metropolis.
Therefore, we are saving money by not going across the pond to Iloilo and it is helping to keep my blood pressure down.
However, a March 1 deadline for the AR and the upcoming Dinagyang Festival are approaching. The festival will generate massive crowds and colossal traffic problems. I wanted to avoid all that.
Longer Wait at Immigration
Last year I made my Annual Report in February and was in and out of the office in a record ten minutes! Nevertheless, since there were grocery items we needed and cannot find in Guimaras, I figured we might as well make my report as well and go to Iloilo.
We arrived at the Iloilo Bureau of Immigration around 8:35 am. There were several people already outside in the waiting area. It was warmer than a dog's armpit in August. Thankfully, the security guard retrieved a fan from inside the main office and placed it in front of my fat kano face.
I expressed my gratitude to the guard and waited as more people entered the Customs Building where the Immigration Office is currently located.
However, I was perplexed by the kiosk located right outside the Iloilo Bureau of Immigration Office. As seen in the photograph after my ad, there were stacks of leaflets and brochures being offered by Jehovah Witnesses.
Also, there were Jehovah Witnesses pamphlets displayed right outside the Immigration Office's window. For a country that was 84 percent Catholic, I was somewhat surprised to see this material. I could only surmise someone at the Immigration Office was a member of the Watch Tower group.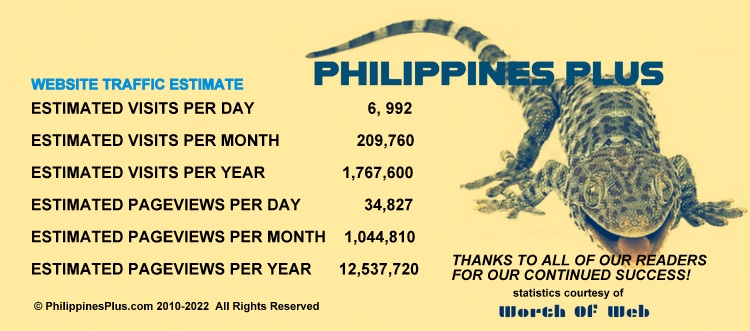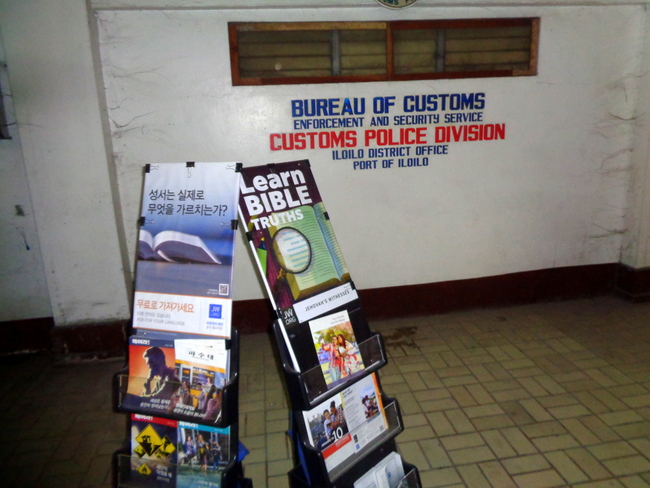 Quick Processing Time
We were escorted into the main office after 50 minutes.
Once we entered the office, an official took my ACR-I, Alien Certificate of Registration card. The ancient system of filing through a box of index cards broken down by country was now extinct.
The Iloilo BI had entered the modern age. My name now appeared on a computer spreadsheet.
We were ushered into a processing room where I was given a ticket to pay my 310-peso fee at the nearby cashier's window. Six bucks is a small price to pay for living in "paradise," isn't it?
After paying my fee, we returned to the official who originally looked up my name and we were on our way, my official receipt in hand.
Though we've been in the Philippines for over eight years, I've never had to present any of my receipts for my previous Annual Reports. However, I always bring them with me, just in case.
I never fail to make my Annual Report to Immigration. With my 13a Permanent Visa, it doesn't make any sense to skirt the law and plunk down a lousy six dollars every year to fulfill my obligation as a visitor in the Philippines.
That said, the official notice posted on the Philippine Bureau of Immigration website makes the penalties for not making your annual visit quite clear:
To implement the Annual Report (AR) 2018, all registered aliens shall, within the first sixty (60) days of every calendar year, report in person to the Bureau of Immigration (BI) Main office at Intramuros, Manila, or to the nearest participating BI offices. The AR 2018 shall be held from 1 January to 1 March 2018.

Failure to comply shall result in imposition of administrative fine and/or imprisonment, at the option of the Commissioner of Immigration.[i]
[i] Jaime H. Morente, Commissioner of Immigration (2018, January 04) "Notice to All Registered Aliens Re: Annual Report (AR) 2018." Retrieved from Philippine Bureau of Immigration. http://www.immigration.gov.ph/#advisory