Live in the Philippines and paying bills? We paid the electric and water bill back in Guimaras, but most of the time our brother-in-law would wait in line at the different utility offices to take care of that errand for us. In our new home at our subdivision outside of Iloilo City, we don't have that luxury. Since I can't pay bills online like I did in the States because we do not have a bank account in the Philippines yet, we have to go in person to pay our bills. Fortunately our local SM City Mall has a department located in the supermarket that offers bill payment services (see next photo.)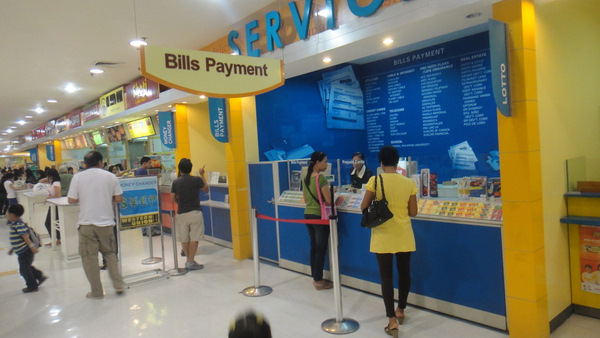 I would prefer NOT to visit ANY department store in the Philippines on a weekend especially during the Christmas season. It's total chaos, but the electric bill was due this Monday. We just received it a few days ago. A journey to the utility office in San Miguel would be a lot farther away than a trip to SM City, and since I had also had my Smart Bro bill (P1,000 a month, 23 US Dollars, for unlimited broad ban service) to pay and wanted to mail a Christmas card to my Dad in the States (that's me in the photo with the sexy legs outside the PhilPost office), SM was our destination this past Saturday.
We arrived around noon since we missed the 10 am opening due to my asawa having to wait until our water was turned on in order for her to restock our tubig barrels, a chore she had recently stripped from me.

By the size of the crowds you'd think they were giving away old moldy cheese that the government back in the States used to hand out. But it's the Christmas season, which starts here in September, and the people that stop dead in their tracks right in front of you reading or sending their latest text message were out in full force (folks, I have to ask you, is your life that important that you can't get out of the way of other people to read your latest precious message; how in the world did people communicate before cell phones?)
Plunked down 175 pesos (4 USD), more than double what I usually pay to send any international air mail to the States, but since it was an over-sized card, and for my Dad in Vegas, well worth the extra cost. My asawa and I then went to the aforementioned SM Bill Payment area, and I took some photos (see next picture which is a list of the services they offer.) Only one lady in front of my spouse but it still took awhile, but I've got nothing better to do. I'm retired, and I'm on Filipino time. Sure makes paying bills easier, and since I'm not able to pay bills online, makes things much easier having one centralized location to do this.

Total cost for our electricity for the past month at our new location was a reasonable 3,254 pesos (75 USD). We run the air con on in our bedroom 9-10 hours at night and two fans during the day. My old seven-year old HP computer is on at around 16 hours a day. Once we have that new television, the computer time will go down, but as long as the rates stay where they are, I'll be satisfied.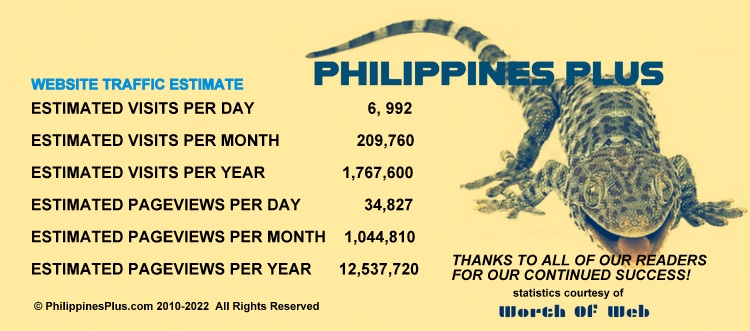 Our electric bills in Guimaras were averaging around P3,000 a month with five people in the household but we ran the air con less. There's only my asawa and I now, but like I said, I'm alright with the current electric costs.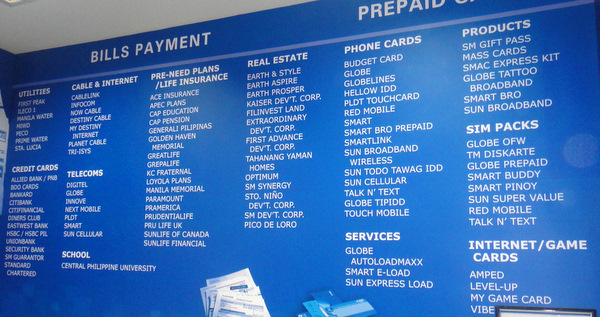 Headed up to the third floor to The Smart Store to pay my Smart Bro bill Smart installed a new automatic payment machine which I've been using the past six months or so. I've finally gotten to the point where I can make my payment without any assistance from the helpful employee at the front entrance. I was so excited the first time I was able to complete the transaction by myself. Wanted to make sure my asawa got a good picture of Sam Pinto, a beautiful spokesperson for the telecommunications giant, and I hope you guys out there don't mind.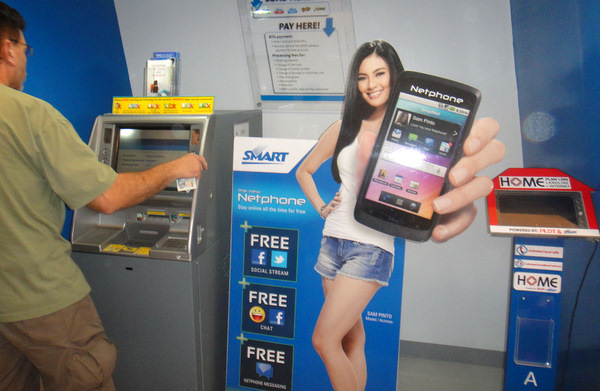 I have to admit that Sam looks a lot better in shorts than I do, and evidently shaves her legs, something I don't do. The mall is becoming even more crowded, and I'm anxious to get out. Our water bill hasn't arrived yet (just got the bill as I'm editing this post; only 149 pesos, 3.44 USD, for the month), so we can't pay that yet. Next item on our "paying bills" list is visiting our landlady's office to pay our rent of P6,000 (138 USD) for the month along with the monthly P400 (9 USD) maintenance fees for our subdivision.

Our landlady is a busy dentist and her husband an engineer who lives on a farm far from us. Since one of her offices is located just a short distance away from SM City, the main Medicus building in Iloilo (see next photo), my asawa sends her a text message ahead of time to let her secretary know we are coming. The "doc" is usually at another location, so her secretary always gives us a receipt.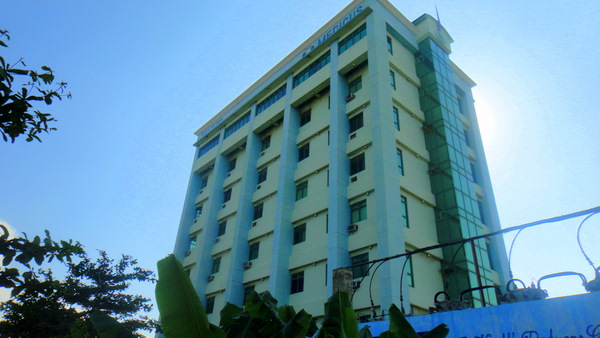 Inconvenient way of paying bills? Well, not as easy as the way I used to pay bills online, but like I said, I'm retired. I've got all the time in the world. It's good to get out of the house occasionally, and see the rest of the world. And to be honest with you, without the television around, it's a welcome distraction. There's certainly worst ways to spend a Saturday afternoon. (Full disclosure: It wasn't all fun and games. The asawa did take some time to look at shoes at the SM Department Store section of the mall which is almost as bad as shopping for purses at the Robinson Mall. I sat on a seat that I called the "old guy's bench" as I waited for my spouse to finish, occasionally muttering an unconvincing "that's nice" when she would point out a certain pair of shoes to me. Thankfully we had to leave after "only" 30 minutes to meet our landlady's secretary to pay the rent.)