My asawa must have been bored. She volunteered to go with me to the Immigration Bureau Office in Iloilo City. I had to make my annual report as a foreigner. Breezy warm day. Temperature 28° C  (82.4 F) and 89% humidity. Arrived around 10 am. The place was crammed with people, the majority of the Filipinos. Fortunately, the air con was working. Only two people waiting in the facility last year at this time. I knew we were in for a long wait.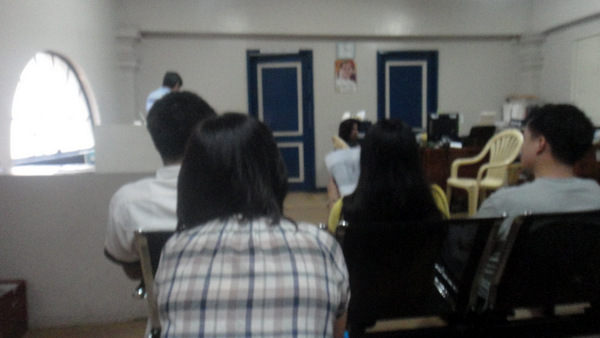 I went up front to a familiar face. I had seen this immigration officer on previous visits (that's him at the desk in the next photo taken during last year's report.) Asked if I needed to take a number. He asked if I wanted to extend my visa. I advised him I was here for my annual report as a foreigner and already had a permanent visa. He requested my ACR, Alien Certificate Registration, and after handing the ACR card to him, he instructed me to take a seat.  I tried to find my spouse in the crowded office. Took a couple of minutes before I located her.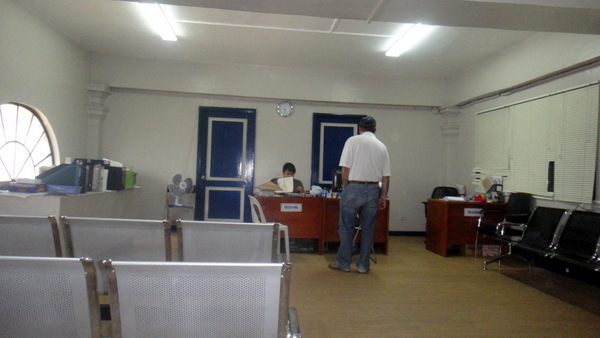 I saw a couple of other kano's waiting. Two Filipinos, a young man, and middle-aged lady sat in front of me. I excused myself for asking a personal question but I wondered if they knew why there were so many people in the Immigration office today. I said I usually have seen only a few foreigners on previous visits.
The young Pinoy was here to extend a work visa. The lady was here to extend her visa. She had dual citizenship and was visiting from the States.  Looks like I had falsely assumed that kanos were the main clients of the Immigration Bureau in Iloilo City. There was quite a large contingent of older Filipino couples that had evidently had come to extend their visas, also. 
A few minutes passed by and a tall man that I mistook for a Middle Eastern gentleman walked in. He looked around at the crowd. I asked him what he was here for. He wanted to make a change of address. He had been living in Palawan but had recently moved to Iloilo City.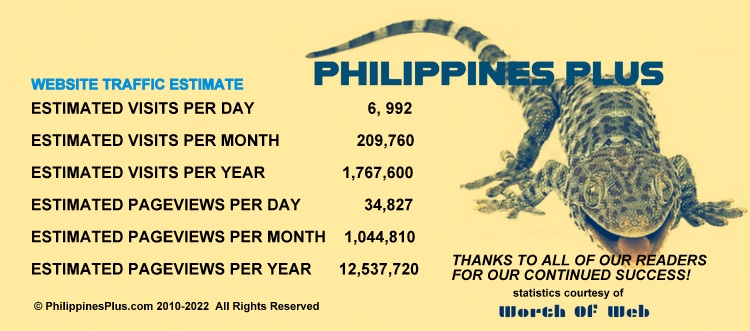 Turns out he was from California and was an American expat that had been living in the Philippines with his Filipina wife since 2001. Again, this aging kano, soon to be 61, makes another wrong assumption. I pointed to the immigration employee that had helped me and he went to him. The official looked over at me but the American expat came back with some paperwork that the worker helped him with.
Ken, the American from California, was quite impressed with the attitude of the staff at the Iloilo City Bureau of Immigration. I told him it was quite different from the service you receive in Manila. The employees in Iloio are helpful and very courteous.
While I've also encountered many helpful and courteous immigration officials at the main office, the massive amount of people they have to work with surely must add to their stress level.  But I've also met a few grumpy and rude Immigration officials in Manila, though they were in the minority. But I wouldn't want their job.
I chatted with Ken and he told me that he had applied for and received his 13a Permanent Visa at a Philippine consulate office in the States before arriving in Manila in 2001. He had all the necessary paperwork with visa in hand and a flight to Palawan to catch in four hours. He was told by the Immigration officials at NAIA that he needed to go to the Immigration office. He didn't have time for that and thought his 13 (a) Permanent Resident Visa was already cared for. He was allowed to catch his flight to Palawan but was told to report to immigration within the week.
It took a while for the American expat to get matters sorted out but he eventually did get his new Permanent Visa. My asawa sponsored me for my visa a few years ago after we moved to the Philippines. I've heard of other expats in the Philippines who've had similar problems as Ken. I've known other Americans that have moved to the Philippines and obtained their Permanent Resident in the States and arrived in Manila without any problems.
After about 45 minutes of waiting, I was asked for the P310 fee for my annual report filing. In the past, I had always gone over to the cashier's office to pay but the procedure was different today. Ken, who had arrived after me, already had his paperwork processed and stopped by to say goodbye. Pleasant man. Enjoyed talking with him. We'll probably meet again since he also is a frequent visitor of SM City in Iloilo as I am.
Another 30 minutes passed before I received my receipt and we were on our way. Time to meet my American expat friend, Scott B, and go on another tour of Iloilo City. The asawa was going to tag along. Like I said. She must have been bored if she wanted to watch a couple of guys drink beer and spread some manure (which mainly comes from me.)