TOURISM SECRETARY CLAIMS PH TASK FORCE HAS APPROVED IN PRINCIPLE THE ENTRY OF FULLY-VACCINATED TOURISTS FROM GREEN LIST COUNTRIES
Fully vaccinated tourists from "green list" countries and territories may soon enter the Philippines. It's all up to the Inter-Agency Task Force, IATF, and President Duterte. The Department of Tourism (DOT) on Friday said the IATF "has approved in principle the entry of fully vaccinated tourists from green list countries."
In a text message, Tourism Secretary Bernadette Romulo-Puyat said the IATF is set to meet this afternoon to discuss the protocols, which will be released "definitely by November."
However, if you're from the United States, the United Kingdom, or Australia, I wouldn't buy that ticket to the Philippines not just yet.
(Yes, Virginia, the Falkland Islands is a British Overseas Territory and it's on the "green list." The Falklands has about 3, 398 residents. Perhaps you could buy your ticket to "paradise" at the moment from the Capstan Gift Shop.)
© Copyright 2021 Visit The Falklands. All Rights Reserved
You see, these afore-mentioned countries, among others, are not on the "green list."
The following countries are on the much-ballyhooed "green list:"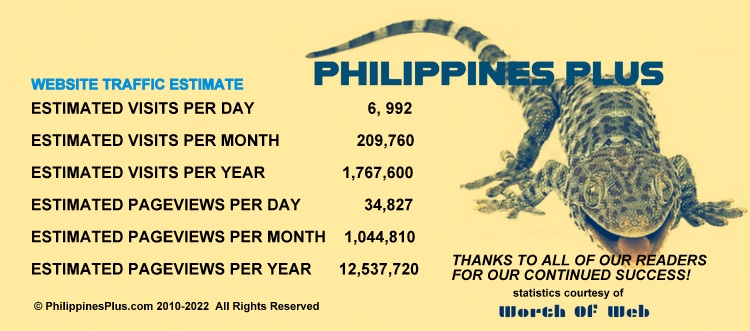 American Samoa
Bhutan
Chad
China (Mainland)
Comoros Cote d'Ivoire (Ivory Coast)
Falkland Islands (Malvinas)
Federated States of Micronesia
Guinea Guinea-Bissau
Hong Kong (Special Administrative Region of China)
India
Indonesia
Japan
Kosovo
Kuwait
Kyrgyzstan
Malawi
Mali
Marshall Islands
Montserrat
Morocco
Namibia
Niger
Northern Mariana Islands
Oman
Pakistan
Palau
Paraguay
Rwanda
Saint Barthelemy
Saint Pierre and Miquelon
Saudi Arabia
Senegal
Sierra Leone
Sint Eustatius
South Africa
Sudan
Taiwan
Togo
Uganda
United Arab Emirates
Zambia
Zimbabwe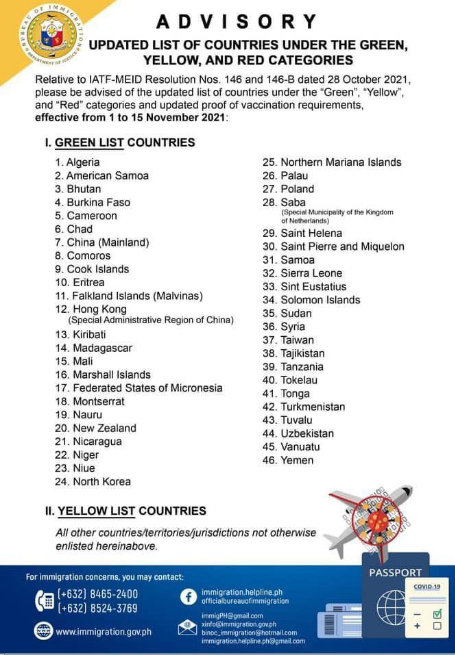 "PHILIPPINES MAY SOON WELCOME FOREIGN TOURISTS"
So if you're not on the "green list" or "red list" your country of choice will be on the "yellow" list. But there are no "yellow list" countries published. Because only the Faroe Islands and the Netherlands are on the "red list," all other countries or territories not listed as "green" or "red" are under the "yellow list" classification.
Thus, if you're a tourist from the "yellow" classification you have to hope that the Tourist Dept. can work something out. In fact, the DOT will also be working on another proposal with the Small Technical Working Group on Travel, "Vaccinated Travel Lanes or Bubbles."
This is a special program for vaccinated tourists coming from yellow list countries who may be allowed to enter the country under certain restrictions and strict conditions.
However, if you're on the "red list," you're basically screwed for now.
But if you're fully vaccinated and from a "green list" country you might be able to travel to the Philippines in the near future.
WITH REPORTING FROM THE PHILIPPINE NEWS AGENCY AND ABS-CBN NEWS ONLINE.