I was in my early 40's before I went to my first nail salon. A Vietnamese family operated the clip joint at a strip mall in Springfield, Illinois. A female co-worker who was always stylishly dressed and immaculately groomed recommended the establishment to me. Now when a "macho man" gets a manicure and pedicure for the first time in his life, that's a big event. But the Central Illinois outlet I went to certainly wasn't as high-class as the Posh Nails at SM Seaside Cebu that my asawa and I recently visited.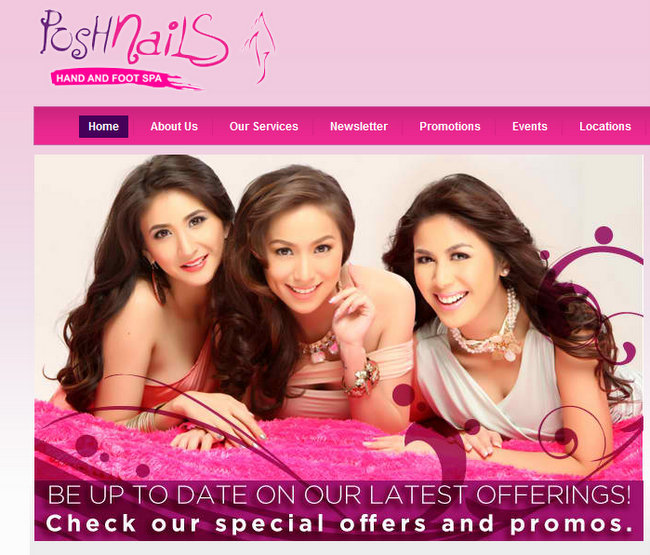 (Photo Source: Posh Nails website)
I wear my classic deer-in-the-headlights look in the following photo as I waited for my manicure and foot spa which included a pedicure. My bargain hunting wife and I checked out a couple of outlets before choosing Posh Nails. Two manicures and two foot spas would set us back 650 pesos, almost 14 bucks, but we decided to splurge since we were on vacation.
My asawa only has to pay 250 back in Guimaras for the same services but the nail shack in our home province doesn't have near the ambiance of Posh Nails let alone the pink and lilac pillows. If my wife opts not to have the foot spa at her local outlet, only a manicure and pedicure, the cost is reduced to 100 pesos, about 2 U.S. Dollars.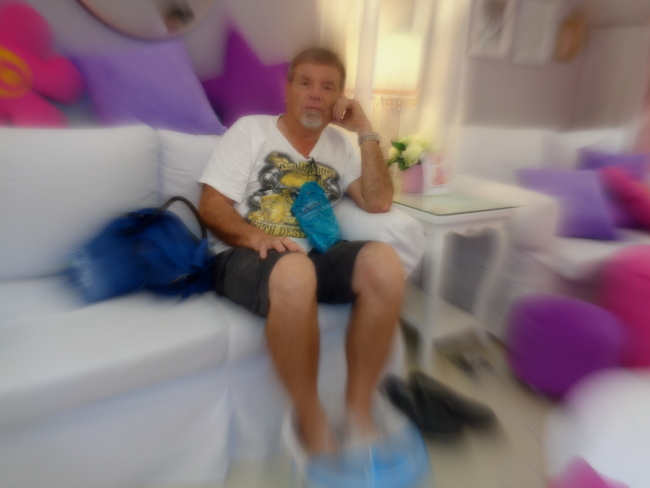 We almost walked out of Posh Nails, however, when we were told there would be a wait time of 45 minutes. We had just arrived in Cebu City that morning after a 13-hour trip via Cokaliong Shipping Lines and didn't want to hang around that long.
I politely advised the receptionist that we would have to go somewhere else due to the long wait time but she promised that they "could work something out."
She was true to her word and we had a quartet of nail technicians waiting on us within five minutes. I was impressed by the excellent customer service, something, frankly, that is not always found in the Philippines or your local Walmart back in the States, either, for that matter.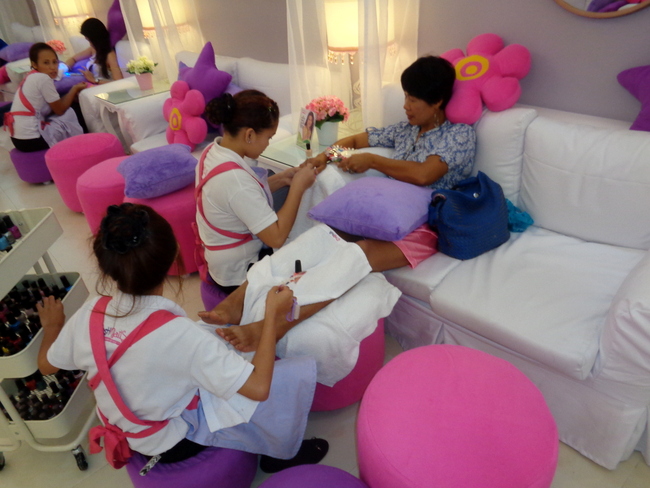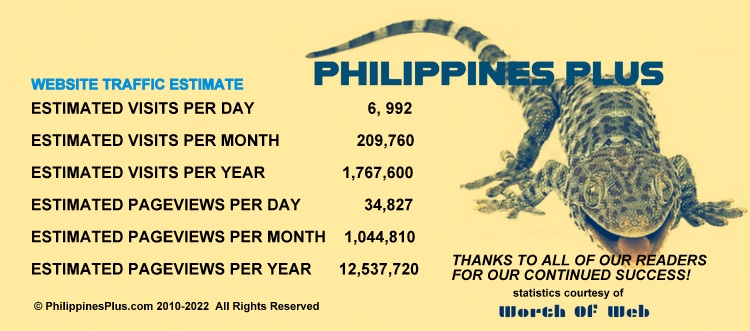 My lovely spouse was being pampered when I took the above shot. The young ladies working at the establishment were very professional and did a great job. One of the employees even posed for me in the next picture.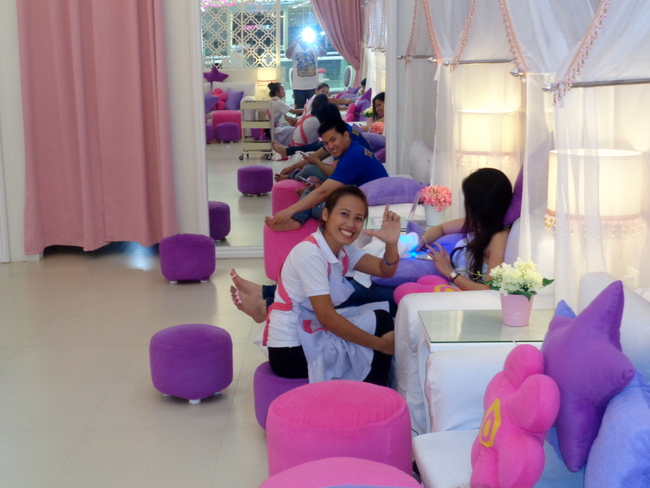 I recommend a relaxing foot spa. A pile of dead skin almost as big as Mt. Everest was removed from my calloused heels. The pedicurist did not damage my delicate fat feet as she trimmed my dainty toenails. My fingernails and toenails received a clear coat of polish per my request. I didn't want to look too flashy.
Upon entering the spa, you are instantly transported to a fancy girl's bedroom painted in pink, lilac and white complete with comfortable couches, soft pillows and footrests. Not that I know what a fancy girl's bedroom looks like, I was raised with two younger brothers.
The place is adorned with beaded curtains and chandeliers to incorporate a more feminine touch while relaxing elevator music is played in the background for a soothing ambiance.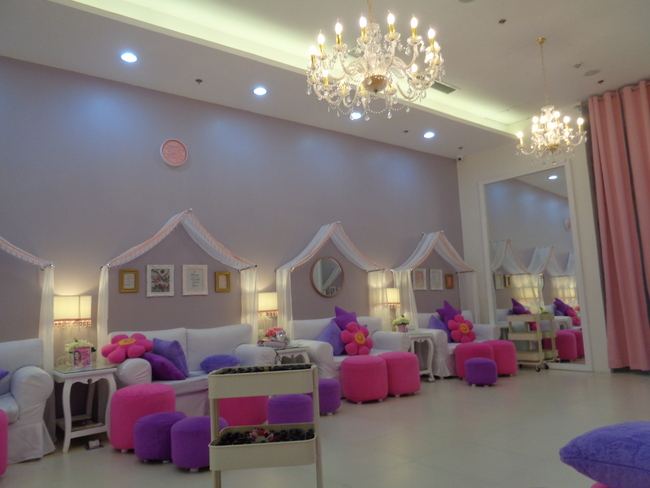 Posh Nails offers ultra luxurious pampering packages for both hands and feet. Among the most in-demand services include the hand spa, hand and arm scrub, foot scrub, foot and leg mask, foot spa, reflexology, Posh spoiling, Basic Refresh, Green Tea pedicure, Coffee pedicure, eyelash extension, Paraffin dip, nail art and waxing
Posh Nails is one of the Philippines' pioneer in the natural nail care industry. Created by Catherine Ilacad in 2002, Posh Nails introduced a laid back, unique and modern setup to spa addicts young and old alike.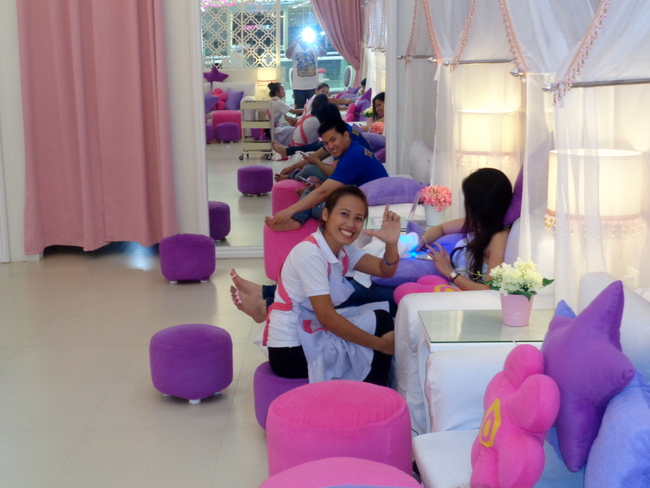 So if you're a "macho man" like me but still like being pampered occasionally, Posh Nails is a great place to visit. Just close your eyes and block out the pink and lilac color scheme if it bothers you that much and you'll leave the place feeling better and looking sharper than ever. Even you crusty old expats like me can benefit from a visit.