It's a post I can finally publish: " Our First Pool Party in the Philippines." It's been a massive project. The new swimming hole construction began right after Christmas. But we faced a couple of delays which set the undertaking back two months.
CONSTRUCTION DELAYED
Our pool project began in the last week of December, 2015. In late April, construction on our new pool came to a halt. Our workers toiled under a blistering sun although a tarp covered the work area. However, the final concrete finish wasn't setting up properly due to the blazing summer heat, even with a tarp.
Our foreman decided that it would be best to continue after the rainy season began.
In the meantime, our four-man crew starting working on fortifying the barbed wire fence that surrounds our 13,500 square meter property. We needed a secure fence that would allow the three dogs we had at the time plenty of freedom to roam.
As revealed in my last post, Cinderella, our only female, gave birth to five pups.
The old fence had too many openings for our beloved canines to escape. Our dogs would dash across a nearby rice field to capture chickens.
But now,  fortified with cyclone fencing and hollow blocks underneath, our dogs cannot leave for greener pastures. The puppies, seen below, however, are currently staying close to home.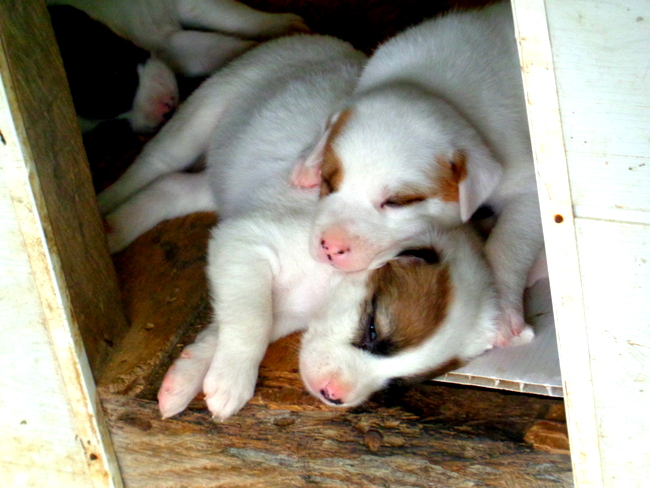 WORK BEGINS ANEW IN JUNE
Beginning in early June, our crew began working on the pool again. The rainy season had arrived. The final concrete finish was applied. Upon recommendation from a Filipino pool builder our brother-in-law Joery had met, two concrete finishes were applied instead of one. Each finish was  covered with a waterproof sealant.
During the month of June, two of our workers went to help our brother-in-law Joery complete a classroom for his spouse's preschool. The learning facility, The Guimaras Joyful Pre-School, needed more room to expand their ever growing student enrollment.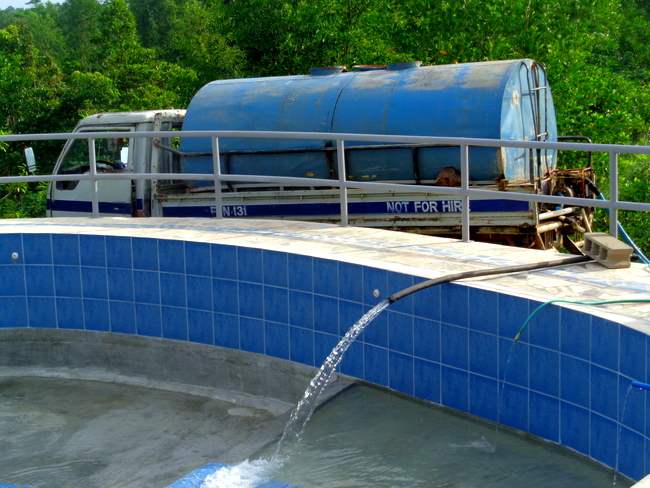 12 TRUCKLOADS OF WATER
It took two days and 12 truckloads of water to fill our 50,000 gallon pool at a total cost of 30,000 pesos, 645 US Dollars. The pool measures 16×38 feet. Each delivery filled the pool up four inches. We supplemented the water truck deliveries with water we pumped in from our two wells. Heavy rains also helped.
Thankfully, our four-man pool crew did an excellent job constructing and waterproofing the pool. I daily check the water level and it has not gone down even one inch in the past week.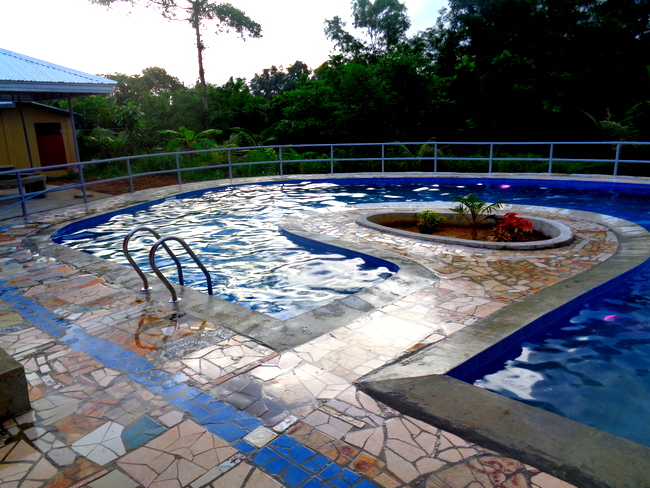 BIG THANKS TO AMICI WATER SYSTEMS IN ILOILO
My wife and I have nothing but high praise for the folks at Amici Water Systems located at Door B-1#21 Quezon St. in Iloilo City.  Sir Alfredo and Sir White treated us with the utmost courtesy and professionalism.
We purchased the majority of our necessary pool equipment and plumbing from Amici at a cost of 206,000 pesos. 4,430 US Dollars. We also opted to have them do the plumbing installation for our new pool for only 25,000 pesos, which is included in the total cost. That price, however, will no longer be available to customers in the area as the company will have to increase their fee to match installations done in Manila for a 100,000 pesos more.
Unless you've had a good amount of experience installing swimming pools, you'd be well-advised to have the Amici crew take care of the plumbing. They installed all the necessary pumps, pipes and filters. Even with the future increased installation price, you'd be better off having them take care of the pump and plumbing aspect.
Amici Water Systems do not build pools, however. Our crew took care of that with advice from Amici. It's safe to say that without their help, this pool project would have never seen fruition.  Amici can be contacted at 333-1094.
I do not receive one iota of compensation for recommending them. If you're thinking of building a pool on Guimaras or Panay Islands, give them a call.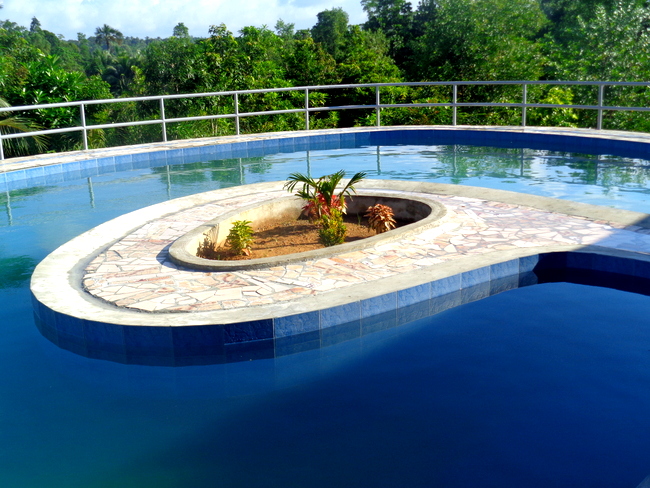 THE ISLAND FEATURE
We opted for a small "island" in the middle of our new swimming pool in the Philippines per my asawa's suggestion. A small champagne palm tree in the middle which will eventually grow up to seven meters in height.  The crew that cleaned our pool has told us they have never seen such a design throughout the area.
We wanted to do something more unique than a rectangular hole in the ground and believe we have achieved that goal.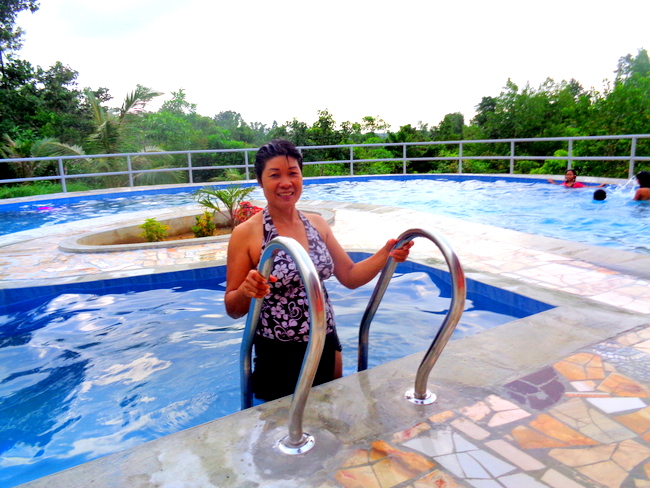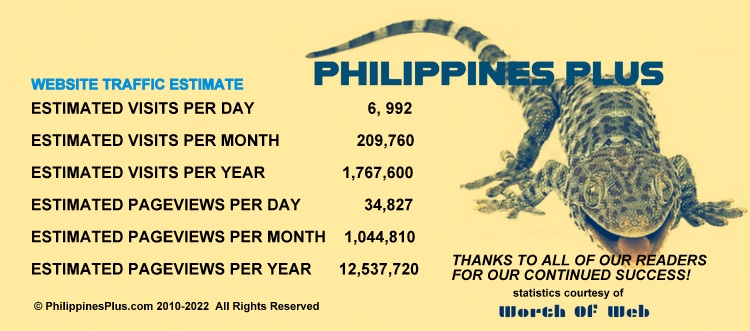 My lovely wife exiting from our first pool party in the Philippines. Our Belgian Shepard, "Killer," was excitedly roaming the pool area in the next shot.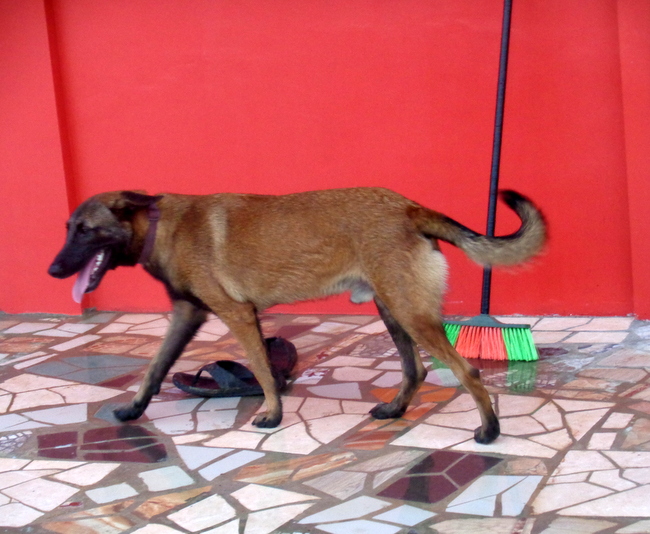 KILLER ROAMS THE POOL
"Killer Boy" came over to my asawa and our helper, Meracel. He became quite agitated when our niece and nephew started loudly splashing in the water. "Killer" jumped in next to them. We determined that our watchful pet thought the two kids were in danger and was trying to "rescue" them.
We thanked "Killer" for his prompt action and quickly had him exit the pool.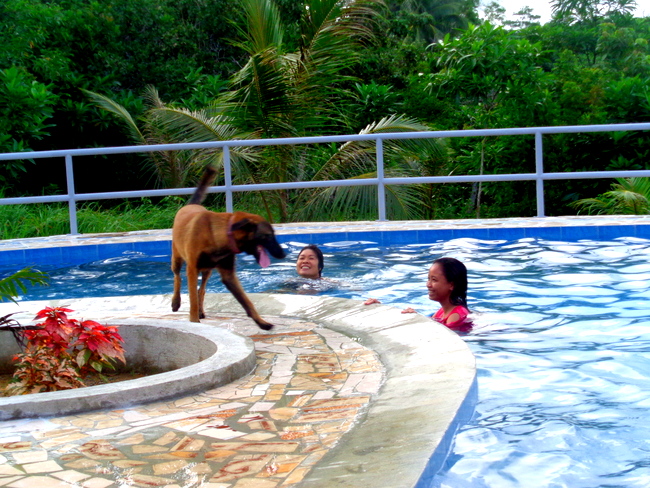 CONCRETE PATIO FURNITURE AND COMFORT ROOM
We felt it would be more functional to have a seating area composed entirely of concrete. Swimmers could take a break in the covered area without having to worry about getting anything wet. Because we're in the rainy season now, a covered area is essential. The concrete bench and seating should hold up against any high winds, also. We won't have to worry about patio furniture blowing away.
My spouse and I also decided that a fully-equipped Comfort Room, CR, would also come in handy. It comes with a toilet, sink and shower and makes it the sixth restroom we have on our property. With two teen aged girls living here, I need all the comfort rooms I can get.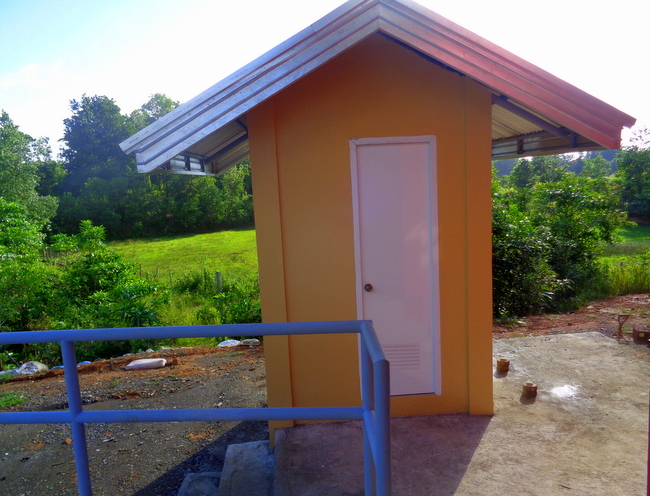 I'll leave you with some more photos from our first pool party in the Philippines. We've had two days of non-stop swimming since the pool opened. Amici installed LED color-changing lights in the pool, which add a ton of ambiance to nighttime swimming.
A BIG THANKS, also, to our four-man crew: Foreman Jojo, DonDon, Jon and DP. Also, thanks to brother-in-law Joery who built our Pump Room. We could have never done this job without their hard work and dedication.
THE COST
The total labor cost came to approximately 225,000 pesos, 4,800 dollars. Adding in the cost of material from Amici, that brings the total to 9,230 US Dollars.
At this time I don't have a figure for the cost of cement, gravel, sand, waterproofing material and other supplies. I will check with my wife, who purchased the material and go through all the receipts. I plan to publish that information in a future post.