We received good news since my spouse was admitted to our local healthcare facility in the Philippines. She was on the road to recovery and was discharged from the Guimaras Provincial Hospital this past Friday after a battle with dengue fever and pneumonia.
Dr. Catalino Gallego Nava Provincial Hospital
Now for you Guimarasnons out there, you probably already know the official name of this facility has been changed to the following: Dr. Catalino Gallego Nava Provincial Hospital.
Dr. Nava was elected governor of Guimaras in 1988 when it was still a sub-province of nearby Iloilo. One of the late Nava's sons, Dr. Rahman Nava, became a Governor and later a Congressman. His brother, Dr. Felipe Nava, also served as Governor.
But I just refer to the establishment as the Guimaras Provincial Hospital because it is easier for me to do so.
White Blood Platelet Count Now Normal
During my wife's stay this past Thursday, her white blood platelet count, alarmingly low on Wednesday night when she was admitted to the health care facility, had vastly improved. I was prepared to see if we could get my spouse discharged the next day, Friday. Neither of us wanted to spend another night at the hospital, crammed in with two other patients and their relatives and exposed to open windows with no screens which would allow mosquitoes to enter without going through security.
After all, my asawa did have dengue, a flu-like viral disease, spread by the bite of an Aedes infected mosquito.
While I commend the staff at the Guimaras Provincial Hospital, for their diligence and care of my wife, the facilities, despite an ongoing remodeling project, still leaves much to be desired. The sooner we could get out, I reasoned, and return home, the better.
Asking the Doctor to Let My People Go
Around 8:30 am, Friday morning, a doctor entered our room, the Infectious Female Ward. This was a different physician who had advised us that my wife could be discharged if her white blood platelet count improved.
My poor asawa had already endured more pricks (to her fingers for blood tests) than a meeting of Congress. I was hopeful the doc would let us go.
The physician agreed that my wife's prognosis had improved but she said it was standard hospital policy to keep someone in the hospital for dengue at least 48 hours. We were short about a half-day of that requirement but I asked that my wife be discharged anyway.
The doctor agreed but warned that we should bring my spouse back immediately if her condition worsened again. I assured the care giver that I would strictly monitor my wife's condition.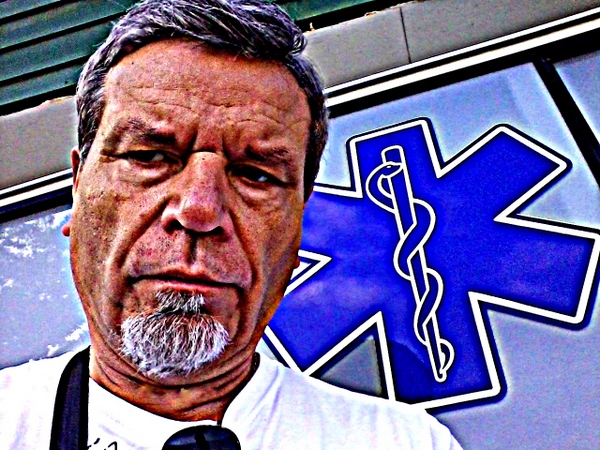 The Discharge Paperwork Process
A few hours later one of the nursing staff brought in the necessary discharge papers. Now all I needed to do was collect the necessary signatures from the various departments: pharmacy, laboratory, central supply, etc., to make sure all charges had been paid up to date.
After I collected the necessary signature from pharmacy, one of the hospital's nurses, a relative of my spouse, accompanied me to obtain the other signatures needed.
My last stop, or so I thought, would be the Cashier's Office, to settle our final bill.
The ladies at the Cashier's Office directed me to the next window, the Billing Section. I stepped over to my left two paces.
The two young Filipinas behind the window asked me if I had my "MDR."
"MDR?" I asked. "What's that?
They held up a piece of paper which read: "Member Data Record."
"Where do I get that from, please?" I inquired.
"The PhilHealth Office, sir." came the reply from one of the ladies.
"And where is that, please?" I asked.
"In back of the gymnasium, sir," was my answer.
OK, I knew where the gymnasium was. It was located nearby behind the capital building. I trotted over to the office.
(PhilHealth is a national health insurance program available to Filipinos and their spouses.)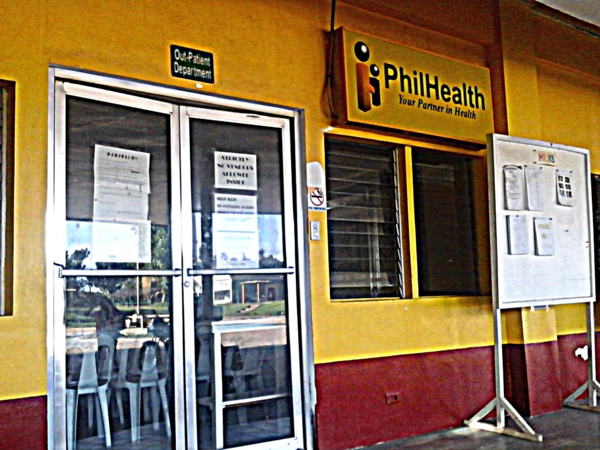 The PhilHealth Adventure
I entered the office and handed the PhilHealth employee my wife's PhilHealth card and cooled down for a minute in the air con. None of the hospital, save for a few offices, had air con.
In less than two minutes, I had our MDR, Member Data Record. Now I was instructed to take the MDR to the PhilHealth Records Section located next to the canteen. I now needed a CFI.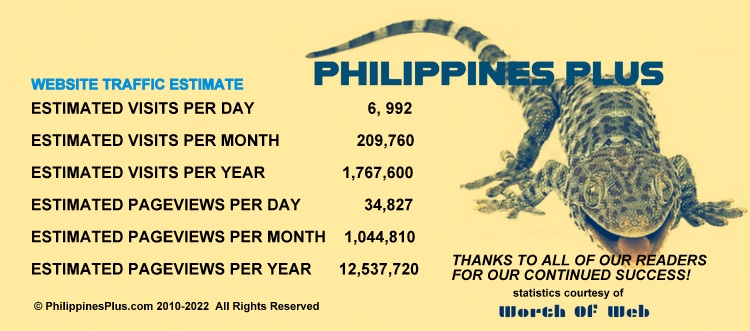 I almost panicked when I saw a crowd of around 100 or so people hovering around the Records Section. I poked my head inside what I thought was the correct building but it turned out I was inside the Outpatient Waiting Area which had been moved since I had visited the hospital two years ago, suffering from a kidney stone attack.
Fortunately, the PhilHealth window was located just outside the building with no one in line.
I approached the two ladies working the window and handed them my MDR and informed them I was trying to get my wife discharged from the hospital and needed a "CFI."
"CF1, sir, a claim form," Employee #1 informed me.
Employee #2 checked out my MDR and asked me if I had my receipt.
"Receipt for what?" I inquired. "Receipt for the medications we paid for?"
"No, sir, your receipt for your PhilHealth payments for July, August and September." was the reply.
"But we paid for a two-year membership back at the PhilHealth Office in Iloilo. Do you want me to go back home and get that receipt?" I asked.
Again, the same request: "Sir, I need your receipt for your PhilHealth payments for July, August and September."
Not to be outdone, I repeated myself: "Again, we paid for a two-year membership back at the PhilHealth Office in Iloilo. Can't you check that out on your computer?"
"We do not have internet, sir," came the reply from Employee #1.
"Really?" I asked incredulously and in my best sarcastic tone. "This is 2015 and you're a business operating WITHOUT the internet?"
Employee #1 and Employee #2 both stopped and looked at each other.
"We have it sometimes, sir," replied Employee #1, "let me check."
"Who do you have for your internet provider?" I asked. "Smart or Globe?"
Both ladies smiled.
"For awhile, sir," said Employee #2. Which, when translated, can mean up to several hours or days in the Philippines.
I looked at a blank CF1, Claim Form, given to me and began going over the questions in my mind. Before I could finish perusing the document, I thought to ask: "If my wife didn't have valid PhilHealth coverage, why did I receive a Members Document Record from them?"
"It's OK, sir," answered Employee #2, "we looked up your records on the internet."
I was handed a document from Employee #2 who informed me that with this paper I would not even need to complete the claim form. More icing on the cake.
I was then informed to have my wife sign the form and then return it to the billing section to have it coded. I thanked the ladies and took off.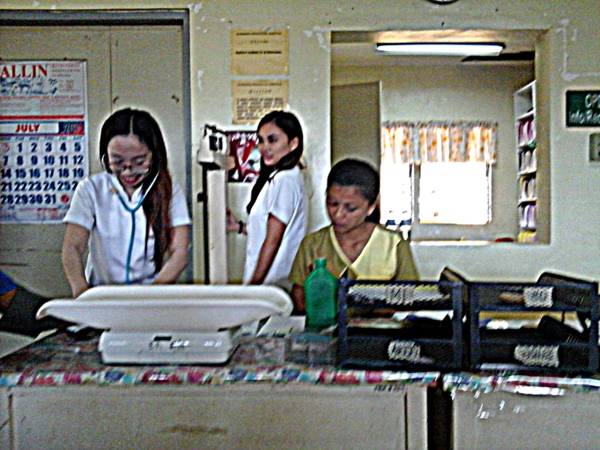 The Journey Nears an End
I popped back into my wife's hospital room to get her signature and explained what had just occurred at PhilHealth. I told her I would be back…hopefully, soon.
I returned the PhilHealth form to the billing section. The document was soon given the proper code. I was instructed to return the form back to the PhilHealth window and come back to billing.
I went back to the PhilHealth window and was promptly given the proper code. I went back to the billing department and they signed off on my wife's discharge paper and declared we owed absolutely NOTHING.
No charge for the room
No charge for the attending physicians
No charge for the emergency room visit
No charge for housekeeping, or electricity for the fan, or any other miscellaneous fees
We only were charged for some prescriptions (PhilHealth covered some of them) and a few supplies. I'll post those charges in a future post but they probably amounted to less than 100 US Dollars, off the top of my head.
I returned the final discharge paperwork back to our Nurse's Station as instructed by the ladies at the billing section.
A nurse came in a few minutes later and questioned my asawa about the linen on her bed. We had to clear off our bed and give the bed sheet to the nurse to complete the discharge process. Someone had signed for our bed sheet when my spouse was admitted. It wasn't my wife or myself.
An administrator then came in and gave my wife some prescriptions and an instruction form for medications she would still need. The staff person also gave my spouse a lab request for three blood tests she would need to have on Monday to make absolutely sure her dengue had been eliminated.
I packed our bag and my wife was escorted via wheelchair to the front entrance of the hospital. We walked over to our Ford Ranger XLT and headed home. It would be great to sleep in our own bed again.
A BIG THANKS TO ALL THE NURSING STAFF AND ALL THE EMPLOYEES OF THE GUIMARAS PROVINCIAL HOSPITAL.
But don't be offended, anyone. We hope we don't see you again for a long, long time.