Our Ford Ranger was purchased new back in January 2015 from Ford Iloilo. The vehicle only has 11,000 kilometers on the odometer and has never given us any problems…until recently.
ABS Warning Light Goes On
Several weeks ago my asawa, who uses the truck more than me to run errands on our island province waved me over to the vehicle as she was getting ready to leave.
My spouse pointed to our dashboard. The ABS warning light was on. The light appeared orange in color and wasn't flashing. I immediately checked our Ranger's owners manual.
Our vehicle is equipped with an Anti-Lock Braking System, ABS. This feature helps keep the brakes from locking during emergency stops. If the ABS warning light, which goes on once the truck is started, stays on, the Anti-Lock Braking System might be disabled.
A trip to an authorized Ford dealer was recommended.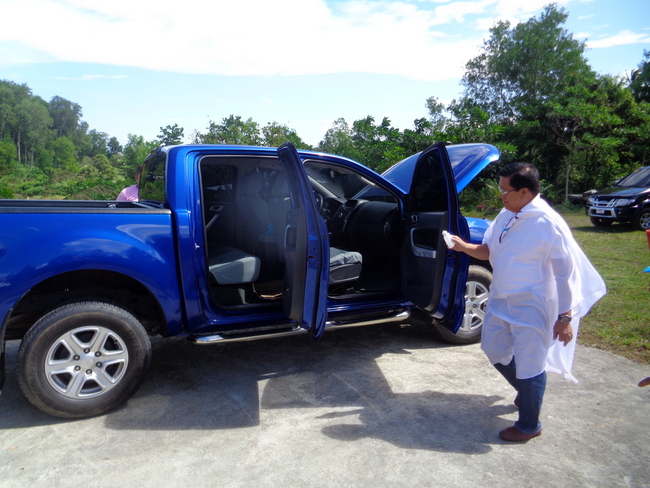 Father blessed our Ranger months before our problems started. Maybe I haven't been putting enough into the offering.
Trip to Iloilo Ford Requires Using the Ferry
I wasn't overly concerned. The Ford Ranger was still under warranty. We needed an oil change anyway so I just needed to call Ford Iloilo and schedule an appointment.
We would have to reach Ford via the RO-RO, Roll-On Roll-Off Ferry, since Iloilo is located on nearby Panay Island, about a 12-15 minute pump boat ride from Jordan Wharf in Guimaras. The RO-RO trip takes about 30 minutes.
I abhor going on the ferry. It only leaves at scheduled times during the day and costs 800 pesos, 16 USD, for a round trip. There's usually only one RO-RO operating when we go to Iloilo and the last trip leaves at 5:30 pm. We hire a relative to drive for us and barely made the last trip home to Guimaras last time around. It's always a stressful affair.
We take the Ranger to Iloilo City every six months for an oil change and regular maintenance service which includes tire rotation.
Expensive Oil Change at the Dealership
It costs an average of around 10,000 pesos, 200 US Dollars, every time we go to Ford Iloilo. Much more expensive than any quick-stop oil change outlet back in the States. The oil change and oil filter alone costs 4,400 pesos, almost 90 US Dollars. According to Angie's List, an average oil change in the States costs around $46 using conventional oil.
After the warranty expires in January 2018, we will be having our oil changes done locally in Guimaras and avoid taking the RO-RO altogether. That should save us some money…I hope.
Now the Engine Warning Light Goes On
Two days after the ABS warning light went on, my wife called me over to our truck again. She had started up the engine and was on her way to the local market. Now the Engine Warning Light had gone on.
The orange warning light wouldn't go off. This was a more troublesome concern to me than the ABS warning light. Again, I consulted the Ford Ranger manual which recommended a trip to the local authorized Ford dealership.
I advised my spouse to go ahead but not to drive too fast. Meanwhile, I consulted Google for the possible cause of the engine warning light issue.
Many of my search results revealed that the problem could be that the vehicle's gas cap might not be tightened properly. We had recently gotten gas at our local Sea Oil station.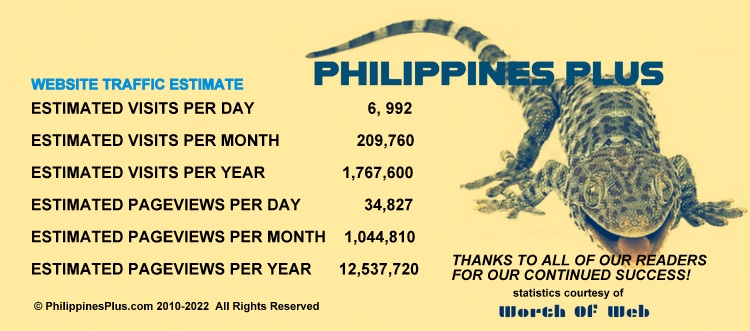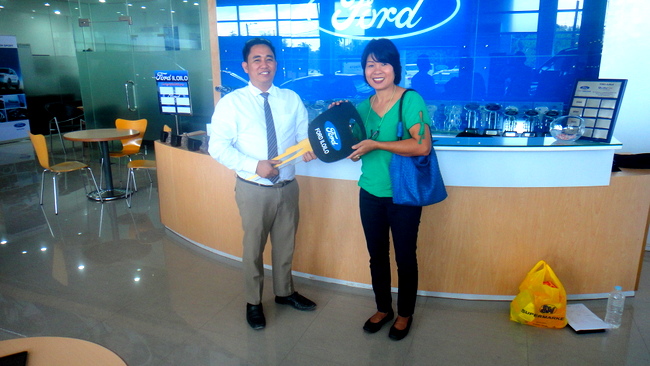 Fortunately my asawa was also given a different set of keys when we purchased the truck.
Full Service in the Philippines
EVERY service station we have gone to in our last eight years of living in the Philippines is a full-service station. That's how it was back in the States years ago. Of course "self-service" has been the norm back in the U.S. for many years now.
It's quite pleasant having someone else fill the tank without getting out. Our attendants even check out the tires and adjust the air pressure if requested. Life can be pleasant in the Philippines.
After my better half returned home from her local shopping trip, I immediately checked the gas cap. It was as tight as Ebenezer Scrooge. I had called to schedule a service appointment with Ford Iloilo but couldn't bring our Ranger in for another two weeks.
Warning Light Woes
For the next two weeks we drove our vehicle sparingly, only about two or three times. We missed the Sunday 6 am Mass at the Trappist Monastery and only used the vehicle for essential trips into San Miguel, Jordan, our nearest shopping hub in Guimaras, about 10 minutes away. I accompanied my wife on these excursions and rode shotgun keeping an eye on the dashboard and the engine warning lights.
Fortunately, the truck ran fine during all of this and we boarded the RO-RO the Saturday morning of our scheduled service appointment with Ford. However, though we arrived at around 5.45 am, we were told the ferry was already full for the 6:30 am departure.
This was the first time in over two years that we had not made the first trip. Our service appointment was at 9:00 am. The next RO-RO trip would leave at 8:30 am. We would be late for our appointment.
On to Iloilo
My wife and I decided to board the pump boat to Iloilo and head out to Ford and explain to them in person why we would be late. Our driver would follow us later and take our truck on the ferry.
After a Big Breakfast Meal at McDonald's at The Atrium in Iloilo City, we headed out for Ford around 8:30. I spoke to the service manager and explained about the warning lights. We've always received excellent customer service from Ford Iloilo and hoped the problem could be solved today. Otherwise, we would have to return to Guimaras without our truck and come back at a later date.
While we were at Ford waiting for our driver we received a message that our relative/driver was already on the ferry. His text message came at around 8:25 am. The RO-RO would probably arrive at its dock at around 8:50 am. The trip to Ford Iloilo would take about another 20 minutes.
Thankfully, the service department understood our plight and when our driver showed up at 9:10 am, ten minutes past the appointed scheduled time, our truck was immediately looked at by a service advisor.
Stocking Up at S&R
My asawa and I headed over to the S&R warehouse to do some shopping while our relative/driver attended to his errands in Iloilo City. Ford would contact us when the truck's service job was completed.
After shopping at S&R and a quick lunch we decided to head back to Ford even though we hadn't received word from the Service Department yet. I was worried that we wouldn't get a spot on the ferry to take us back to Guimaras.
It was now around 1:00 pm. Fortunately the oil change and filter job were already completed. The service crew was putting the finishing touches on washing our vehicle. The service manager came over and informed me he discovered the cause of the warning lights going on.
My asawa and I were shocked by the service crew's findings!
(To be continued)