The Alto Pension House, D. Jakosalem St., Cogon Ramos, in Cebu City offers reasonable rates, is quiet and has clean accommodations. What more could you ask? At only 800 pesos a night, almost 18 US Dollars, it's a bargain. 120 pesos more if you want a hot shower, but I've been taking cold showers in the Philippines for five years now, so hot water is a luxury I don't want to pay for.
The rooms, shown in a series of pictures below, aren't huge. But my asawa and I spent most of our time during a recent stay in Cebu City shopping anyway. It was a lot better price than what we shelled out during our first night in the Queen City of the South where we paid 60 US Dollars for an evening at the Summit Circle Hotel.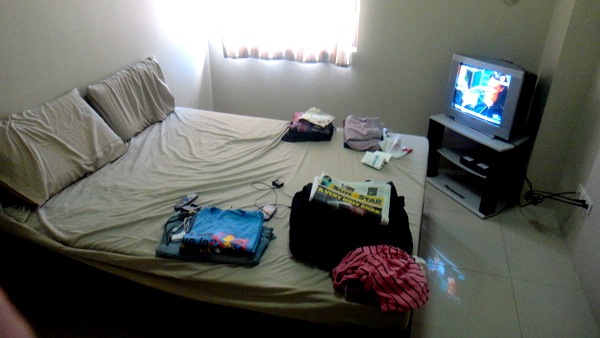 The Summit Circle, located next to Robinsons Mall, had a bigger room, but to me, not worth the price.
The Samsung Air Conditioner at the Alto Pension House quickly cooled off our room. It was brutally hot outside and the cold air the unit produced felt good.
Sky Cable was provided on the television and the bed was large and comfortable. My asawa and I were both very pleased with the accommodations at the Alto Pension House in Cebu City.
Thanks to a tip from a helpful local we were able to discover this inexpensive pension house and booked a two night stay there. They did have free WiFi but unfortunately the signal was not good enough to reach us on the third floor where our room was located.
The lobby area, patrolled by a friendly security guard, did have a good internet signal but the area was only cooled by a fan and I've discovered, since living at our farm in Guimaras, which does not have any internet, that I can live without surfing the worldwide web every day.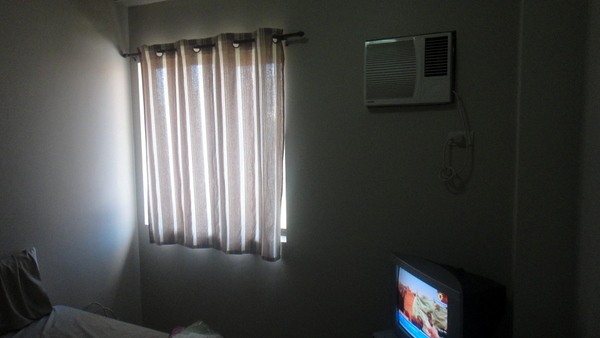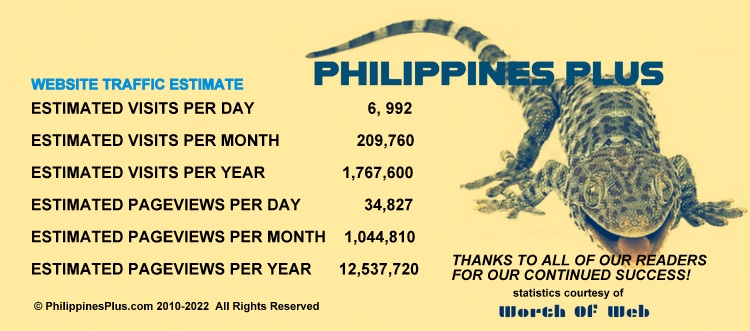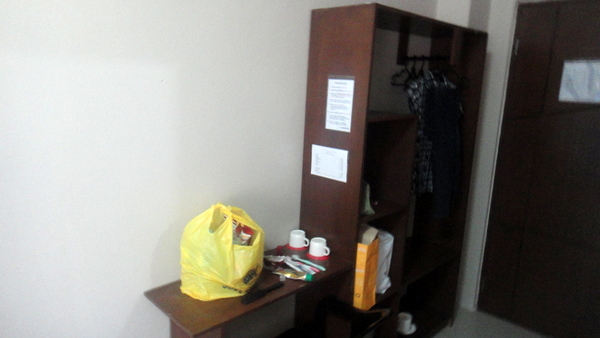 There was no maid that came in to clean our room and make our bed the next day of our stay, but that was fine with me. The rooms, including the CR, Comfort Room, were quite clean before we dropped in for our two night stay.
And those "cold showers?" They really weren't that cold plus the shower had the best water pressure I've experienced since living in the Philippines.
The Alto Pension House is only about ten minutes or so from the SM Cebu Mall and fairly close to the Ayala Mall complex.
The establishment does have a small café but I can't recommend it. Though their prices are very reasonable 75 pesos, about 1.70 US Dollars, for only traditional Filipino fare, my wife, who sampled a corned beef and rice dish deemed it only "OK."
That, on top of the fact it took over 30 minutes to get a cup of over-priced freshly brewed coffee for 50 pesos, 1.11 USD, and an extremely noisy group of workers (not from the pension house) that came in, did not endear us to the restaurant.
In fact, the morning we checked out, I went to the café to get a cup of coffee for my asawa. The two café employees huddled around the coffee maker, and couldn't seem to get it to work.
Finally, after about five minutes, they did manage to get a cup of coffee brewing and when it was done, announced to me that "I had destroyed it." I wondered how I could have destroyed it when I didn't even touch it, but let the remark pass.
I'm giving the Alto Pension House in Cebu City a ranking of three out of four lizards.

(About our rankings. 1 lizard=Poor, 2 lizards=Fair, 3 lizards=Good, 4 lizards=Great!)
The proprietor is Lord T. Ong and their contact number is 505-8883 and 505-8884. I highly recommend the establishment. Reasonable rates. Quiet and clean accommodations. Safe and secure.