"How a Foreigner Can Open a Philippines Bank Account" is today's topic. We retired to the Philippines over nine and one-half years ago. First of all, we used an international debit card from our US bank in order to access our funds.
Because our debit card eventually expired, we had to research other means of withdrawing money from our bank account in the States. Consequently, we started using money remittances services such as XOOM.
However, we eventually opened a bank account in the Philippines with BDO. It was more convenient and we're now able to transfer funds more easily. It wasn't a difficult process.
The Search
Furthermore, in our quest to find a bank that would suit our needs we first inquired on our island province of Guimaras. However, at the time, Guimaras did not have a bank that would accommodate our personal requirements.
Therefore, we eventually hopped on a banca boat to nearby Panay Island. Certainly wasn't convenient. A round trip to Iloilo City on Panay would take us a minimum of two to three hours. And that's if we only went straight to a bank and came right back.
We checked out a couple of major banks, Metrobank and BPI. Neither one suited our needs. As mentioned earlier, BDO ended up as our choice to initially open a peso account and later on, a US dollar account. Above all, BDO had many more outlets that were convenient for us.
At the time, BDO did not have an outlet in Guimaras. However, they now have a subsidiary branch on our island province, One Network.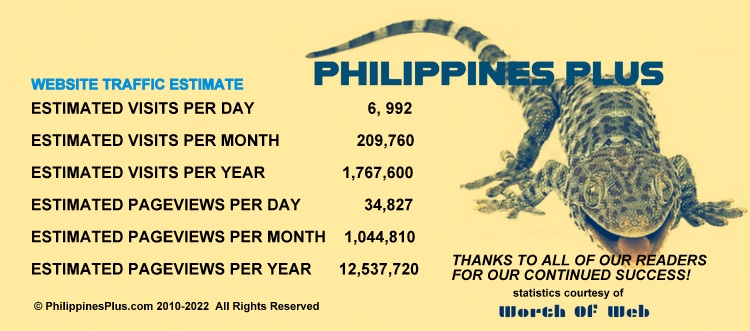 How a Foreigner Can Open a Philippines Bank Account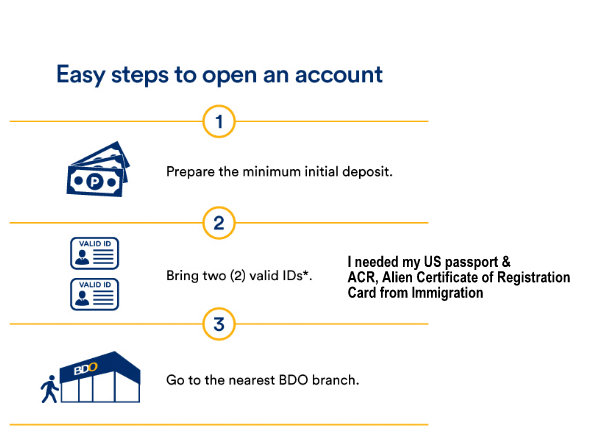 Graphic from BDO website
A fairly painless process. I had to fill out some paperwork but after only plunking down 2,000 pesos, 40 US dollars, my peso account was opened.
However, opening the US dollar account, two years later, hit a snag at first. We were satisfied with our peso account with BDO and since they only required a minimum 200 US dollar deposit, went with them.
After presenting my US passport and my ACR card, the teller refused to accept my wife's second form of identification, her PhilHealth card. We wanted a joint account.
Hence, despite the fact that we already had an existing peso account in both of our names made no difference. I was ready to walk out.
The BDO clerk stated that we could open a BDO Kabayan Savings Account which would allow us to deposit funds in US Dollars.
It did not, I discovered later, allow us to deposit our checks from our United States bank which was our original reason to open up a dollar account. Finally, after making a return trip to the bank and speaking with a supervisor, we were finally able to open our dollar account.
I have input from other expats who have said they did not need an ACR card. However, with BDO I understand this is a standard requirement for them.
All in all, opening a bank account in the Philippines for a foreigner might be a bit more challenging than what you might be used to. Exercise a bit of patience, and check your bank's requirements online in advance.